Dil Dhadakne Dho Na Episode 3
Hello guys here is next episode. Thank you so much for your support.
Episode starts
Jenny : We are dividing you people into teams so that you can coordinate the work. Team 1 the leader will be Jeevika Arora. Along with her are Tanya Sharma ,Neha Gupta ,Rishabh Verma and Avinash Kumar. The other teams are
As she goes on with the  next teams Neha Rishabh and Jeevika rejoice being in a single team. Tanya gets irritated.
Jenny: Team A will meet Viren sir now in his cabin. Others can stay back till your coordinators come.
Jeevika and Team walk inside Viren's cabin. On seeing Viren Tanya goes to hug him.. Viren is irked
Viren: Dont you have manners? Is this how you behave to a boss
Tanya: Cant boss be a friend?
Viren: Never . Now stay aside if you want this internship to go on. Jenny who is the leader
Jenny: Jeevika Arora sir
Jeevika steps forward
Viren: I saw your portfolio. Its impressive Miss Arora. Expecting a lot from you
Jeevika: Ill give my best sir
Viren: Good..so listen carefully you are going to work on our new marketing strategy. Jenny will give you your work files and you should work under me. Based on your progress your future in this company will be determined
All get into work. Tanya drools over Viren.
The scene freezes
College
Its interval time. Adi is out to the canteen with his friends . He sees Pankhuri at a distance and is unable to take his eyes off her.
Bunny: Adi…Adi..what happened?
Adi: Nothing bruh,,lets go
They walk to the counter. Adi feels like he is being pulled towards Pankhuri. He then notices that Pankhuri is surrounded by a group of girls making fun of her Adi walks towards them
Adi: Latika…what is all this?
Latika: What Adi?
Adi: Teasing our own batchmate is bad
Latika: But Adi..
Adi: If seniors rag its wrong and if we do its teasing. So mean. Dont repeat it
Adi takes Pankhuri with him
Adi: Dont you have any friends here?
Pankhuri: No..I did my schooling In Kullu. So  I know none here
Adi: Okay then I will be your friend. By the way Sorry for what Latika did.
Pankhuri: Why are you sorry?
Adi: She is my childhood friend..my mom's friend's daughter. Thats why. Next is Daniel Sir's class. Bit strict. Lets go soon
Adi takes Pankhuri with him. Latika fumes
Manvi's college
Arushi: Manvi…today Virat Deewan is here for a special lecture
Manvi: Who?
Arushi: Dont say that you dont know him. The Deewan group of companies ka vaaris
Manvi: Acha..
In the seriousness of talks Manvi doesn't notice a stone on her way and stumbles upon it hurting her foot.
Manvi: Ouch…diiidiii
Virat looks behind to see Manvi as he is attracted by the unique cry. He runs to her
Virat: Umesh bring the first aid kit from the car. Are you alright miss?
Manvi: Cant you see that Im bleeding and in pain
Virat: Oops sorry
Virat tends to her. Moments later the bleeding stops .
Manvi: Thank you
She is about to get up and slips. Virat holds her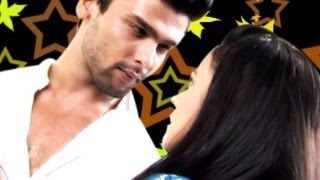 Manvi steadies herself and walks away with Arushi's support
Virat: Your shout was unique..all cry maa..you shouted didi
Manvi: My didi is my maa..
Virat is surprised to hear that. The scene freezes
Office
Jeevika completes her task and does the supervision . She finds mistakes in Tanya's work
Jeevika: Tanya what have you done? Its completely wrong
Tanya: Dont show off that you are a leader. You are just a leader here in this small group not a president of a country
Before Jeevika reacts Tanya is slapped.
PRECAP: WHO SLAPPED TANYA❓