Dil Dhadakne Dho Na Episode 1
Hello guys here is first episode. Hope you will like it. This will be updated weekly once
Episode starts
The Vadhera House is shown. Viren walks down the stairs and touches the feet of his Dadaji
Harvinder: Viren make sure that this tender doesn't go to Deewans even if we dont get it
Viren: Sure Dadu. Im getting late bye
Shalini: Viren breakfast?
Viren: Ill have it after the tender meeting bua. Bye
Viren rushes out and gets into his car.
Harvinder and Shalini feel so proud of him.
Arora House 
Jeevika: Mannu get up…get up soon
Manvi: Di I have college at 10 am only let me sleep
Jeevika pulls off the blanket and thus makes Manvi get up
Jeevika: Did you forget that today is my first day at internship?
Manvi: Arrey haan sorry..all the best di
Manvi hugs Jeevika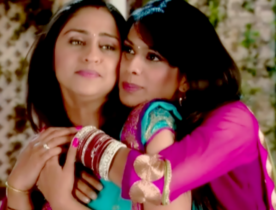 and then dozes off. Jeevika giggles and comes out
Mom: Jeevika are you done with your sister lucky charm . Now hurry up you are getting late
Jeevika hops on her bike and leaves for office.
Deewan Mansion
Purshottam and Aditya are playing badminton
when Virat comes out
Virat : Dadaji Im leaving for the tender meeting
Adi: All the best bhai
Purshottam: All the best beta. Let the best man win and may you be the best.
Avantika: Virat is the best dad
Virat: It is all because of you Bua
Virat leaves while Sheela looks upon.
Avantika: Adi aren't you getting late?
Adi: Few minutes mom Ill beat Nanu and come
Harish: Avantika whats this?
Avantika: Whats what?
Harish: This tea? Where is my usual tea?
Avantika: Harish you need to control your eating habits for your health. This is good for your health.
Harish frowns and has the tea while Adi jumps with joy after winning the game.
Gupta House
Ambika: Pankhuri …Pankhuri beta
Pankhuri who is getting ready runs down on hearing the voice
Pankhuri: Maa did you call me?
Ambika: Haan..your lunch is ready and its time for your college bus
Pankhuri grabs her lunch and leaves in a hurry.
Govardhan: How big has she grown now. I still remember her first day in college
Ambika: For you she will always be small bhaiya
Govardhan nods with a smile.
PRECAP: VIREN AND VIRAT CLASH. JEEVIKA's FIRST DAY. ADI AND PANKHURI MEET.