Hey friends i'm back with another episode. As per your comments this ff will be continued after the marriage of Devakshi too and in such a way that the realistic nature is not spoilt and your interest stays in too. Lets go to the episode.
The episode starts and Dev is in his room working on something. His phone rings. Its Sona
Dev picks it up with a broad smile
Dev: Sonakshi…
Sona is crying on the other end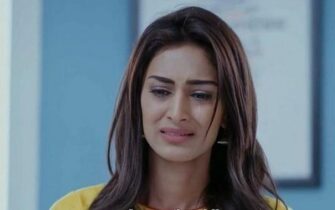 Dev: Sona..what happened?
Sona: Dev I let my patient die..I'm not fit to be a doctor
Dev: What are you saying?
Sona: Today someone in the emergency ward died..we were unable to save him
Dev: Sona..you very well know that you cannot save everyone..you can just give your best rest is not in our hands
Sona: But Dev…
Dev: Sonakashi…you gave your best right?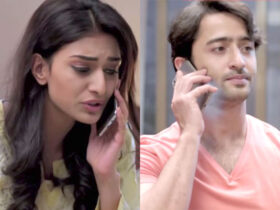 Sona: Yes I did I tried my level best to save him
Dev: Thats what was in your hand…every soul has to depart one day..every individual cannot be saved by you..not only you even God cannot…
Dev stops talking
Sona: Exactly even God cannot save everyone
There is silence on Dev's side
Sona: Dev..don't think that I'm challenging your principles and ways…you need not believe in God but you can believe in Maa's strength. If you spend your time for her she will get very happy and that is the happiness that cannot be brought by the money or fame..Dev..when I sat in the havan she was happy but will be the happiest if we sit together. You are not spending that time for God that time is spent for Maa..she has given her entire life for you and now….
The call disconnects.
Elena come there
Elena: Shona…what happened?
Sona: Nothing
Her phone rings and ts Dev. She picks up the phone and walks aside
Sona: I'm sorry
Dev: I'm sorry   [at the same time]
Dev: Why did you ask sorry?
Sona: If I had hurt you I'm sorry..why did you ask?
Dev: For disconnecting the cal..Sona I haven't shared my feelings with anyone..not even with Maa till now..its like i didn't want anyone to see my weaker side..I always wanted to be Dev Dixit in front of everyone and not as a simple 27 yr old Dev who has weaknesses , emotions, love and tears..I couldn't open up when you said those things…you were right and I was wrong but I din't have courage to accept it thats why I disconnected the call then only I realised that you are the only person with whom I need not talk with a filter..I can open up to you..you were rigth Maa has given us her entire life and now for me that one hour of havan time is not a big deal when compared to her sacrifice. I have been a bad son Sonakshi
Sona: Dev..its not like that..Maa se jaake puchiye she will say that her Devrat is the best in world..I did not want to pin point your mistake all I wanted is
Dev: Sonakshi you need not justify or explain anything. Thank you so much
Sona: Will you say thanks to yourself
Dev: What? No
Sona: Then don't thank me too..I'm a part of you
Dev smiles and scene freezes.
Months fly like wind and its Dev and Sonakshi's engagement
Dev is wearing a red sherwani. He is applying deodorant when his phone buzzes. Its Sona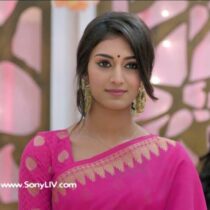 The message: Your girlfriend  has left home and is on the way to the venue
Dev chuckles and sends her a reply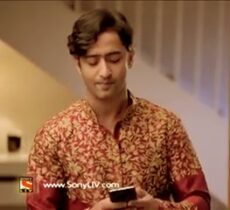 Dev: My girlfriend will become my fiance soon. I wish we arrive at the engagement venue soon and I could see her. She will looking gorgeous in that pink saree
Sona: When did Mr.Dev Dixit start to understand and celebrate colours
Dev: After I fell in love
Sona: Dev..don't get late in messaging..come to the venue soon
Dev: Seems like someone is desparate
Sona: Haan..my boyfriend is too handsome so can't wait to show him to you
Dev: Wait..I'm feeling jealous of myself..strange
Dev chuckles and a knock is heard on the door. Its Vicky
Vicky: Bhai..how long..lets go
He takes Dev with him and the scene freezes.
Scene shifts to the engagement venue. Sonakshi is adjusting her saree in front of the mirror in one of the rooms.
Suddenly Dev comes behind her and holds her closer to him
Sona: Dev…what are you doing?
Dev: Last romance with my girlfriend
Sona: What??
Dev: Haan..in sometime you will become my fiancee and then how can I romance with my girlfriend?
Sona: Koi..aajeyaga
Dev's phone buzzes. Dev takes it and shows it to her
Vicky: Bhai..don't worry aap aaramse apni romance continue karo Me, Nikki and Elena are managing stuff here..
Sona: What?? You asked their help to romance with me?
Dev: Haan kyu?
Sona: Arrey..ab Elena will be teasing me with this for months
Dev: Acha you are just worried about that..you don't bother about me
Sona: Arrey..its not like that
Dev: Sonakshi is it possible for you to be with me forever..every second…
Sona blushes. Suddenly they hear a knock on the door. Sona pushes Dev away
Dev: Aaww..miss kargosh
Sona: Huh?
Dev: You are as cute as a kargosh..like your nickname for me is Mr. Obodro my nickname for you is Ms. Kargosh
The knock is heard again. Its Vicky
Vicky: Bhai..bhabhi..they are calling you..come soon
Dev: Aagaya pyar ka dushman
Sona giggles and goes out followed by Dev. The scene freezes.
Dev and Sona are brought to the stage.
Vicky: Woah kya jodi hai ye
Elena: Jiju you are looking dapper
Dev and Sona are asked to stand up. Sona trips and Dev holds her
RR: Waah..jodi ho toh Dev Sonakshi jaisa..pyar ho toh Dev Sonakashi jaisa
Neha: Well Said Mamiji
Ishwari: Its time for the ring exchange ceremony
Dev and Sona exchange the rings. Everyone cheer around them. The episode freezes.
PRECAP: DEV SURPRISES ISHWARI. NEIL HELPS NATASHA.