Devakshi An Eternal Love Saga – Ft.Arranged Marriage Love A Twist In Tale Episode 6
Hai friends I'm so sorry that I could not post this ff yesterday as I was busy.
Its a bright morning. Sona arrives at Dixit house with her family. Ishwari and Mamaji welcome everyone inside. Dev is in his room getting ready.
Sona enters the house and Nikki runs to her
Nikki: Hai Bhabhi..I'm Nikki the
Rhea: The prankster of this house
Nikki: Rhea didi don't spoil my image infront of bhabhi
Neha: Nikki bhabhi is a part of family one day or the other she will get to know
Nikki: Par Neha di
Sona stands there silently watching the banter of the sisters.
Vicky comes there
Vicky: Arrey my dear sisters whats happening?
Nikki: Vicky bhai Rhea di and Neha di are pulling my leg
Vicky: Nikki look at bhabhi she is standing here for so long you three are quarreling leaving her alone. Is this how you welcome her?
Nikki: Oh sorry bhabhi
Vicky: Bhabhi ye hai Nikki the youngest devil of the family
Sona and Nikki hug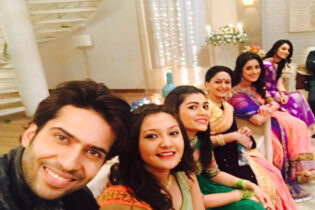 Rhea and Neha introduce themsleves to Sona.
Nikki holds Sona's hand and: Sona bhabhi lets play video game
Radharani: Arrey sirf tumhari saath kyu Sona beta meain Dev ki maami hoon meri saath bhi talk kar na
Just then Dev comes down the stairs in his formal attire.
Dev: Maa I'm leaving for office. Nikki you better pack your bags.
Nikki: Bhai?
Dev: I have paid your tour fees for your college tour.
Nikki runs to Dev and hugs him
Nikki: Thank you bhaiyya
Dev smiles broadly seeing her happiness
Sona is amazed to see him smile. Seeing Sona staring at him Elena comes there
Elena: Sona..lost in Jiju's looks?
Sona: He is smiling
Elena: What? you are saying like its something abnormal
Sona: I haven't seen him smile till now
before they could speak anymore Dev comes to Asha and Bijoy and welcomes them.
Elena: Jiju I haven't introduced myself to you. I'm Elena Sona's younger sister
Dev: Hello Elena
Suddenly his phone rings . After few minutes
Dev: Maa I'm going to office. Evening I'll be late don't wait for me and eat.
Dev leaves. Ishwari its time for havan lets start it
Asha: Ishwari won't havan without Dev
Ishwari: Asha Dev doesn't believe in GOD, thats why I called Sona here to sit in the havan in his place
Elena: Won't he object this Aunty?
Neha: Bhai doesn't believe but never stops our beliefs.
Ishwari: This havan is for the happiness and prosperity of our families. The eldest child must sit but Dev won't spare his time for it. He will say its all waste of time.Sona beta will you please sit in the havan in his place?
Sona: Aunty..don't say please and all. I will sit.
Everyone sit and the havan starts. The scene freezes.
Its late in the evening and the scene shifts to Dev's office. A knock is heard on the door.
Dev: Come in
Sona enters
Dev: Dr. Bose
Sona: Sorry for disturbing Mr.Dixit
Dev: No problem please take your seat
Sona: Mr.Dixit your follow up reports have come
Dev: If you had called I would have sent someone to collect it why are you straining yourself?
Sona: I was going by this way so thought of giving it personally
Dev: But Dr.Bose your hospital and house are in the opposite direction
Sona in her mind: arrey Mr.Obodro I came to meet you but you don't understand
Dev: Dr.Bose?
Sona: I visited a patient nearby so I came here to give the reports here.
Suddenly the power goes off.
Dev calls the reception. No one picks it up.
Dev: Tina..tina…
No one responds. He  goes towards the window. Sona goes behind him.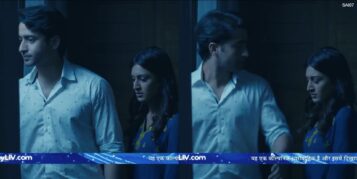 He sees outside and realises that there is a heavy downpour and his office staffs have already left.
Dev turns around and gets scared as Sona is standing behind him.
Dev: Uff Dr.Bose you scared me
Sona: Oops sorry
Dev: Seems like everyone has left.
He searches his pocket and finds he mobile and switches on his torch
Dev: Baabp re
Sona: What happened?
Dev: My phone as just 5% battery. I will search the candle before it dies down

Sona: I have my phone
Dev: We need your phone for contacting someone for help lets not waste that battery on torch
Sona: Mr.Dixit won't the watchman be there can't we call him and ask him to switch the generator on.
Dev: I tried that but no one picked it up
Sona sees that there is no signal in her mobile.
Sona: Arrey my phone has no signal in it
Dev: We must wait till the rain stops. I'll find the candles first. It will be in the receptionist table. You stay here.
Sona : Mr.Dixit.. I'll come too
Dev goes down and Sona follows him
They get down the stairs. Sona trips down suddenly . Dev holds her.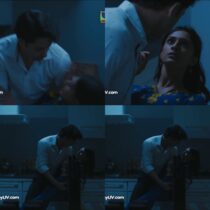 They get lost into each other.
Badale Se Din Hai Meri Badali Si Raatein, Badali Si Raatein
Kai Dino Se Meri Mahki Hai Sanse, Mahki Hai Sanse
Pehli Dafa Hai Ki, Mujhme Tu Jhalka Hai
Pehli Dafa Hai Ki, Mujhme Tu Chhalka Hai
Mere Rango Me Kuch Dhang Hai Tere Jaise Bhi
Kuch Rang Pyar Ke Aise Bhi,
Kuch Rang Pyar Ke Aise Bhi,
Kuch Rang Pyar Ke Aise Bhi,
Kuch Rang Pyar Ke Aise Bhi.
Plays in the background
After few moments they hear a thunder and they come to reality.
Dev: Please be careful Dr.Bose
They search for the candle and finally Sona finds it
Sona: Mr.Dixit I found it but I dont have a match stick
Dev: I have it
He lights the match stick and lights the candle. The scene freezes on the their glowing faces in the candle light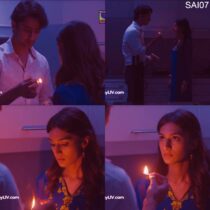 PRECAP: DEV AND SONAKSHI BOND WITH EACH OTHER IN THE DARKNESS
HEY GUYS DO TELL YOUR VIEW ON THIS EPISODE IN THE COMMENTS BELOW.