Devakshi An Eternal Love Saga – Ft.Arranged Marriage Love A Twist In Tale Episode 5
Hai friends I'm back with another episode. Thank you for your love and support. Please keep supporting. Lets go to the episode.
A bright day in Delhi. Dev is in his cabin. Tina comes to him with many files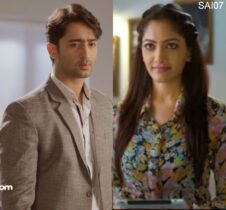 Tina: Sir..these are the files of Gujrals and we need your signatures in them
Dev: Keep them there and I'll go through them and sign by evening. By the way did Natasha Gujral come here yesterday?
Tina: Yes sir but it was not an official visit
Dev: What do you mean by that?
Tina: She came to ask about your health but you weren't here so she left a card. It is inside the envelope on  your right side
Dev: Okay thanks. I'll call you if I need anything
Tina turns to leave
Dev: And Tina Thank you for taking care when I was in hospital
Tina: Sir please dont embarrass me by saying thanks and I left with your things as
Dev: I know..Maa already told me no problem
Tina: Okay sir..
Tina leaves and Dev opens the envelope to see a get well soon card from Natasha. He doesn't show any reaction but texts a thank you for the concern message to Natasha.
The scene shifts to a bus stop near Sona's hospital. As it is raining heavily Sona has left her scooty inside her hospital and is waiting for a bus.
Dev crosses the bus stop in his car. He sees Sona standing there and takes a reverse and goes to her.
Dev: Dr.Bose please get inside I'll drop you home
Sona: No problem Mr.Dixit I'll go by bus
Dev: Arrey you are already drenched if you wait here for bus then you will freeze its a winter rain please get in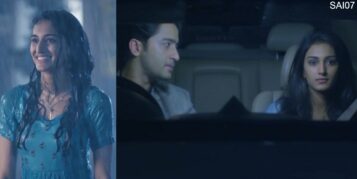 He opens the door for Sona and she gets inside. The car goes.
Dev notices that Sona is feeling cold as she rubs her hands for warmth. He switches the heater on so that she feels warm. Sona sees this and smiles to herlself.
Sona in her mind : He is Mr.Obodro but a caring one
Badale Se Din Hai Meri Badali Si Raatein, Badali Si Raatein
Kai Dino Se Meri Mahki Hai Sanse, Mahki Hai Sanse
Pehli Dafa Hai Ki, Mujhme Tu Jhalka Hai
Pehli Dafa Hai Ki, Mujhme Tu Chhalka Hai
Mere Rango Me Kuch Dhang Hai Tere Jaise Bhi
Kuch Rang Pyar Ke Aise Bhi,
Kuch Rang Pyar Ke Aise Bhi,
Kuch Rang Pyar Ke Aise Bhi,
Kuch Rang Pyar Ke Aise Bhi. Plays in the background as Dev and Sona travel in silence towards the Bose house.
Dev stops the car near Bose house and the rain has stopped too.
Sona gets out and calls Dev inside.
Sona: Mr.Dixit please come in
Dev gets down and Sona takes him inside. Seeing them together Asha and Bijoy welcome Dev while Elena and Saurabh tease Sona
Asha: Dev beta what will you have?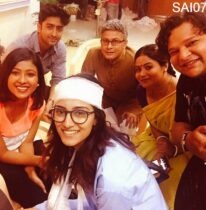 Dev: Aunty ji please dont strain yourself. I dont eat anything at this time usually
Bijoy: So good to see you here beta. How is your health?
Dev: Your daughter is an amazing doctor Mr.Bose oh sorry uncle..I'm feeling so good
Bijoy: Very good beta
Dev: If you don't mid I'll take your leave…I have an
Bijoy: No problem beta this is your house don't be too formal
Dev takes their leave. As soon as he leaves the enitre Bose family surrounds Sona
Elena: Car ride n all too romantic huh
Sona: Arrey it is not like that
Asha: Shona dont get awkward nothing is wrong in it
Sona: Maa as it was raining he offered to drop me as he saw me waiting in the bus stop.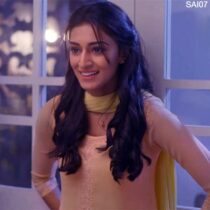 Elena and Saurabh share a hifi and giggle. Sona gets free from them and runs into the room and closes the door.
Asha and Bijoy laugh at this.
Sona : Mr.Dixit is not as robotic as he was during the previous meeting, oh..fo..very complex to understand as a personality
Sona gets a call from Ishwari
Sona: Namaste Auntyji
Ishwari: Sona beta happy to know that Dev visited your house
Sona is confused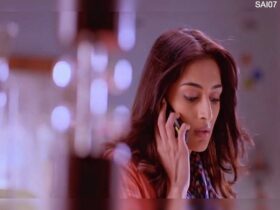 Ishwari: Arrey just now Asha told me
Sona in her mind : Maa…
She makes a cute face.
Ishwari: Sona beta…
Sona: Auntyji..
Ishwari: Will you visit us tomorrow? We are having a small havan and I will be happy if you join
Sona: Sure Auntyji
The scene freezes.
PRECAP: SONA BONDS WITH NEHA , NIKKI AND RHEA. SONA IS AMAZED. WHY?
HEY GUYS DO TELL YOUR VIEWS ON THIS EPISODE IN THE COMMENTS BELOW.