Devakshi An Eternal Love Saga – Ft.Arranged Marriage Love A Twist In Tale Episode 2
Hai friends. Thank you so much for the support you gave for the first episode. Very happy to know that you liked. Lets go to the next episode.
Dev and Ishwari reach home.
Dev: Maa why are you doing like this?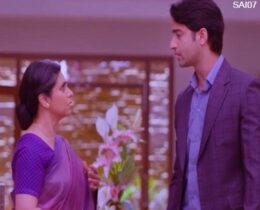 Radharani: Everything is only for you beta
Dev: Mamiji I am all good and everything has happened due to Maa's blessings my sisters' sacrifice mamaji and your guidance. Where does God come here?
Ishwari: Professionally you are good but what about personal life?
Dev: Maa I already told you that I will marry a girl you choose. Still you are doing these things
Radharani: Dev Beta it is for finding a good girl..that is why jiji is praying
Ishwari: My prayers are answered bhabhi
Radhrani: Sach mein jiji?
Ishwari: Haan bhabhi. Aapko Asha yaad hain?
Radharani: Of course
Ishwari: Her daughter. Such a sweet girl. Dev beta will you marry her
Dev: Maa whichever girl you choose I'm ready to marry.
Ishwari: Mera Devrat
Dev: Okay Maa take care,I have an important meeting got to go. Bye
Dev leaves.
Ishwari: Bhabhi let us go to Asha's house and proceed the talks.
Radharani: Okay jiji. Vicky hey vicky come and take the car. Let us go to see your bhabhi.
Nikki , Rhea and Neha too come there
Nikki: Can't we come?
Ishwari: Arrey ruko. Sona will be at hospital. We are just meeting the family to proceed the talks.
Neha: So what we will get a photo and see it for now. Bhai too needs to see a photo right
Rhea: Yeah Neha di.
Everyone start to Bose house. The scene freezes.
Bose house is shown. Asha is telling the happenings to Bijoy, Shaurabh and Elena.
Bijoy: My God! Ishwari has faced so much in life. But..Dev and Sona's marriage…
Asha: I too had the same doubt.
Bijoy: Asha they are pure vegetarians and we are Bengalis
Just then Dixit family enters
Ishwari: SO what Bijoy ji. Sona is a very sweet girl. I would love to have her as my bahu
Bijoy: Arrey Ishwariji aayiye. Please sit.
Ishwari: I am very happy to have Sona as my bahu but if you have any problem with Dev..
Bijoy: Arrey nothing like that..Dev is your son I definitely know that he will be a very good guy and
Shaurabh: He is the best business man of this year…so we know how good he is proffesionally
Asha: We are lucky to find such a good guy for Shona
Vicky: You guys too know about the award
Elena: Everyone including your hone wali bhabhi know
Ishwari: Sona has seen Dev then?
Bijoy: Ishwari ji she knows the business man Dev dixit but she doesn't know that he is your son
Vicky: So no need of bhai's photo we brought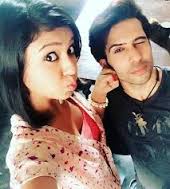 Elena : Arrey Instead of saying that the businessman Dev Dixit is her fiance we can give the photo to her in a cover and surprise her na
Asha: Elena!!
Radharani: Arrey Asha ji let the kids have their fun..if you dont mind can we get a photo of Sonakshi jiji has seen her but..
Asha: Arrey I should have given it myself
Asha brings the photo. Nikki and Rhea fight with Vicky to get the photo. The giggles and chatters fill the house.
Mamaji: Vaise the relationship is fixed then
Bijoy: But both children should meet
Asha: Ishwari why dont we have a family dinner tonight. So that Dev and Sona meet
Ishwari: Very nice idea. By then I will consult the pandit for a date for engagement.
Everyone agree and are happy and scene freezes
Its afternoon and Sona comes home for lunch. After a quick lunch she gets ready to go back again.
Asha hands over the cover containing Dev's photo.
Asha: Sona this cover has the photo of Dev
Sona: Dev?
Asha: Ishwari's son
Bijoy: Shona beta Ishwari ji wanted your hand for her son Dev so..
SOna: If you are okay with it then you fix the marriage maa. I already told you na
Asha: Atleast see the photo.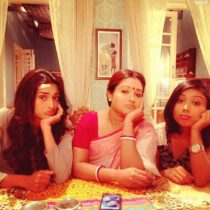 She gets the cover and keeps it in the file.
Sona: I'll see it later.
Elena: Maashi maybe she is shy to see it here.
Sona stares at her and gets her scooty outside.
Asha: Shona tonight Ishwari and family are coming for dinner and to decide your engagement date.
Sona: I will try to come maa
Asha: Shona..
Before Asha could complete the sentence Sona leaves.
Meanwhile Vicky bribes Dev's Assistant Tina to keep Sona's photo in a file to make him see it. Tina sees the photo
Tina: Wow so beautiful
Vicky: Tina it is your duty to make bhai see it
Tina nods her head. Scene freezes.
PRECAP: DEV AND SONA MEET BUT NOT IN THE WAY THE FAMILIES PLANNED. THEN HOW??
GUYS DO TELL ME YOUR VIEWS ON THIS EPISODE  IN THE COMMENTS BELOW.