Hey guys!! I'm here with next episode.  Lets go to episode.
Dev feels happy on seeing Sona and Ishwari's bond. Sona asks Ishwari to rest and comes out of the room. Dev pulls her to the corner. He makes her stand against the wall facing him and places his hand near her. Sona's heart beat gets faster
Sona: Dddddeeevv….what are you doing?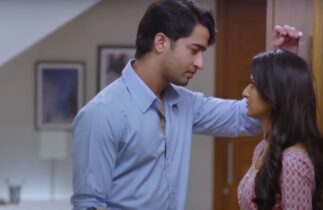 Dev: Talking to my girlfriend
Sona: Girlfriend?
Dev: Haan..we are not engaged yet so till engagement you are my girlfriend
On hearing the word girlfriend Sona blushes and Dev notices this
Dev: The blush makes you more beautiful
Sona: Dev..someone will see..let me go
Dev: I can't let you go..if you go my breath will go too
Sona blushes harder. Dev admires her.
Suddenly her phone rings. It is Asha. Sona attends it
Asha: Sona how is Ishwari?
Sona: Huh..she is fine maa
Asha: Sona we are going for shopping today
Sona: Today?
Asha: Arrey engagement shopping rey
Sona: Maa its too early
Asha: Kahaan early Shona…we need to meet the stylist fix the fittings and then arrange the decorations based on your dress colours..
Sona: Maa bas..bas..I'll come early in the evening
Asha: Tell Ishwari that the stylist appointment is done for today..she needs to purchase too na
Sona: Okay maa. I'll cut now
Sona disconnects the call. Dev gestures her asking what the matter was
Sona: We are going for engagement shopping today
Saying this she pushes Dev away and goes to Ishwari. Dev smiles to himslef enjoying her cuteness. The scene freezes.
Scene shifts to a cafe. Natasha is sitting there lost in her own world. She hears the coffee cup kept on the table and comes to senses. There is a coffee with a smiley drawn using latte
Natasha: I didn't order this
Waiter: Sir ordered this for you mam
He points over to a guy whom Natasha bumped into in Dev's office
Natasha: Why did you order for me
The guys comes over to her
Guy: Mam..I'm Neil I saw you in tears in office yesterday and accidentally saw you sitting sad here so thought of bringing a smile on your face
Natasha: Are you a smile ambassador?
Neil: If thats the name given when we make someone smile then I'm happy with it
Natasha smiles and Neil leaves out a sigh
Neil: Atlast a smile is on your face
Natasha: Are you an employee in dixit company?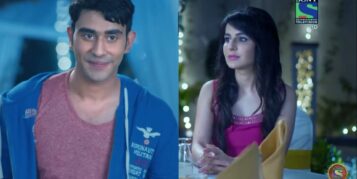 Neil: Yes mam newly joined just a week ago
Natasha: Oh I see..happy that you didn't ask me the reason for my tears
Neil: You seem to be a sensible woman so you won't shed tears on silly things..and I guess I need not ask it and make you grumpy again
Neil gives her one of his flashing smile as he receives his coffee. They sip the coffee and spend some time together.
Neil: Huh oh I thinks its time for me to go. I'll catch you later. Bye..oh I didn't ask your name
Natasha: Im sorry I must have told it when you told yours..I'm Natasha Guj….
Neil: Nice meeting you Natasha..this is my number..call me anytime if you need someone to talk to
He slides a tissue paper with his number scribbled in it and leaves the place. The scene freezes on his mobile number.
Scene shifts to the designer shop. Dixits and Bose family reach there.
Asha: Shona how is this ?
She shows an orange saree
Sona gets that goes to the mirror away from the families. Dev is standing in a corner looking at Sona. He gestures that he didn't like it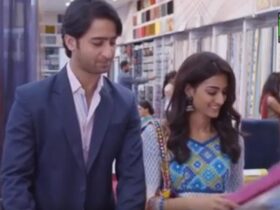 Sona: Maa its too bright…
Asha: Shona…orange is your favourite colour
Elena: Yeah..suddenly what happened?
Sona: That doesn't mean I should but every dress in the same colour
After rejecting many sarees Sona picks up a pink saree
Dev gestures that it is super.
Sona: Maa this one is perfect
Asha: Atlast..now lets buy for us
Ishwari: Dev beta you come with me to choose your sherwani
Nikki: No need of him maa…anyway bhabhi's decision will be his so take her with you
Dev blushes
Rhea: Maa see that bhabhi's influence is getting stronger
Ishwari: I'm happy that it happens like this
Ishwari and Sona go to select Dev's dress.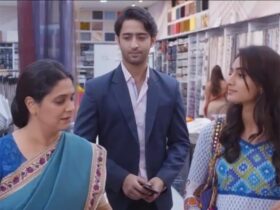 The scene freezes
PRECAP: ITS DEVAKSHI'S ENGAGEMENT DAY
Do you guys want this story to be completed with Devakshi marriage within few episodes or want me to take the story as a long one?Please mention what you want in the comments below.