Hai friends i'm back with another episode today
Dev and Sonakshi are in the car
Sonakshi: Dev…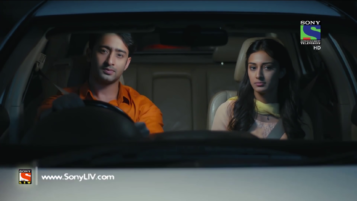 Dev: Sonakshi..
Sona: Can I ask you something?
Dev: Do you need permission for that?
Sona: Nahi ..par
Dev: Ask me whatever you want to ask
Sona: How did you know that I like orange..as far as I remember I didn't tell you
Dev: Woh…I checked your social media profile
Sona: What??
Dev: Actually I didn't know what to wear so I checked your social media profile profile to know what you like
The car reaches Bose house.
Sona: Dev…I think I must go now
Sona turns to leave. Dev holds her hand and stops her
Dev: Dont go
Sona: Dev…
Dev: I have dropped you here many times ..though I always wanted to say this i didn't say it till now..whenever you get down from this car I felt that a part of me is leaving…I didn't know why but now I have realised that this is love.
Sona: Dev just a matter of few months then you won't have to drop me home but will have to pick me back to home
Dev smiles.
Dev: Its late I won't hold your time for long go and sleep
Sona nods in affirmation
Dev: Why?
Sona: I don't want to sleep and waste my time
Dev: What?
Sona: Atlast my fairytale love is happening and how will I waste it?
Dev chuckles
Sona: You go safe
Dev nods and Sona gets off the car and waves at Dev as he leaves. The scene freezes.
Its next morning. Ishwari is lying in her room. Radharani comes inside
RR: Jiji..what hua?
Ishwari [ in a tired tone]: Nothing much bhabhi
RR: Subah subah you will be the first to wake up..today you are lying down
Vicky comes there too
Vicky: Maa what happened to bua?
Vicky goes to Ishwari and touches her and realises that she has hight temperature
Vicky goes out and: Kichu…..kichu…
Dev is coming down the stairs….
Dev: What happened vicky?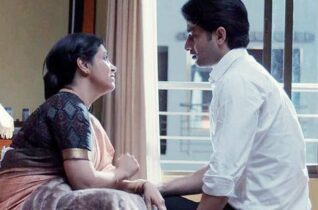 Vicky: Bhai…bua is having high fever
Dev: What?? Maa
Dev runs to Ishwari
Dev: Maa you never take care of your health..now see
Ishwari: Arrey beta its just a fever
Dev: Vicky chal lets go to hospital
Nikki: When we have a family doctor why should we go to hospital
Rhea: We can't disturb bhabhi like that
Meanwhile Dev calls Sonakshi
Sonakshi is still in bed when she received the call. She jumps when she hears the phone ring.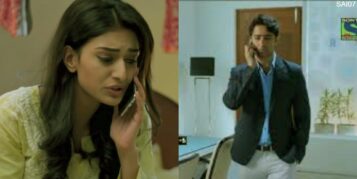 Sona: Hello Dev [she rubs her eyes]
Dev: Sonakshi
She senses tension in his voice
Sona: Dev is everything alright? You seem tensed
Dev: Sona Maa has fever..temperature is too high..should I take her to hospital?
Sona: No need I'll be there in sometime
Dev: Am I disturbing you?
Sona: My maa's health won't disturb me..aap tension mat lijiye..I'll take care
The call ends. The scene freezes.
Sonakshi reaches the Dixit house. She is taken to Ishwari by Vicky. Dev is holding Ishwari's hand and is sitting near her
Ishwari sees Sona and: Arrey Dev why did you disturb her for this?
Sona: Maa..sorry…Auntyji there is nothing to disturb in this
RR: Arrey Sona beta why are you telling sorry for calling her maa…you should actually call her like that.kyun jiji
Ishwari nods and smiles
Sona: Okay maa
Sona sits near her and checks her temperature.
Sona: Dev..the temperature is 103 degree farenheit..pretty high
Dev: Sonakshi if you say we can shift her to the hospital
Sona: Dev..I just said temperature is high..its not serious to admit her..I'll prescribe few medicines if we give her she will get alright
Dev: But…
Sona: Dev…if we take her to hospital we will do the same and she will get exposed to infections there and may develop complication. Its better that we takecare at home
Dev: Okay as you say
Dev makes a puppy face. Vicky and Nikki laugh between themselves seeing how Dev agrees to Sona
Sona: Buy these medicines
Vicky: Bhabhi I'll buy them
Dev: Sonakshi I'll tell manager sir that I won't come to office today..you stay with maa till I come
Ishwari: Kyu
Dev: Maa I'm going to be with you and take care of you today
Dev goes out
Ishwari: Sona beta you have changed Dev so soon..thank you
Sona: Arrey au..sorry sorry Maa..I didn't do anything..its Dev who is doing it..its his love for you making him like that
Ishwari: But its you who has brought his love out
Sona: Okay you want to give me credit I'll accept it..but maa you must take medicines on time.
RR: Sona beta till you come here I'll take care of that then you take the responsibility
Sona: Sure Mamiji
Sona hugs Iswhari. Dev sees this and feels happy. The scene freezes.
PRECAP: NEIL AND NATASHA BOND. DEV AND SONA GO FOR SHOPPING.