Hai friends here is the 10th episode featuring Dev's love proposal
Dev: Hey buddu you are in love and you haven't realised it. You needed a broken Natasha to make you realise it. Sona loves you..she felt jealous when she saw you with another girl.  She sat in your place in the havan..you thought that it is a duty as daughter in law…but she asked you to know about you and become a part of your life..the love of your life..[He hits him on his forehead] Arrey she may be thinking that i'm marrying her for Mom's wish thats why she fell into  an awkward silence after blurting out that she indeed was jealous…Dev..come on..you have to propose her..Propose?? What else? till now you didn't even ask her wish or tell your wish but started to say that she is your finacee. Get ready and go to her now..tell what you really feel..wait…wait..tell her what you realised…
He goes to his cupboard and searches for a shirt
Dev: What colour should I wear? Wait..Aaj tak toh meine ye kabhi nahi socha..sochna kya..mujhe rang toh samaj mein bhi nahi aatha…but Soankshi..you have changed me within such a short span..Ab what should I wear…let me check her social media profile to know what colour she likes
He quickly grabs his phone and checks her social media and is shocked
Dev: Seriously?Dr.Bose I mean Sonakshi likes orange!! Arrey but I'll wear it..as you like it Sonakshi
He quickly gets ready
Dev: Abbey now what will I tell her…what means what tell her what you feel for her…but she is a believer of fairytales..just telling her I love you won't be enough..what should I say….Arrey Dev tell her what you really feel for her..and now leave before its too late.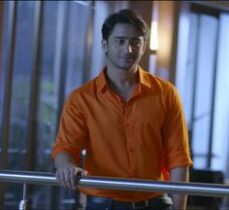 He gets down. Ishwari is sitting in the couch
Dev goes to her and gets her blessings.
Ishwari: Dev..
Dev: Maa I'm going to finish an incomplete work bless me
Ishwari: May the work be the best of all your works
Dev: Teek hai Maa..I'll leave
Dev gets out to the car and leaves.
On the way he dials Sonakshi
Dev: Sonakshi can we meet now?
Sona: Okay..is everything alright?
Dev: Nothing is alright
Sona: What?
Dev: Nothing nothing…I have almost reached your home..lets meet in person
Sona: Okay
The call disconnects. Sona is confused. But she shrugs her shoulder and sneaks out of the house and waits for Dev.
Dev's car comes there. Dev comes out to her
Dev: Chalo lets go
Sona: Where?
Dev: Somwhere where we find loneliness
Sona stands there still. Dev holds her hand and takes her to the car.
They get in and leave.
Sona: Dev..what happened?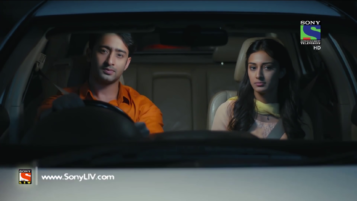 Dev: Something good has happened
Sona: ??
Dev: Waise what was the nickname you kept to me?
Sona: Mr. Obodro
Dev: I have found its meaning
Sona [in her mind]: Oh my God
Dev: It means Mr.rude..the robotic one without any feelings..but Sonakshi I have feelings the real fact is myself don't understand what I feel myself..I'm indeed too complicated for me..
Sona: But Dev…
Dev: Sonakshi did you notice my shirt's colour
Sona: Orange
Dev: Your favourite colour
Sona: Haan..but how did you know
The car stops in a lonely place. Dev gets down the car and Sonakshi follows him.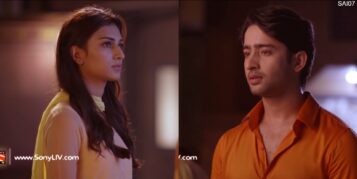 Sona: Dev…why did we come here?
Dev: Sonakshi I want to tell you something
Sona doesn't know what to react
Dev: Sonakshi I agree to the fact that i accepted this marriage for Maa's wish But…the day you entered my life you have started to change me from mr.Obodro …from a robot to a human…you made me smile…you made me prioritize your happiness before mine..you have changed me and though I accepted the marriage for maa's sake its not like that now…I really want you to be a part of my life and a part of me..Sonakshi even after trying a lot I am not able to complete this without mentioning these words… [he takes a deep breath and gets closer to Sonakshi] "Dr.Sonakshi Bose I Love you, I love you as a Man loves a Woman"
Sona is stunned
Sona: I love you too Dev
Dev: Thats why you were jealous when you saw Natasha with me right…yesterday you became silent after confessing it..I know the reason behind it…it was all my fault Sonakshi
Sonakshi looks up at him and: Nothing is your fault…I am so happy to hear what i wanted to hear from you…this is enough for a lifetime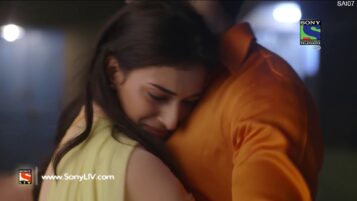 Sonakshi runs to him and hugs him
unchuye the sapne mere tune chhoo liye
chupke chupke dil me
aaya to jaan do liye
teri ho gayi mein tujhko pata bhi to ho
mere pyar me teri raza bhi to ho
pehli dafa hai ki mujhme tu jhalka hai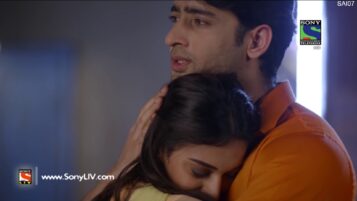 mere rango me kuchh
dhang hai tere jaise bhi
kuch rang pyar ke aise bhi
kuch rang pyar ke aise bhi
meri duniya mein tha
main apney hi dhyan mein
kuch toh badal gaya
hai mere aasmaan mein
aisa ye kaisey kyun kya ho gaya
kuch khoobsoorat sa dil ko ho gaya
pehli dafa hai ki mujhmey tu chalka hai
mere rangon mein kuch
dhang hai terey jaise bhi
kuch rang pyar ke aise bhi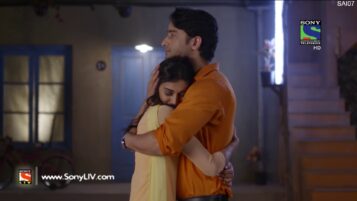 kuch rang pyar ke aise bhi
plays in the background
The scene freezes in their happiness.
PRECAP: ISHWARI FALLS ILL.
HEY GUYS DO TELL ME HOW YOU LIKED THE PROPOSAL IN THE COMMENTS. I'LL MEET YOU WITH NEXT EPISODE TOMORROW. SO SORRY FOR THE DELAY.