Hey all!!!! Wish you all a HAPPY NEW YEAR!!!
Recap: Arjun-Subhadra wedding!!!! Avantika leaves Ayodhya!!!!
Episode 8:
Scene 1
Nakshatra: Let's start post wedding rituals.
Subhadra's mom starts all the rituals.
Arjun and Panchali see each other and feels sad. On the other hand, Subhadra happily takes part in all the rituals.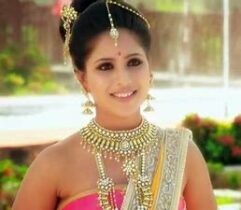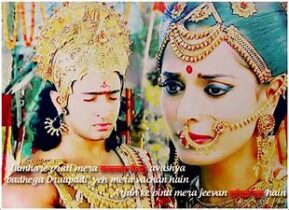 After sometime,
Nakshatra: Today is an auspicious day. So, we can conduct nuptial night today itself.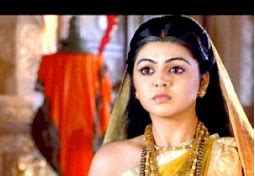 Subhadra gets shy. Her mom takes her in and makes her ready.
Arjun: Ma, is this necessary?
Nakshatra: These are all rituals. You can't say no.
Arjun: But ma…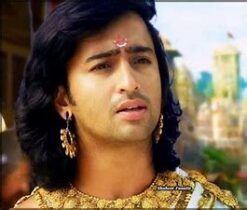 Panchali: You have to do for my sake.
Arjun: Why are you binding me like this? You are hurting yourself.
Panchali: It's ok. Do as ma say.
Arjun angrily goes.
Nakshatra: Thank you Panchali. Definitely, you have a big heart. Trust me, Subhadra is a good girl. You both will be happy with Arjun like me and my sister.
Panchali smile in pain and goes.
Nakshatra: God please forgive me. I can't see Panchali hurt. Whenever she feels sad, I too feel bad. I don't know why.
Meanwhile,
Panchali: I can't see arjun with someone. But why I couldn't refuse to ma?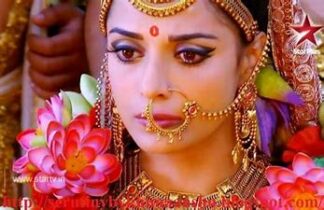 She thinks…
Subhadra's mom: Subahdra, this is a golden chance. Make wise use of it. If you leave this, then you won't get a chance like this. Make arjun yours. After this night, he should revolve only around you and not Panchali. Only then you can become the chief queen.
Subhadra: Ma, I don't have any interest in chief queen and all. I just want to be his favourite wife. I will take care, you don't worry.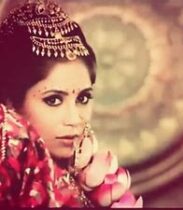 Subhadra's mom wishes her and sends her to the room. She shyly come in and sees arjun.
Subhadra: Arya putr…
Arjun: Subhadra, I want to make it clear. Panchali is my first priority and I love her crazily. Everyone are after her only. I married you, so I will be fulfilling all the responsibilities of a husband but not with love. My heart is already occupied by Panchali. No one is allowed there. Hope you understand. I will sleep at that sofa.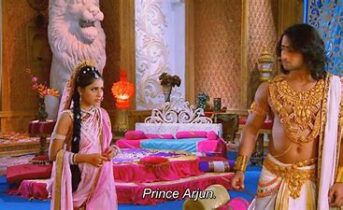 He goes.
Subhadra is left in tears. She cries silently.
Next morning., Subhadra wakes up and look for Arjun and finds him missing. She goes out and sees at the garden. She finds Arjun sitting there with Panchali and cuddling with her. She gets upset and goes from there.
Scene 2
Avantika walks in the middle of the jungle and feels thirsty. She looks for a pond or river and continues to walk. She sees water and sits there but she faints.
Meanwhile Adithya without listening to Swastika and Bhoomika goes for hunting.
Swastika: Ma, I'm worried. When he went out last time, he was injured.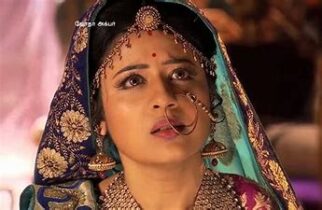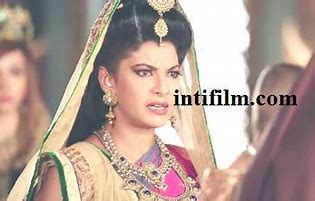 Bhoomika: Nothing will happen. Don't worry.
Adithya comes to the same pond and sees Avantika. He gets happy.
He wakes her up.
Avantika sees him and then realizes that she came in the wrong direction. She immediately stands and tries to walk away but she falls. Adithya hold her. They both have an eyelock.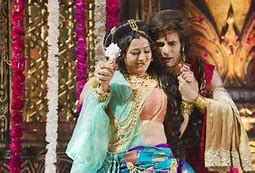 He makes her sit.
Adithya: Where did you go?
Avantika burst into tears and hug him.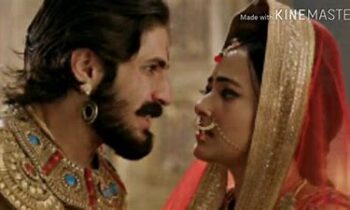 Avantika: Sorry, I tried a lot but couldn't get away from you. Now, I'm attached to you more than lover.
Adithya: What do you mean?
She takes his hand and keeps in her tummy. He feels surprised and realizes that she is pregnant. He thinks of that night.
Avantika: We are pregnant. We are going to become parents. I'm carrying your blood.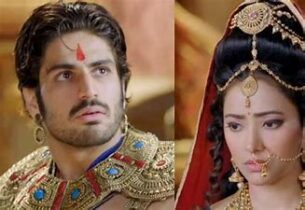 Adithya happily cries and kisses her forehead and her tummy.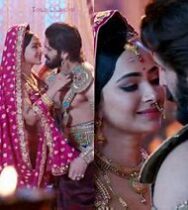 Adithya: We are going to become ma-papa. Come let's go to the palace.
Avantika: No, I can't come there. Didi will be there. I can't face her.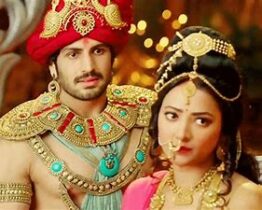 Adithya: I don't care. You have full rights to stay with me there. You are going to give baby to our family. You are my love. Come let's go.
He lifts her and goes towards the palace.
They come to the palace. Bhoomika and Swastika waits at the entrance to receive him but they are shocked to see Avantika with him.
Swastika: Avantika…
Bhoomika realizes that she is her sister.
Adithya lifts her and comes to them.
Swastika feels happy at first but then step backwards thinking of her betrayal.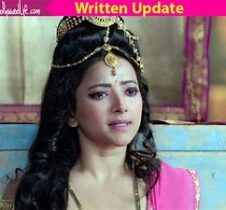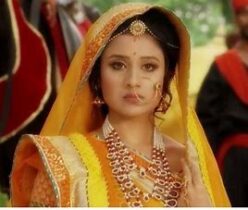 Avantika sees Swastika in guilt.
Adithya (to servants): Call the king and queen immediately to the family hall.
Bhoomika: Adithya, why she is in this state?
Adithya: I will tell you ma. Now come with me.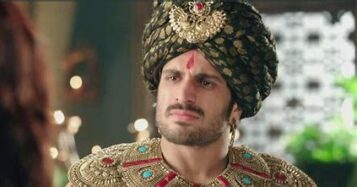 They all go.
Surya comes there with Mala, Karn and Urvi. Sunaina comes there with Sita and sisters.
Adithya: She is Avantika, my love.
Bhoomika: What?
Adithya tells them everything. He also tells about pregnancy.
Bhoomika slaps him.
Bhoomika: How can you betray your wife who trusted you.
Adithya: Ma, I can't leave Avantika. She is the one who stole my heart and we both love each other. Now she is bearing this family's child.
Swastika fumes in anger and cries. Sita hold her.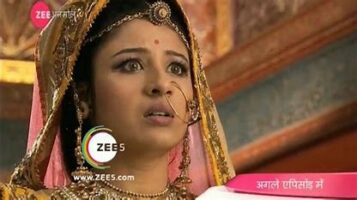 Swastika: Avantika, I treated you like my daughter. I always loved you more than anything. If you had told me that you love Adithya, I would have left him. Why did you do this to me? You clearly know that I can't share my husband, then why are doing this to me?
She cries hardly.
Avantika: Didi…
Swastika: Don't ever talk anything. You don't even have any legimate relation
Adithya: Enough. I will marry her now.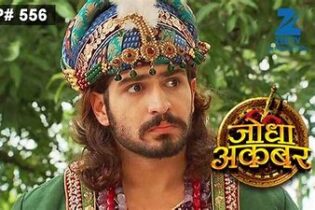 He asks the servants to bring sindhoor and mangalsutra. They bring. He ties the knot and applies sindhoor in her forehead shocking everyone.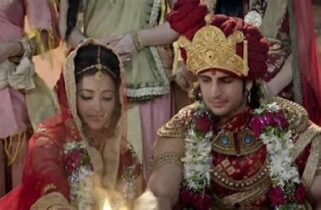 Bhoomika: Adithya, when did you become like this? You didn't even listen or asked permission from me?
Adithya: Ma, I'm sorry. For me, my child and my love are important than anything.
Swastika cries and goes.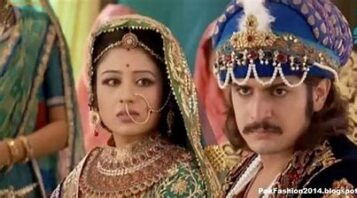 Avantika: Didi…
Adithya: Avantika come with me.
Avantika goes with Adithya.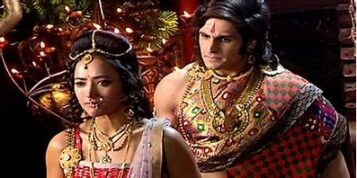 Bhoomika thinks of pandit's words about the children of Adithya.
Bhoomika: Bhabi, this means Avantika's baby will bring fortunes to our kingdom and Swastika's baby will bring destruction.
Sunaina: I don't know what to do. Our family is facing bad time now.
Bhoomika: I don't know how will I console Swastika.
She thinks!!!
Scene 3
Sunaina: Sita, I need to tell you something.
Sita: What ma?
Sunaina: Before you were born, I was pregnant with your father.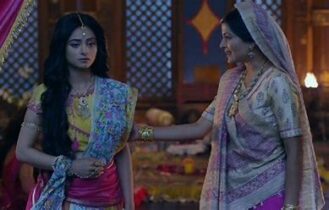 Sita: What?
Sunaina: Yes, but that baby was stolen.
Sita: Stolen?
Sunaina: He was a baby boy. Adithya and Arjun was playing with him. I went to do puja. When I returned, both Adithya and Arjun were injured and fainted. Baby was not there. Then we searched for the baby everywhere but we couldn't find him.
Sita: But you didn't tell us anything.
Sunaina: We wanted to forget the bitter things. And also, one more thing. When I went to Karn's marriage, he touched my hand. I felt some strange feeling.
Sita: What feeling?
Sunaina (emotionally): I don't know. But I felt that there was some blood relation between us.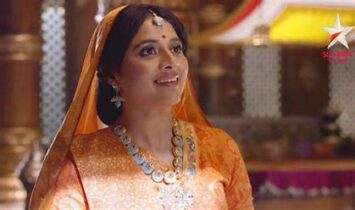 Sita: Ma, now I doubt that Karn is your and papa's son.
Sunaina: Even I feel the same.
Sita: We have to find out this within 3 days. Already one day is over.
Mala hears their conversation.
Mala: Oh, these ladies are planning for something else. I need to do something.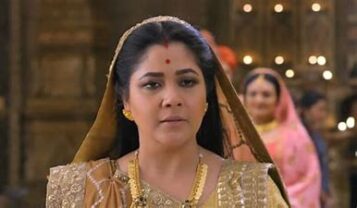 She goes to her room and takes a ring.
Mala: This will bring me and Surya closer. This will hypnotize him and today is pournami. If we get united today, then no one can separate us.
She smiles evilly.
She gets ready as a young girl. She wears the ring and goes to Surya's room. She sees him bathing and ask the servants to go out. She opens the ring and some fragrance come out of it. Surya gets hypnotized by it.
She comes to him and slowly touches his body.
Mala: No matter you became aged, but your body looks so young and strong.
Surya smiles seeing her.
Surya: Today, you look so beautiful.
He pulls her towards him. She hugs him. He slowly kisses her hand and cheeks.
Meanwhile the servants go to Sunaina and tells about Mala and her attire as a bride.
Sunaina gets shocked. She and Sita goes to Surya's room hurriedly. They see Surya and Mala kissing each other and get shocked.
Sunaina ask Sita to go out.
Sita goes.
Sunaina: Arya putr…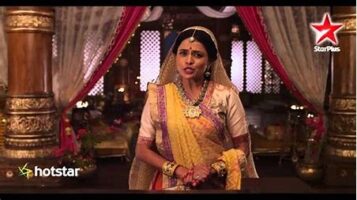 Mala and Surya see Sunaina there.
Surya: Who let you in? Don't you have any sense. Go out.
Sunaina is hurt by those words. Mala looks at her and smirks.
Sunaina sees the ring. She finds it unusual. She thinks about hypnotism rings and gets shocked.
She comes out and informs sita about the ring.
Mala (to herself): There is no time, I have get consummated with Surya, only then I can stay like this.
She gets up and brings Surya to the bed. He removes her jewels. He starts to remove her clothes, just then Sunaina comes there and sprinkles ganga jal on Surya. His hypnotism gets cleared and he is shocked to find himself in that state.
!!!To be Continued!!!
Precap: Arjun-Panchali-Subhadra along with Nakshatra come to the kingdom. Swastika looks Adithya look-alike at the temple.