DECEIVED IN LOVE: TWINJ SS SHOT2
Shot:2
Kunj was laying on the bed smiling like anything.
Urf when I will see her that decision was fully bullshit in my madness I took but babaji she is not less even she makes me angry more. in this years I fooling myself everything is ended between us but it's false I can't forgive her even my whole life also.When I saw her there all memories bring back it's your call don't let her go again now I will do all possible things to bring twinkle back who used to love me and I will rectify my all mistakes which I have done unknowingly in my immaturity he cuddles the pillow while thinking about twinkle he dozed off happily..
The same condition was twinkle huh if I know he will come there I didn't go after coming back from London never bumped with him in Amritsar I know he staying here suddenly when I try to erase everything with him but again he knocked Hope not again I will see his face.he changed from his face looking everything is lie his love and his promise like him she said..
I was so dumb come in his cheesy talks that he really loves me but not he never loved me it just he playing with my feelings like a toy and I'm idiot make him my life it's not easy for me to stay in this years without you kunj though I deny fighting with myself every day and night now nothing was left between us and everything ended in my heart also for you but I failed every time..
Now a new chapter of my life don't know who will come to see me aha 😤 babaji for maa and papa I have to do for their happiness she murmured and closed her eyes..
Next morning::
Twinkle sleeping peacefully dreaming about Kunj and herself..
Kunj was running behind her.Arey chasmish wait yaar he calling while twinkle keeps giggling.
You can't catch me kunj sarna she said and while Kunj smirked and hide.
Where he went babaji she said and finding Kunj while Kunj comes from the back and lift her from her waist.
I'm here darling what did you said you can't catch me really baby you are in my embrace he said in a sensual voice she closed her eyes because of their proximity..
Huh, cheater, she murmured.
Everything is fair baby he said. Tickling her she was laughing loudly twinkle come out of her thoughts because of leela voice.
She woke up with jerked and realised it's just her dream..
uff babaji again his thought cage me she held her head and get up.
Yeah maa I woke up she gives her mother voice and went into washroom quickly twinkle get freshen up and went downstairs went to the kitchen and helping leela.
Are you going today? Clinic leela asked.
Twinkle pouring tea in teapot why maa she asked back.
Because your bade papa and maa coming maybe she said twinkle understand.
So soon maa twinkle said.
Hmm, beta leela said.
Okay maa I will try to come soon she said and take tea and went out of the kitchen.
They had their breakfast together and rt told leela maybe pandit ji and raj will come in sometimes so handle them he and twinkle went together for their workplaces.
At Sarna [email protected]
Usha told about twinkle alliance to Meera who was hell excited.
Maa mummy ji told me too she added.
everyone having for breakfast.
Okay beta I will call you later usha said and ended the call.
Maa now you are done with your morning gossip will you give us breakfast Kunj said.
Huh see kesa hai Kunj let me bring my bahu then you see usha said priyanka and Manohar giggles out Kunj rolling his eyes.
Usha served them and sat down. Peacefully they finished their breakfast.
Kunj I'm coming to the office for some checking so do your work nicely Manohar said.
Don't worry papa you can any time Kunj said and went for office.
See now my son become matured now he is ready to take his all responsibility so better do his marriage what's say Usha said.
Don't be hurry usha first let's meet up with that girl family then we will see Manohar said and he too went for his office..
The whole day passed away in their respective works and busy life twinkle returns home after her work.find her bade papa and maa presented she greet with them.They all talk for while twinkle went into her room she stays alone mostly.
So here is that boy photo Which we have chosen for twinkle raj said.
Yes, bhai sahab rt said he and leela seeing Kunj photos they liked him and pandit told them about his family and qualification.
Hmm acha dikhta hai aur milte hai rt said.
Jee even I'm thinking too leela said and they smiled twinkle come down and understand with their facial expression.
So finally they fixed babaji she murmured told servant for dinner they all family members sit together have their dinner happily.Raj and aarti went back to their home.
Pandit ji call rakhi and told her about Taneja's they wanted to meet with sarna's usha get happy and she told same things to Manohar he said they will go and informed Kunj don't do drama at last moment.Same leela informed twinkle too..
One was happy with this news while another was unaware what's going to happen in her life so in stress how she will handle because she itself having strong issues of anxiety.
Kunj was sitting in balcony having a video call with rohan.
Waha bhai waha kya dimag laga hai rohan said.
Woh toh yaar it's not possible without you aren't less Kunj said.
Remember my promise rohan said.
Haan saale pata hai don't be desperate pehle shadi toh hone de I'm just going to her place most awaited thing is her reaction tu jaan tha nahi hai us miss Amritsar ko jo uske saath prank karne ka soche woh apne saath hi karke chala jaye kunj said rohan laughs out fully.
Hehe true yaar still you scared from her rohan said.
Me no never I'm D Kunj sarna it's
Not easy to make her full after seeing their she will blast me he said.
Better go with precaution bro rohan said and keep laughing.
You are my friend or her haan kamina laughing on my situation Kunj said.
Acha sorry now I will not laugh rohan said and still laughing.
I will break your face if you come in front of me kunj said gritting his teeths.
First think about yourself you going tomorrow chasmish rohan said.
Heyy don't say chasmish only I have right to call er chasmish Kunj said.
Killer Kunj I'm damn sure twinkle will not impressed with your this lines 😂he said and Kunj making faces..
You just wait and watch kese I will make her Mrs Kunj sarna.Rishta toh hoga kese bhi by hook and crook Kunj said.
Haan hona bhi chahiye rohan said.
Another morning usual day leela was busy in arrangements twinkle went for her work and she has to come early. Kunj was whole day hell happy he comeback from office while Meera too comes.
Maa this boy didn't get ready till now meera said.Kunj comes down looking hell hot.
Now everyone is ready Manohar said.
Yes papa Kunj said.
Well Kunj listens to me if you did there any drama no one worse then me gets it behave properly samje Manohar said and Kunj nodded in yes.
I'm so happy kunj finally my brother Meera teasing him Kunj make faces and
Huh don't worry papa mujhe aap se jada tension hai iss rishte ki hope madam drama na kare kunj murmured And went outside bring the car all settled down in the car and left for Taneja mansion.
At Taneja mansion raj and aarti along with pandit ji waiting for Taneja's.
Get ready fast leela said to twinkle.
Maa why this all things necessary she said.
Do you want to come in front of them in your nightdress haan leela said.
Maaaa 😫twinkle said and went in washroom leela giggles and went down.
Twinkle get ready aarti asked??
Haan she getting Leela replied.Everything is all set the Whole house looking pretty.
Kunj stops the car in front of Taneja's mansion and they all come out of the car.
Waha kunj your sasural really beautiful Meera said.
Dii abhi tak bana nahi hai Priyanka said kunj look at her..
aaj sab ko baat aa rahi hai kunj said in low voice and they process ahead..
They entered raj see them he and aarti welcome them nicely.
Come Mr sarna raj said. Leela and rt too come and meet with them..
please sit leela said.They all settled down and leela served them juice.
Aur kese hai rt asked.
Bas theek hai aapko Manohar said. Meera making faces while Kunj sitting like a good boy.
See this boy Meera said. 😂they were talking normally.
He is my son Kunj and she is my elder daughter Meera and smallest Priyanka Manohar said.Kunj gives them smile.
Aur karte kya ho beta raj asked.Kunjj Manohar gestured him.
Haan woh handling my papa business Kunj said:
Now he started going office handling my business because I get very less time due to my duty in court Manohar said they asking kunj few more things.
Uff their question is not taking name to stop babaji and where is siyappa queen he murmured.
Kuch bola Meera asked him.
Kuch nahi kunj said. And looking here and there they happily talking with each other.
Where is girl usha asked?
Haan leela go and bring twinkle aarti said.
Jee leela said and went and bring twinkle down Kunj didn't lift his eyes because he just controlling himself. Twinkle looking down and leela bring her all seeing her she looking very pretty they all smiled after seeing her Meera gestured Usha.
Sit beta Usha said and made her.
She is my daughter twinkle leela said.
Twinkle dekho beta aarti said and she lifts her eyes and gives them smile and move her eyes and was shocked to see Kunj was sitting he bite his inner cheek.😂because he very well know what will be her reaction it's an obvious thing. If he will be in her place his reaction will be the same maybe more.Twinkle eyes just freeze. Keep looking at Kunj for sake he too gives the same reaction.
What happened twinkle leela said and she comes in her sense and looking at Kunj.
Babaji why i m seeing Kunj haan in this boy aha this man controlling my mind too she murmured
He is kunj puttar and his family leela said
What he doing her she murmured.
She is usha ji and Meera or Priyanka and he is kunj leela said.Usha asking twinkle about herself.
Look at her babaji she looking so pretty I don't know she becomes more beautiful haan I must say my choice is best well I know baby you are in shock after seeing me here 😛sorry for shock but I can't do anything it's necessary Chalo drama on he thinks in his heart.
Our twinkle knows everything very mature aarti said.
Even I want a wife for my son matured who handle him because he is very immature Usha said and Kunj pass her Whatever look Meera and Priyanka giggles.
Yah me apna impression jamne me laga hu aur meri maa meri bezzati kunj crying in his heart 😒..
We really like your daughter Usha said.
I think let these two talks once rt suggested they all looking at each other.
No papa if I go she will attack me wild cat Kunj murmured and looking at Manohar.
Sure Manohar said and gestured Kunj.
Twinkle take Kunj puttar and show him our room leela said she looks at her mother get up.
Ji maa she said and twinkle and Kunj went.
They entered in twinkle room kunj standing keep quiet while twinkle faced him.
What are you doing here? Finally she said.
What do you mean Kunj said.
I asked you something it's my house twinkle said.
I don't know first it's your house I come here for alliance samji he said.
Acha it's you who come for me really what wrongs with bade papa choice twinkle murmured.
What do you mean by this haan even I don't know about you chasmish Kunj said.
First, mind your tongue she showing him her finger.
Shadi woh bhi tumse haan twinkle said.
Haan even I don't know I will bump with
My EX-GIRLFRIEND like this kunj said.
Huh, so-called girlfriend and boyfriend, she added back.
I'm shocked she said.
Acha I m toh very happy wese same situation Kunj said both looking at each other's having tears in their eyes when they recalled about them.she wiped her tears.
I don't want to see your face so better deny okay she said and went in side.
Aha, 😤 he gets frustrated I think we should go down have to behave properly twinkle Kunj said.
Hehe, she laughs really kunj we know each other's they don't know about this whom they select for me he is my so-called boyfriend she said with all hatred while Kunj can understand but he didn't say anything.
You were right even my family don't know about you my long time girlfriend he said.
Hmm right so sochna bhi mat maybe it's just by coincidence she said kunj didn't say anything more.
Let's go he said and they come down.
All smiled after seeing them they sat down back.Leela told twinkle to served them sweet and snacks.She gives to kunj and while giving their hands touch and they shared a quick eye lock.She sits back.
We really like your daughter usha said. Leela smiled.
Same your son too leela said twinkle looking at her mother with shocking eyes Kunj can see her expression and giggle in his heart..
Sasu maa toh gai 😝kunj murmured.
We just want a good girl and family for my son that I can in you all and twinkle usha said.
You can think And do informed us Manohar said rt nodded yes.
Now let us take leave he said and he gestured Kunj he took everyone blessing same twinkle too..
chalte hai acha laga aap se milke rt and all said.
Same Manohar added and they bid bye to each others..
While in the whole way they were talking about twinkle and her family,
Je I toh really like twinkle she is so
Beautiful and independent girl usha said.
Yeah look your son I spend my lot of money behind him he said kunj was busy in his thoughts.
Hehe papa true where my Boy lost Meera said and by the time they reached home still Kunj is his deep thinking.
Kunj kaha khoye hue ho since the time we back from her house Meera said.
Kahi nahi kunj Said.
I got it maa I think after seeing such a beautiful girl my brother dancing she said and laughing.
See maa dii kunj said.
Meera don't you go in your room usha said and Kunj went from there..
Maa kya socha let's fixed this alliance Meera said.
From our side beta let them to take their decision Manohar said they all agreed.
Kunj throws his blazer on the bed in anger.
aha I should get happy but I'm not why?? After seeing her face and her words really hurting me I never hurt her still why I'm feeling I really hurt her which I don't know ah uff babaji leave this all things he sat down on the bed and I'm so happy seeing her after a long time she becomes really pretty no more tomboy 😹.. even get attitude too with beauty huh siyappa queen her reaction was correct but what I can do twinkle it's my own plan to send my alliance for you to your place but everyone thinking it's by chance 😉like normal people..
I will joint all cracks between us it's my promise hope you get ready I know you will not after seeing me let's see hope for best he said and went in washroom.
Twinkle come in her room and removed everything and frustrating fully pure Amritsar me mere liye iss ek sadu ka ho rishta bacha tha kya babaji aap bhi haan why you doing this all let me what you wanted from me after lot time I cool down myself not again please I will deny for this alliance twinkle said and changed her clothes and walking here and there in anger..
Well leela and rt were extremely happy with this alliance they like Kunj and his family very genuine they are.
They were laying what did you think leela asked?
Well I'm happy with this alliance asked twinkle once rt said.
I'm too happy ladka acha kitna sona hai leela said and they were talking about this.
The night passed again morning Twinkle didn't sleep the whole night because of Kunj.
kunj was happy very after all whatever he planned things going in that way only.
Kunj whistling in very good mood meera entered in his room with his coffee he getting ready for his office. She kept the mug on the table and looking at him.
Today very happy planning how to cancel this alliance Meera said Kunj laughs out.
Di your sense of humour very bad he said and turned I'm happy aise hi you should be happy for your health also don't you know my sister he said and pulled her started dancing with her she smiled.
Acha you looking very very happy Kya baat hai she asked.
Kuch nahi di you always behind me he said.
My brother looking hot she said.
I know I'm killer 😎he added and she gives him his coffee they both passing jokes and Kunj went down and they all had breakfast together.
Manohar was free so he and Kunj together went office while Priyanka went to her college and Meera or Usha get busy in their respective work Meera helping her mother.
At Taneja Mansion.
Everyone having breakfast quietly ladka acha tha raj said all looking at him.
Jee mujhe bhi aarti added.While twinkle looking here and there.
But papa I m not happy with this alliance Twinkle said and shocked everyone.
But why raj asked?
Bas bade papa you can see someone else twinkle reasoned him.
Something happened he said something?? Rt asked.
No papa he is not my type she said.
Puttar ji type kya hota hai iss chakar me Ram already many good alliance went from our hands not this one pandit ji told me their family is very good and reputed in Amritsar his father successful judge of Amritsar everything is settled what you want more in that boy Kunj he too handling his father business raj said.
You not understanding me bade papa everything is good but still I'm going office she said and went from there.
See ram twinkle she taking advantage of your freedom raj get angry.
Nahi bhai sahab she is bachi she don't know what good or bad for her you are absolutely right even me and leela too like Kunj and his family rt said.
Leela and rt you think he is one and only son twinkle will be one and only daughter in law of that house what she wanted more everything is here all love and other things too koi tension nahi hai humhari twinkle khush rahegi waha pe Aarti suggesting them leela agreed with aarti.
And I already told pandit ji we are ready for this alliance so you better think about my commitment raj said and went from there.
Bhai sahab bhi na gussa hoge lagta hai rt said.
Yah bas twinkle puttar ka acha chahte hai Ram aarti said.
I know bhabhi you don't worry woh hi hoga jo bhai sahab ne socha hai rt said and he too went for office..
Manohar and Kunj attend the meeting together and Manohar was happy after seeing Kunj he really giving his 100 per cent in work. They come out from the conference room.
Happy and proud of you my son Manohar said and patting on his shoulder.
Acha papa not fair 😝otherwise I'm good for nothing kunj said and giggles out and went in the cabin.
While twinkle can't concentrate on her work again and again kunj thought coming in his mind. She leaves the clinic and went to gurudwara spend some time there.
Rohan comes to office he went into Kunj cabin.
Heyy bro he entered Kunj leave his work.
Come he said and rohan went and took the seat.
Aur busy haan business man rohan said.
Yup Kunj added.
Aaj tak toh kabhi dimag nahi lagaya hai tune aajkal kuch jada hi what's the matter hmm rohan teased.
You know because I hate this all things but my papa for him I have to do and one day I have to take over my responsibilities after all I'm his one and only son Kunj said.
Tere muh se ya baate achi nahi lagti hai😂 he said and Kunj making faces.
Kunj oder coffee and sandwich for them.
Aur bata what happened last night you went to see your love what was her reaction?? 😂he already laughing because he knows.
Stop laughing it's normal yaar when she comes and see there shocked and I give her he same reaction. Send us to talk alone and she started 😖and I'm listening he said.
Really why?? Rohan asked.
Aur kya karta yaar shadi jo karni hai usse so I have to bear for sometimes Kunj replies.
Right 😂rohan said.
She told me she hates me and she will deny for this alliance Kunj said.
Yah toh hona hi tha tera hi idea tha bhai tujhe kya lagta hai what about her family? He asked.
Arey they like me same my family too main issues toh chasmish ka hai aur ab toh badi hi jada bolne lagi itna attitude babaji I'm controlling on myself kunj said.
Acha bachu it's happened now only before also she used to give you same Tashan it was you who roaming behind her already you both had issues with each other's rohan said.
Woh bhi hai dekhte hai hope uski chale hi nahi iss rishte mein kunj said.
Us pandit ko paise dede kya rohan suggested him.
Acha 😒or sab ko shak ho jaye why I'm so interested in this alliance was not before this haan and everyone get to know she is my ex-girlfriend and I'm her boyfriend kamina shut up jo karna tha woh toh kar diya now wait kunj said and rohan nodded in yes.
Kunj finished his few works while rohan was there only.
Chale today for a night out tomorrow wese bhi Sunday hai you can rest rohan said.
Haan kunj said After sometimes later Kunj and rohan sits in rohan car and went.
They messaged their other friends Aditi dev or naman along with their girlfriends Ria or Asha.
They all were in the pub after many days later.
Let's do shots challenge..
Kaha aajkal busy dev asked Kunj.
Bhaiya ji busy in business rohan said they trio laughs out on Kunj.
Hehe poor baby kunj Aditi said.
Wese Kunj when will your Mumtaz returned back naman asked?
Pata nahi yaar he really enjoying there Kunj replies.
That's why shah Jahan is missing him 😂Aditi added and pulling Kunj cheeks.
They all friends calling Raza and Kunj with Shaha Jahan and Mumtaz name because they always stick together like a true lover 🤪. Whatever Kunj said.
Naman and dev took their girls and they dancing while Aditi and rohan pulling each other legs and Kunj playing drink glass thinking about twinkle and Raza.
This two is my life ek dil hai or ek dhadkan.
Rohan takes Aditi too for dancing and they were dancing fully and looking at Kunj.
What happened to him Aditi asked?
Nothing rohan ignored.
I think so maybe because of twinkle that day Aditi said.
Hmm rohan hummed.
Come kunj don't be boring Aditi said and pulled him he leaves everything get busy with them in their fun time.
Twinkle back home after having dinner with Prachi at her place while rt and Leela were waiting for her.
Why so late leela asked?
Woh bas maa went to parchi home she replied.
Ho sit beta leela said.
Twinkle bhai sahab fixed this alliance beta rt said and shocked twinkle.
But papa how can I took my decision haan I told you already mujhe iss se shadi nahi karni hai koi or chalega twinkle said.
Twinkle they are really good people aarti bhabhi saying absolutely right kunj unka ek lota beta hai you will be happy there aur kya chahiye tumhe they like you as well most what issues you have with Kunj haan tell me first the reason then I will think not like always come in your talks you don't want to marry and I cancel all good alliance for you but not this time rt said with little anger.
Kuch nahi hai karo jo karna hai she shouted and went in her room back.
Twinkle rt giving her voice who never raises his voice in front of her but today.
Please you don't pamper her this time I think let's call bhai sahab and tell him we are ready for this alliance leela said.
Twinkle crying why these people can't understand me how I will tell them real reason behind my no she murmured and stay angry.
After sometime later rt call raj and informed him about Kunj and his family they were ready he get happy while twinkle heard because she about entered the room. Leela sees her and bring her in the room.
Twinkle till now we listen you na?? Leela said she nodding In yes.
This time you please rishta bhut acha hai mene bhut logo se unki family ke bare mein pucha hai you will be happy there she said and hugged twinkle.
I know maa family achi hai but kunj she thinks in her mind and now she can't do anything and go against as well her parents.
At late night kunj reached home in not so good condition. With another key he went inside and run in his room before he gets scold by Manohar.Kunj just laid down and sleep.
Now twinkle stuck she can't go against her father will too helpless she feeling nor can share with anyone.
She thinks about something and immediately called them and talk for a long time after she feels really happy and better.
Rt and leela already told meher and abeer about twinkle alliance and they too agree with them it's high time for twinkle settle down in her life.
:: kunj room.
He was sleeping till late didn't wake up for breakfast also and Usha knows today is Sunday he will no wake up.In the afternoon he woke up with a heavy headache.
Aah maa this headache why I drink so much he murmured why didn't get any reply from twinkle family babaji he said and went in washroom and get freshen up.
Come down goes into kitchen Make lemonade for himself feel better.Usha sitting with Manohar and talking about reply from twinkle side not come.
Let's have lunch Manohar said and they all went and sits Kunj come to Manohar give him look.
My favourite food Kunj said and get happy.
Mine too priyanka said. Just then usha get a call from rakhi.
Yes rakhi she said and they talk,
Even from our side too yes usha said and smiling like anything all get confused she ended the call.
Kya hua Usha Manohar asked?
Rakhi ji ka call tha ladki wale ready hai iss rishte ke liye Usha said kunj chocked badly.
Whatt he said.
Yes I'm so happy I wanted to make her my bahu usha said and Manohar laughing on her madness.While Kunj rolling his eyes.
Waha babaji lagta hai aap mere saath ho this time haa kese hogi madam ne toh nahi ki hogi hehe chalo acha hi hai😎I'm loving you babaji help me bas till she didn't become my wifey he murmured and get sad for show off Priyanka teasing him.
Jee baat karte hai unse aage kya karna hai mere ek lote bete ki shadi me itne ache se karungi Usha said.
Control Usha Manohar said.
I can't she said and smiling Kunj too happy. Sunday best nikla he murmured after lunch went in his room and informed rohan.
f**k really haan bhai matlab upar wala tere saath hi hai 😂let's informed everyone rohan said.
Nah arey till not engagement happened samja I don't want to take any risk most that dayaan will come then she will flop all my plan Kunj said.
Yes Kunj 😂bichara kunj I never seen you like this for anything rohan said.
Nahi yaar I really love her jo galti or immaturity me Hua I wanted to rectify each and everything he said.
Aisa hi hoga you both will again together rohan said..
Haan wish toh ya hi hai meri kunj said.
He laid down and Priyanka come asking
Him some help for her exams Kunj helping her then both started their pillow fight.
In [email protected]
Usha pours tea in the cup for Manohar and gives to him. Just then get a call from an unknown number.
Yes kaun Usha said.
Me leela leela said.
Ho leela ji aap boliye Usha said and gesture Manohar.
Jee woh we are ready humhe aapka ladka bhut acha laga aur aap sab bhi she added.
Same humhe bhi twinkle bhut achi lagi Usha said.
So mene or twinkle ke papa ne socha hai kyun na Kunj or twinkle Ka roka kar dete hai leela said.
Jee me bolne wali hi thi because humhe kunj ki shadi ki jaldi hai already this boy wasted time usha said.
Same twinkle too so kab ka socha hai leela said.
Kal chalega? Leela asked?
Jee kal ji Usha said.
Because twinkle ke bade papa ne kal ka mahurat fixed kiya hai leela said.
Ho aisa then we are ready leela ji Usha said and after call she told Manohar everything.
Jee now we should start the preparation usha said.
You start whatever you wanted Manohar said.
Twinkle listen everything didn't said anything now it's useless.They will do according their wills.Leela was happy and started preparing roka.
After dinner usha told priyanka about this and Kunj too who was shocked it was unexpected for him too very soon but he is the happiest person.
The day comes soon today is kunj and twinkle roka which their family fixed in the very small manner just family members.
Usha and leela both mothers busy in their respective arrangements. In this, all twinkle was unhappy while Kunj dancing.
In evening Meera comes from her sasural.
Usha placing all gifts which they going to
Give twinkle from their sides. Kunj entered
In the usha and Manohar room having an apple.
What is this maa he asked.?So many things for whom.
This all things for my bahu kunj Usha said.
Acha abhi se itna pyaar see di and prinku already I took everything of papa now my wife will too poor girls mine Kunj said and giggling.Huh Meera making faces.
Who told you this Manohar come there and cuddles his daughters my daughters are very special for me he added.
And me for my maa kunj said and cuddles usha.
Leave this all things this boy didn't get ready go fast Kunj we have to reach there on time Bacha usha said.
Kunj thode ache kapde pehan na samje otherwise twinkle will be like hone wala pati aise and she is so Beautiful meera said kunj throw her apple on her.
Acha really she will be Lucky who get a husband like me 😎he said and Manohar lifts his eyebrow Kunj chuckled and run from there. All laugh out at him.
Kunj get freshen up and finding clothes for him what should I wear man he talking with himself.
You look best in white he remembers twinkle words his eyes went on white clothes pick up that this will suit because she like white on me and me too mujhe pe toh sab acha lagta hai wese bhi he said and get ready quickly.
Kunj went downstairs who looking damn usha praises him and take off evil eyes while Kunj showing Meera 🤪.. they all take a family picture and take all gifts and went outside keep in the car.
Di what about jiju Kunj asked?
Your jiju didn't come back from Delhi so he can't sorry from his side Meera said.
It's okay kunj said and start the car.
At Taneja Mansion decorated so beautifully.Leela and rt ready fully and waiting for sarna's along with raj and aarti along with her cousins who too come today.
Twinkle get ready sitting in her room with
Disheartening face. Sarna's arrived they welcomed them and hello hi.
Looking so beautiful leela said and Kunj take her blessing.
Mera hone wala damad bhi nazar na lage she added and caress his face.
You too not less aunty Kunj said all giggles.They all settled down.
Where is twinkle call her fast pandit ji said and twinkle cousin bringing her down Kunj can't take off his eyes from her.She comes and takes all elders blessings.
Come puttar sit beside Kunj Usha said and made sit beside Kunj.Looking so perfect together you both she said.
Shuru karte hai phir roke ki rasam pandit ji said raj nodded in yes. Kunj tied handkerchief on his head while Usha adores red veil on twinkle Head. Pandit ji tied a red thread around their wrist while leela do kunj tikka and give him gift same usha what she brings for twinkle.
Jee itna sab leela said.
Haan jee mene ya sab apne hone wali bahu ke liye kab se sambal ke rakha hai it's like a dream for me now I get chance I will fulfil my all wishes she is not going to become my bahu but daughter usha said and caress twinkle face they get hell happy.

Roka ki rasam puri hui pandit ji declared
All smiled and tell twinkle and Kunj take all elders blessings they take everyone blessings.
Stay happy usha said and give them all love. While Kunj went near Meera and gestured her.
Haan take mine too your elder sister her in law 😎she said and twinkle and Kunj took her blessings too.
I take your picture I have to send your jiju Meera said and take twinkle and Kunj photo together smile my Bhabi Meera said and twinkle looking at kunj He too.they all feed each other's sweets even twinj too each others.They had dinner together with a lot of talks and discussions about their wedding.
See this girl giving me so weird Looks Kunj murmured.
Huh, he sitting like I will do his aarti and maa and papa too giving him too much love but I know him she murmured in her heart while seeing Kunj.
Hehe babaji she must be thinking yah sab kya ho raha hai ya sab kunj ki maya hai twinkle baby aaj kuch jada hi pretty lag rahi hai twinkle raz kya ab aap ko acha lage ya na hum toh Dilwale Dulhania Le Jayenge kunj added in low voice.
Twinkle beta give dessert to kunj leela give her voice she looking at her mother who too much treating.
Haan maa gritting her teeth she take and went to kunj.
Lo she said.
Haan and take from her thanks 😉twinkle ji kunj added she give him faint smile.
I know tera maan toh kar raha hai mere muh todne ka 😝baby but you can't get ready to bear me for rest of your life😎he said.
What?? Twinkle asked.
Nothing I'm saying it's very tasty he said.
Twinkle only made leela said and arched his eyebrow.
Again they congratulate for this new
relationship between these two families.
Khush raho Usha said and twinkle takes her in-laws blessings same Kunj.
He behaving too much good Meera whispered in priyanka ears.
Hehe di😝she said and both giggles.
They returned home after everything both families very happy. Usha just talking about twinkle Kunj rolling his eyes same with twinkle leela Kunj this and that..
Don't know what MA see in that sadu😏since the time they went she just chanting
His name huh she murmured and went in her room.
Bas maa you lost in twinkle Kunj said.
You don't need to be jealous Meera said.
I will kunj said with a tint of anger.
Kunj kitni Soni ladki hai woh we should thanks to babaji for this alliance usha said.
Most my mother in law 😂Meera said.
Please kunj drop me to my sasural back she added.
Why at this time stay here wese bhi your headache not here both he said.
Papa see he calling my baby and husband headache she added with frustration.
By the way let me call rohan he will take you kunj said.
Kunj go and drop Meera Manohar said.
But papa he said and making faces.
Chalo kunj said.
Good boy bye maa and papa pinku she said and hugged them and they left.
Di send me that pictures kunj said.
Why?? Itni jaldi you fall for my bhabhi she said.
Please 😒kunj said.
Okay baba sending she said she quickly send him. Kunj reached come inside Meera said.
I come when I wanted before your sasural it's my friend home he said.
Huh 👅that day also you come and didn't meet with me she said.
You were not at home that's why acha bye di goodnight he said.

Bye, baby brother, she said and went inside and come back home and changed his clothes and call rohan.
I was waiting for your call Bhabhi comeback he said.
Hmm done roka he added.
Wow congratulations bro century he said.
Haan let me send you he said and Kunj sends him his photos with twinkle.
Waha looking good together he said.
Di clicked for jiju he said.
Ho Chalo now you are happy sleep today peacefully he said.
You too thanks yaar goodnight kunj added.
Goodnight bro rohan said and leave the phone.
Twinkle recalling their roka moments.
It was my dream to marry with my love kunj but when this all happening in real I'm not happy but I'm happy also why this confusion I love him lots what he did with me can't forget..
Where you bring me babaji at least show me right path she complaining to babaji.
His family is so sweet but don't know why this man is so bad.. now acting like he is a very happy boy even my maa who just kunj this and that😒she murmured.
A week has been passed to twinkle and Kunj roka.Usha and leela used to talk to each other about their kids.Well Kunj gets busy in work same twinkle in her clinic.
Kunj and rohan come to a building.
Maa told me about here Kunj said they both were looking at the building.
Let's check na bro kunj said and they went inside and well Twinkle clinic too in the same building by chance.There were issues of the lift so they went with the staircase.
Maa Dr friend here na kunj said.
First you should asked her rohan said and they went to twinkle side.
Looking here and there dr Sheetal Kunj looking for her name.While receptionist Neha sees them.
Who are you what you want?? She asked them.
Woh looking for se Sheetal Kunj said. Before Neha could speak twinkle come out of her cabin.
Neha next patient please she said kunj and rohan heard her voice and they turned shocked to see each other.
What are you doing here following me haan twinkle said. Kunj rolls his eyes.
It's your mistake chasmish twinkle show him his eyes I mean twinkle.
Then what you both doing here she added.
Let me speak first I m looking for dr Sheetal Kunj said.
Sir Dr Sheetal clinic on 3 floors Neha said.
Thanks, Kunj said.
And what you doing her said.
None of your business she said went in her clinic back while the patient comes.
Go mam waiting for you Neha said patient went inside.
What she doing here rohan asked.
It's her clinic Neha said.They went near the window and seeing twinkle with her patient and read in side her all details.
Ho miss chasmish psychologists hai Kunj murmured.
Waha waha see twinkle so talented rohan said.
Ja then take her psychotherapy 😒kunj said.
Mera koi heartbreak nahi hai tere liye free mein acha hai after all hone wala pati dev rohan said.
Chal ab he said and they went to dr Sheetal and do usha work..
Kunj comes back home with usha medicines.Maa take your medicine he said.
Thanks beta Usha said.
What you doing?? He asked.
I'm doing planning for your engagement Kunj said.
Acha do kunj said and went in his room.
Leela asked twinkle for her engagement ring she said she can decided.2 and 3 days went in their engagement arrangements.
At [email protected]
Kunj tries to calling Raza but his phone coming off he wanna tell him about his and twinkle while Kunj rest friends went out of the town just Aditi and rohan there for him.
Sarna reached the venue they meet with Taneja's Kunj takes their blessings. Malhotra's too come which invited from sarna's side.
He is my son in law Manohar said.
Hi everyone Shaurya added and meet with everyone.
Who this pretties girl leela asked.
She is my granddaughter usha replies.
Aww, so cute leela said.While kaya looking here and there.All guest come and busy in their talks.
Arrangements are very good usha said.
Ji bas leela said.While twinkle getting ready in a room.
Where is your girl rohan asked??
Haan yaar Aditi said.
Wait yaar Kunj said and they both boys giggling.
Twinkle you looking so beautiful avni said who is her bestie she went out due to her work.
Thanks today you coming twinkle said.
Sorry she said.
Twinkle come leela aunty calling you Prachi said.Twinkle stand and they took her down.
Aditi shocked she looking at Kunj TWINKLE.. rohan winked at her in shh.
Twinkle comes down all smiling after seeing her looking like a princess.Leela and rt get emotional after seeing their lil baby.Prachi and Avni bring twinkle down.
Wese I'm excited to see your soon to be hubby avni said twinkle rolling her eyes because she knows 😝..
Bring twinkle here leela said.While Prachi and avni eyes went on Kunj and rest.
What they doing here avni asked.
Specially Kunj Prachi added.
He is only the one Twinkle replies.
Whatt you have gone mad kunj and tu🤯Avni said.
No twinkle yaar tu pagal hogi hai kunj or tu kese ya sab Avni said before twinkle say something meera took her.
Stand together my bhai and Bhabhi she said and made twinkle stand beside twinkle:
While Prachi and avni specially avni who don't like Kunj because of their issues she sees how twinkle suffer for him.
It's shocking Prachi said.
Dayaan is here kunj be careful rohan whispered.
Hmm dekh expression she must be shocked 😝my enemy Kunj said.


You have to be careful bro she can flop your all plan you know her rohan said.
Saale tu mujhe confidence bada raha hai dara hai haan😏kunj said.
Nahi nahi I m with you rohan said.Avni looking at Kunj.Kunj pass her smile.
Kaya meet with your maami Meera said and bring kaya.
Hi maami she said.
Hello twinkle said and kissed on her cheeks. Anjali and Rahul or Shaurya meet with twinkle.
Usha aunty choice is really best Anjali said while rohan and Kunj rolling their eyes.
But don't know what happened to leela aunty choice avni murmured enough audible for their gang members.
Looking really pretty twinkle you are meera said.
Thanks she replied.Rohan and Kunj went in side.
If I get chance to shoot I will do her 🤪Kunj said while looking at avni..

Twinkle don't do this avni said.
Please avni I know you but maa and papa wanted this she said and keep her quiet.
Soon it was engagement time twinkle and Kunj went on stage and stand in front of each other's Meera give ring to kunj.
Kunj Meera said kunj nodded in yes and looking at twinkle who completely blank and cold.When she recalling their last fight and today situation completely two different things.. having tears in her eyes.
Twinkle leela give voice she forwards her hand Kunj held her hand and both seeing each other's twinkle having tears in her eyes.He adores the ring in her finger. All clap.Now it's twinkle turn.
Fast twinkle her cousins hooting. She too adores the ring in kunj finger all smiled and clapping loudly tears fall down from her eyes which notice by Aditi and Prachi or avni and rohan lastly Kunj.The moment was of happiness but there is dolorous.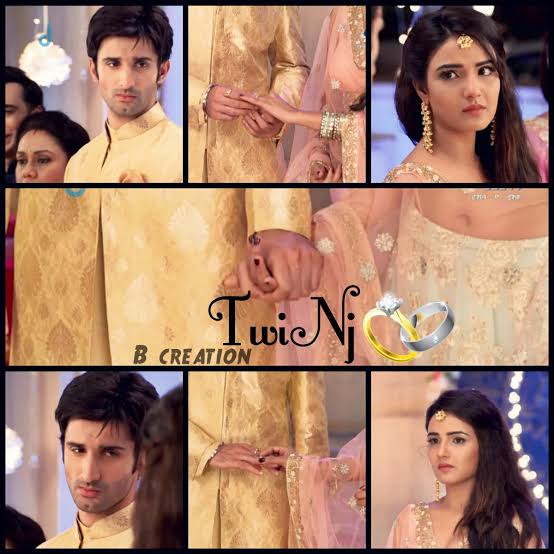 Their family members congratulations them and hug them.
One photo rohan said and twinkle and Kunj come closer they give a pose.Twinkle wiped her tears before her parents notice.
She went in side Kunj feeling bad.
Kunjj kya hua yaar congratulations rohan said.
Thanks he said and looking at twinkle face.
Maamu photo with me too kaya said who is 4 years old.
Sure come kunj lift her in his arms.
Even maami too she said in her cute voice.
Come twinkle beta leela called her she come and stand beside Kunj.They click a few photos with kaya and other family members too come and they clicked many photos.
Maami you are very beautiful kaya said and Kunj giggles.
Even you too darling twinkle said and pulled her cheeks.
I can't believe twinkle behaving so normal with Kunj avni murmured.
Hi avni rohan went near.
Hi she said in a heavy voice.
Yaar kaha after college he said.
Bas busy in my life she added.
I'm so happy you both stay together happy leela said and caress twinkle and Kunj cheeks.They were seeing their rings in their fingers which adore by them.
My problem is I hate you and I love you at the same time💔 twinkle murmured while seeing him.
Scene freeze…..
💔💔💔💔💔💔💔💔💔💔💔💔💔
Back with another shot.. quickly thanks for your comment happy meharin..😹.
Twinkle reaction 😹master mind Kunj 😎and Rohan..
now see what next..
Wait for next..
no proof reading leave the errors 🙏
bye love you all
Allahafize😎…