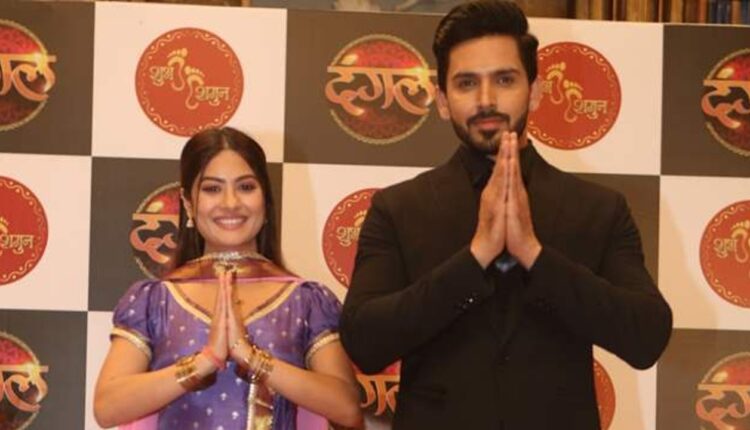 Dangal TV's upcoming show Shubh Shagun to go on-air on April 25
Dangal TV's upcoming show Shubh Shagun featuring actors including Shehzada Dhami, Krishna Mukherjee, Chetan Hansraj, and Kajolh Srivastav among others is all set to go on air on 25th April.
The show is produced by Smita Thackeray, Swati Thanawala, and Kundan Singh and is based on family ties and relationships
Shubh and Shagun during a press conference introduced the concept of the show and its characters to the media.
Shehzada Dhami, who is essaying the role of Shubh in the show said, "Shubh Shagun is about relationships, its importance. I have raised my sister like a father, I take full care of her. I do anything for my dear sister. I love my sister very much and fulfill her every wish. We are all very excited that our show is going to go on air from 25th April."
Krishna Mukherjee shared, "Both good and bad times come in a relationship, but in the moments of trouble, one has to be persuaded, one has to be encouraged. You will get to see these things in our show. We are giving our hundred percent to the show and hope that the audience will definitely like this serial. Shagun does not have parents but still she is very positive, helping others."
Mouhit Joshi, who is essaying Shagun's brother Yug in the show, said, "We all are happy to do this show and now its telecast time is coming soon. My sister is everything to me, she has also done a lot for me. His sister is like his mother."
Kajolh Srivastav, also added to the conversation and said, "My brother is everything to me, even my best friend. She has no parents but her brother has given her a lot of love, has kept her on her eyelids, all her wishes are fulfilled before she speaks. The brother-sister relationship has been beautifully presented in the show."
Chetan Hansraj who was recently seen in the reality show Lock Upp said, "My character is fantastic, which I am enjoying while playing. All the actors are like family. I am playing the character of ghar jamai for the first time."
We wish the entire team of Shubh Shagun all the best.