Connecting the past to present – episode 7
Nurses were running here and there and all were quite tensed..
Doctor comes out.. Aditya takes hold of him..
Aditya "What is happening.. Doc.?"
Doc " Please … Aditya let us do our duty.."
Aditya was in his tears but thank god.. Arjun was there to help him.. Arjun took hold onto Aditya..
Doc comes outside..
Doc " Her condition is getting worse.. She needs blood.."
Shivaay "What is her blood group??"
Adi " A positive.."
Priyanka " Mine is A+ve.."
Doc "thats good come with me…"
---
At yhe blood bank.. Priyanka was in the ward to give blood and as usual she was scared . Arjun passes by the room and sees her.. Arjun goes to her..
Arjun " Are you scared??"
Priyanka " A little.."
Arjun " A little.. huh ??"
Priyanka :"A lot actually.."
Arjun holds her hand tightly and keeps looking at her eyes..
Arjun "I wil tel you something.. will you here it.."
Priyanka nods.. Arjun signal's the nurse..
Arjun motivatingly "You know one thing in my life I haven't meet such a scared girl.. Those who ladies came in my life was so brave. My mom the boldest women i have ever seen .. and other is my sister……. I mean your sister.. I haven't seen her breaking even at extreme condition and Then their came…"
He was unable to complete as his phone rang.. Arjin goes out..
Priyanka looks at her hand and finds that they already had started taking her blood…
Rudra comes there..
Rudra " Waah.. Prinku.. I thought you will be scared.."
Prinku " Think that i have become brave.."
---
OUTSIDE ICU..
Doc comes out after a treatment of few minutes..
Doc "You can meet her when she is shifted to the ward.."
Shivaay " Thanks Doc.."
Pinky happy "Hai.. bhaghavanji.. Thanks for savinv my child.."
-'
Pinky , Dadi ,  Shivaay was in the room whike the others waited outside
Aditya & Arjun was also near the door step
All was waiting for her to open the eyes.. Soon she opened her eyes slowly..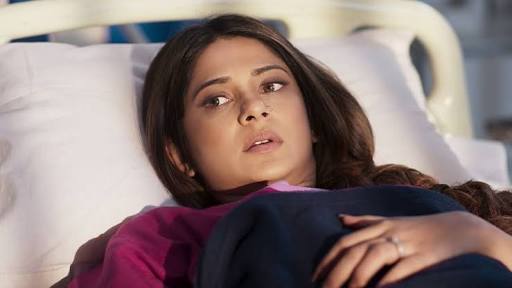 The first word came from her mouth was of Adi's..
Kritka stammeringly "A.. Ad..i.."
Aditya was only waitinv for this one word.. he ran in siding others and gey holded on to her hand..
Kritika " Adi.. Don't..goo.."
Aditya crying "No… i.. i won't go.. leaving.. "
She smiles..
Pinky " Beta.. are you fine.. If you need something.."
Kritika " How many times should i have to repeat the samething to you that don't.. ( she starts to cough)
Shivaay " Kritika you take rest .. we will talk about it later.."
—:
2 DAYS LATER SHE WAS DISTARGED FROM THE HOSPITAL & WAS BACK TO OBEROI MANSION..
IN OBEROI'S KITCHEN..
Dadi "OmRu what are you doing in the kitchen and where is shivaay"
Rudra "Dadi… Shivaay bhaiyya went for some meeting.. & We thought that we should make something speical for kittu di.."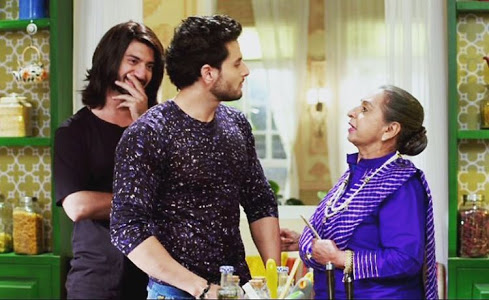 Dadi "Accha toh what are you making??"
Rudra " Chow mein.."
Just then Arjun enters …
Dadi "What's that.."
Om "I dont know.. Its all rudy's idea.."
Rudy "Its chinese.."
Arjun "But.. Kittu di doesn't like chinese.."
Rudy "She's our sister.. and we know her better.."
Arjun " Looks like now.. i know her better.."
Rudy :"Whatever.."
He goes ftom there and om follows him
Dadi "What made you come here.. all of sudden.."
Kritika comes there..
Kritika "Lets go.. Arjun.."
Arjun "Ji di..
—-:
POOL SIDE..
Om "Why did you came there from all of sudden he must have felt bad.."
Rudra " Why are you raising your voice om.. and can't you realise.. we cannot be her real brothers.. untill this Arjun is roaming around her..:
Om " What nonesene.."
Pinky " He is right..  if she has to get in touch with us.. she should have to be free.. i don't want her to end that realation.. but we should keep her away a little from them.."
Om gets angry on this statement and goes out
–:
Parking area
Arjun's car was not starting… and he saw Om comming down stairs..
Arjun " Om bhai.. Do you mind giving us a lift"
Om " No.. Arjun not at all.."
Kritika was not ready to sit with him.. but Arjun forces her to..
Om "Where do you guys wanna go.."
Arjun "The temple near bridge.."
Om " What's there..??"
Kritika "My friend has come from US & she said that she will meet me there
..—
They reach the temple..Om entets the temple and the first face he notices.. was of gauri's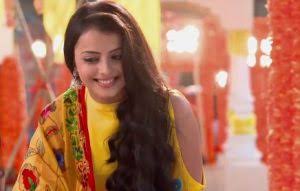 Kritika runs and hugs gauri..