Connecting the past to present – episode 1
Hi guys…
I have been thinking for a longtime to write this story and unfortunately.. i couldn't but my heart is encouraging me to write this one.. so i couldn't resist it..
I hope that you all remember the illegitimate track of the ishqbaaz.. So i just wanted to take you take you to that ..It will be quite different from the track went on. Now.. enough of my blah blah.. And lets start the story..
---
Roop bua of shivaay is shown shouting at shakti " Veerji .. tell your son The great Shivaay singh oberoi that he is your illiegimate son"
Pinky pulls roop towards her " What nonesense are you talking.. Shivaay is my son.."
Roop smriks " Veerji.. Didn't you told her… that she gave birth to a girl child"
Shivaay shouts " Enough … enough of your stupid… drama Om just call the police.. We have given her respect since she was our bua.. but she crossed her limits..
Roop " Police ko bulane se phele yeh dekh lena.. ( she hands over a pen drive)
Rudra connects it to TV. A vedio is shown of Shakti changing the baby which was near pinky..
All gets shocked..
Tej angrly goes to shakti " What is all these shakti… you have cheated ourfamily and your wife"
Shivaay goes to his dad" Dad.. please tell me all this.. its not true.. I am your son.. right"
Shakti angrly " No.. No its true that i changed the kids.. because she gave me a girl.. and i was sure that a girl won't never give me the whole power of Oberoi emporer.. and thus i changed the child
Shivaay took a few steps back.. Om and anika holded him.
Roop smiles " Tell the whole truth veerji.. ( she points towards shivaay) The Great shivaay singh oberoi who had always had the attitude that he is an oberoi.. just listen you shivaay.. you are a illegimate son of shakti…
Shivaay was started to shiver knowing the truth..Anika hold him tight even more..
Pinky was shattered knowing the truth.. Jhanvi supported her …
Till then Police was arrived to arrest Roop for the crimes she committed..
---
After a few hours.. Shakti left the place ..
Shivaay was in his room all broken.. Anika was continuously insisting him to drink some water.. but he was not at all responding..
PINKY'S ROOM..
Pinky was crying " How..how.. could shaktiji cheat on me.. i thought he loved me and shivaay more than anything.. i can't believe he had played this big game only for money..
Dadi " Pinky.. meri bacchi just relax"
pinky " How would i realx..  i was not been aware of my daughter till now.. i want to see her once.."
Just then Rudra comes running to the room
Jhanvi " Please rudra not now.."
Rudra worried " Mom.. shivaay bhaiyya..  he is going.."
All rushes to the Living room..
Shivaay and Anika is ready to go with their bags ..
Om was trying to stop shivaay from leaving.
Om " please shivaay we can talk and sort of these things.. please don't go.."
Shivaay holding om's cheek " There is nothing here now which will make me stay here "
Rudra crying " Not even us bahiyya.. Bhabhi please make bhai understand.. "
Shivaay" Om takecare of the family"..
Om " Please shivaay..
As Shivaay and anika moves ahead.. Om and rudra asks each of the family members to stop him..
Rudra " Chotimaa.. If.. if you tells him.. i am sure that bhai will stay.. please asks him to stay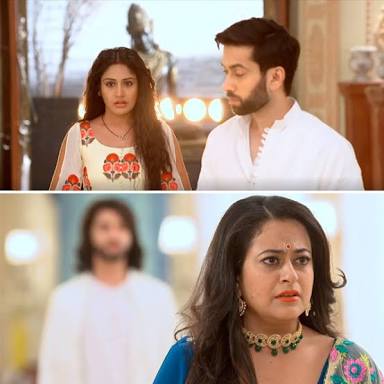 Pinky shouts " Shivaay..
Pinky runs to shivaay and hugs her..
Pinky " Mera heera beta hai tu.. you are my son.. I have lost my daughter.. o was unaware of her existance.. but shivaay.. you are my son i have given all my love to you.. and today you also want to go away from me.. No..  i won't let you go.. please promise me You won't leave me ever.."
Shivaay also hugs his mother…
Shivaay " No.. maa.. i won..won't go"
They share a emotional moments..
AFTER A FEW DAYS…
Pinky , Jhanvi & Dadi was sitting at the sofa..
Shivaay comes there too..
Pinky sadly " Shivaay.. i want to meet my daughter for once.. You will find her na.. I want both my children with me.."
Shivaay smiles " Don't worry maa.. we are enquiring about her.. and just yesterday we got the address on that nurse.. and we will soon be with her.."
Pinky again hugs her…
---
Shivomru are in a old house..
Shivaay " Tell me where is the child which Shakti singh oberoi given to you.."
Women " Who is shakti singh oberoi .. i don't know him at all"
Om " Stop lying we.. all know the truth"
Khanna points gun at the women
Women " Woh.. uss din.. i have changed the boy child with the girl… And the Kritika is with your mom.."
Shivaay " Give me her address"
The women gives a chit.. they hoes out of there..
Rudy stops " Uske naam kritika hai.. Our sisters name is kritika guys.."
Shivaay " And now we will find her.."
---
AIRPORT..
A girl is shown hugging a boy.. both of there face is not visible..
Girl " Come as soon as possible.. i will miss you"
Boy " I will also miss you.. and will be here soon"
He kisses on her forhead..