Channa Mereya – An IshRa Shivika FF (Chap 5)
Shivaay's memories on Anika's entry in his life were interrupted by his Dhaadhi.
Dhaadhi: Billu! Why you are looking so worried? Sab kuch teek to hai na?(Is everything alright)… Kya hua dinner pe?(What happened in the dinner?)
Shivaay: Nothing Dhaadhi… I am okay… Why you didn't sleep till now? Chaliye… Jaake so jaahiye(Go.. And get to sleep)
Dhaadhi: I know Billu… Tum Raman ke baare mein soch raha hai kya?
Shivaay: No Dhaadhi… Nothing like that.. Aap Chintha math kijiye (You don't worry)
Dhaadhi caressed his head and went out of Shivaay's room.
A very large building which was equally wealthy as Oberoi mansion was shown. Mr. and Mrs. Kapoor were having dinner in the dining hall.
Mr.Shylendra Kapoor: Where are our daughters?
Mrs.Anuradha Kapoor: Svetlana and Tia haven't reached home yet. They are still in hospital.
Mr.Kapoor was feeling bad about what happened two years back. He came back to present on hearing their car's horn.
Svetlana and Tia entered in.
Mr.Kapoor: What happened Svetlana? How is Sowmya? Are there any chances of her recovery from coma??
Svetlana: No hopes till now Papa. I won't leave that Raman. How can he cheat my sister? He has to pay for it.
Raman in his room was thinking about the incident happened two years ago.
Flashback:
Sowmya was running over the cliff and Raman was following her.
Raman: Sowmya! Stop it… Don't make decisions in haste.. Hum baath kar sakthe hai Sowmya.. Stop it.
Shivaay,Aarthi and Guru were following Raman.
Sowmya jumped off the cliff… She was then rescued by the forest rangers and then admitted in the hospital. Doctors informed everyone about her coma.
Svetlana grabbed Raman's collar.
Svetlana: I won't spare you… You have to pay for this… Give me back my sister.
Raman couldn't do anything other than crying for Sowmya.
Shivaay came and stood in front of Raman.
Shivaay: I have never thought that you could do this to a girl. How can you reject Sowmya?
Raman : Shivu…
Shivaay: Don't say that you never thought her like that… Everyone of us.. Even Sowmya ko laga hai ki you loved her… But you are saying that you just thought her like your friend. Then vo shayari kiske liye? Vo love letters kiske liye, which you gave it to Sowmya. Kyun kiya yeh sab Raman?
Raman: Shivu…
Aarti came there and slapped Raman.
Aarti: Don't ever show your face anymore… I hate you like anything… Get lost.
Shivaay controlled her and took her away.
Flashback ends.
Raman was holding an invitation in his hand. "Sowmya weds Manoj", Raman smiled seeing those words in the invitation and went for sleep.
Anika was also thinking about the same incident.
Flashback:
Anika was rushing to the hospital and she saw Aarti and Shivaay coming out.
Anika: Shivaay.. Shivaay.. Sowmya teek to hai na… Is she alright? Kuch toh batao?
Shivaay explained everything.
Anika was shocked and she saw Raman.. His tears told Anika that everyone are in a big misconception.
Anika : Aarti.. I think Raman is not wrong… Hum baath kar sakthe hai use…
Shivaay: What do you mean Anika? You are supporting Raman even after this.
Anika: I think we shouldn't decide anything in haste Shivaay…
Shivaay: Do you think that you can judge Raman more than us? We better know him than you and your friend Guru.
Anika: I don't think so Shivaay. Mujhe Lagta hai ki ye Raman ka aansoon Sowmyaa ke liye se jyaadha aap dhono ke nafrat se hi beh raha hai(I think that the tears of Raman, more than for Soumya, are flowing from the hatred of both of you.)
Aarti: Shivaay. I think we should leave. Yeh sab bakwaas sunne ke liye time nahi hai mere pass(I have no time to listen to any of these stupid things)
Anika and Shivaay were seeing each other. Shivaay started leaving with Anika.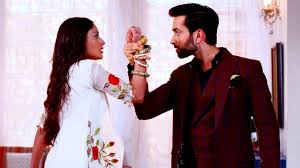 Ishita and Gauri were talking about the dinner with their parents.
Gauri: Dhi… I am going to meet my friend tomorrow. She is coming from abroad tomorrow only.
Ishita: Who is that?
Gauri: Aarti.. My school friend… Last week only we found each other in facebook. She told me that we both can meet tomorrow evening..
Ishita: Nice to hear that… Social media is being misused and also its helpful in many ways na…
Gauri: Haan Dhi… Yeh hai uske picture..
Gauri showed Aarti's profile to Ishita… In the photos section she saw a group pic.\
Ishita asked Gauri to select that pic. Ishita and Gauri were shocked to see Shivaay, Bhavya and Anika with Aarti and some other people.
Ishita noticed Raman in that pic.
Ishita: He is the one who was with Anika in the temple today morning.
Gauri: Dhi… I think we have to connect more and more dots. I think I can figure it out tomorrow.
Ishita nodded and went into some thoughts
Precap:
In a marriage hall
Ishita and Raman were sitting together and watching the rituals performed by the wedding couple.
Ishita: Aap dulha ka friend ho?
Raman (with a smile): Dulhan ki friend hoon.
Ishita was confused.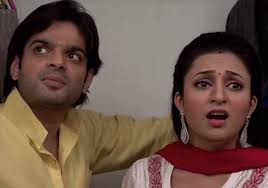 Sorry for the long gap.. From tomorrow it ll be regular