Can love happen twice?? #Riansh (immj2) part 2
thank you for your lovely comments and support….keep support me the way you all are doing…..before you gonna ask me about the update of "miss topper and Tu jaroori"….so I am still working on them and not able to figure out.….as soon as I will find something then I will update….and this Os was already written and I  don't want irritate with my weird thought so I didn't updated here but when I saw your comments that you liking my plot so thought give This one too…..hope you all gonna enjoy ……thank you ❤😘
 Episode starts….
It was morning time when Ridhima came to vansh's room oops their room. Vansh was in the bathroom so she waited for him. Ridhima was getting late so she knocked bathroom door.
Vansh from inside: what?
Ridhima: vansh, kitna time lagega.
Vansh: kyu….kya krna hai tumhe….
Ridhima: vansh today is my first in this house….
Vansh: hmmm…to…vaise bhi 50 baar aa chuki ho…yaha..pahala din kaise….
Ridhima: after our marriage….
Vansh: correction after my forceful marriage.
Ridhima: vansh you can taunt me from outside too…please come fast….
Vansh: I will not come… it's my house, my room and my bathroom……
Ridhima: but I am getting late Nah…
Vansh: you can use another bathroom….everyone will happily allow you but don't aspect anything from me….you panda teddy spoiled my life now you want my bathroom…..I will not even allow you to enter in.
Ridhima: vansh bathroom hi to hai…kon sa tumhri girlfriend hai….
Vansh: you don't know it's not just bathroom….its best place of this house…..you know I personally guarded about my bathroom…socha that ache se apni Roshani k sth romance kiya kruga….sb barbaad krdiya…..kitani fantasies thi meri ish bathroom ko leke….you spoiled everything.
Ridhima: kya thi tumhri fantasies?
Vansh: mai tumhe kyu batau….
Ridhima: arre bata do nah….
Vansh: now you are not getting late…
Ridhima: do one thing either tell your fantasies or come out from the bathroom…
Vansh: you are giving order to me….to great Vansh Raisinghania…..do whatever you want to do…I will not do any of this…
Ridhima: vansh!!!
Vansh: get lost….
Ridhima: I will see you……
Vansh: I know I am hot and handsome but you can't flirt openly…..
Ridhima: self-obsessed…..
Vansh: khud ko Pyaar krna kaha se galat hogay….agar aap khud ko hi nhi psnd krte ho to… dusoro se kaise umbeed kr skte ho…..so I am self obsessed and I am proud on this….not like you panda…..
Ridhima: I don't need your free ka gyaan……
Vansh: get lost!!!
____________________________________________
Everyone was eating breakfast. " vansh today is Ridhima's first Rasoi so gift her something," said uma
Vansh: sadhi krli hai…wo km hai kya jo gift bhi du….
Ajay: vansh!!
Vansh: I know my name…..
Uma: he is your father.
Vansh: that I also know….tell me something new.
Ajay: give her something….
Vansh: I don't have anything…..why don't you both give her something.
Uma: we will but you also give something.
Vansh: you do whatever you want to do with her but don't force me in this drama….
Ajay: you are saying your marriage is drama…
Vansh: yeah…it is….you know all you spoiled my life….snatched happiness from my life….
Uma: vans you forget all the manners…..you are ill treating us because of that cheap girl….I wish she also get insulted my other like you doing with us and doing with Ridhima.
Vansh punched dinning table and his hand got hurt. He without eating left the dining area….Ridhima was also going but uma told her to sit and eat with them….she was not eating but just thinking about vansh's hand and his state of mind….
She sat there, until they had finished their food. " Ridhima!! Don't think much about him….he is like this only….he only know anger and nothing. So leave him and don't take his things serious "
Ridhima nodded to her and moved to the room. Vansh was playing guitar and blood coming out from his hand….Ridhima ran to him but he showed his palm to her and said with a dangerous tone" don't " pain was also expressed out..
Ridhima: vansh please stop it…it will increase your pain…
Vansh didn't listen to her and continued playing. Ridhima can't see his pain so she grabbed his hand….this increased his anger he left the guitar and forcefully hold Ridhima's hand and pinned her to the nearby wall….grip was hell tightly so even blood circulation was stopped in that area…
Vansh with anger: hhhuuh….what pain……this pain…… This is because of you Ridhima….because of you damn it…..and you are talking about outer pain…what I do with my inner pain…..I am dying….you know why..I am dying because of you Ridhima….so better stay away from me…
He left her with a jerk and she fell on the floor. She wiped her tears and got up slowly as her hand was still shivering due to pain…After getting up she took out the first aid box and goes to vansh…
Ridhima: vansh please sit…let me do your first aid…
No response….
Now Ridhima knew his weak point so " not for me…but for the sake of Roshini sit down vansh…"
Vansh looked at her and listened to her like a kid…she did his first aid and he left the room and goes to his bathroom, his most favourite place..his bathroom is not ordinary…..his bathroom is big as his room with good furniture and all…..his bathroom is like heaven.
Ridhima was getting worried about his health as he didn't eat anything. Ridhima was running in the room from one place to another to get an ideas to make him feel better but in vain. Ridhima knocked on the door but he didn't reply so she again knocked….
Vansh: what
Ridhima: vansh…wo…..vansh I need to use bathroom.
Vansh: not again Ridhima….I am not in a mood to argue with you….please spare me today.
Ridhima: please come out for five minutes….please vansh.
Vansh came out and sat on the bed with closed eyes…. His face was dull and hairs were messy…" Vansh please eat something…..otherwise, you will fall sick."
Vansh: don't tell me…what I should do or not…
Ridhima: vansh I was just saying….
Vansh: then don't….
Ridhima brought the spoon to his mouth. Now he opened his eyes and saw Ridhima sitting in front of him with food. " vansh please….thora sa."
Vansh: what you wanna prove that you are a good wife or good daughter in law.
Ridhima: I am not doing all this to prove anything to anyone…, this is genuine concern for you…for my husband….I know you don't accept me as your wife….and even I am not asking to do.
Vansh looked at her with unknown emotions and then looked another side….
Ridhima: vansh please eat….
Vansh: I am not hungry…..
Ridhima: Vansh I understand " jo bhi hua galat hua….hm ab ushe badal nhi skte….we have to accept this fact"
Vansh: tum badal skti thi….but you spoiled your and my life too.
Ridhima: vansh I know you hate me and you continue your hatred for me but don't forget to love yourself…..you only said you love yourself…..vansh your health will deteriorate if you going to skip meal like this….yesterday also you didn't eat anything. Now open your mouth and have this….
Vansh opened his mouth…. After some time he finished food." Why are you doing this…."
Ridhima smiled a little and said, " because I love my husband….and I can't see him like this…"
Vansh: but I can never give love in return….then why are you wasting your life on me….
Ridhima: I know I have done wrong with you….and I am not expecting love from you….my love for you is enough for us….
Vansh: Aise insaan kya pyaar krna….jo apse nafarat krta wo….aisa kr k apna hi nuksaan kr rhi ho…
Ridhima smiled "There's a weird pleasure in loving someone who doesn't love you"…. Fayada or nuksaan se bhi upr ek cheez hoti hai…"Hope"
Vansh: I am saying don't hope anything from me….I can give pain only…..you have still a chance to leave me and set with another guy.
Ridhima: but I want you only….
Vansh: In case you fall in love…..then let me know and I make you free from this unwanted relation.
Ridhima: I can't love another guy…I love you and I am not going to leave you…..fit this thing in your mind.
Vansh: Tum bachpan se hi aisi thi….ya fir abhi sadama lagane se aise hogayi….
Ridhima again smiled and said " I am mad in love since our childhood….but you never paid attention to me"
Vansh: tumhra kuch nhi ho skta….now let me sleep.
Ridhima: mai tumhe ek achha sa head massage dedu…
Vansh: no!!! There is no need.
____________________________________________
Days are passing and but nothing is changed….Vansh always argued with his parent and they never forget to taunt him. Later Ridhima pacifies him and made him smile and fill his tummy.
Days are converting into months. But their relationship was the same and there was no conversation in Riansh relationship. but Ridhima was always able to bring a smile to his face and when he gets angry with Ridhima…then she only just smile at him.
Now 11 months is passed and Riansh is sitting in their room…..
Vansh: Ridhima, this is my room and my bed…who are you to change the bed cover…..I don't like this cover change this immediately.
Ridhima: vansh what is the problem with this cover.
Vansh: I don't like this cover print….this is so loud.
Ridhima: okay I will change this tomorrow….
Vansh: no tomorrow….I want today…even I want right now….if you're not going to change this cover then you are not allowed to stay in this room.
Ridhima: ok…ok I am going….no doubt your choice is such awful….why do you always use this zebra crossing….
Vansh: this is not zebra crossing okay…..and I like off white.
Ridhima: what "off white"…. I heard about white but what is this off white….
Vansh: nothing….you do your work. And I am hungry so get me something.
Ridhima: okay!! I am going to cook for you and I will change this cover later on. Tell me what you wanna eat.
Vansh: I want…..I want to eat "green paratha and dahi, achar "
Ridhima: okay!!! Give me 20 minutes I will bring it for you…
After 20 minutes…
Ridhima: vansh, your green paratha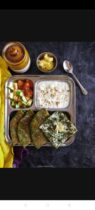 Vansh: wow, Ridhima…you are amazing.
Ridhima: vansh can I also eat with you…
Vansh: no!! These are only four….and I don't want to share with anyone…
Ridhima: I will bring more….
Vansh: ok then…come as I can't wait for you.
Ridhima: okay!!!
Vansh: you know these are my favourite….earlier I don't like them but in the hostel, I started having them….Angre, my friend his mom always bring this for me…..even I don't share it with Angre…you know you are lucky that is why you are eating with me ….otherwise, I don't like all this.
Ridhima murmured "self-obsessed "
Vansh: what are you saying??
Ridhima: Nothing…I was just thinking did you like these green paratha….. the first time I made these.
Vansh: I….I loved these….you made them amazing.
Ridhima: thank you…
Vansh: koi nhi!!! Mere sath rhte sb seekh jaogi.
Ridhima: what???
Vansh: you only said Nah…you made these for the first time…Raat ko tum mere liye soya chunks fried rice banana….did you know how to cook…koi ek do baar banaogi to seekh jaogi.
Ridhima: vansh what is the role of yours in this.
Vansh: I am eating nah….without any complaint otherwise….no one going to tolerate your food.(laughed)
Ridhima: shut up vansh! I know cooking.
Vansh: is it so….
Ridhima: hmm!!!
Vansh: Ridhima, it's 11 months but you have never gone to your parent…..why?
Ridhima smiled sadly "wo…vansh…wo I married so I want to stay here….I know vansh you are not accepting this marriage but say I should leave your house"
Vansh: yes!!! This is marriage if forceful marriage….and now
Ridhima interrupted him " and now also nothing is changed…..Today also you just fighting for Roshini and arguing with your parent…."
Vansh: you mean to say I am wrong….
Ridhima chuckled with pain "vansh you can't be right when you are married to someone else and on your tongue is someone else"
Vansh: I never forced you for this marriage even your the one who happily agreed to this marriage….now don't blame me for this…..you destroyed your life.
Ridhima: I have never complained about this and bearing you and your family for this only…..
Vansh: who told you to stay….just move out from this marriage and end your pain…end your miserable life.
Ridhima: if I could then I would have never waited for you.
Vansh: by staying here you are not doing any favour on me….
Ridhima stood up and moved out of the room and goes to another room. She was crying very hard but silently so that no one can get to know about her cry.
____________________________________________
After some days, it was nighttime vansh and Ridhima was sleep in the room but Ridhima was just pretending to sleep. She was not sleeping she was crying and cupping her mouth so that vansh could not listen to his cry sobs….she didn't know when she slept.
In the morning she went to mandir as it is time for savan sombaar so she is fasting for vansh and her good marriage life. In temple other ladies mocked her..
Lady: ek saal hone wala….dekho abhi dono ajaan ki tarah rhte hai….
Lady2 : or nhi to kya…jaroor ish ladaki me hi kaami hogi…tabhi to ishka paati ishase door bhagta hai…
Lady: can you think they will ever be become parents….aisa chlta rha to vansh koi or ladaki ghr le aayega.
Lady3 : wo bhi bechara kya kre dosh to ish ladaki me hi hai nah….poor vansh even can't enjoy his marriage life.
Ridhima: meri life mai kya chl rha kya nhi…ap ko yeh bakwas krne ka haq kisne diya….
Lady: now I got it…why vansh is running away from you…
Ridhima: haa to kya pata chala apko…..
Lady 2 : your parent didn't told you….how to talk to elders…
Ridhima: if elders are not behaving like elders then why give them respect like an elder.
Lady 3: vaise bhi hm log kuch galat nhi bol rhe hai..it is a bitter truth that vansh is not happy with you….and soon he will leave you
A lone tear escaped from Ridhima's eye.