Sony's Beyhadh brings a very different concept. Beyhadh will present all the characters and their unique love to acquire their love. Maya, Arjun and Saanjh are the central characters. Maya's love for Arjun crosses all boundaries. It's the story of three people, and how their lives get intertwine.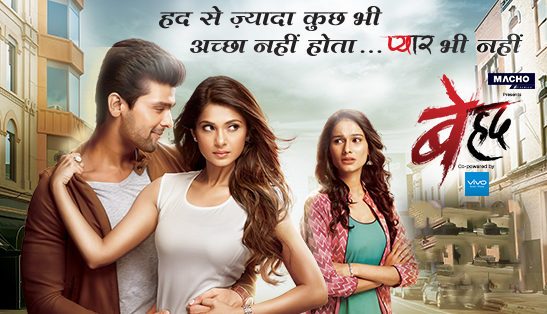 Saanjh and Arjun try to get their love, while Maya tries to hold Arjun in her clutches. Maya's love is obsessed and crazy, while Saanjh's love is true and selfless. Arjun is the sweet guy, who gets trapped in Maya's craze, while his best friend Saanjh's love for him is very much evident. The show which started its air on 11th October 2016, will portray extreme things. How one can go to any extent to show their love, hatred and emotions will be seen. Beyhadh will give a new definition to obsessed love subject.
Main Characters:
Maya: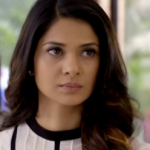 She is smart, suave and stunning. Maya owns a fashion company 'Fashion in the city'. She is a tough boss and believes in firing more than hiring. Maya is a no-nonsense girl and looks fearless. She had a bad childhood and is very scared of her father. She is good support to her mother. Maya has her own rules of life and is best in controlling her anger. Maya knows where to put efforts. Maya understands Arjun's potential and hires him in her company. Maya gradually gets inclined towards Arjun. She gets smitten by his charm.
Arjun: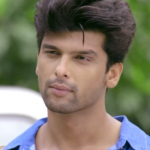 Arjun is a simple, fearless, naughty, witty and a very cool guy. He is positive almost everything. He is a great friend and a gem at heart. He can't put anyone in trouble and expects same from others. Arjun knows core realities of life and knows dealing with all problems with a smile. He is very charming. He spreads his charm over Maya, who is impossible to handle. Arjun gets a crush on Maya and is very impressed by her. Arjun works at Maya's office as an intern photographer and gets to know her better. Arjun wants to become rich and is very ambitious.
Saanjh: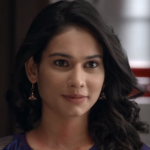 She defines a good person, daughter, friend and a lover. Saanjh has true feelings for Arjun, which she has hidden from him. Saanjh is a sweet and simple girl. She is Arjun's best friend. Saanjh supports and always encourages Arjun with much hope. Saanjh is quite selfless and wants the best to happen with Arjun. Saanjh is completely opposite of Maya. She is a happy soul and very content with her life. She is hesitant to express love for Arjun, and is happy to be in his friends zone.
Cast:
Jennifer Winget as Maya Mehrotra
Kushal Tandon as Arjun Sharma
Aneri Vajani as Saanjh Mathur
Sumit Bhardwaj as Ayan Sharma, Arjun's brother
Rajesh Khattar as Mr. Mehrotra, Maya's father
Kavita Ghai as Maya's mother
Swati Shah as Arjun's mother
Imran Khan as Prem Mathur, Saanjh's father
Vibha Bhagat as Suman Mathur, Saanjh's mother
Story So Far: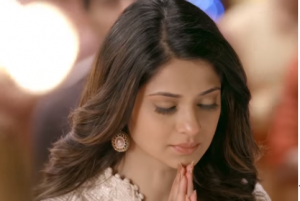 The introduction scene of Arjun and Saanjh is shown at the Ganesh pandal. Arjun and Saanjh dance and celebrate. Maya makes an entry. She gives a jerk to Saanjh and steps ahead. Maya makes the way for herself. She is seen as a strong person, but while she sits infront of Ganesh ji, tears roll down her cheek. Saanjh finds her crying and tells Arjun. Arjun gets on describing the types of people and gives an opinion on Maya. Arjun and Saanjh leave from the pandal and roam around on the roads at night.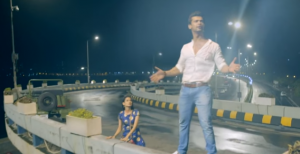 Arjun stops his jeep on the bridge and climbs the railing. He tells his dreams to Saanjh and is sure to fulfill them. Saanjh tells him that dreams which makes one lose sleep is not worth it. He sees a big building and tells her that he will own such one day. He sees a girl standing in her balcony alone and clicks her pic. Arjun and Saanjh talk about the girl, who seems to be sad and lonely. That's Maya, whose scarf flies down to Arjun's face while he is driving. He loses control over the steering. Saanjh removes the scarf off his face. They get saved from the accident happening. Arjun keeps the scarf to clean his jeep.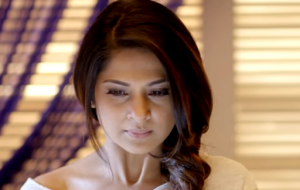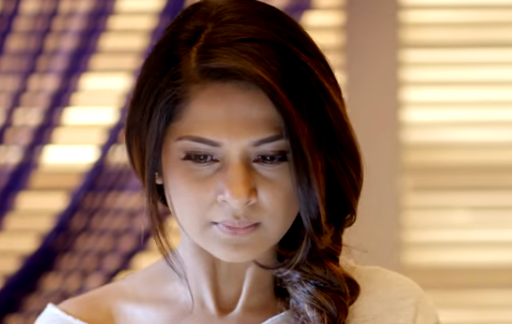 Maya asks her mum not to keep any expectations as her dad won't come even in their anniversary. Maya's mum is sure that he would come and behaves crazy. Maya suggests her mum not to let love control her and breaks the diamond ring with a hammer. Saanjh's family is shown. Her family asks her to confess love to Arjun, else she will always remain just his friend. Arjun's family is shown. Arjun's mum/step mum asks him not to disturb his younger brother Ayaan who has exams tomorrow. Ayaan comes home from the party. Arjun scolds him.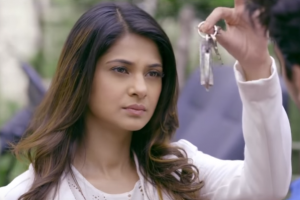 Next morning, Saanjh wakes up Arjun and reminds his interview. Arjun thanks her for reminding. Their friendly moment is seen. Arjun reaches for the interview and gets stuck to park his jeep. He bribes the watchman. Maya owns that parking lot. She comes there and parks his jeep. Arjun gets impressed by her and does not know she would be his boss. Maya owns a fashion company and Arjun realizes seeing her in office. Maya gets wrong info by the reception girl, that Arjun is waiting since 45 mins. Arjun flirted with the girl and gave her chocolates to make her lie to Maya.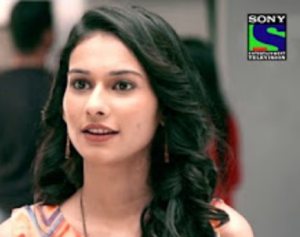 Saanjh reaches her office and gets scolded by her boss for being late. She works as assistant lawyer and is practicing law. Arjun starts being witty and over smart infront of Maya during the interview. Arjun is a budding photographer. She refuses to him at once, but seeing his photographs portfolio, she comes across her own pic which he clicked last night. Maya gives him the job. Saanjh is worried thinking if Arjun got the job or not. Arjun comes home and breaks the good news that he got the job. Arjun tells Saanjh that his boss Maya is really daring and fearless. Maya is seen going to her house, while the lights flicker. She gets too scared seeing a man, who smirks and walks to her, asking her to greet him hello Papa.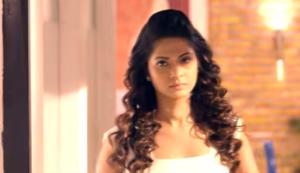 Maya rushes inside her apartment house, while her mum comes in between and stops that man. Arjun gets a call from office and is informed to come office at 8 am sharp. Maya is seen scared and dealing with her fears. Saanjh calls up Ayaan and asks him to wake up Arjun, who has to be at office at 8 am. Arjun reaches office and sees the watchman and reception girl replaced. He gets to know Maya fired them for their mistakes. Arjun goes to click photos of the models. Maya stops him and tells him she just hired him as an intern. She asks him to work or leave if he wants to show attitude. Arjun talks to Saanjh and tells her that his rude boss fired him.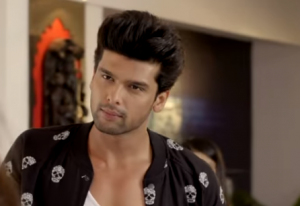 Arjun does not give up and tells Maya that he is ready to do anything to get the job. She asks him to correct male model's clothes, while he was getting glad thinking she is talking about female models. Maya leaves from the studio, while the way is cleared for her. Just then, Saanjh walks in and meets Arjun. A male model starts misbehaving with Saanjh. Arjun beats the model. Maya gets the call and is informed. Maya gets angry knowing about the fight happening in the studio.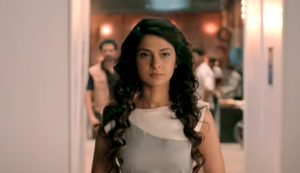 Maya comes back to the studio and fires Arjun from the job for turning into an animal from a human. Arjun gets an idea and gets the model dresses to please Maya by his work. Ayaan tells Arjun that he loves Saanjh, so he fought for her. Even Saanjh's family thinks the same. Maya gets to know all the model dresses are missing. She asks the staff to find it. Arjun comes to office and sits on his desk, even when peon stops him. Maya angrily walks to him. Maya sees the news that the dresses are worn by common girls, Maya's fashion house proved that good clothes can make even an average looking person beautiful, not just supermodels.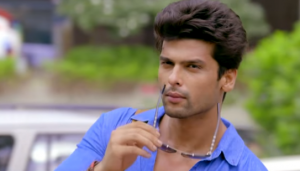 Arjun impresses Maya once again, and she gives him another chance. Arjun asks Maya to give job to watchman and that girl again. Maya asks him to choose between their jobs or working with a boss who understands his talent. Arjun chooses to help people, as they lost jobs because of him. The girl and watchman are happy to get fired and free from Maya's company. Arjun realizes his mistake to lose his job while saving their job. Maya goes to conference hall and discusses work. Arjun knocks the door and asks her permission to come in. Maya gets angered seeing him again.
Our Take: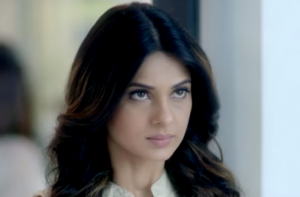 Amazing performances by the entire cast. Very strong onscreen presence of Jennifer. Coupled with a strong subject of a complex character falling in obsessed love, the actors keep up their roles in good form. The show leaves a good impression and feeling of wanting more after the episode ends. It has a filmi feel to it. Watching Jennifer after a long time paid off well with this show.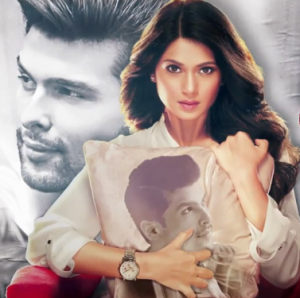 Beyhadh is the right comeback show for Jennifer. Kushal and Aneri are also very much apt for the roles. While Kushal is perfect as the cool guy, Aneri too is very relatable by her character of Saanjh. Kushal's character of Arjun will have more layers after falling in love with Maya. There will be more to see of Kushal. Aneri is very adorable and her scenes bring light moments of relieve. The leads stars are the USP of the show. The plot has power to engross the viewers and sustains the mystery, thrill and romance. It gets many emotions weaved in a complex tale. Jennifer is the prime highlight of this show. Anyone watching Beyhadh would just praise Jennifer's acting prowess. She looks stunning in all the frames. Characters are defined clear and got good entry scenes.
Overall: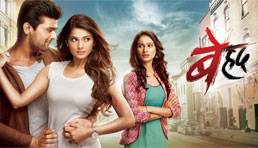 A very interesting storyline indeed. Beyhadh really leaves a huge impact. Good looking actors, wonderful concept, and a fresh filmi effect makes the show very much watchable. Beyhadh will not disappoint anyone. A very different show from regular and impractical saas-bahu drama.
Our Rating:
5 out of 5
Feel free to post your reviews in comments below. All off-topic comments will be deleted.