Being with my so called kidnapper # episode 62 # Death
Aayi..Ayi..ayi..me update layi.layi..layi
Hello peeepies aagyi me finally..
Sorry for this inconvenience but i already told my clg started and i am super busy nowdays..but i am trying to post keep supporting
Episode length is ok ok..not small not long..krpaya adjust kr le..
Let's start
Scene 1
Vansh's pov
"Welcome to the hell Singhania" the man in front of me said smirking
If this is hell then what will be your condition when u will see my hell thakraal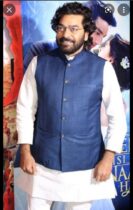 Ashutosh Rana as Jaydeep thakraal
" Long time no see thakraal" i said chuckling
I was still lying on floor growling in pain but  my blood boiled seeing him in front of my eyes again ..
"Tumne bulaya or hm chle aye.." he said laughing like a manaic
He pressed his shoes on my plam and i whinched in pain
"Vansh!! ", My riddhu cried from behind
" Oh my my..how can i forget to meet this treasure of yours" he said looking lustly to my riddhu..
"Bastard..dare u to lay your eyes on her" i shouted and he crashed my palm more..
" You didn't change yet Singhania..first u didn't able to save ur mother and now your wife" he said chuckling and my heart stopped for a second thinking about what if won't be able to save my angel again..
"Plz leave him" Sweetheart cried from behind pleading to that bastard..
"Awww…my little so called daughter.. don't worry i will soothe your pain after his death" he said and my sweetheart cried more..
"Stop crying jaan.. nothing will happen to us" i said smiling towards her..
Pov ends
Riddhima's pov
Before i could say anything samay started dragging my vanshu by his shirt..
"Stop..plz don't hurt him" i cried but he didn't pay any heed to my pleads..
"Let the kids play jaan" vanshu said chuckling
Is he mad or what..how can he just chuckle like this in this much serious situation
I know he is mafia this things are normal for him. But now he is not alone ..he has a family to look after
Samay kicked my vanshu on his stomach and blood started oozing from his mouth
"Let the game begin Singhania" thakral said smirking and all the goons he ordered started beating my jaan mercilessly
I kept crying looking at him but he was smiling looking at me..
"This b*t*h's father was a mafia..he took loan of 100 crore from me and then died..she has to pay now by serving herself to me" thakraal said and vansh shouted at him badly..
Papa..my papa was mafia..how..i don't have any proper memory of him but his truth is hurting me badly..
My vanshu is lying on floor with blood coming out from his mouth..
"A single word more about my love and u will witness the hell here" Vanshu groaned like a ferocious lion..
"First you couldn't be able to save your maa..and now u won't be able to save your wife and unborn baby" thakraal said and my eyes widened thinking how the hell he got to know this truth when I didn't share it with vansh either..
Pov ends
Vansh's pov..
Wait what!! Unborn baby..
"What the hell are u speaking" i shouted at him..
"Oh my my…seems like your wife didn't tell u about her pregnancy tch tch…who knows this baby is yours or someone else" he spitted out this shit but  my mind was not in right frame to protest..
I just looked at my jaan asking through my eyes is this true or not..and she just nodded with tears in her eyes..
My heart flooded with so many emotions.. i am..i am gonna be father.. someone will call me dada..
I always dreamt of a small family with my love..but when i am feeling it.. I can't able to express that..
I wanted to spend this moment with a special way but seems like universe don't want me to celebrate my happiness..
"First i had only one reason to fight but now u gave me another..thnq bastard" i said with blood shot eyes and got up with a sudden jerk pushing all the goons in one go .
Without any prior warning i started beating them badly..
Samay came and tried to  punch me but my jaan's pale face fleshed in my mind and i stopped his leg in middle resulting him to fall on the ground
" You both will pay" i said and beated him black and blue
Senior thakral was literally shaking standing in a corner watching junior thakraal getting special treatment by me..
"I swear you will see your pregnant wife beneath me in bed tonight" samay barked and i losted my temper..
I was a person to play fair game..he was fighting with hands so I didn't use any weapon but what he said was out of my league..
"Good bye junior" i shouted and whole room boomed with the gun shot piercing junior thakraal's head..
He collapsed on the floor with a body without soul credit goes to me..
This are the consequences of messing with VR..
My jaan cried in fear as she never witnessed this side of me..
His blood splashed on my face giving me the perfect look of a devil..
I smirked as thakraal ran to his son's body and started shouting like manaic..
" Sadme me sathiya gaya hai buddha" i said smirking..
Pov ends
Riddhima's pov
I was trembling in fear not by seeing that samay dead but seeing my vanshu in this look..
That was damn scary..but i am feeling safe now..i know he will save me and our baby..
I looked at my tommy murmuring" dada will save us baby"..
Thudddd!!! All the goons collapsed on the floor with loud gun shots echoing in whole room continuously
I closed my eyes in fear..as this was so foreign for me..
Angre came with his men and knocked out all the goons after a fight of 5 minutes..
He was about to shoot thakral but vansh stopped him showing his palm 🤚
" Let me do the honour angre" he said and pulled the trigger..
Thakral was so late to realise what just happened with him as he was still coping up with the loss he had few minutes ago..
Although i was feeling pitty on that samay but he deserved that..
The beast like him deserves death or even worse
Thakraal collapsed on floor holding his stomach and vanshu instantly ran towards me..
Freeing me from that ropes he cried examining me if i have any wounds or not..
"You ok na..jaan nothing happened to u right" he said scrutinizing my hands and face..
"Vansh.. vansh u ok na..i am sorry" i cried cupping his face…
"I was so scared from inside but i can't loose u again love" he said kissing my forehead..
"But u have to" a faint voice came from behind and we both along with angre turned
"You are gone b*t*h" thakraal shouted holding his gun with weak hands  in my direction and then died..
"Bhabhiiiiiiii" angre shouted as soon as the gun shot..
"Riddhima" vanshu shouted looking towards me..
I felt some liquid on my stomach very next moment and my eyes buldged out from socket seeing the blood..
Pov ends
Pheww!! finally done done dana done ✅
Hope u liked the drama..
Comments tapka dena
Lob u all