Being with my so called kidnapper # episode 13 # teasing session
Helloo peppies aagyi me..
Comments are quite less plz do comments yr..
Guys plz pray for menna…
Let's start..
Scene 1
Vansh's POv
Stay home stay safe..she deserves this only…
I told her that we have to go to angre's house for dinner as his mother whom i consider as my own has invited both of us..
As seeing a girl in our lives once in a blue moon is something beyond her imagination..so she just want to confirm..
But the way she got excited listening angre's name i dropped the idea of taking her with me very next moment..
Mera nam sun kr toh kabhi nhi fudki itna..chuhiya kahiki..,🙄(she never got excited listening my name )
Pov ends
Riddhima's POV
Why do the hell is he glaring me .. don't tell me he is angry because i got over excited listening angre's name…. obviously man he was so amazing..less than vansh..i accept..
I am going with him and that's final.
Me bhi dekhti hu kese mna krta hai mujhe le jane se..oot kahika ..(I will se how he refuse me to go)
Pov ends
Riddhima (casually) – So you are not taking me along with you..
Vansh (glaring) – Nooooo!!!
Riddhima (casually) – Ok! No issues
Vansh's POv
What happened to her..ye itni jaldi kese maan gyi.. something is fishy..(how she accepted so easily)
But very next moment my eyes were out of socket…
I swear i will kill this angre with my bare hands for coming between me and my sweetheart..
Pov ends
Riddhima's POV
His face was worth watching..
I pick my phone from my pocket and pretend to call angre..
I teased him by saying hello angre..vansh is not free to take me with him so can you please pick me up from home actually I don't want to disappoint mummy..she had invited me with so much love..
Pov ends
Vansh's POv
Mummy!! Ye kab paida hui!!(when she borned) Damn! She is calling his mother as mummy!! Kyu bhai sasuma lgti hai kya..(is she her mother in law)
I snatched phone from her hands and keep it on my ear realising she was just teasing me..
She is laughing hard on my face and seeing her laughing whole heartedly a smile crept on my lips
Hiding my smile i frowned..and..
Pov ends
Riddhima's pov
He started chasing me and we were running in whole house throwing every possible things on each other..
We reached to his room panting heavily and he caged me from behind in his arms and both fell on the bed laughing like manaic..
Looking at each other intensely we smiled and came very close to each each..
I kept my head on his chest and he encircled me in his protective arms
Pov ends
Riddhima – Thnk you vansh for making my life this much colorful..
Vansh (smiling) – Be ready at 7 and yeah..i want to see you in some traditional will you do it for me..
Riddhima's POV
He always gave me everything without my asking ..
How can i refuse when he asked me something 1st time..
Everyone always imagined me on bed sleeping naked with them..even my own Step brother..
But this guy wants to see me in traditional..how can someone be so perfect..
Pov ends
Riddhima (winking) – Get ready with an ambulance Mr.raisinghania you are gonna have a heart attack tonight..
Vansh's POv
She ran winking at me and now i am smiling like an idiot here..
I am not that type of person who imagines a girl in lingeries or naked..
I just want my girl in something in which she is comfortable..
Wait what !! My girl!! Since when..
I can't distract myself from my goal..but my heart is not stoppingme to coming close to her..
This time i will listen to my heart instead of my brain because my brain has snatched my something precious from me..
Pov ends
Scene 2
Riddhima's POV
Today i will get ready in that way ..so that Mr. Rock raisinghania will lose his senses..
I picked a traditional piece of cloth from my wardrobe and get ready..
Let's go riddhu … someone is waiting for you impatiently..
Pov ends
Vansh's POv
I was waiting for her near my car eagerly..
And here she comes..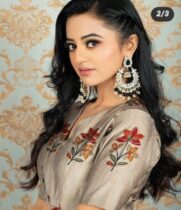 Seems like a fairy is descending from heaven..
I just love the way she carry herself..even without tones of makeup she is looking f**king hot and s*xy..
I wish my mom would be here she must be so happy seeing my sweetheart..
Pov ends
Riddhima's POV
Clean bold I am clean bold..i was planning to make him lose his senses but here i am the one who lost my senses seeing him..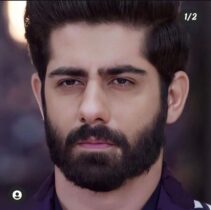 How can he look so hot and dashing..now i wonder why people in shimla survive.. afterall they have Mr.hot raisinghania in their city..
After completing the staring session with each other..
He offered me his hand like a thorough gentleman and i cluthched his arm..
Pov ends
Vansh's POv
Thorough gentleman ! my foot!!
Ok ok i know i am but the reason of holding her hand is not that..
I holded her hand and now i am not gonna leave that till we reach back back to our home..
I can't imagine her clinging around angre..and his mummy🙄
Igniting the engine we started our journey..
Pov ends
Riddhima – vansh! Are you close to angre's mummy
Vansh's POv
Thank god she said angre's mummy otherwise i would have drop her here only ..
I know i can't do that.. I can't leave her in even on my dead body..
Pov ends
Vansh (smiling) – she is the only mother figure to me after my mom!
She always considered me as her own son and i can say even more than angre..
You are gonna witnessing she will take my side instead of angre..
I just love her like my own mom!!
Riddhima ( keeping her hand on his shoulder) – Your mother must be proud of you na vansh!!
Vansh (sad) – May be or may not be!
Vansh's POv
How she always manages to win my heart by her gestures..
All the girls around me just tried to force herself on me.
But she always make my heart flutter by her innocent gestures..
Holding her hand in mine we reached to angre's house..
Riddhima's POV
We are standing at the entrance of Angre's home and this possesive raisinghania is not leaving my hand..
I wanna laugh at him badly..how should i tell him that I can't go to someone else leaving him..
We entered inside and i touched Angre's mother's feet..
She seems to be so kind and loving..
She hugged me and bless me..with utmost love and affection..
My eyes watered remembering someone special of mine
She kissed my forehead..and wiped my tears
Angre's POv
God please.. riddhima don't pull any stunt of hand shaking or hugging ..
I don't want to die..i want to marry…
Jiska dar tha wahi hua..(that happened what i was fearing)
Riddhima side hugged me and i reciprocated gulping my saliva as boss is glaring me..
Pov ends
Vansh's POv
This is the reason i was not taking her with me..
But i won't let her tease me now..
Only i have the right to touch her and hold her..
I don't know and i don't want to know..what she wants..
Pov ends
Riddhima's POV
The way he is holding my hand tightly i can smell the jealous raisinghania..
We sitted in hall and vansh being vansh sit beside me not leaving a inch of gap..
But aunty being typical Aunty said to us that we look like perfect couple…
I won't lie i was blushing hard and even vansh was also blushing..haye mera Blush Raisinghania..(aww..my blush raisinghania)
Pov ends
Angre's pov
We were chit chatting making fun of each other and as usual my mom and boss teamed up against me..
They were pulling my leg like hell..
And the worst mistake by me..is here..
I pouted and said nobody is with me..i am alone..
Pov ends
Riddhima's POV
Angre pouted and to tease vansh i left his hand and sat beside angre saying don't worry i am with you..
Now vansh is shooting daggers towards angre..
God knows what angre did to him..it was me..who is teasing him..
Pov ends
Vansh's POv
Angre left silently making an excuse of drinking water and the irony was water was in front of him..
I won't leave this ziddima tonight..she is teasing me alot..
Now wait and watch sweetheart..
Our dinner went with my angry glares to angre and my sweetheart's teasing..
Pov ends
Angre's pov
Riddhima and mumma is talking in hall and my phone beeped suddenly..
I picked my phone and the message shocked me to the core..
My face went pale but getting some courage i speaked to boss
Pov ends
Angre – Boss there is an emergency please come with me..
Vansh's POv
Angre's expression is saying what emergency is..
I left my sweetheart's hand and cupped her face saying you wait here i will be back in few minutes..
Me and angre left to his room..
Pov ends
Scene 3
Angre's room
Angre (tensed) – Boss there is a news that thakral is in out skirts of shimla and may be possible the info you need is with him..
Vansh (tighting his fist) – That bastard! Find him angre..i am so desperate to meet him..
And i want that info.. ASAP..
Angre – But boss! Their is a humor that he killed..
Vansh (shouts) – Nooo!! Don't you dare to complete the sentence..
He can't snatch my things from me..this time..
I can't loose anyone now..
Angre (scared) – What if riddhima will get to know about this..he won't stay ..
Vansh (holding his collar) – if you want to alive more then get that bastard to me soon and don't u dare to utter my riddhima's name again..
Angre (scared) – Sorry boss!!
Vansh (marching towards hall shouting) – Riddhiimaaaa!!!😡
Done done dana done..
Kafi zada lamba chappy tha..
Word count : 1709
Ab comments or votes tapka do..
Lob u all