ArShi-ShraMan FF: No Reason to Love You…Still I Love you…( Chapter 1-And the Story Begins)
" You make me laugh when I don't even want to Smile."- Unknown
"Mumma, What are you making today?" Arohi asked as she stood taking the support of kitchen counter facing Khushi who was cutting some onions and tomatoes, She had previously tried to peep up to see the counter but only managed to see the vegetables and hence she asked her Mumma as to what was being cooked.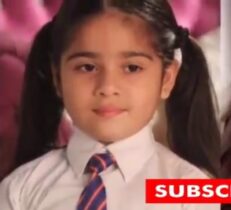 "Your favourite…Sandwiches, I am Late today Aru…" Khushi sighed as she completed only to see Arohi jump up excited.
" Yippe, Mumma you should daily wake up late." Arohi said all happy at her favourite dish being cooked, moreover happy at not eating those 'Gobi's, Bhindi's, Kadu's' etc. etc. green vegetables that her mother daily made her eat.
Keeping the cut vegetables at a side, Khushi made a face at Arohi who bit her tongue realizing what she said, then gave a cute naughty smile to Khushi, "Don't be so happy Bacha, I'll wake up on time from tomorrow." Khushi said as she walked up to the fridge to get bread and other necessities for cooking sandwiches.
"Let's see, You have woken up late twice last week and 4 times the week before." Arohi countered counting the days on her little fingers.
Taking her time to answer while taking out the necessities from the fridge and placing them on the counter, Khushi finally spoke changing the topic, " Acha, You completed your homework, right?"

" Yes, I did, You only made me do yesterday, you can never hear criticism na, Mumma." Arohi laughed as she ran out jumping before Khushi could reply. Turning her face to look towards the entrance of Kitchen, Khushi smiled as she murmured, "True Arohi, your mother only made me this way…I wish she at least realized that I was wrong when I was…"
Looking towards the entrance in a daze for a while, Khushi suddenly realized that a drop of tear escaped her left eye, wiping it off quickly, she resumed her work.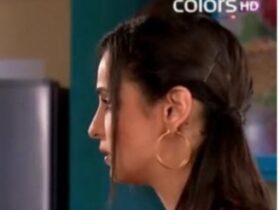 **
"See the time, It's 7:30, you are late Chote…" Anjali questioned indicating towards the wall clock as soon as Arnav opened the door.
" Woh Dii, Actually I woke up late…" Arnav lied as Anjali nodded suspiciously, her eyes fixed on the dark circles under Arnav's eyes though.
Seeing Anjali's sceptical gaze, Arnav changed the topic, "Is Anmol up? It's his first day of the college today…" Nodding Anjali replied, " Yes, He'll be ready in half an hour, breakfast is ready…"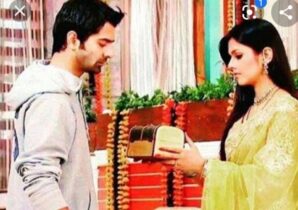 " Ok Dii, I'll come in 5 minutes." Arnav cut Anjali abruptly as getting the cue, Anjali nodded, walking away.
**
"Don't bring back your food." Khushi told Arohi as she sat next to her on the couch while putting the tiffin box in Arohi's school bag.
"I won't, Its sandwiches Mumma, Not Karela." Arohi said making an innocent face while Khushi looked towards her with a 'You Will never Improve' look.
"You know Dii loves Karelas and she is so intelligent, you should be like her, I hate Karelas and see me, struggling with 'Your' maths problems." Khushi smiled as looked towards Arohi.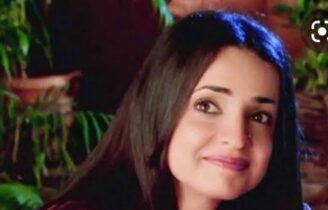 Her facial expression changing, Arohi replied angrily, " No, I don't…"
"Trun, Trun…" As they heard the horn of the bus, Arohi paused abruptly while both of them had their eyes widening, Arohi without saying a word next ran away while Khushi laughed as she saw her running.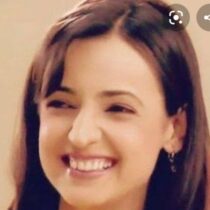 She went to the balcony and waved 'Bye' to Arohi who was about to enter the bus, Arohi smiled and went inside smiling.
Their house was located on the First floor and as it was a habit for the mother-daughter duo to get late, Seldom did the bus found Arohi waiting at the gate, It was always the bus waiting for Arohi and so Khushi laughed seeing another same day.
As the bus left, Khushi walked inside and to the kitchen, she packed her own Tiffin Box as her phone beeped.
"Be on time girl, Surprise awaiting…" Read a message from her Friend, Payal. Khushi smiled as she read it, then wondered for exactly a second what the surprise could be.
" I hope principal sir isn't firing me…" She thought as she laughed at herself but then knowing her daily records of getting late she quickly went to the kitchen to pack her own Tiffin and then to her room to get ready.
**
Coming out after changing her dress, Khushi quickly went to the dressing table, then looking at herself into the mirror, she made a sad face…She was wearing a simple yellow Anarkali suit, though the suit was simple with minimum work, yet Khushi who always used to wear jeans and tops hated it but being a college Lecturer came with its own problems, She knew… wearing Suits or Sarees was one of the rules for the teachers.
Her phone beeped a second time as she guessed it must be another message from Payal, then moving past her thoughts, Khushi quickly combed her hair, keeping them open.
Then walking up to the phone, Khushi checked the messages, "At least show some excitement for your surprise"
"As if any surprise could ever do any real good to me." Khushi mumbled as she typed back a few random smiling emojis to Payal, then walked up to the Almirah to take out her handbag.
Finally, completely ready, Khushi walked out of her house, quickly locking the door and walking down the stairs to her Vespa.
**
"All the best Anmol, First day of your college…" Arnav's paused as Anmol, his younger brother smiled, they both were sitting at the dining table.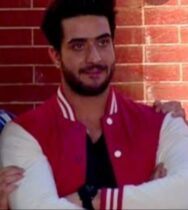 " Thanks, Bhai."
"Ahh, yaa, I just wanted to say…I don't want any complaints this time, Its first day of your Second college…I am joining as a Trustee and that's the sole reason why they are giving you admission mid-year… in the third semester otherwise, your record isn't worth it, please don't do anything that gets you rusticated this time too. I won't save you and that's final." Arnav said sternly as he tried to mince words initially only to end up saying everything straightforwardly.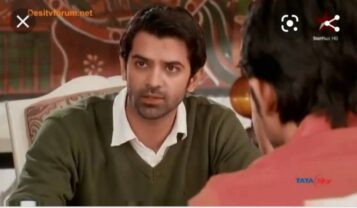 Anmol's face lost its colour as his smile vanished hearing Arnav.
Irritated he replied, " Of course Bhai, You and Dii are the sole reason I am getting even food on my plate otherwise what would a child like me whose parents have died do but you know what…unlike you, Dii doesn't keep telling that to me showing her greatness."
Arnav's brow furrowed as he heard Anmol realizing he misunderstood Arnav's words…' like every time'
Arnav thought with a sigh as he didn't reply and rather kept on eating.
Anjali came towards the dining table as she ended a phone call, seeing the silent atmosphere, she realized something was wrong between her brothers as she moved her head in a 'They are never going to improve look'.
"Anmol, All the Best for college, Study Well…Chote, I am going to office, there's a meeting with the Oberoi's I have to attend, you come after completing your food and whatever other things you have to do." Anjali spoke briefly not wishing to speak anything between their usual fights.
" Ok dii " " Ok Dii" Both brothers spoke together, then gave each other a glance before starting to eat their food again while Anjali left.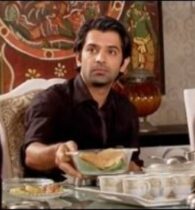 **
Khushi was now driving towards the collage on her Vespa, her emotions being the usual mess they were,  "I Love You…I really Love You.." The words from her dream in the morning suddenly rang in her ears all set to bring the visuals in front of her eyes as worried and anxious, she closed her eyes, "Annnnnn…"The scream suddenly brought her out of her thoughts as she opened her eyes and realized she was about to hit a small boy, she applied the breaks in the nick of time, taking deep breathes fearfully as she did.
" What??"  She shouted at the little boy in a not so pleasing dress standing in front of her Vespa scared that it may hit him anytime. Suddenly her eyes went down on his clothes and then her to left, she was standing in front of a Temple with the usual number of Beggar's outside it among which he was one.
She got down the Vespa and moved towards him, then sat next to him and caressed his face, " I am sorry, It was my mistake,  I should have been careful."
The boy still looked at her as if she was some alien all scared, then towards a food stall that was at a distance of some footsteps from them but for him, it was a distance of some Rupees.
Khushi followed his gaze, then realizing he was staring at a food stall, she looked back at the boy, he was looking hungry, she held his hand with a smile as she took him to the stall.
"One Plate Noodles Please." She ordered looking towards him with a smile. The boy finally smiled back while the Vendor handed the boy the plate looking at Khushi, wondering something Khushi couldn't decipher.
The boy had his fest on the plate happily inviting his other 2 friends too to join in, Khushi ordered for more plates with a refreshed smile as the morning dream seemed to leave her mind again, only that there was no knowing when it will come back to haunt her again.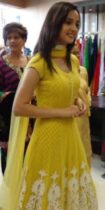 "I told you na Raju, God always takes care of his children." The little girl told the third boy while Khushi's smile faded away as she heard her.
She sat next to the girl and smiled," There's no God beta…It's all about our Karma…" Khushi said as she caressed the girl's face.
" Whats Karma?" The little girl who looked no more than 5-6 years of age asked Khushi as Khushi looked at her confused, wondering how to explain the meaning of Karma to the kid.
" Umm…You'll understand with time, By the way, where are your parents? Are they around?" Khushi gave a girl a faded smile as she looked around only to find no elderly person.
"Everyone asks this but we don't know…" Raju replied sadly as realizing the thing, Khushi nodded.
"Okay, So will you like to come with me somewhere, there you'll get good food and also, you'll have many other friends, You'll go to school…" Khushi was abruptly cut by the 1st boy as he questioned, " What is School?"
Khushi looked at him and then around, she was confused how to explain them the meaning of the word, her eyes suddenly fell on a man talking on the phone at a distance, his back turned towards her. She pointed towards the man and smiled, "If you go to school na, you can become like him…" She said as their eyes widened at the sight, the man was entering a big car, Khushi tried to look at his face but she couldn't.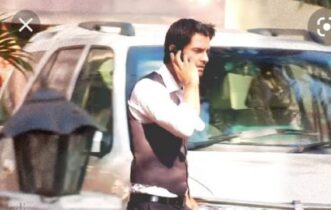 There in front, Arnav who had just come out after visiting the temple entered his car talking on his mobile, as soon as he did he asked the driver to start the car and left the temple.
" Yes" "Yes dii…" "Yes…" the three children together said as they held Khushi's hands, Khushi laughed as she looked  towards the children, suddenly her phone Beeped, " Wait, Wait…" She said as she checked her Mobile.
"Late Lateef…" Read the 2 words message from Payal, Khushi bit her lower lip realizing she was going to be very late today, nevertheless, she kept the Mobile back in her hand Bag.
Holding their hands, she went towards the main road and then hiring an Auto made them sit in.
Telling an address to the Auto driver, she followed him on her Vespa.
Covering a distance of about 15 minutes they reached a place, the board outside the building read, " Shanti Anathalya".
The three children came out of the Auto while Khushi smiled at them, she entered the orphanage along with them and talked to the warden about the children.
" Aunty, I want them to be happy." She said with a serene smile on her face.
"You have been leaving so many children here to help them, have you ever got  a complaint from these Toddlers?" The warden asked raising her eyebrows questionably, Khushi smiled and nodded and turned to the children, " I'll meet you soon…" She said as she ran out.
'Payal and Principle Sir will Kill Me.' She thought as she hurriedly started her Vespa and left for college.
**
"Sorry Sir, she'll come soon…" Payal said as her eyes were plastered on her phone waiting for a reply which she wasn't getting, her face was filled with tension while she was standing in front of the Principle who was looking towards her with piercing gaze through his horn-rimmed glasses, she was trying to avoid his fear-inducing gaze.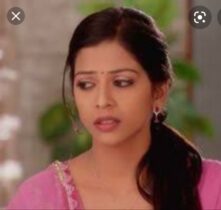 "Mr Arnav Singh Raizada would arrive any moment, if not for the 'Surprise', I want her here along with all other teachers to at least meet him but now, I am sure, your best friend will be late today too, I am really wondering now why on earth did I choose HER for the promotion."
"Because she is the best, Mr Khadoos," Payal mumbled to herself as the principal heard something.
" Did you say something?" He asked as biting her tongue, she raised her eyelashes moving her head in a 'no'.
The principal was about to question further as a knock at the door paused him.
"May I come in?" A deep male voice questioned as realizing it was Arnav, earlier than time, the Principal hurried towards the door, opening it himself.
"Yes, Mr Raizada, of course…have a seat." The principal smiled at Arnav as he himself guided him in as Payal stood relieved at not being questioned further.
"This is Miss Payal Rastogi, a part of the economics faculty and the event organizing team." The Principal hurriedly introduced Payal who smiled at Arnav, who smiled back.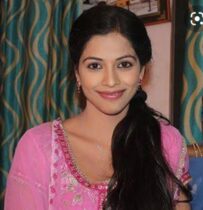 "Payal, Call the other staff members." The Principal told Payal sternly as realizing the reason for his anger, Payal nodded, quickly walking out.
**
"What the hell, Mr Raizada came in early, imagine…now that Khadoos is going to eat up Khushi alive…" Payal announced annoyed as she entered the staff room, then collecting a bouquet kept near her bag she continued, "…Come fast all you." before walking out and towards the Principal's cabin.
Getting up quickly and adjusting their hair, all the staff members followed.
"May I come in Sir?" Payal asked as she knocked on the door of the Principal's cabin.
"Come in." The principal who was just offering Arnav tea spoke as Payal walked in with the bouquet with a fake smile which she prayed looked real.
Arnav got up and turned as he heard a bunch of footsteps follow, " Welcome Sir, We hope you have a great time at our college." Payal spoke as she offered the bouquet to Arnav with the same smile. Taking the bouquet, Arnav smiled back as the Principal started introducing him to other staff members.
**
A/N: So finally started it…I don't know how the start turned out to be though I am really excited to know your views, I know given my delays I don't deserve it but still, if you all liked it then please do consider voting and commenting, Also I have this rule of asking questions of every part of my FF's related to almost anything which I would love to know the readers' views on so following the ritual here, the question for this part is, " How do you think Arnav Khushi are related?" Do answer the question if you have any guesses, please.