Arrest under love- Chapter 8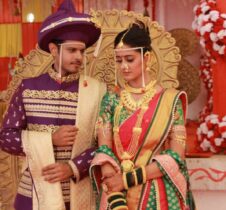 This evening is different from other evenings. Virat stood by the window and lost himself in thoughts.
Virat in mind :(Today's wind also seems to indicate that she is coming into my life. but will she accept me? What I did was not right. What is happening now is also wrong, but will she give a chance to prove this mistake right?)
background song playing"khata hogayi humse,khata maaf karna
mushkil hai ab khudki nazaron me rehna
vaada kiya tha tumse woh main nibhaungaa
khudko tumhari nazron me na giraunga
darmiyan ye doori ab door hojaye dil ki guzarish mazoor hojaye
ghum hain kisikey pyaar mein mh souva sham
pr tumhe likh nahi pao,mh uska naam….
haye Raam(2)

Ashwini calls Virat, Virat comes in sense. Mohit and Sunny take Virat to the hall. Ashwini gives him nazartika on his neck and Everyone left with the groom.
In Brides room
Usha Masi, pari, and four other women helping Sai to get ready. Sai just sit silently like a doll. Kamal gives her mothers jewellery to her. Kamal let no lack in his daughter marriage. every one praising a lot kamal for that. All guest from gadhchiroli corporate with Kamal in wedding tasks.
Usha Masi helps Sai wear her wedding saree. Red saree, golden edge, working of golden thread in the whole saree with Golden blouse. makes her wear Green churis. In every six green churis, she put a thick gold bangle. like that she put four gold bangles in Sai's hand. A woman makes a bun with Sai's hair. they put ‍a garland of nightshades on her hair bun.  A small red colour moon shape bindi is placed on her forehead. they make her wear all gold jewellery. This time Sai gets emotional, she starts missing her mother while wearing her jewellery. kamal enter the room at that time. Sai see her Aba in the mirror with teary eyes. kamal also get emotional. he put his hand on Sai's head.
Kamal: Today m feeling pain and peace at the same time. M not taking you away from me. Today you fulfilled a dream of mine. ( he leaves the room with teary eyes)
Sai get more emotional but she stops her tears to fall down. She promised herself she will not cry anymore in front of her Aba or else he will be more sad.
suddenly they hear the loud sound of the band party. Pari come and informed that barpakhs(groom family) has come with the groom. Everyone left Sai alone in the room and went to welcome the groom. Sai slowly come near the window and trying to see outside. the band party playing the music of "tenu leke main jawaga" from Saalam e Ishq.
Virat comes sitting on a white horse. All of the people from the groom side dancing around Virat. Sai gets mesmerized to see Virat. Virat looks like a prince in golden sherwani.
Sai in mind : ( my childhood dream that my groom will come on a white horse as like in fairytale prince come for take her princess)she smile unknowingly
Suddenly Virat's eyes stuck to the 2nd-floor window. Sai moved away quickly as soon as their eyes meet with each other. she feels shy, her breath becomes heavy. Both of their heartbeats become fast.
Sai to herself: what you doing sai? oh shit, it's too embarrassing. ( blushing and close her eyes)
Virat eyes become restless to see Sai more. his eyes staring to search Sai in every window. His friends notice this and start making fun of him.
Virat to himself: what you doing Virat? shit, they notice me finding Sai. shit too embarrassing. wait why m feeling shying? m trying to see my wife. be normal Virat. take a chill pill. it's ok to search your own wife. and your friends who laughing will see them at their wedding.
Usha Masi and other women come out with arti thali. Virat comes down from the horse. Usha Masi completes the rituals and welcomes the new groom and his family. Ninad hugs Kamal and kamal hugs him back and give them a warm welcome.
Mohit sends Karishma to Sai's room with Usha Masi. Kamal makes Virat sits in Mandap. Usha Masi and Karishma bring Sai down.
The marriage ritual starts. Virat stands, they make them stand face to face and put a white cloth between them so that they couldn't see each other. they take away the white cloth. Before they could tell Virat and sai look at each other, Virat start looking at Sai.
Shivani bua: Woah Viru, not bad!
Everyone starts laughing at Virat but he stops hearing anything, he becomes mesmerized. Today Sai looks like his dream princess.red saree with light makeup she just looks stunning today. Sai can't look at Virat at all. A fear starts working in her mind. she becomes nervous. Usha Masi keeps asking Sai to look at Virat. Virat's brother in law pulkit come near Sai.
Pulkit: Sai! see a fly is dancing on Virat's nose!
Sai widened her eyes and looks at Virat in surprise. Everyone laughed again. Even Virat too.
Mohit: Woah jiju, good job!
pulkit: thank you! ( smile and again stand next to his wife divani)
Sai in mind:( Virat sir is too bad, why he laughs with all)
the wedding continues, the pandit Ji pronouncing spells. they put garlands on each others neck. Virat and Sai take fera and do some promise to each other. Virat fills Sai's mang with sindur and put mangal. Sai close her eyes. both of them reminds their 1st meet and sudden marriage.
Karishma:  Virat dada you threw some sindur on Sai vabi's nose.
Sai: ( slowly tell) you did it again, can't you fill my mang properly.
Before Virat say sorry Shivani bua interfere.
Shivani bua: Karishma if the groom threw sindur on brides nose while filling her mang it means her husband will love her a lot.
Virat: ( he also say slowly that none hear them) from now my this mistake become my favourite mistake.
Karishma: really? congrats Sai vabi.
Shivani bua: will congrats to you soon don't worry. (evil smile)
Karishma blushing. Mohit stares at her. Ashwini notice this
Ashwini: don't worry. soon we will have another bahu at home.
This time Mohit also start blushing.
At last, the sad moment of the daughter's departure came. Neither kamal nor Sai could hold back their tears. Sai n Kamal both starting to miss Sai's mom.
Sai: Usha Masi, take the best care of Aba.  Aba promises me you will follow the doctor's instruction properly. will take medicine on time.
Aba: I will. take good care of yourself and Virat's family.
Sai again hugs her Aba
Karishma feels sad by thinking how can she leave her home too easily where she born and spends her childhood. Mohit understands Karishma and holds her hand sign her that he will be always at her side.
Kamal handed Sai's hand to Virat. Virat opens the car door to sai. Sai still crying and get in the car. kamal and Usha joined hands with Ninad and Ashwini. ask them to take care of Sai and forgive them if there is any shortcoming in their arrangement.
Ninad: even my enemy can't say that your arrangement has any lack.
they goodbye Sai. Virat and Virat's family leaves for Chavan nivash. in the car, Virat passes Sai tissue to wipe her tears. and trying to hold her hand but she doesn't let him.
Ashwini has done arti and welcome Sai. Sai dropped a small jug of rice by her feet and step on the platter and with some red footprint, she enters the house.
Ashwini introduces all family member to Sai.
Ashwini: this modern lady is Virat's bua ( Virat's father's sister), he is Mohit, my younger son, Karishma! Mohit's would-be wife in future will be your devrani. ( Karishma n Mohit blush)  Virat's elder sister devyani ( Devyani tell sai to call her Tai [didi, sister]) out one n only damatji pulkit, your father-in-law Ninad, and m your mother in law but call me ayii.
Shivani: and call me Shibu, I hate to be call bua. and m only three or four years elder than you so!
precap: the new home, the bonding with new peoples, new lifestyle with an unknown person. will they accept each other?
[hey guy's so here is sairat's wedding special chapter. I remove irritating characters like Kaku from my story, feels bad for Karishma as she didn't have her wedding fun, so here m showing her as mohits gf. but m not going to change her character it's suite her, just make it sweeter. pakhi will be in my story but for a very short time. will post soon Sai's 1st day in Chavan nivash include their 1st night. I don't know what I should write about their 1st night but will try to write something good. trying to bring more twist. you guy's can give your opinions too, will try to follow them in my concept. pardon me for makes you wait a little long for this story. Actually writing a story takes a lot of times, we need to think a lot. so that sometimes I delay for 1/2 days to upload the chapter. But as I promised some of you that I will try my best to give a perfect finishing of this story so m not going to leave it incomplete anymore. thank you for support me and loves this story that much.]