Are you excited to watch Kuch Toh Hai Tere Mere Darmiyaan?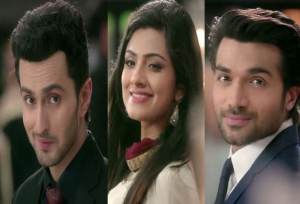 Kuch Toh Hai Tere Mere Darmiyaan is an upcoming show on Star Plus. The show will air at 8.30 pm replacing Phir Bhi Na Maane…Badtameez Dil from September 28, 2015. It is produced by Balaji Telefilms. The show stars Vibhav Roy, Gautam Gupta and Shritama Mukherjee as the leads. The show is based in Jamshedpur and is about three friends, Raj, Madhavan, and Koyal, who come from different cultural backgrounds – South Indian, Punjabi and Bengali.
The show will be a love triangle and how the characters will revolve around one central theme that Love has no logic and it is solely by heart. Koyal believes love can't be done by mind. She tells Raj and Madhavan that if love is done by mind, then it is definitely not love. Madhavan finds her very emotional. Raj agrees with Koyal and has similar mindset as her. Madhavan loves Koyal since their childhood, where Koyal leans for Raj's free nature. All the three leads' families are related to each other through their place of work and profession. Madhavan has never expressed his feelings for Koyal. The love for Koyal in one's heart becomes the trouble for another. It is a love triangle and will showcase a compassionate tale of the interlinked fates of the three. Would you like to watch Kuch Toh Hai Tere Mere Darmiyaan? Let us know in this poll.