ArDeep/TanShi/IshRa Ff: Jiyein Kyun (34~Strength, Pregnancy, Happiness And Chance)
Lakshya took Tara outside and made her sit in car. He drove off from there and they arrived at the clinic. "I thought we were going on date," she said pouting cutely. "Han baba we will go but first it's necessary to know how much more time you will take to walk," he said and took her wheelchair out from the back seat and made her sit on it. "By the way Lakshya, I am much better, all because of you, I can feel that the numbness is a little gone," she said smilingly. "Really? I will tell Ishita di."
"What?" she asked a little furious. "Uh nothing," he said to their way to Tanuja's cabin. They waited for sometime and then they were called inside. "How are you now?" Tanuja asked. "Better," Tara replied. "Have you been taking your medicines?" she asked. "Yes doctor," Tara said. "What about massage?" she asked. "He keeps giving me massage," Tara replied. "Ok, Lakshya, place her feet on the floor so I can see if now she can stand or not," Tanuja instructed Lakshya, he nodded and knelt down beside her feet and placed them carefully on the floor. "So are you ready Tara?"
"Yes doctor," she said and Lakshya and Tanuja both held her hands trying to make her stand. Tara bent a little and her feet moved and her grip tightened on their hands and she pulled up her body from the wheelchair and got successful in her first step. She finally stood up from the wheelchair and Lakshya couldn't help but get teary eyed seeing her stand after such a long time. "Tara can finally stand, OMG, can't believe, doctor this ain't a dream, is it? I don't want that I open my eyes and everything vanishes," Lakshya said happily.
"Congratulations," Tanuja said smilingly. Tara stumbled and was about to fall, Lakshya prevented her from falling wrapping his arm around her. "Bas.. bas, sit down," he said and made her sit. "She can't stand for a long time so take care," Tanuja said. "Doctor thank you for everything," Lakshya said and paid her and went taking Tara. Tanuja got tears in her eyes recalling Rishi and just then he entered inside. "What Yar? At least today leave your work, if you don't remember then we have to keep our behavior cool for our children," he said. "Everything for everyone but what about me? No one thinks about me, just their own selves."
"I m saying this for you only, if my parents had rejected you so why am I the culprit all of a sudden? Don't give me punishment when I have done nothing, you know we married and then after some months when you got pregnant with Natasha, I wasn't ready for babies so you had to give her for adoption and same happened at Tanya's time, I know neither I am a good husband nor a good friend nor a good father but I m trying my best," he said. "Because of you only I was separated from my babies."
"But you got them back too," he said. "Yes, but I was alone for all those years, do you even know that for how many nights I slept hungry? How depressed I was? Do you even know? No right, you may go now," she said angrily. "Don't ruin our present because of the past," he said. "Fine, you want a chance, right? Fine, I gave," she said calming down. "Ok so tie it," he said giving her a friendship band.  She tied it and he did the same. "Ye dosti hum nahi chhodengay, todengay dum magar tera saath na chhodengay," he sung.
"Very filmy," she said. Deep took Aarohi somewhere blindfolding her. He removed the blindfold and she got excited seeing the decorated room. "Wow, so sweet, but Deep I thought that there will be more people along with me and that you might be having more friends," she said and he put some candles on the cake and lit them. "The thing is that this party has started because of you and it will end also because of you, let's cut the cake," he said and they blew the candles together and wished for their togetherness. They cut it together.
She made him eat and he too made her eat. He saw that some cake cream was spread on her lips. He removed it by his finger. She took cream on her finger and spread it again on her lips and he cleaned it again. She again applied it and now he understood her desire and they both tilted their faces and their lips met together and they chewed on to each other's lips as she ran her one hand in her hair and other on his back and he too ran his hand in her hair and other was wrapped around her waist.
He pulled her more close and opened the dori of her blouse and kissed her neck and slowly he undid her saree and threw away her pallu on the floor and grabbed both her waists and they joined their foreheads and she blushed. Suddenly she moved away and ran to washroom. She threw up. He too came behind her and held back her hair as she washed her face. When she was done, she turned to him smilingly and took his hand keeping it on her belly as they came out. "Do you feel it?" she asked smiling cutely.
"What?" he asked curiously. "I have a life breathing inside me," she told him blushingly and took both his hands and jumped around in joy. "We are going to become parents Deep, we're going to have a baby, yayyyy!" she said jumping around holding his hands and then she hugged him from behind. "Our family would be completed after this baby is born," he said and they smiled. Lakshya and Tara ate ice cream in a restaurant. "I m so happy Lakshya," she said.
"I m more happy, finally you could stand, we will surprise everyone today, Shanaya also," he said. "Ishita di," she corrected. "But look at her positive side, for you she sacrificed so many times, her entire childhood was spent with you, then she was the one who saved you from your culprits not caring about her own life, she got stabbed, then in jail she was saving you always from others even after knowing everything about you, who gets such people? You're very lucky, not everyone gets a sister like her," he said trying to explain her being very polite.
"Hmm you're right, first we will meet her, she has done everything more than mom, I should surprise her first," Tara said and they smiled. They went from there and drove off to Bhalla house. He took her wheelchair out from the back seat and made her sit on it and they went inside from the front door. "Shanaya di! Shanaya diii!" Tara called Ishita in her usual style bending forward holding the arms of the wheelchair searching for her by her eyes. She came down from the stairs and smiled seeing her. "Aray Tara came, after so many days my bacha came."
She said and came to her and kissed her forehead. "I have a surprise for you, bring your hands forward," Ishita said and Tara brought her hands forward. "Close your eyes," she said and she did so. Ishita kept something on her hands and asked her to open her eyes. She opened her eyes and got emotional seeing the gift. It was of two ducks. "This duck which has it's head up, it's me, it is protecting the other duck, the other duck is you, this is a promise gift that I will always protect you," Ishita said and Tara smiled.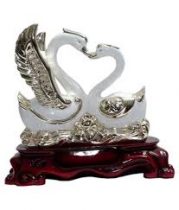 "Di thank you," Tara said very emotionally. She lowered her head. "Di I have nothing to give you, but I just want to say thank you for everything, if you wouldn't have been there, I wouldn't have been saved from my culprits, I feel blessed whenever I look at you, Di I know you're not my Shanaya di, I know my Shanaya di died in childhood itself, you're Ishita di, the angel of my life, I m alive because of you else I would've died long ago," Tara said holding her hand. "What? You got to know this truth?" Ishita said a little shocked and knelt down.
"No worries di, I feel blessed," Tara said and kissed her hand. "Who told you Tara?" Ishita asked. "That doesn't matters," Tara said and Ishita stood up and started leaving but Tara held her hand bending her forehead on it. "Di no please don't go leaving me, I have lost my dear sister once, now I don't want to lose her again, please di," Tara said on the verge of crying. Ishita turned seeing her weak and caressed her hair. "No, please no tears, I wasn't going leaving you, I was just going as I had to give you something as I thought you will go leaving me."
"Why will I? You're my best friend come sister, I promise I won't ever go leaving you," Tara said. "Ishita di, today Tara has also planned a surprise for you," Lakshya said to Ishita and she smiled and Tara too raised her eyebrows at her smilingly. Lakshya kept her hands on her shoulders and bent down to match his height with hers. "So Tara are you ready?" he asked. "Yes Lakshya, I am ready," she said and she slowly kept her feet on the floor and kept her hands on the arms of the wheelchair and stood up.
Ishita smiled with teary eyes and walked towards her with slow steps and cupped her cheeks. "Wow, you stood up, can't believe my eyes," she said and Tara stumbled and she made her sit. "Sit down, my baby, m so happy for you," Ishita said and kissed her forehead. "When Tara will be fully OK then I will call my family here and make them meet her, then Tara will be with me for 24/7 and will live with no fears at all," Lakshya said and Tara smiled blushingly.