Ardeep/Ishra ff: Jiyein Kyun (19~Drama And Mental Asylum)

Warning: A non-numeric value encountered in /home/ftpusers/tellyu/public_html/wp-content/themes/publisher/includes/func-review-rating.php on line 212

Warning: A non-numeric value encountered in /home/ftpusers/tellyu/public_html/wp-content/themes/publisher/includes/func-review-rating.php on line 213

~Dard De Kar Dard Ki Intehaa Na Poochh,
Dard Toh Dard Hota Hai, Thora Kaisa? Ziada Kaisa?~
'The point is how she got here and when?' Mihika said wiping her tears as she and Vandu came in her room. 'Yes and also that did she and Ishu know each other personally?' Vandu said sitting on the bed. 'She's a sister of a serial killer, can we even trust her or not? God knows,' Mihika said wiping her wet cheek. 'No she's good, else why would've she come here to prevent us from the pain Raman has been going through?' Vandu said thoughtfully. 'You're right, she's very nice, but none can take akka's place,' Mihika said and went hiding her tears.
'I understand Mihika, you're hurt right now and sad also, but what to do? You'll have to accept the truth,' Vandu said to herself. Tara was sleeping when she felt a splash on her face and woke up with a jerk wiping her face. 'What yar Shanaya di? Have you lost it?' she said and as she was done wiping her face, she looked at the person in front of her and lost her temper. 'Missing you,' he/she said. 'Get lost!' Tara shouted. 'Why so much anger? Long time no see, let's talk a little,' he/she said.
'Durga I said get lost!' Tara said picking the vase and threw it on her, Durga got hurt on her forehead and looked at her angrily. 'Teri toh!' she said and came to her and slapped her tight. Some nurses came to her room. 'You please leave, you're giving distress to the patient,' said a nurse. 'I won't go until you shift her to a mental asylum, look she has attacked me,' Durga said showing her wound. 'She woke me from my sleep so I did this,' Tara said scared of going away. 'Please you go, don't distress on her, please.'
Durga went glaring at her and Tara laid down to sleep again. Deep felt a hand on his shoulder that stopped him from smashing the mirror. He looked back to see the person and was shocked. 'Mummy jee you?!' he said in a shock. 'Why has she done this? What did you tell her?' Roma asked. 'Nothing mummy jee, I don't know why..,' he was cut in between. 'So pick her up and take her to bed and call doctor immediately,' Roma said sternly and went. Deep called the doctor and asked him to come as soon as possible.
He took her to bed and laid her. The doctor arrived and asked him to go outside to avoid disturbance. As Deep went outside, Aarohi moved her eyeballs and opened her eyes whistling with a smile. (The whistle is the same as it is on Tara's entry in IMMJ). Doctor was shocked.
Flashback:
Aarohi stared at the sleeping pills bottle.
A: now only you can help me. I am doing this so that he also get to know the pain of losing your loved one, but only if I am his loved one, I will know everything just after I take this drastic step.
She dissolved all the pills except for some in the jug and ran outside towards the kitchen and made that water down the sink and washed it and poured some water in it and returned very fast.
She kept some pills on the floor and took a glass of water and drunk it and laid down on floor such that the pills on the floor were next to her mouth, she kept the glass fallen near her and closed her eyes as she heard the click of the washroom door.
Flashback End.
'Hallo Dr.Karanvir Siddharth Khurana,' she said and he was shocked as to how she knows his name. 'I am Aarohi Kashyap also known as Aarohi Raichand by the way if you remember,' she said and he smiled. 'Oh we're school friends, you were my junior, hello, but why all this? And weren't you dead?' he asked. 'I am dead in world's eyes and will always be dead, but this so called dead girl will return, and all this drama was to know whether he loves me or not, everything else is a long story, now go tell him that you've pumped out all the medicines out of me.'
Aarohi laid down pretending to be unconscious. Sid did as told and returned. Deep came and thanked him. 'When will she wake up?' he asked. 'Forty five minutes or so,' Sid said and Deep took him outside. Aarohi smiled as they went but then a tear rolled down her cheek but she wiped it soon.
Why do I feel hurt seeing him hurt? Did I do something wrong? She said in heart and stopped her tears from falling down.
She closed her eyes again as he came and kissed her forehead. He covered her with a duvet and freed her hair and ran his fingers through her hair. He smelled her hair which had fragrance of the jasmine flowers because she had been wearing gajjra. He took her hands in his hands and she held his hands. He kissed them and he could smell the same fragrance in her hands as she was wearing jasmine flower bracelets which she took from Chawani, Ranger, Chintu and Metre (Meera). He removed the bangles and the rings from her hands and the flower bracelets too. 'Beautiful. World's beautiful girl,' he said and caressed her face. Roma came.
'Is she OK?' she asked. 'Yes she's fine,' he replied. 'Take care of her,' she said and kissed her forehead. Aarohi felt happy.
I want your love as well, not as Tara but as Aarohi. I wish I could come to you as Aarohi. She said in heart trying her best not to cry.
Roma went. Sometime later, Aarohi woke up and saw Deep was wide awake. 'Deep,' she said and he looked at her happily and hugged her tight. She hugged him back but then he broke the hug and looked away. 'Deep,' she said again and he cupped her face a little tight.
'How? How can you do this? Hmm? How?' he asked. 'I am sorry Deep,' she said and he moved his hands away from her face. 'Sorry? Sorry my foot, idiot. If you would've died, I would've been saying sorry to your dead body,' he said and he palmed his mouth. 'Shh, are you mad? How will I leave you so soon? I m bound by you, now I am fine so why are you so hyper?' she asked cupping his face. 'So should I laugh?' he asked sarcastically. 'So should I laugh?' she imitated him and laughed.
He was shocked on seeing her reaction. 'Yes you should laugh, you'll have to laugh,' she replied and tickled him. 'I don't feel tickles, ha ha ha,' he said dramatically and tickled her instead and she laughed. 'Stop, everyone will wake up, stop please,' she said and he stopped. 'OK fine, but promise me not to do this again?' he asked forwarding his hand. She assured him by her eyes. 'Haven't you ever watched films? Promise isn't done like that, it's done like this, by joining hands,' he said and again forwarded his hand asking for a promise.
She placed her hand in his hand and he squeezed it between his palms.
Ishq Mein Marjawan (3 Times)
'From today, none of us will do that, OK?' he asked. 'OK Deep,' she said and he hugged her tightly.
Main Dekhun Tujhe
Din Mein Sau Martaba
Yeh Agar Ishq Hai
Toh Hai Beintehaa
She heard him wince and broke the hug remembering about the wound he made on his palm. She looked at his palm then at him. 'Yeah you won't do this again and you've proved it also,' she said and removed his bandage while he stared at her face.
Tu Agar Maang Le
Jaan De Doon Abhi
Tu Agar Bol De
Khud Ko Kar Doon Fanaah
'Just your kiss would be enough,' he said and she glared at him. 'Deep just shut up, you can lose your hand also, doctors will say later that they will have to amputate your hand, then my kiss won't be enough, so please let me do my work,' she said and he smiled at her concern.
Aa Tujh Mein Khatam Kar Doon
Yeh Saansein Meri
Iss Ishq Mein Marjawan
Tu Jo Kahe Woh Kar Jawan
Hoo..
'So what Aarohi? I can even die in your love, amputation is a very small thing,' he replied and laid in her lap. 'Uh oh, you're such a kid, get up, otherwise I won't be able to do it,' she said and he sat up. 'I am a kid but you're also a baby, my baby,' he said and she chuckled.
Yeh Raaz Hai Dil Ka Mere
Karun Kyun Bayaan?
Mehfooz Hai Ab Yeh Mujhmein
Sun Le Zara
Be-Khof Sa
Ab Tu Rehna Yahan
Ban Ke Rahoon Saaya Tera
Iss Ishq Mein Marjawan
Tu Jo Kahe Woh Kar Jawan
Hoo…
Ishq Mein Marjawan
Tu Jo Kahe Woh Kar Jawan..
Hoo…
She was done and went to change. Next morning, they both were sleeping with their heads on one pillow and they were sleeping in each other's arms. Same was in Ishita's (Shanaya) room. Ishita and Raman too were sleeping like them in the same way. But Shivani was sleeping alone in a dark paradise, she was shifted in mental asylum as soon as she slept the last night. She didn't knew what's in store for her. She woke up and got shocked seeing the ward was different. She tried to open the door but failed.
'She has been shifted here as she attacked a jailor, we'll have to bound her by bed as soon as she wakes up and give her shocks.'
Tara was shocked. She went to her bed and acted of being asleep. As soon as she heard the door open, she sat up and walked out of bed and ran outside but a nurse got live wires and shocked her from behind contacting her by them on her head. She screamed and fell on the floor, the nurse laughed and got a bed and laid her on it tying her really tight.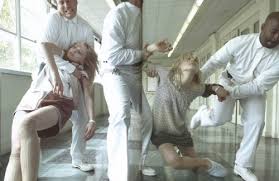 She kept screaming as they took her and gave her electroshocks. She screamed loudly. Roma woke up from the dream sweating badly. 'Tara,' she said worriedly and went to her room. She opened the door and saw her sleeping with Deep. She smiled and took a sigh of relief. Little did she know that whatever dream she saw was reality. Tara was really in a mental asylum and she was in a bad state. Shanaya (Ishita's lookalike) woke up and smiled seeing Raman. Then she looked at Ishita's photo on the wall and held her ears. 'Sorry for loving your Raman.'
She went to wake Pihu for school and made her ready and combed her hair perfectly. She made her eat and dropped her to school. 'Ishi Maa, aap hi mujhe lenay aaogay na?' she asked and Shanaya nodded and kissed her forehead and waved her bye. She went and Shanaya went to the police hospital and didn't found Tara there. She asked a nurse about her and she told her everything only after Shanaya bribed her. 'How dare you shift her without my permission? Who gave you this right?' Shanaya lashed out at her. 'Sorry ma'am but Durga the jailor said so.'
Ishita got angry and imitated her. 'Durga the jailor said so, hell with you,' she said and went to Durga. 'How dare you shift my sister?' Shanaya said. 'She attacked me,' she replied. 'You might be the one to provoke her, hell with you and your humanity, I doubt that are you even a human?' Shanaya said and went from there to the mental asylum in which Tara was captivated. She went to the ward in which she was there. She heard her screams and barged inside. 'Tara!' she said and rushed to her and hugged her.

Warning: A non-numeric value encountered in /home/ftpusers/tellyu/public_html/wp-content/themes/publisher/includes/func-review-rating.php on line 212

Warning: A non-numeric value encountered in /home/ftpusers/tellyu/public_html/wp-content/themes/publisher/includes/func-review-rating.php on line 213