ArDeep Horror Ff: Atheet Ka Bhoot Returns (7~Slumber Party)
Flashback Continues:
After one and a half week their exams came to an end and Mayank, Alisha, Tara and Virat had decided to have a slumber party at the twin's place. That night, when they arrived, they emptied their sleeping bags and Alisha and Tara sat on one bed and Mayank and Virat on one bed. "Yaar what's this? You both made us sit on one bed, look at this bed's size," Mayank said trying to adjust himself but in vain. "Oh, so look at your own size, Mr.Mayank Sharma," Alisha said and she laughed along with Tara. They glared at them.
"What about I shift over there with Tara and Alisha you can come here," Virat said and Alisha agreed and both of them stood up and Virat sat with Tara and Alisha with Mayank. Soon the couples were engaged in their own talks. "I want to be this close to you forever, dil hi nahi karta hai tumse ek pal ke liye bhi door jaanay ka," Mayank said wrapping his arm around her shoulders. "Mera khud ka kon sa dil karta hai Mayu? Dil karta hai tumhe apnay aap se baandh loon, ek baar jo tum mujhe milgaye to phir kaheen nahi jaanay doongi," she said and he smiled and she too smiled looking down.
Virat entwined his hand with hers and brought it close to his chest. "Yeh dosti hum nahi todengay, todengay dum magar tera saath na chhodengay," he sung slowly in her ears. "Aww how sweet, baby I know you want something more than friendship between us but just for once when I will start feeling that my feelings are growing for you, I will tell you, then I m all yours, and you will also be all mine, just some days more," she said.
He smiled at her. "Guys, let's drink coffee," Mayank said startling Virat and Tara and they left each other's hand. "I will make it," Alisha said standing up. "I will also come with you," Tara said and she too stood up and went with Alisha. "So?" Alisha asked while making coffee. "So?" Tara replied in the same tone. "Baat aagay pohnchi?" Alisha asked. "No, not yet," Tara told her. "Okay, but don't do it late, else he will get someone else," Alisha said. "Di, I know he won't, look at him, it doesn't seems that he will fall in love with someone else."
"But what if he does? Look Tara, it doesn't takes much time to fall in love with someone who can heal all your inner wounds, now look just like you have started falling for him because you think he can heal you so I think it won't take much time for you too and just like that if someone else comes in his life and he feels that she can heal him better than you, he will leave you and fall for her if he thinks you're taking too much time, if you have feelings for him, tell him, he won't wait for his entire life," Alisha explained it to her.
Tara got thinking. Meanwhile on the other side, Niku had woken up as he was thirsty but he was too sleepy that he went to the twin's room instead of kitchen. "Oh look Virat, baby boy Niku," Mayank said pointing at sleepy Niku and he got down the bed and picked Niku. "Hallo baby boy, why are you sleepwalking?" Mayank asked making her sit in his lap. He opened his eyes and looked at him. "You? You can't be who I think you are," Niku said.
"Who do you think I m?" Mayank asked. "I could've thought you're Mayank uncle, and he's Virat uncle but you both are ghosts who have taken their identities, you ghosts talk as well?" he asked and hid under the bed. "No Niku, come up," Mayank said as Virat giggled. "No," Niku refused. "Niku I said come up," Mayank said but Niku refused again. "Niku if you say we can drop you to your room, I think you had a bad dream," Mayank said. "These ghosts know my name as well, oh God, aaltu jalaltu, aayi bala ko taal tu," Niku said to himself. Mayank laughed as he heard everything.
"Niku what are you whispering? I said come up," Mayank said and he came out and sat on his knees staring at his feet and then at Virat's feet. "By the way I have always seen in horror movies, you ghosts have twisted feet," Niku said and again hid inside the bed and both of them laughed. "Yes we are ghosts and there are four of us, look they came," Mayank said and Niku got out from under the bed and stared at Tara and Alisha who were coming with tray of coffee. "Wow, yummy coffee," Mayank said as Alisha gave him coffee.
"Yes, seriously, awesome," Virat said trying to control his laughter. "By the way Alisha, there's a surprise under the bed," Mayank said laughingly looking at Virat. Alisha sat down to look under the bed. "Aww, Niku?" Alisha said and held his hand trying to make him come out. "I have heard you people have cold skin, and you have it, and also you drink blood, then why coffee?" Niku said and Alisha tilted his head at him pulling her lips inside and then she looked at Tara who was busy in thinking and then she looked at Mayank, he was busy laughing.
She looked at Virat who was busy in having his coffee. "Will someone please bother to tell me what happened to him and what is he doing here at this hour of the night?"Alisha asked and Virat palmed his mouth laughing hard and Mayank was also laughing hard. "You tell what are you ghosts doing here at our house?" Niku asked and Virat and Mayank broke out into fits of laughter. "Alisha, he thinks we all are ghosts and we've taken identities of me, Virat, Tara and you," Mayank said. "Yes, don't know what happened," Virat said laughingly.
"Aaltu jalaltu aayi bala ko taal tu, you all should go before day comes, when the sun will rise you all will burn, your places are empty in graveyard," Niku said still hiding. "Niku come out," Alisha said feeling weird. "By the way I saw in horror movies that you people have white eyes as well, you all look normal," Niku said and Alisha sat down on his knees and touched his forehead. "You have no fever, then what happen?" she asked. "Ghosts have no shadow then how you have your shadows?" Niku asked them.
"Niku come, I will drop you to your bed," Alisha said on a serious note. Tara sat down on her knees beside her and laughed. "You are trying to say we are ghosts but actually you are the ghost, the surprise visitor, you have your place empty in graveyard," Tara said being equally mischievous and touched his hands. "Look you're cold," she told him. "I m not a ghost," he said keeping his hands on his face. "Aww such a cute ghost, tum aaye bahaar ayi," Tara said laughingly. Alisha pulled him out.
"Baby who told you we're ghosts?" Alisha asked. "No one bua, I was just joking with you people," Niku said and laughed. Mayank and Virat got down the bed and Virat picked him up. "Saale humesha tere paas badmaashi ke plans hotay hi hotay hain na, champ," he said and kissed his cheeks and laid him on the bed tickling him and he laughed madly. Mayank made him stop. "Haan Kya kehraha tha, pair ultay hotay hain, skin thandi, or Kya kaha tha? Hum khoon peetay hain? Haan? Badmaash, aaltu jalaltu aayi bala ko taal tu? Hain?" he asked.
Niku, Virat, Alisha and Tara had a laugh. "Should I tell another line of this mantra?" Mayank asked Niku and he nodded. "Tension vension chhor bacha hoja tu bhi faaltu," Mayank said and everyone laughed. He kept him down and Alisha and Tara kissed his cheeks. "Go sleep baby, no more mischief," Tara said. "I will take him," Alisha said and held his hand and took him. "Yaar it's a slumber party and there's no music, no dance," Tara said. "So there will be a dance, we all four will dance together, but low music, else everyone will wake up, ok?" Alisha asked. "Okay," everyone agreed.
Heyy Yoo
Cool Ho Samaa
Cool Dude Jahan
Aur Bajte Guitar Wahan
Hey Yo!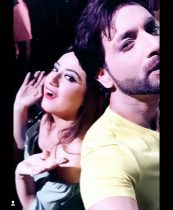 Dream Girls, Vo Do Ladkiyaan
Chali Sapne Jahan
Hey Yo!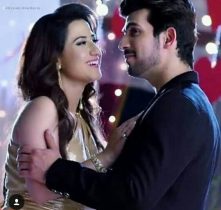 Hulchul Ho Dil Mein, Mile Jab Hum Tum
Suhane Weather Mein, Mile Jab Hum Tum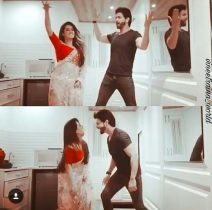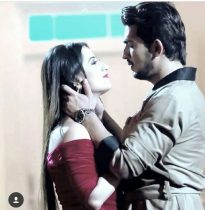 Koi Khiladi Hai Yahan..O Jaane-Jaana
Koi Khiladi Pe Fida..O Jaane-Jaana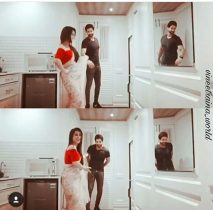 ­­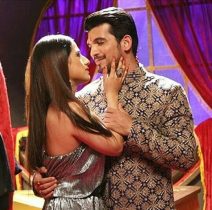 Dono Akele Miley Jab Hum Tum
Nazro Se Khele Miley Jab Hum Tum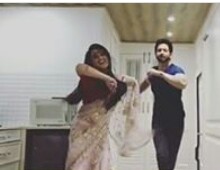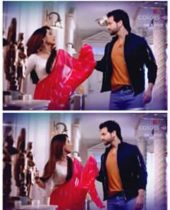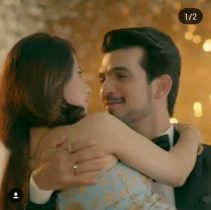 Koi Samjhe Naa Samjhe
Takraye Jab Vwoh Humse
Rocket Chulenge Is Dil Ki Kasam Se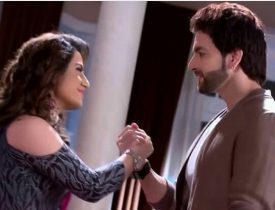 Hulchul Ho Dil Mein, Mile Jab Hum Tum
Suhane Weather Mein Mile Jab Hum Tum

(This is title song of Arjun Bijlani's old serial Miley Jab Hum Tum, couldn't find a better song than this )