Anuama FF – Leap in the story.. Ep: 10
The story takes a leap of 2 years.
Anupama: 2 years went on fast right?
Vanraj: Yes! Do you remember what all happened? You joined your college, Kavya and Anirudh got married,Devika got married..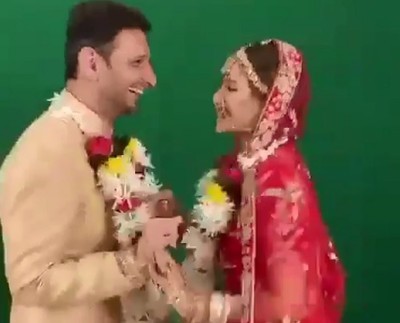 Anupama: Devika's wedding was the most hilarious and you forgot the other thing?
Vanraj: Which thing?
Anupama(Holding a baby in her hand):About him!
Vanraj: Ohh our Toshu!! Paritosh Vanraj Shah!!He is turning 2 this august how fast time is going isn't it? You remember the scene that I created that time?
FB:Anupama rushes to Vanraj and says that she is pregnant. Vanraj creates a scene telling that they are not ready for the baby and tells that she is still studying and he is not having a steady job to look after a family.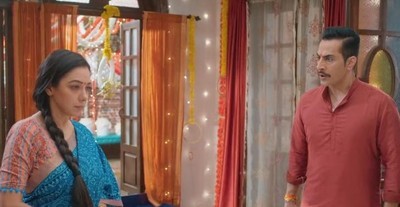 Leela who was angry with Anu supported her and scolded Vanraj for what he told. Vanraj didn't say a word and left from there. He never took Anu for her check-ups for 2months but after that when he got a steady job he thought he was stable to look after his family and started supporting Anu.FB ends
Anupama: Haa.. Now our 2nd baby is coming after 5 months!
Vanraj: I want it to be a girl!
Anupama: It should be a boy so Toshu will have a friend to play at any age.So even if we are busy they will look after themselves.
Vanraj: If it is a boy we will name him Anuraj.
Anupama: Anuraj? why?
Vanraj: Anupama and Vanraj!
Anupama(Shy):Okk
Leela: Anu…It's time for your college come fast I have packed your lunch.
Anu: Haa baa..Toshu slept I will put him on the bed and come.
Vanraj: Go fast! Just 2 months of college then you can do a job till then we are there to look after Toshu.
Anu: Sorry , because of me you are late for your office.
Vanraj: It's ok yaar. After all its for our son.
Dadi(comes to the room and drags Anu):Go to your college. I am here to look after Toshu.
Anu:I have kept your tie and shocks near the shelf,bye.
Vanraj: Okk,bye.
Anu goes to college and spent some time there.Her friend comes and takes her to the canteen and they chit-chat.Suddenly Anu feels dizzy. Her friend worries and calls Vanraj from Anu's phone.He rushes to her college and takes her to the doctor.Doctor treats her and say that it's because she didn't have anything in the morning.
Vanraj:Why can't you have food in the morning?
Anu: I was rushing to college and I forgot to have food.
Vanraj: Ok and then you could have from canteen isn't it? I picked you from the canteen and still you didn't have anything.
Anupama and Vanraj go back home.