Angels and Suitors ft. Mishibir, Kuhukunal, Samaina and Mineil – Episode 10
Hi all!!!!
Author's Note: If anyone is interested in designing posters, pls do message me or leave in comments. I need your help. Credits will be given to you in the episode. Thanks in advance.
Scene 1
Naina and Preeti sits talking.
Naina: I didn't expect this breakdown from taiji.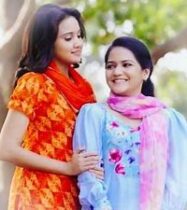 Preeti: Yeah me too. She sacrificed a lot for us. We shouldn't mock her hereafter.
Just then Swathi calls.
Naina: Tell me swathi.
Swathi: Naina, tomorrow is result.
Naina: What? So quick?
Swathi: For final years, they are releasing early itseems. Ok Naina, I'll end the call. My mom is calling.
Naina tells this to Preeti. She gets scared.
Preeti: I'm really scared. I should pass the exams. Naina, call Sameer and inform him.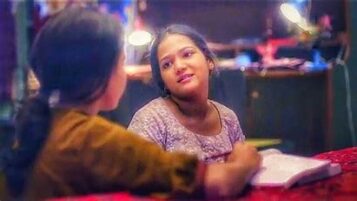 Naina calls Sameer.
Sameer's phone rings but no one respond. Rajshri sees the call. She picks it. She sees the name as "MY WORLD". Rajshri gets shocked. Naina starts to talk as soon as she attends the call. Rajshri listens to her silently.
Naina: Sameer, tomorrow is result itseems. I'm scared. Will you pass in exams? You should also fulfill papa and chachaji's challenge. Only then we can get marry. I'm worried.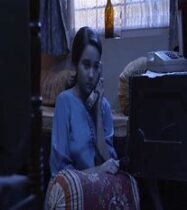 Rajshri is shocked to hear this.
Rajshri: Hello…
Naina gets shocked and cuts the call immediately. She worries.
Meanwhile, Sameer goes to his mom.
Sameer: Ma, I need to tell you something very important.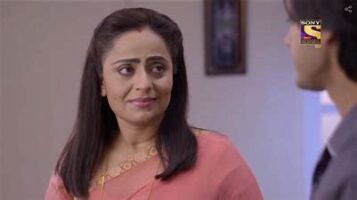 Vishaka: Sameer, we will talk later. See relatives have started to come. I have work.
Sameer: Ma, I thought to tell you after we go to Ahmedabad but after your decision regarding my marriage, I decided to tell you without any delay.
Vishaka: Ok tell me.
Sameer: Ma, I love Naina.
Vishaka is shocked.
Vishaka: Is she our school's librarian's daughter?
Sameer: Yes ma.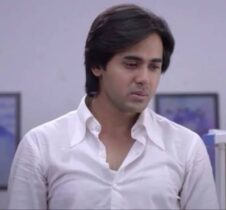 Vishaka: Are you out of sense. What will happen to our status and reputation if you marry her?
Sameer: Ma, even nanaji agreed and supported me. He liked Naina a lot.
Vishaka: I won't agree to this love marriage.
Sameer: What's wrong in love marriage? Even, Kuhu's marriage is love, Naira di and Naksh bhai's wedding is also love marriage only. Then why are you forbidding me?
Vishaka: Look at their status Sameer. Rajvansh and Geonka's families are equal to our status. But Naina's family is not like that. I won't agree. Now leave.
Vishaka angrily goes. Sameer too goes angrily.
Rajshri waits for him. She gives mobile to Sameer. He is puzzled.
Rajshri: Sameer, I got to know about your relationship. That girl called.
Sameer is shocked.
Sameer: Nani, pls support me. Convince ma. You are our favourite grandmother who supports us.
Rajshri: Yes. Grandparents will support their grandchildren no matter what happens. But is she a good girl?
Sameer: Yes, nanaji liked her so much. He knows her better.
Rajshri: If bhai is agreed, then who I am to tell no. I'm happy that the girl is liked by him. I will support you. But first call her and speak. She might be afraid. Do video call, I will also see her. What's her name?
Sameer: Naina.
Rajshri: Nice name.
Sameer video calls Naina.
Rajshri: Naina, I'm Sameer's nani.
Naina gets nervous.
Naina: Greetings naniji.
Rajshri: You are beautiful. My support and blessings are with you both. Be happy.
Naina and Sameer gets happy.
Rajshri: You both speak. I'll leave.
Naina: Sameer sorry. I was shocked and scared.
Sameer: Don't worry. She is the best grandmother can anyone has.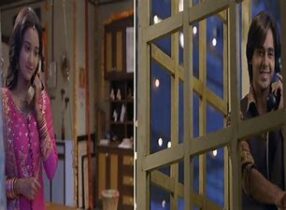 Naina: You know what happened in our house?
Sameer: What?
Naina tells him about taiji's breakdown.
Sameer: I'm shocked Naina. She is really great. I have bad news for you.
Naina: Tell me.
Sameer: My mom didn't agree for our relationship. She got angry and went. But I will convince her. Don't worry. Even nani is in our side.
Naina: I'm worried Sameer. Hope everything goes well.
Sameer and Naina talk for little time.
Just then, Sameer hear Naira's voice.
Sameer: Naina, my relatives have come itseems. I will call you later.
Naina: Bye Sameer.
Sameer goes down and sees Ananya, Naira, Kartik, Naksh and Keerthi.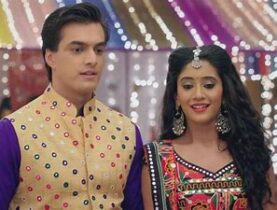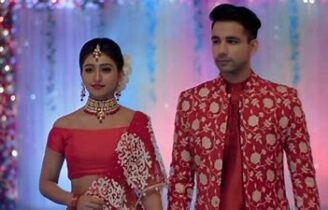 Sameer hugs Naira.
Naira: My little brother has grown up so much.
Mishti comes and hugs them.
Varsha: This is so good. Bride's sisters, brother, jeju and bhabi finally came. Atleast you came now.
Naira: Mami, sorry.
Ananya: Mumma, sorry.
Varsha: Ananya you don't talk with me. You are Kuhu's sister. You should have come early nah?
Ananya hugs Varsha and apologize.
Rajshri: All go and meet Kuhu. She is angry with you guys.
Karthik: We know how to cool her.
They go to meet Kuhu.
Kuhu is angry with them.
Ananya and Naira convince her and all apologize.
She hugs everyone.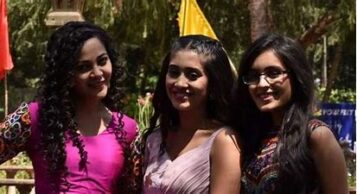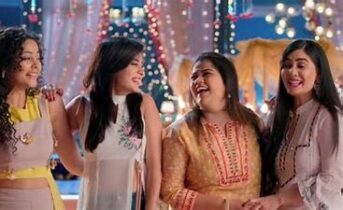 Mishti: Ok, let her get ready. You all get freshen up and come. We need to leave to mandap.
Naira: Mishti, first you go and get ready.
Mishti: I'll be ready in few minutes.
Naksh: Oh, my baby sister. We know about you. You do all works except one thing. That is self-care. You will never care about yourself. Now you go an get ready.
Mishti smiles and goes.
Rajshri sees Varsha sitting sadly.
Rajshri: Varsha, you should be happy now?
Varsha hugs Rajshri and cries. Rajshri and Vishawamber gets shocked.
Varsha: Ma, I remembered Akshara. I miss her a lot. I feel that she is with me, near me.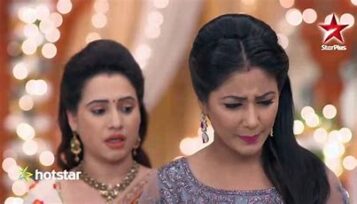 Vishwamber: Beta, think as same. she is with us. Don't cry.
Scene 2
Ashok sits thinking about Babita. He reminisces his marriage with her and romantic moments spent with her. He also thinks about yesterday night's bike ride and her beautiful face. He then remembers Mini and Neil. He thinks to call Babita and enquire about them. He calls Babita but she doesn't pick as she is busy in cooking.
Mita sees him worried. She also thinks about the picture.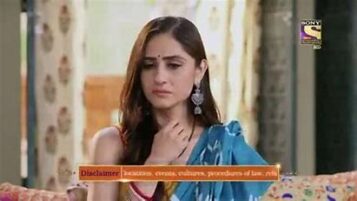 Mita: Ashok, where were you yesterday?
Mita's parents see him.
Ashok gets nervous.
Ashok: I went to see my friend.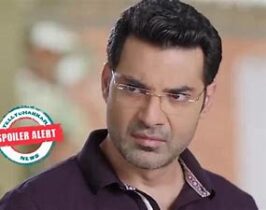 Mita gets angry and bursts.
Mita: You are a liar. At first, you lied me about your first marriage and cheated me. Now you went to drop your ex-wife and you both were hugging each other. Babita became very cheap.
Ashok gets angry. He slaps her.
Ashok: Don't tell anything wrong about her. I feel now that I missed such a gem in my life. She took care of my family and daughter alone. You are nowhere equal to her.
Mita's dad gets angry and fight intensifies. Seeing this, Mita's Bp gets high and she gets pain. Mita's mom worries and take her to hospital.
Mita's mom: You don't come Ashok. You are the reason for her condition. Just stay here.
Ashok then realizes what her has done.
Scene 3
Meenakshi: Neha, come and do Kunal's tilak.
Neha does.
Kunal feels nervous.
Abir: Nannu, what happened?
Kunal: I'm nervous. Will I be able to keep Kuhu happily? I'm going to become a family man.
Abir: Chill bro. You are the best for her. No one except you can keep Kuhu happy. Don't worry. Come let's go.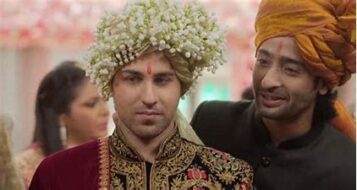 Neil is cooking food. Mini comes there.
Mini: Shall I help?
Neil: Yeah, if you sit quietly, then that is the big help for us.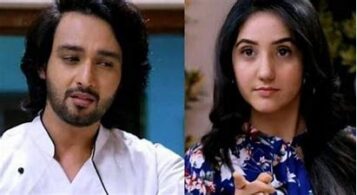 Preet and Bobby laughs.
Neil: Babita mam, you made a mistake. You should have thought her cooking.
Bobby: So, what Neil bhai, you are there nah? You cook for her.
Mini laughs seeing Neil.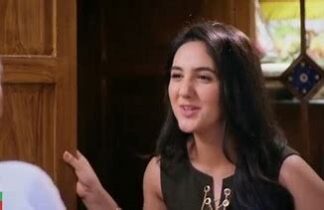 They all cook.
Scene 4
Maheshwari family comes to the mandap. Rajshri and Varsha gets emotional seeing Kuhu as bride.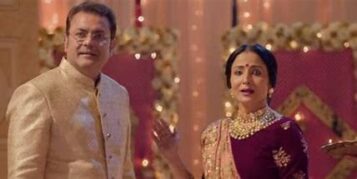 Rajshri wards off bad sight on her. Varsha does arthi to Kuhu.
Rajshri: Girls, take her upstairs. You can see bharat from there.
The girls get excited and goes upstairs.
Mini and Babita come to Kuhu.
Babita: Congrats Kuhu.
Kuhu: Thanks aunty.
Mini: Kuhu, babes bought you a gift.
Kuhu: Aunty, what is the necessary to bring gifts?
Babita: I will buy gifts for the bride whenever I go to cook.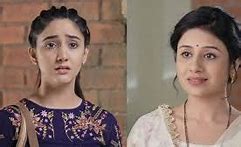 Kuhu smiles.
Babita gives her a Krishna idol and some pearl jewellery.
Babita: Krishna will give you happiness, peace and also little Krishna will come to you soon. And these pearls indicate purity. Always be pure and faithful in martial relationship.
Kuhu seeks blessings from Babita. She blesses her. Just then they hear bharat sound.
Babita: Mini you be with them. Only then we can cook peacefully.
Mini: Babes…
Babita smiles and goes.
The girls look eagerly for the bharat.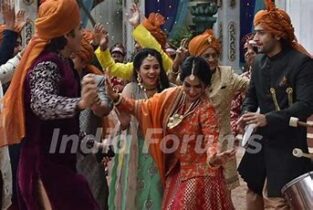 Ananya, Naira and Keerthi goes down for ritual. Mishti, Kuhu and Mini see from upstairs. Neha, Abir, Ketki dance and enjoy. They drag Sameer, naksh and karthik too. They all dance and have fun.
Kuhu: Even I want to dance.
Mishti: Oh, my pyaari behen, please behave as bride for some time.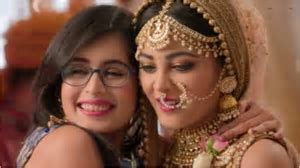 Kuhu pinches her.
Ananya does arthi to Kunal. Naira washes Kunal's feet. Keerthi makes him eat a sweet. Varsha and Rajshri also does rituals.
They all come in. Kunal is made to sit in mandap.
Abir: so finally, Ananya di, Naira, Karthik, Naksh and Keerthi has come.
Naira: Yes. We missed fun of other events.
Abir: Don't worry. Let's have more fun in marriage.
Pandit ask to bring the bride.
Naira and Keerthi goes.
Mishti, Naira, Keerthi and Mini bring Kuhu.
Mishti: Kuhu, blush seeing Kunal.
Kuhu blushes.
Kuhu and Kunal have an eyelock. Kunal doesn't even take his eyes from her. (Ek dil hai plays)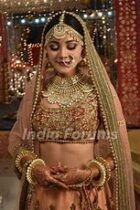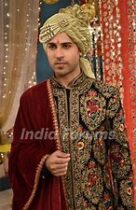 Abir and Neha make fun of him. Meenakshi blesses Kuhu. She smiles seeing Mishti.
Neha: Abir, did you inform aunty's decision to Mishti?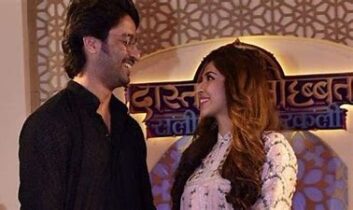 Abir: No, I forgot in work.
Neha: It's good. Don't tell her. Let her be normal. Or else she will get nervous and spoil things.
Abir: Ok madam.
They laugh and have fun with Kunal and Kuhu.
Abir: This is the first time I'm seeing Kuhu as a silent girl.
Kuhu: Abir bro, you too?
Meenakshi: Still we have time for muhurt. There are so many couple here. So you people dance and entertain us.
Mishti and Abir see each other.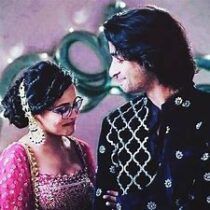 Naira-Karthik, Naksh- Keerthi, Mishti-Abir dances.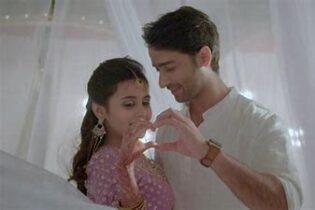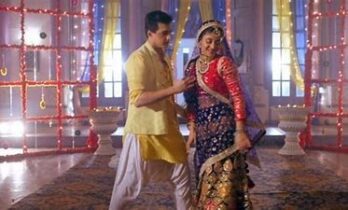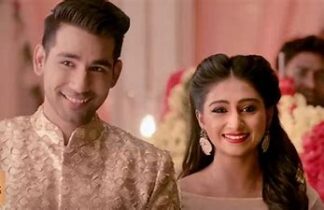 Sameer thinks of him and Naina dancing, and Mini thinks of she and Neil dancing together!!!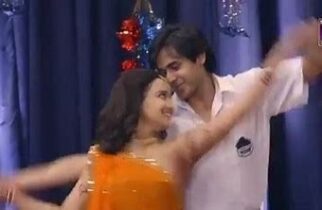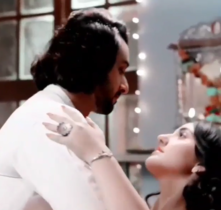 All take group pictures and enjoy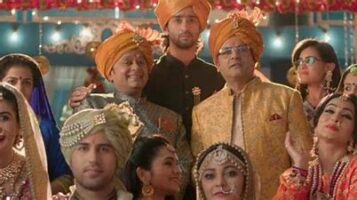 Kuhu and Kunal enjoy.
Kunal: Today you look so special.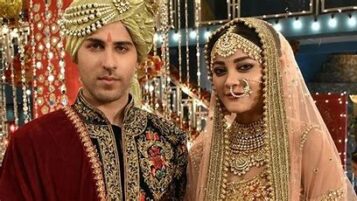 Kuhu: Yes, you too. Finally, we made it.
Kunal: Yes, we proved our love before the people who mocked us and our relationship.
Kuhu nods and holds his hands!!!!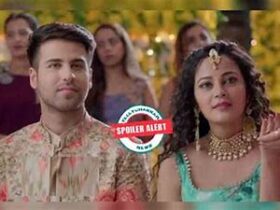 !!!To Be continued!!!
P.S : Friends please don't take me wrong about not giving the pairs a major screen space. It differs from episode to episode. Always, all my ff's go on with the story flow. Kuhu and Kunal's scenes will be more after their wedding. So stay tuned and lend your support in future too. Thanks. Next episode is on Wednesday.