Aazmayishein ( The distances amid us) Part 1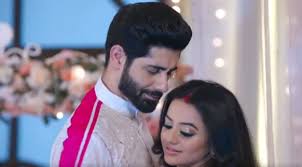 Episode starts with Riddhima sitting with a sad face and looking above at the sky ,she then kept her head between her hands and was just staying sad.When she felt a jerk at her shoulder,
Riddhima: Rano..no means no. I am not going to try
Rano: Whole college girls are trying yaar  you should also
Riddhima: whole world girls might be trying but I wont
Rano: Riddhima please, till when are you going to hide your dreams In you.
Riddhima: Till he doesn't try
Rano: If you will may be he also get motivated for the same
Riddhima: Very funny ha…I know him from years,I have tried much ,he is not going to change by this
Rano:  Fine then sit idle.
Rano left angrily ,Riddhima took a deep breath.She then recieved a message,
Message: Go and try
Riddhima: You know I wont till you wont
M: You know I will never.Why do you want to break your dreams for me?
Riddhima: You still want me to tell the reason?
M : Sweetheart ,I know you love me a lot. But i also do the same,go and try for my sake
Riddhima : You will never change your decision?
M :I will I will…but first you go and try.
Riddhima:That's too bad of you.
Riddhima thought that this might be true what Rano said,May be if I try the audition, seeing me he will also change, thinking so she lifted her bag while chatting with messages and moved to the auditorium.
It was filled with musical instruments today,all around were students who have gathered there for the singing audition.
" Singing sensation of the year 2021″ as the banner showed,Riddhima smiled and said to herself,I wish you would have been here too.She then moved towards the stage a bit.
It was huge crowd,she had no fear.Although it was going to be her first audition,she was calm enough, because she had the believe over herself,over her singing, that she is going to give her best. Even after so much belief over her singing she never tried for any audition.
Although she wished to apply,but she had some reasons .She was just standing in the queue ,with form in hand ,thinking that he should have also come. She was just lost in his thoughts that she didnt realise when her turn came and she was in frontof judges.She got hesitated for a moment,then slowly moved her hands over the mic on stage ,held it with both her hands,this gave a beautiful smile over her face.She sang beautifully.
Precap: Winner's name is announced.