Aashiq…The Lover…RiKara SS Part 5
Aashiq..The Lover…Part 5
Dhara:Omkara…I want to tell you something.
Om:Say Dhara…
Dhara:I have started feeling for you Omkara.I feel very happy with those beautiful feelings for you.I love you.
Omkara looked at her in disbelief.
Omkara was silent for a moment.
Dhara:Omkara…
Om:Dhara,you are really a sweet girl.I like you a lot.
She smiled.
Gauri who over heard this got irritated and walked away in frustration.
Om:But it's too late.I gave my heart to someone else.
Dhara was shocked and upset.
Dhara:Gauri?
Om:Yes,I love Gauri.


Dhara became emotional:I am sorry Omkara.I hurt you through my silly proposal.
Om:No Dhara.Loving someone is not hurting that person.You loved me,but you did'nt hurt me.But I hurt you,I am sorry.
Dhara:No Omkara.You hurt me for your true love.I am happy for that.I will pray for you to get your love.
Om smiled emotionally:Thank you Dhara.
Gauri was walking in frustration.Raju stood before her.
Raju:Hi Gauri.
Gauri stared at him:You!If you talk about fruits and vegetables I will throw fruit juice on your face.
Raju got scared for a moment and smiled with tension.
Suddenly Gauri noticed that Raju has applied cosmetics on his face.
Gauri:Why have you put make up like a clown you fool?


Raju:What?Anyways do I look like a Prince Charming now?
Gauri:Prince charming?You?My Foot!First of all I am irritated.Don't make me more angry.
Gauri walked off.
Raju:Oh no…why all my attempts to impress Gauri are failing?


Rudra and Omkara came near him.Seeing the make up on his face they laughed.


Rudra:What is this Raju?Why did you apply make up on your face?
Raju:I thought if I wear make up I will look more handsome and can impress Gauri.
Omkara and Rudra laughed.
Om:Still are you after Gauri?Then leave her.Because I love her and she also loves me.
Raju and Rudra were surprised.
Rudra:Gauri loves you?Did she say like that to you?
Om:She did'nt admit it.But I know that she loves me.I am waiting for her to admit it.
Raju took a tissue paper and wiped his face.
Raju:I promise that now onwards I will never go after Gauri.Gauri is for you and you are the best for her.
The trio smiled.
Gauri started destroying her pillows in anger.
Gauri:Omkara said that he loves me.Then how can he love Dhara?


Shakti and Pinky came there.
Pinky:Oh my Mata!What did you do?Last time when Omkara did not praise your beauty you destroyed your pillows and many other things.We wasted a lot of money on buying new things.Now again you are destroying them?
Shakti:Now what made you violent Gauri?


Gauri:That fraud Omkara proposed me.
Shakti and Pinky were surprised.
Shakti:Really?Very nice.Only he can manage you.
Pinky:You won't get a better boy.
Gauri:But I rejected him as I don't love them.
Shakti-Pinky became dull.
Pinky:Oh my Mata!I lose a good son in law.
Shakti:Pinky…it's not lose,it's lost.
Gauri:Mumma,don't start your horrible English here.I am already violent.Don't make me more violent.
Pinky got scared:Ok.
Shakti:But tell us what happened.Did Omkara force you to accept him?
Gauri:No.But he is dating another girl now.How dare he accept another girl's proposal after proposing me?
Shakti:Oh,so that's the problem.When you don't love Omkara,whether he is with another girl or not what difference does it make to you?
Gauri became embarrassed.
Pinky:You rejected him.So he accepted another girl's proposal.So what?He has the right to move on.So don't destroy anything else.Understand?
Gauri became dull.She pouted.
Vaiga was walking in search of Rudra to know his feelings for her.
Rudra came and stood before Vaiga with his protein shake.
Vaiga:Rudra!
Rudra:Will you be with me for life long to share my protein shake with?
Gauri who passed by saw this with irritation.
Gauri:Everywhere proposal.Is this a proposal season?And this mad boy is always talking about sharing protein shake.Ridiculous!


Vaiga:Not only for life long,but in all the births I will be there with you to give you a company to drink the protein shake.

Rudra became very happy.
Gauri:What a horrible reply from Vaiga!Too cheesy and hilarious.
Gauri walked away.
Rudra-Vaiga drank protein shake from the same bottle with 2 straws sharing a sweet romantic eye lock.
As soon Vaiga entered her house she hugged Meenamma.
Vaiga:Akka I am so happy.
Meenamma:What's the matter Vaiga?
Vaiga:Rudra loves me.He told me that he loves me.
Meenamma:That's so nice.Tell me about the guy.Is he from Chennai?
Vaiga:No akka.He is from Mumbai itself.
Meenamma became dull:What are you saying Vaiga?He is not a tamilian?He is not even a south Indian.
Vaiga was shocked.
Vaiga:Akka,but you were happy about me in love.
Meenamma:Because I thought that he is also a tamilian like us.Your wedding is my biggest dream Vaiga.But I want your husband to be a tamilian,not any Mumbai man.

Vaiga was shattered.
The College show…
Omkara and Dhara danced together.
Woh Pehli Baar Jab Ham Mile Hathon Mein Haath Jab ham chale
Hogaya yeh dil deewana, hota hai pyar kya kisne jaana
Teri aankhon mein jannat basa ke chala, Teri zulfo ki chauv
mein chalta chala
Tere naino mein chain, tere lab pe khushi Tujhko hee main
mohobbat bana ke chala
Woh Pehli Baar Jab Ham Mile Ho Gaye Shuru Yeh Silsile Hogaya
yeh dil deewana, hota hai pyar kya kisne jaana
Khilti kaliyon mein dhundhu bas tere disha
Main na jaanu hai aakhir yeh kya karva
Tujhe dekhu to aaye lab pe khushi
Khuda na kare ho kabhi duriya
Woh Pehli Baar Jab Ham Mile Hathon Mein Haath Jab ham chale
Hogaya yeh dil deewana, hota hai pyar kya kisne jaana

Hogaya hun mai pagal ab tere liye
Tere bin dil bechara yeh kaise jeeye
Maine khoyee hai chain payee tujhme khushi
Tu banni jaane jaana meri zindagi.
Woh Pehli Baar Jab Ham Mile Hathon Mein Haath Jab ham chale
Hogaya yeh dil deewana, hota hai pyar kya kisne jaana
Teri aankhon mein jannat basa ke chala, Teri zulfo ki chauv
mein chalta chala
Tere naino mein chain, tere lab pe khushi Tujhko hee main
mohobbat bana ke chala.( "Pyaar Mein Kabhi Kabhi")
Gauri was burning with jealousy.
After the show got over Gauri heard others saying:Omkara and Dhara look so good together.What a sizzling chemistry!
Gauri could not bear it.She walked away.
Gauri was sitting in the canteen.Dhara came and sat near her.Gauri suppressed her anger.
Dhara:Guess you are not interested to eat though you ordered yummy food.I guess it's because your mind is disturbed because of something.
Gauri asked her rudely:How does it matter to you?
Dhara:I know that you are angry with me.Because you feel that Omkara and I are in a relationship.
Gauri was stunned.
Gauri:Nothing like that.Whatever you and Omkara are dating.Right?So enjoy with Omkara.Don't disturb me.
Dhara:Who told you that we both are dating each other?
Gauri:I heard him telling you that he likes you.
Dhara:You heard only that much and concluded that he loves me?Omkara told me that he likes me.But he also told me that though he likes me he loves another girl.That is you Gauri.
Gauri could not believe it:What?
Dhara:Yes.Omkara loves only you.He told me that.
Gauri felt an unknown happiness which she herself did not realize.
Gauri:Did he really say that?


Dhara:Yes.I also noticed you getting angry seeing our dance.It's only a dance Gauri.Not romance.So chill.The others may have praised our chemistry and you got hurt.Right?But don't be hurt.They were only praising our on stage chemistry during our dance.But in real life Om's chemistry is with you Gauri.
Gauri was numb for a moment.
Gauri:Why are you explaining all this to me?I don't love Omkara.So whether he loves me or not does'nt matter to me.
Dhara:I know that you have feelings for Omkara.Don't suppress your love for him just because of ego.Because Omkara loves only you.


Dhara went away.Gauri became dull.
Gauri was walking on the ground.Omkara came after her:Hi Gauri…
Gauri:Oh ho Omkara..don't come after me like typical eve teasers.
Omkara became dull:You compared me with stupid eve teasers?Did i misbehave with you?


Gauri:No.But when you come after me to woo me it irritates me.Because I don't love you.So don't disturb me.
Suddenly Omkara pulled her closer to him:I challenge you Gauri,Before college ends you will fall in love with me and confess your love.
Gauri:But what if I won't fall in love with you?
Omkara left her.
Om:Then I won't come after you.I will never disturb you in any way.
Gauri:Are you sure?


Om:Yes.
Gauri:Then waiting for that.So that you will stop following me.
She smirked.
Om:Let us see.
He walked away.
Gauri went to Jugnu's house.
Archit and Pranati welcomed her.
Archit:Today you came here without Omkara.
Gauri:Ya..I felt like seeing Jugnu.

Seeing Gauri,jugnu came and hugged her.Gauri hugged her back.
She spent time chatting with Jugnu.After some time Jugnu lay on the bed and talked.

Slowly slowly she fell asleep.Pranati covered Jugnu with duvet.
Gauri noticed that Kiara's head was covered.
Gauri:Why Jugnu's head is always covered?
Archit and Pranati became upset.
Pranati:Because she has no hair.She is undergoing chemotherapy.
Gauri:What?
Archit:Omkara did'nt tell you?Jugnu is having blood cancer.

Gauri was shocked.In other words she was shattered.
Archit-Pranati were in tears.
Archit:It's because of Omkara that Jugnu is not knowing any pain.Omkara always visits Jugnu..gets her engaged in jokes and games.He always makes her so happy that Jugnu forgets her pain.
Pranati:Omkara is great.Though Jugnu is not his blood relation he did everything for Jugnu..including her high medical expenses.

Archit:Once Omkara gave me lift.He dropped me home.That's how he met Jugnu.After meeting her Jugnu he kept coming here for her.Thus he became our family member.
Gauri became very emotional.She thought:Omkara is so nice.He never tried to boast of himself.
Pranati:There is an operation coming up for Jugnu.It will decide our future.
Archit and Pranati were in tears.Gauri became upset.
Gauri:Please be strong.Jugnu will be cured and live a long life.
Pranati:We hope so.
Archit:We pray for that.
The Days passed…
The College was nearing it's end.
Gauri went near Omkara.
Gauri:Omkara,I want to tell you something.
Omkara blushed thinking:Gauri is going to confess her love to me.
Gauri:My marriage is fixed.
Omkara giggled:You think that your lie will make me a fool?Never.
Gauri:Why should I lie?My parents brought me a good proposal for me.He is Akhil from London.Akhil and I are good friends since childhood. I like him.So I said yes.
Omkara was shocked.
Om:No..you are lying.
Gauri took her phone and showed her a photograph.It was her photograph with Akhil.

Omkara's heart broke into pieces.
His eyes became wet.
Om:You are right.You won the challenge and I lost.
He held her hand:I am sorry Gauri.I disturbed you a lot in the name of love.I apologize to you from the bottom of my heart.But I swear…I did'nt mean to hurt you.Please forgive me.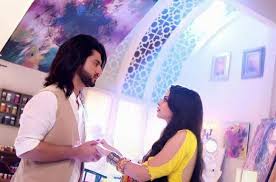 Omkara's pain touched her heart.She felt bad for him.
Gauri:It's ok Omkara.I have only taken it as a joke.
Omkara said in his mind:But my love is not a joke.
Omkara gave her a pale smile and walked away.
Gauri said in her mind:Sorry for hurting you Omkara.
While walking away painfully Om collided with Dhara.
Om:I am sorry Dhara.
Dhara looked at him:Is everything alright Omkara?You look so dim.Usually you are so cheerful and positive minded.
Om:Sometimes even the most cheerful person will break into pieces.
Dhara:What happened Omkara?
Om:I lost Gauri.She belongs to someone else.
Dhara was shocked.
Dhara:Omkara!
Om:I have failed in my love life.My one sided love has failed.


Dhara became upset.
Dhara:I don't know why you say like this.But don't lose hope.
Omkara smiled painfully and walked away.