AANKHON MEIN TERI – Episode 26
Aankhon mein Teri
Episode – 26th
Recap :- Attending a popular Talk show both of them comes back , Kamini mixes poison in Ahil's coffee , On knowing truth Ahil and Naina shifts to Mumbai , Naina is pregnant
___________________________
After the Party gets over , AHIL and Naina in their room .
Ahil : Naina have you thought what would be the baby , A boy or girl
Naina : I want a sweet cute boy just like his dad
Ahil : No no I want a beautiful girl just like her mom
Naina : No boy
Ahil : No girl
Naina : A boy
Ahil : A girl
Abhay : Guys , Okay chill
Pinky : Naina someone is asking for you outside , Come and see once
Naina and Ahil opens the door and they finds out a couple .
Ahil : Hello !
Man : Hi is this Ahil Sinha
Ahil : Yes , How can I help you
Man : We've shifted today only here , Just in the house beside yours
Naina : Oh hello welcome , Please come in
Woman : Thanks
They four sat down on sofas .
Woman : I'm shweta khana and he's my husband Prakash khana
Naina : Hi , It's so nice to have you as neighbours as you know in this area only a few people reside
Shweta : Ya ! I know you're a amazing singer .
Khanas tell them that because of their business they've to shift frequently form here to there . For few years they'll stay here and then again they've to shift .
Naina : Wow I've a partner now , We both are going to be mom
Shweta : And see our dates are same too .
Prakash : Okay then we take your leave now , We just came here to meet you people . Thanks
They four became very good friends . Sometimes they used to go for shopping together , Other times they all use to have lunch together . Months passed , Now it's the last month for them . One night suddenly Naina had labour pains and hence taken to hospital ,She gave birth to a girl child .
Ahil comes to Naina and sits behind her " Congratulations Naina we've got a baby girl "
Naina : Congratulations to you too , I want her to take in my arms where's she
Nurse : You're baby is in baby's section for vaccination , Please go there and you can bring her if you want to
Ahil goes there with Nurse , And finds her daughter sleeping calmly with another baby .
Ahil : Hey , Prakash , You here
Prakash : Ahil hello , My wife delivered a baby boy just now
Ahil : wow , My wife too gave birth to a baby girl just now
They both hugs together , Magically their baby's were sleeping together .
Ahil : How cute are they looking together , isn't it .
Ahil and Naina comes home with their daughter . On reaching home they found whole house beautifully decorated as a queens palace .
The moment they enter , Flowers are fallen on them , And Abhay , Rahul and Pinky all are wearing , Frocks , They're dressed like fairies .
Naina sings a song for her daughter " Mere Ghar Aayee
Mere Ghar Aayee Ek Nanhee Paree
Ek Nanhee Paree
Chaandanee Ke Haseen Rath Pe Sawaar "
Abhay : I've thought a brilliant name for her , Chinki
Rahul : when She'll become an adult She'll curse you
Pinky : What about Luxmi
Rahul : No it's an old name you see
Ahil : Something unique , Like , Qaya
Abhay : I didn't approve of it
Rahul : So what else should we go for
Pinky : Naina suggest something to us
Abhay : Yes , Yes , Bhabhi you only tell us
Naina : My daughter would be called AVNI …
The next day , Shweta and Naina are shown sitting together , Menfolk were playing golf outside . Both baby's were kept in little swing for baby's .
Naina and Kamini looks into swing and finds out both together looking into each other eyes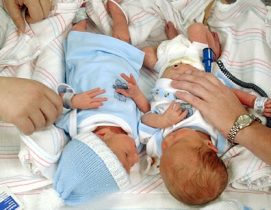 . Soon they starts pushing each other , They were hitting each other with their hands .
Shweta comes as picks up Avni and gives it to Naina , Then she picks her son .
Shweta : Neil , Baby , She's your friend , Don't fight like this okay
Naina : They're very naughty isn't it .
Shweta : Ya , They will become very good friends later I'm sure .
Naina : You've decided a very good name , Neil
Shweta : You too , Avni .
Then A leap after six years is shown . Ahil has gone to Australia for a business meeting .
Naina is sitting inside her room and talking on phone with Ahil .
Naina : Ahil when will you come back , Yesterday it was Avni's birthday , And she's so upset
Ahil : I'm so sorry my dear , Please forgive me , You know how busy I am
Naina : Yes , Yes , I know but your little daughter couldn't understand
Ahil : Tell my princess that I'll bring 6 gifts for her as she's turned six now .
Suddenly Naina hears someone's is shouting .
Naina : You're daughter is again fighting with Neil , Wait let me check .
Naina walks outside . Avni , Who is fighting with Neil .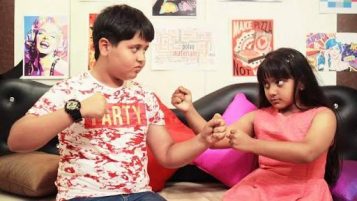 Avni : You broke my toy , It isn't fair
Neil : I didn't did it , You did it
Shweta comes " What happened children "
Neil : Mom she says I've broken her doll
Avni : Yes , I never speak a lie , My mom says people who says lie are bad
Naina : it's right baby , But what I told you that never fight with your best friend , He's your best friend Na
Avni : No he's not !
She goes away to her house
Neil : Don't take tension when Neil is present , I know how to persuade her .
Neil goes to her and Knocks at her back .
Avni : I don't want to talk to you , Go
Neil : I'm not Neil , I'm Disney princess and I'm here to meet my friend Avni
Avni turns back and she got happy " Neil , You made my doll look like new , How "
Neil : I just pasted it with gum and magic .
Avni : Thanks Neil
Neil : No no , No thanks , I want chocolates
Avni : Always you want something to eat and eat , what will happen now
Naina and Shweta are sitting on bench in garden
Shweta : I told you they'll become good friends
Naina : Yes , You're right
That night , Naina is sitting at rooftop , Alone under stars .
Avni comes to her " Mom it's late night you haven't slept "
Naina : No I woke late in morning so I couldn't sleep
Avni : Mom Why are you speaking lie , I know you're missing Dady , Yes
Naina smiles " Yes , Puchu "
Avni : I'm also missing him so much , He didn't even came on my birthday
Naina : Sorry Puchu , Now let's sleep tomorrow you've school
Avni : Without hearing your Lori I can't sleep
Naina : Okay , come let's go
Avni : No mom today I'll sing a lullaby for you , Okay
Avni takes Naina into her lap and Sings " Aa leke chalun tujhko
Ek aise desh mein
Aa leke chalun tujhko
Ek aise desh mein
Milti hain jahan khushiyan "
NEXT DAY . NEIL , AVNI AT SCHOOL .
Teacher shouts " Avni again you haven't done your home work "
Avni : Sorry mam , Actually yesterday I wasn't feeling good
Teacher : Why what happened to you ?
Avni : Mam my legs were paining
Teacher : So what you could write with your hands , They weren't paining
Avni : No mam actually the pain transformed from legs to arms and then arms to hands and then to fingers
Teacher : Shut up , Shut up , Today I won't spare you , Come here
Avni comes , " Show me your hands " , Teacher picks up the wooden scale and raised her hands to hit her .
Avni closes her eyes and instantly when She tried to hit her Neil keeps his hands
Neil : Aouch!!!
Teacher : what is this Neil
Neil : You only say Na ! We should always help our best friends and sharing is Caring , So I'm sharing half of the punishment .
Teacher : Out of my class you both hurry up .
Avni : Neil why did you did it !
Neil : We're friends
Avni holds his red hand " See how much it's paining "
Neil : Leave it Avni for you i can bear any pain
THERE AT HOUSE , A man is sitting with Naina .
Man : Mam you aren't getting it your daughter would be launched as a star , Believe me
Naina : No not at all , She's to little
Man : I heard her voice at her birthday party , She sings well , We'll take her out of India and she'll be all around the world
Naina : No , Please , She'll build her carrier own by her own , Now you may please leave .
Man : I think you'll regret later than , If you didn't say yes , Think about it , Bye .
Naina calls AHIL and tells him that A man from Rock and roll music channel , Germany came to take Avni along with him , And he wants him to launch as a child artist . They both declined the proposal .
Next scene is shown in SINHA'S Mansion .
Janki hasn't eaten anything since few days , Her longing for her son has now become a reason for her grey hair , Wrinkled face , And pool health .
A heavy voice from behind " Stop crying now , It won't work , You've to accept the truth "
Janki comes and hugs that person " Or what should I do brother , I'm dying day by day "
She goes and sees in mirror " Since Ahil has gone I used to cry everyday for my son , It all happened because of that girl "
Janki : I even don't know that where has Ahil gone now , Where's he living , I can't see his face , He didn't even answers my calls
Janki breaks all the glasswares there " I'm telling you the day I'll find that girl I'll kill her "
Precap :- Who's Janki's brother , He finds Naina is in Mumbai , Janki plans against Naina , Ahil returns , Neil's and Avni's promise .
---
Hope u liked it , Put thumbs up if you did , Do comment , Feel free to write your views ??? good night my dear friends???