AANKHON MEIN TERI – Episode 21

Warning: A non-numeric value encountered in /home/ftpusers/tellyu/public_html/wp-content/themes/publisher/includes/func-review-rating.php on line 212

Warning: A non-numeric value encountered in /home/ftpusers/tellyu/public_html/wp-content/themes/publisher/includes/func-review-rating.php on line 213

Aankhon mein Teri
Episode – 21st
* The wedding day *
Recap :- According to Plan Ahil says Yes to Riya for marriage , Janki and Adesh are really upset with their insult .
___________________________
…WÈÐÐÌñG Ðȧ†ÌñĆÌÖñ …
The big temple was fully decorated , Outside on the land was burning fire , Beside it was sitting a priest ( Pundit ) , Who was doing some arrangements . Seeing a ingredient missing he asked " Janki Ji , Where's Garlands , They're not here "
Janki : Sorry I just get it .( She brings ) Here are they
Pundit : Where's the groom , Tell him to come early as holy time is going to end very soon .
Janki : Yes ,
Janki goes to Adesh " AD now what ! If nothing happened now then my son will marry that girl "
Adesh : What can I do ! We're just blindly following what you son said
Janki : Ahil never tells what's going in his mind , It's so bad
Adesh : See there's your Son , See how's he smiling .
Ahil comes to his mom and Dad .
Ahil : Mom , Dad smile , It's your sons marriage today
Janki : You said it's Plan ! what is the Plan ! you told us to wear these clothes and act like we're ready but what is real Plan
Ahil : My cute mom , Don't you believe me , Believe me My marriage would not be with Riya , Okay .
Adesh : But Ahil ! ( Ahil goes away )
Ahil , Abhay and Rahul were standing at distance .
Abhay : All the best , Just hope our Plan works
Rahul : Stay positive always Okay , AJ MERE BHAI KI SHADI HAI ,
Abhay : Yes , Bhai ( Bro ) promise you'll not forget us after Ha!
Rahul : I know I know he'll forget us , He's mad in love with her , Now he'll be lost in her only
Ahil : oh my bros , Listen to me , What I told you you're my diamonds we'll never forget each other , Okay !
Abhay : Hhmm before marriage everyone says like this but after that
Ahil : I'll marry then only , When you'll bring my bride to me
Abhay : Oh yes yes , Come Rahul let's go and bring our Bhabhi .
Rahul : See Ahil we'll go and bring Bhabhi till then you be ready for okay .
Ahil : Ya ! I've no intentions to marry in this blazer and pants
Abhay : Ha ha ha , Okay After that we'll bring her and will
Ahil : Okay okay now go we're late .
RÄÌ'§ HÖÚ§È …
Riya was sitting in front of mirror , She was staring at herself in the mirror as if she couldn't believe it's her reflection .
Kamini brings a tray on which some red chillies were burnt and noxious fumes have already fumed the whole house .
Kamini comes to Riya " Riya , Riya my princess , Are you ready , Hurry up dear "
Riya : Mom I'm ready , How I am looking like
Kamini : Just like Princess my Darling , Come let's go now .
Riya : Okay mom let's go , I'm really excited .
Kamini : Listen girl , After you'll go to SINHA'S mansion whatever you'll get , Gifts , Money , Jewelry keep it with you and send it home Okay .
Riya : Okay mom let's go now .
Naveen comes " Abhay and Rahul has come to pick her up "
Riya , Naveen , Kamini walk out of the house .
Abhay : Namaste my going to be Bhabhi .
Riya : Don't call me that , I feel like I'm elderly , Just call me Riya .
Rahul with a strange happy smile " I'm so happy , My brother is going to get married today "
Abhay : Ya me too , He's so lucky
Riya : Exactly guys , I'm so delighted today
Kamini : Do you know my Riya is wearing the dress which i wore at my own wedding .
Riya : what ? Mom but you said that it's a brand new dress , I'm wearing a dress already worn .
Rahul murmurs " How funny is this , There's no need of this dress as this marriage is not going to happen "
Abhay : Hmm !! but for sometime we've to do this drama , Get ready for next step .
Rahul : Okay let's go then , Everyone is waiting for us .
Abhay : This is a special bridal car , Equipped with special Air conditioner , And it has all Makeup things in it , So Riya you needn't worry about your looks okay .
Rahul : This another car is for Kamini aunty and Naveen uncle .
Abhay : So that our sweet bride could go with great comfort . Okay .
Riya whispers in Kamini's ears " Wow Ma ! for first time I'm having a chance to sit in such a big Car , Oh god "
Kamini : Yes , Oh my God , It's so luxury , Let's have a selfie with it then
Riya : Oh mom don't don't that Now …
Kamini : what No you'll get ample number opportunities to travel in big cars , But I won't .
Kamini : wait ! Can I click selfie with this car , I mean its special bridal car for my daughter
Rahul : Off course why not .
Kamini clicks Selfies.
Abhay : Come on let's go now
ñÄÌñÄ'§ þÖV ..
Naina was dressed and was sitting inside her parlour , Which was covered with curtains .
Pinky standing outside shouts " Hey , Naina since you're ready you're sitting inside , What are you thinking "
Naina didn't replied , Pinky " Naina you're gonna get Late , Come out "
Ahil calls on Pinky's phone .
Pinky : Ahil bhai ! you're very eager , Ha ! Now you can't talk to Naina until you get married okay
Ahil : I know I know , I just called to ask Naina is ready or not .
Pinky : She's ready from past two hours but she's sitting alone , Silent and she's not answering to me .
Ahil : Give her phone
Pinky : Naina Ahil wants to talk to you , Please now come out .
Naina smoothly draws the curtains and peeps out ,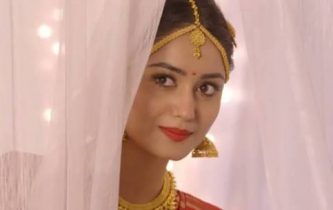 Pinky hands over her phone
Naina didn't spoke a single word , Ahil " So you're crying , Right ! "
Naina : How did you got to know ?
Ahil : I'm not a girl but I know before marriage every girl cries .
Naina : But today you're marriage is with Riya isn't it
Ahil : Ya ! But it's your marriage too today with Ahil sinha
Naina laughs
Ahil : At last you laughed .
Naina : I wasn't crying because I'm getting married , I'm crying because I got a friend like you , Which I never thought
Ahil : Hmm !! I see , Then I also should cry , I also got a friend like you , Which I never thought .
Naina : No please don't cry , I don't want you to cry because of me
Ahil : Then you also don't cry , Come hurry up , A friend of yours is waiting for you . Okay .
…WÈÐÐÌñG Ðȧ†ÌñĆÌÖñ …
All the preparations were over Now , Ahil comes into view .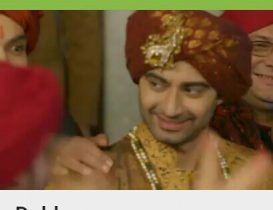 Adesh : See this we're finding him and he's coming dressed like a real groom .
Janki : What has happened to him ? Why's he looking so happy today ?
Adesh calls him " Ahil what is this , You're wearing this costume , Why ? "
Ahil : Dad , Dad , Listen to me , Just act like it's all real okay , Believe me
Pundit : Groom is requested to come and sit here , Please .
Ahil : Yes , I'm here .
He goes and sits there . Pundit " When will Bride come , Call her as soon as possible "
RAI'S ARRIVE .
kamini : Pundit Ji here's Ahil's bride .
Adesh : Here comes the people from drama company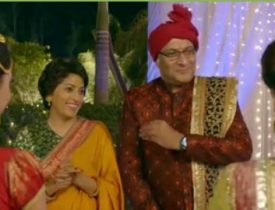 Janki : Come let's go and do a little role of drama .
Janki and Adesh comes to them .Riya bows down to touch Janki's feet .
Janki : No no it's okay .
Kamini : Janki Ji she's your daughter in law , Give her your blessings .
Janki nods and smiles oddly .
Pundit : Please be soon , Holy time is running away .
Kamini took Riya and make her sit on the floor with Ahil , At MANDAP .
PUNDIT JI starts reading mantras .
Janki and Adesh were standing at one corner uttering something to each other .
Adesh : What is Ahil up to , He seems to be so silent .
Janki : I don't know what's going on in his mind , What plan is cooking in his brain .
Adesh : He's your son , So his mind must be planning something stupid , I can't bear more insult of mine .
Janki : Don't say like this , Whatever happening is not due to my son .
Kamini comes to them " What happened , Are you thinking how all this happened , don't worry After marriage I'll everything in details I promise you , But first let them get marry .
Pundit : Groom and bride please hold each others hands and take this and out it in fire .
Groom Keeps his hands on Brides .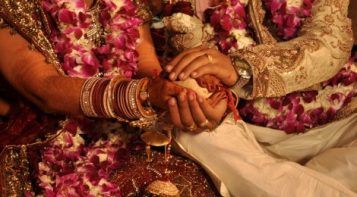 Ahil : I promise you , Forever I'll hold your hand just like this and I'll never leave you alone in darkness .
Pundit : Groom and bride please stand for circumambulations ( Phere )
Ahil holds her hands and they stood up . They're holding each others hands .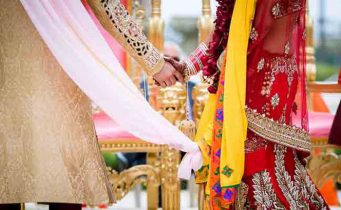 Janki : what are you doing Ahil ! Stop it
Kamini : Na , Na let it be happening , Don't stop in between .
After seven were done , They Sat down .
PUNDIT : Tie this Mangla sutra around her neck and Put this SINDOOR in her forehead please .
Ahil does as directed .
Pundit : Wedding is complete from today there's husband and wife .
Kamini got excited , Naveen and She claps loudly .
Janki brings a box of sweets and forcefully puts it in Janki's mouth and hugs her .
Kamini : Congratulations from today we're having a great relationship .
Janki : Okay since it's done now Please tell us why did you did all this !
Kamini : Wait Ji wait ! First let me see face of my pretty daughter . AAA Na let's to Muh dikhae here only , Come Janki Ji unveil hurry up .
Janki : I've no interest in seeing her face
Kamini : Oh what are you saying , Come on now , Marriage is over , Unveil your daughter in law , Come on .
Janki goes and tremblingly shaking she unveiled the face of the bride , And Under that red colored veil it was Naina .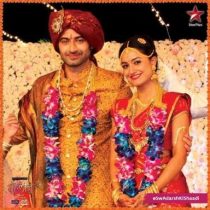 All were left shocked and dumbstruck .
Janki : You , How come you came in her Place .
Kamini rushes towards Naina , She holds her chin .
Kamini : Oyee ! how could this happen , Where is my Riya ha !
Naina : I love Ahil and that's the only answers to all your questions
Kamini claps : Wah ! Wah ! what a planning , You girl is really a shit a trouble , Wait I'll show now .
Kamini raised her hands to hit Naina , Ahil holds it .
Ahil : Ms.Rai she's my wife Now and I would not like anyone to even see her with bad vision , Don't you dare touch her again now .
Janki : Wow Ahil so this was your Plan , To marry this girl , You told us a lie we're waiting for you to tell us Why are you doing all this and you kept telling lies .
Ahil : Or what else should I've done , My life was made a mess , I don't have aright to choose my wife , With whom I've to spent my whole life .
Kamini : wah wah , What a wife you've chosen , Now see how'll your life be a hell , My Riya was much much better than this criminal's daughter and A blind girl .
Ahil : Shut up ! Shut your mouth Ms.Rai , I'm stopping myself as you're like my mom.
Janki : what ! Wait a minute , So that means This girl , This Naina , Is blind , No ways , My daughter in law a blind , Is this a joke .
Naina : Yes , I am blind , But it dosen't mean that I can't see love , Love is not seen it's done by heart and I promise you I'll try to become a good wife .
Janki raised her hand " No please, I'll die , But will never accept this alliance , Never "
Naina smile but in that smile were hidden Pains " I used to cry whole day , Every day I used to visit temple , Only thing I used to Pray to lord was to give me someone who loves me as I am , With whom I can also smile anf forget all my pains , But No one was there , I even chose to die but Ahil Saved he Said I'll be there for you always and he said I'll love you forever .
So today I promise you Ahil in every moment of your life sad , Happy , Dark , Any I'll stand with you .
She was crying .
[ Background music –
Mere Chhote Chhote Khwaab Hain
Khwabon Mein Geet Hain
Geeton Mein Zindagi Hain
Chaahat Hai, Preet Hai
Abhi Main Na Dekhoon Khwaab Woo
Jin Mein Na Tu Mile
Le Khole Honth Maine
Ab Tak The Jo Sile
Mujhko Na Jitna Mujh Pe
Utna Iss Dil Ko Tujh Pe
Hone Laga Aitbaar
Tanha Lamhon Mein Apne
Bunti Hoon Tere Sapne
Tujhse Hua Mujhko Pyaar O O..
Poochungi Tujhko Kabhi Naa
Chaahun Main Ya Naa
Tere Khaabon Mein Ab Jeena
Chaahun Main Kyun Naa! ]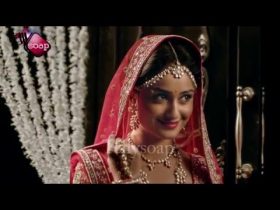 ---
Precap : Ahil's big decision , Kamini is enraged , Riya is found kidnapped and blame goes to Naina .
---
Hope that it was a good one , Do like and comment , Good night ?? Signing off AHIANA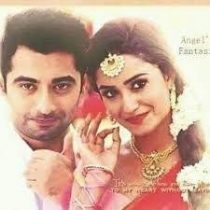 if you got any mistake do tell , I wrote in hurry today . , Sorry for that .

Warning: A non-numeric value encountered in /home/ftpusers/tellyu/public_html/wp-content/themes/publisher/includes/func-review-rating.php on line 212

Warning: A non-numeric value encountered in /home/ftpusers/tellyu/public_html/wp-content/themes/publisher/includes/func-review-rating.php on line 213