AANKHON MEIN TERI – Episode 18
Aankhon mein Teri
Episode – 18th
:-Previous day:– Ahil proposed Naina , Janki and Adesh decides to engage off Ahil with their one of business friends daughter , Naina faces Kamini
___________________________
Naina : Yes or No , You're not my mother right !
Kamini : So you know the truth hmm !! so now I need not to hide anything .
Naina : No you don't , I know my mom did a crime but wasn't that a mistake , She was drunk why because your brother was having affair
Kamini : Your criminal mom killed my brother , Despite We are bearing you since your birth so that Dady sign those papers and after that whole property would be ours .
Naina : Okay , So you need Property , Fine I'll myself will ask Grandpa please sign those papers and Give his Will to you .
Kamini : Wow so that in his vision you're great and he'll think we're forcing you and we tortured you .
Naina : No his mind is not materialistic like you , He loves me , He'll surely listen to me . And he did this only to protect me from you .
Kamini : Listen , I don't have time to waste on you , I've some very important things to do .
Kamini leaves . Naina breaks down .
Pinky : Naina hold yourselves
Naina : I can't even dream my own family is so selfish , Greedy , How ?
Pinky : Right ! you did right , Give them money and everything , We don't need anything just people and love .
ѕínhα'ѕ mαnѕíσn
Ahil was talking to Abhay on his phone , He was distressed .
Ahil : My life is like totally trapped now , I really love Naina , But mom is behind Nitya
Abhay : Try to explain them once
Ahil : Explain ! no , They don't listen to me , They only care about status , They are a public figure Na !
Abhay : Now what'll we do Ahil !
Ahil : I don't know Abhay , But that's for sure that I'll marry Naina only , Either by hook or by crook .
Janki overhead the conversation , She comes in Ahil's room .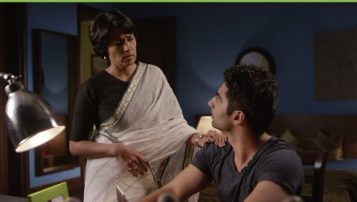 Janki : what is your problem Ahil ! Why are you not understanding , That Naina , I met her at her home , They're so low class , They don't match us .
Ahil : Ma ! how could I explain it to you ! it's about my whole life , I can't live with Nitya , I need Naina for me , I don't care who's she ?
Adesh comes " Shut up , He'll ruin my 50 years reputation if he didn't married Nitya , Tell him , Or else I'll do something "
Janki : Ahil , See I'm your mom and I know my son very well , You can't live happily with that poor , Middle class uneducated girl .
Adesh strictly: I'm warning you if you didn't Say Yes , Then I'll never allow you to intervene in my business .
Janki and Adesh leaves the room .
Naina calls Ahil .
Naina : Ahil are you Okay
Ahil : Yes I am , Why ?
Naina : You left very hurriedly so I…( he interrupted )
Ahil : Mom had chosen a girl for me and tomorrow they've decided the engagement .
Naina was shocked , She didn't replied and shuts the phone .
Ahil : Naina Naina !!Listen , Listen to me .
Ahil got frustrated and throws the phone , " Shit ! what is this ? I'm really getting mad now "
naina's pov …
IT WAS dark night now , NAINA was sitting near window .
Naina : This happens with me always , I will loose him . God , Why ? Why Ahil you saved me , You should have let me died .
ᑎE᙭T ᗰOᖇᑎIᑎG …
Ahil woke up and walks down stairs . He could see the whole mansion is decorated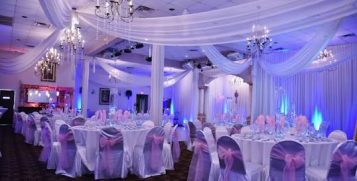 , Adesh was wearing brand new Suit and Janki was talking to a house worker in a shining Saree .
Ahil : Mom what is all this ?
Janki giggles : Ahil ! it's my son's engagement today , Am so happy
Ahil : But mom ! I've made it clear that I'm not okay with this
Janki : Come on now , Don't Act childish , I've never asked you for anything to give me but today I'm ordering you and you've to listen to me
Adesh : And I've called our designer he's coming with costume
Janki : Now I'm waiting for evening and Engagement to happen
Ahil didn't paid heed and moves out , Adesh " Now where are YOI going ? "
Ahil : Just going to spend some time with myself
Janki : Do come back till 5 pm okay
Ahil was shattered he was driving car rashly , Ahil " No I love Naina , I can't betray her , But what about Mom and dad , Should I betray them for my love , Oh god in which problem you've left me in "
ᏒᎪᎥ's hᎾusᎬ …
Kamini was popping here and there " I'm so happy that Naina now herself will say that she dosen't needs any property , wow "
Then Riya comes " Mom I'm ready to go "
Kamini : yes ! this is like my girl , Go and win your Ahil today
Riya : Yes mom , Today no one can snatch my love from me .
Kamini in her mind " On one hand My Riya will marry Ahil and on other hand this property would be mine and then finally I'll become Queen on Udaipur wow "
Riya bows down " Give me your blessings Mommie so that I can win "
Kamini : You'll my daughter
ᗩᕼIᒪ'ᔕ ᑭOᐯ ….
Ahil : No Abhay how can I betray my parents
Abhay : So you want to loose your love
Ahil : No i want both
Abhay : So what'll you do now , Janki aunt will never accept NAINA , She even dosen't who is real NAINA .
Ahil : What should I do now , if I didn't made any decision today then nothing can happen
Abhay : whatever we've to do is before Engagement , Today only .
Ahil : What should I do I can't loose my love no .
Abhay : See Ahil ! if you want Naina and Your parents both then there's only one way now
Ahil : what ?
Abhay …..( Silent conversation )
Ahil : What ? No how can I do this
Abhay : See Ahil this is the only way we can win , Otherwise go and marry Nitya and forget NAINA forever .
Ahil : No , No ( He said in enthusiasm ) , Okay I'm ready for this .
ᏁᎪᎥᏁᎪ's ᏢᎾᏉ …
Pinky : NAINA it's morning now , Don't we have to go to Temple
Naina : No today I'll not go
Pinky : Why ? What happened that you're Sad with your own God
Naina : what should I do ? I've always asked God to give me someone in my life whom I can call mine , With whom I can share my pains , With whom I can Smile and laugh, But No god never wants me to be happy and see what he did
Pinky : Naina what has happened ?
Naina : Yesterday night I called Ahil and he said his family wants him to marry with some other girl !!!
ᏞᎪᏆᎬ ᎪfᏆᎬᏒᏁᎾᎾᏁ …
ѕínhα'ѕ mαnѕíσn
Mukesh and his family arrived .
Everyone hugs and greets .
Adesh : Welcome Mr.Mukesh , It's good you came early we can have more arrangements
Ms.Mukesh : No no all the decoration is amazing
Janki : Nitya you're looking like a princess really
Nitya : Thanks Aunty !
Adesh : Come , Come it's your house only
Janki : In few hours Guests will start arriving
Nitya : Ahil is ready
Janki fluctuating " A aa Nitya , Ahil has gone out for some time , Actually one of his friends met with accident "
Ms.Mukesh : Oh it's fine .
Adesh : we'll start the ceremony shortly , But , See Janki ask them for some water or something .
Janki : Opps sorry !!
Mr.Mukesh : well I've to say this is the brilliant match ever , Ahil's and Nitya's match is perfect isn't it .
Adesh : Yes , Absolutely , Ahil was saying me the Same .
Janki : Once this is done then we'll finalize further dates .
Someone standing at door loudly and strongly in crooked and grief stricken voice exclaimed " No this marriage can't happen , Stop it right now "
The whole audience looks there , Janki's eyes grew larger with shock , She exclaimed " you " , " Here "
---
Precap : Ahil has a plan , Riya reached SINHA'S house ,.
Will this engagement happen ?
Will Ahil stand for Naina ?
Will Riya's plan work ?
To be continued …..