A WISH IN DISGUISE : FIVE SHOTS FOR ISHKARA… [PART 1 ]
At first when she awake from bed, she doesn't know that where was she as she was safely covered beneath the warm blanket…….She closed her eyes for a while and tried to recall what happened at last night and realized her heart Omkara was with her only…….Ishana looked at the photo-frame of Omkara and took a deep breath……As she looked at Omkara's face , she wondered how calm is his face and how adorable is his smile….. "Ishana"…..A gentle voice was heard and Ishana replied…."Yes"……She turned back and find Omkara walking towards her with his graceful eyes….
Ishana again looked at those deep eyes , those waving long hair and the curved smile which blossomed at his lips……..Ishana's eye-pupils turned more brighter and as Om was near to touch her, she quickly turned her eyes and started folding blanket…….Om smiled and stared her without moving a bit…..
Ishana : Why are you staring me like these Om ?
Omkara : You were also staring me when I came here!!!
Ishana : No, I just looked behind and ……
Omkara : What ??
Ishana : Mmhh……I mean you was there and obviously my eyes will find you ….
Omkara : Then my eyes also finds you as you was before me……
Ishana : Om, you wake up before me and went away without telling me……
Omkara : I was just seeing my wife's sleeping beauty and I felt she was feeling cold, so I just covered you at the blanket …..
Ishana's mindvoice….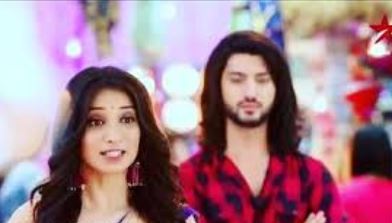 "Zulfi singh Oberoi, I would love to lie beneath your warm chest and hold your arms tightly whenever I feels cold…….What to do ?? He needs to learn some romantic lessons from his cool brother, rudy……"
Omkara : Ishana!!! Did you said something ??
Ishana : Mmmh…..Coffee!!! I mean I will bring coffee for you!!!
Omkara : No, it's okay……Exhibition is gonna start within two hours, so we can have breakfast there…….So no need of coffee……
Ishana : Oh!!! Om……..I need to go…..
Omkara : Where ??
Ishana : Bathroom!!!
Omkara : What !!!!
Ishana : I mean i need to take bath and I have to get ready naa……So…..
Omkara : Are you okay ??
Ishana : Yeah, why are you asking so ?
Omkara : No, I feels you are behaving like ……wooh……what we says…it …..
Ishana : Drama Queen!!!
Omkara : Exactly!!! I have never find you like these!!!
Ishana : Omkara, so what should I do ?? I mean how should I convey things ??
Omkara : What's the matter ??
Ishana : Nothing, I mean we need to leave right!! So we can have our talks later……Pls…
Omkara : Fine, Okay, I will wait for you at the hall…….Carry on…..
Ishana : Yeah…..
Om smiles and leaves…..
Ishana : Haaye loot gayi, mein barbaad ho gayi!!! Isse toh kuch hota kyun nahi hein??? How much I tried and everytime I feels it's gonna come, something will……[ishana looks at the bangle] isse toh yaad bhi nahi hoga kee isne yeh kangan mujhe diye thee…. Any ways ishana, why you are becoming drama queen, hold it in yourself and try to understand your renowned mr. artist hubby can sense the rarest things in world, he can pour so many colors…but he can't see his wife's feelings…….Cool down Ishana…….He is so innocent and in these kind of things, his expressions will be weak…..Now you have to bear it in whole life…..Mrs. Ishana Omkara Singh Oberoi……
Ishu opened the cupboard and picked the dress and kept it the bed…..After a while ishu freshen up and started wearing the saree, while om knocked the door….
Ishana ; One minute, Om!!!
Omkara : Just open it for a while, I need to pick a file, it's urgent……
Ishana : Om you tell me where it is kept……I will bring it ….
Omkara : Okay, it's kept on upper shelf…….
Ishana ; Upper shelf, But Om, it's really on top!! I need a stool or chair to take that …….
Omkara : Ishu, it's urgent, as I need to check it soon…….Pls give it…..
Ishana : Wait!!! Om….[ishu's mind voice……I have no time to wear this whole saree….And om is outside door only as it's an emergency……Come on ishu pick it up…ishu pulls a stool and climbs up on the stool………
Omkara : Ishu , did you get the file ?
Ishana : Om, wait a minute, i am checking it……
Omkara : Ishu, It's important………
Ishana : Yeah, Om….Let me search…
Omkara : Shall I join you ? I think things will be easy…
Ishana : Yeah Om that's better…….I am not able to pick it with my hand…..It's so top…..
Omkara : Thank god, at least you find it….Wait I am coming…..
Om opens the door and enters inside…..
Omkara : Haan Ishu…..Get down, I will check…
Ishana gets down and Om climbs up and picks the file……
Omkara : Yes, i got it….
Ishana : Wow, You got it ???
Om looks ishana and his leg slips…… Ishana screams …"Om " They fell on each other at floor and stare at each other's face….." Saathiya …." instrumental plays…….
Ishkara stay back at their positions ……….Omkara : Sorry, wooh…….
Ishana ; It's alright…
Omkara : You can change, I will be there….[om moves towards the door]
Ishana : No!! Om pls stay here……I mean you can sit at the sofa, pls……Just 2 minutes, I will be  ready……
Omkara : Okay….[om nods his head and he sits at the arm chair]
Ishana starts wearing saree and she was finding hard to take pleats of saree……Om holds her hand and nods his head…….Om helps to make the pleats and ishu stares Om…..
Omkara : Don't know whether it's okay, if you want any help then i will call prinku or anika bhabhi…
Ishana : Actually I am not used with wearing sarees, but as today is really special day for my husband, I thought i should wear something special…..And I decided to wear this one……
Omkara : You are looking gorgeous as always……
Ishana smiles and takes the pin and fixes the saree on her body…….Om holds her hands……
Ishana : What happened ?
Omkara : Where you have been hidden these endless beauty ? Like the envy of moon, like the glittering stars and calm waves of sea, you are looking so beautiful today…….Om pulled her towards his chest and ishu's heart beat went fast….Om's fingers turned tunneling through her curly hairs and ishu tightly folded her palms on om's shoulders……His dashing lips were more closer towards her rose juicy lips and her lips were thirsty to lock her sweet heart's lips also, but soon an uninterrupted phone call disturbed the moment and ishkara release themselves……..
PRECAP : THE DESIRE IN DISGUISE IS GOING TO BLOSSOM NOW, THEY ARE GOING TO SEE A WORLD FOR THEM……
An : Sorry, this was damn short, will update all articles once i gets enough time…..happy raksha bandhan and thanks for all love, ishkarians…..Miss u all….