hi friends ☺️☺️.iam back with 1st episode and I hope you all will like it..and please comment once you read it😃😃.
at temple :
a naagmani is shown kept in the temple..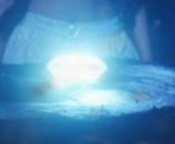 someone comes there and sees it and gets happy…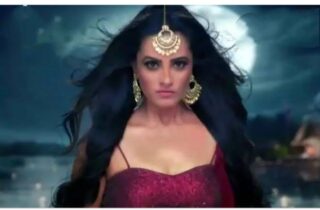 it is none other than sumithra..
Sumithra to herself: hahahaha…no one can stop me now …from now onwards naagmani is mine's…
sumithra tries to touch naagmani but two naagins comes there and shout…
Naagin 1: hey thief get away from naagmani or else you will be killed..
Sumithra turns and sees nayanthara shouting…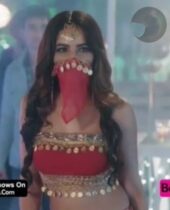 Sumithra: ohh Nayantara you came… should I get scared of your scream???hahahaha…today you cannot stop me from taking naagmani..
Nayantara: if you want naagmani then fight with me..
telling this Nayantara eyes becomes snaky..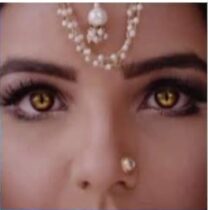 nayantara: you cannot steal naagmani easily sumithra..I know your clans are eyeing naagmani for 1000 years but every one of your clans are defeated and now it's you who is trying to steal so…the same history will happen and you will also be defeated like your clans and I will bury you deeply if you try to steal it..
sumithra gets Angry on hearing nayantara"'s conversation and her skin becomes scaly…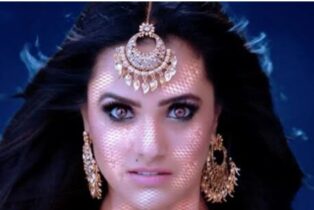 sumithra: its not easy to defeat me Nayantara..iam not a child naagin like others in our clan …iam a naagrani of devvansh clan but you are just a naagin remeber that Nayantara..
Nayantara: though iam a just a naagin but shivji have given me special powers as our naagrani died years back …
Sumithra: hahahaha…your clan is just like a palace without a king..then I can steal naagmani easily….
Nayantara: you don't know the power of me sumithra..if I lock naagmani then you cannot steal naagmani because if I lock naagmani then it can be only released by naagrani who will return after 25 years…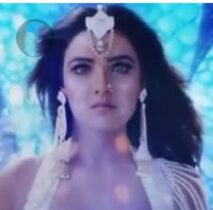 sumithra in mind: ohh..sheshang clan naagrani will return..then I should handle this Nayantara safely..I cannot just kill her as she can lock the naagmani before dying.i will steal naagmani somehow but I should steal it without nayantara's presence or else if she locks then I have to wait for 25 years..I will not let this happen ..I have to steal naagmani somehow without nayantara's presence..
thinking this sumithra tries tries to go but Nayantara becomes half naagin and hold her through her tail..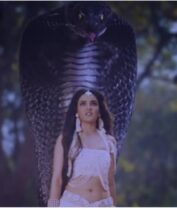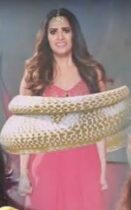 nayantara: if I see you again then you will be buried under the ground sumithra…
telling this Nayantara throws her out of the temple through her tail and become normal…whereas sumithra fumes in anger…
Sumithra: this Nayantaraaa!!! Once I steal the naagmani I will kill this Nayantara…how dare she to throw me like this..she doesn't know about sumithra's power…wait and see nayantara..I will teach you a lesson once I steal the naagmani…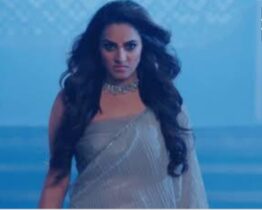 telling this sumithra goes away in anger…whereas Nayantara starts to dance before shivji..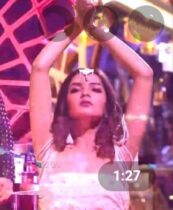 and other naagin (manyata). Who came along with her also starts to dance with her…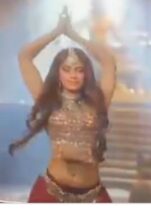 both finishes their dance and gets aashirvaad from Panditji..
Panditji: Nayantara..you have to protect the naagmani because shivji chose you for protecting naagmani till naagrani returns…also shivji gave power for you to lock naagmani but you should not lock naagmani just like that..you can lock naagmani only at very danger situation until then you have to fight your enemies with your power..
Nayantara: sure Panditji…
panditji leaves while Nayantara turns towards manyata..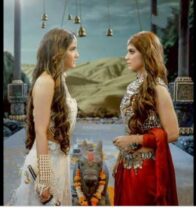 nayantara: maa..
Manyata: iam proud of you Nayantara…even though our naagrani is not here but you are taking care of our clan and protecting naagmani very bravely…I will tell you one thing..iam getting dreams of death so…even if I die you should be strong like this nayan..understood??
manyata eyes gets teary and nayantara hugs her and pacifies..
Nayantara: it's not time to talk about death maa..you will not die leaving me alone here because in this world I have only one person and that is you…so please don't talk about death…
Manyata: ok nayan..and now it's time to go to college so now change yourself and go to college and today is your first day so go and enjoy…(manyata smiles)
Nayantara: ok..but I feel some kind of feeling which I never got for school…
Manyata: it's anxiety Nayantara..in school you were kid so you won't have this feeling but now you have grown up so you feel like this….so don't be like this..it will be nice once you go there..
so Nayantara obeys manyata and changes herself into normal dress and both Nayantara and Manyata prays to shivji…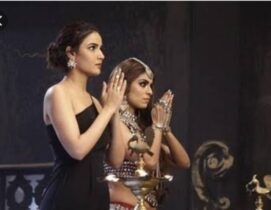 manyata in mind: I don't want Nayantara to take stress in this clan alone so I joined her in college to enjoy her life too..so shivji..please keep her safe from any evil eye…
Nayantara in mind: I want to protect this clan safely all  the  time but I don't know why maa joined me college but I obey her words..so please keep me safe from any wrong because I feel anxiety to go college…
both finishes their prayer and nayantara hugs manyata and..
Nayantara: bye maa…take care..
Manyata: ok you too take care..
Nayantara: if any problem comes please give me signal and I will come immediately…
Manyata: but don't leave the class and come..
Nayantara: maa..but if anything wrong happens to clan naagmani or you then I'll leave the class and come because that is not important for me okay??
Manyata: ok…
telling this Nayantara goes to a place where it is covered with screen and she opens that screen and sees the naagrani picture and her tears starts coming from her eyes…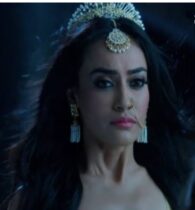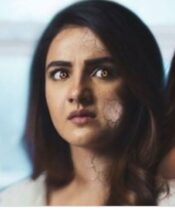 nayantara: naagrani Shravani…you died when I was six years old but I remember how you were killed and iam waiting for your return…you know one thing..I killed your murderer when I got naagin powers but still their clan is not leaving us..and now sumithra (a new naagrani of devansh clan)  came and trying to steal naagmani but I wont leave them to attack or steal and you can  only destroy them completely so please return soon..
telling this Nayantara closes the photo with the screen again and leaves for college wiping her tears…
THE SCREEN FREEZES ON NAYANTARA'S SAD FACE…
sumithra is seen running in anger and suddenly she stops seeing a huge and beautiful palace Which is more beautiful than heaven..
Sumithra: wow…this house is so beautiful…if I became this owner??then all my luxurious aim gets fulfilled
sumithra decides to see of whose palace is this belongs too .. so she becomes snake and crawls into the gate and goes near the window and becomes human and sees inside the house through window and sees a man (andy) talking in phone and overhears his conversation…
Andy: mr.vikas lawyer I trust you more..please make ready the agreement soon.. because I want to transfer the property name to my son as my wife is dead…
Lawyer (in phone): okay sir…the whole property name you are going to transfer it to your son's name alone??
Andy: yes..iam going to transfer whole property name to my son only because my brother have separate property and I don't have any other relatives or family members to share this property..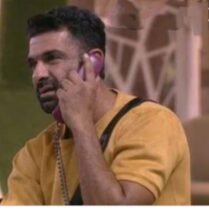 lawyer: how much acres is your property?? Because it's not clearly visible in old agreement…
Andy: it's 20 acres…
sumithra who was hiding the window overhears the conversation and gets shocked…
Sumithra: 20 acres…wow..if I become this owner and then steal naagmani then I'll be the richest and powerful women and naagin in this world…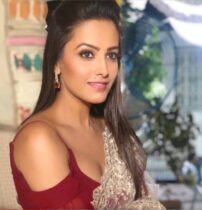 sumithra: but how to take this property???
sumithra thinks how to get the property and she suddenly sees a small boy (mahir) coming to his dad (andy) and she again starts to overhear their conversation..
Mahir: papa..iam running this whole bangalow alone and iam boring to run alone…so you come to play with me..
Andy: no mahir..papa has some works right so you play and I will come later okay??
Mahir makes a puppy face and says: you told me that mumma went to some other country na so please call her here so that I will play with her atleast…also I haven't seen my mother yet so please call her here..I will talk to you only when you bring mumma here or else I won't talk with you…
telling this he runs away and Andy becomes sad thinking about how he lied to mahir that his mother went to foreign by hiding her death..and Andy phones some person and shares his pain….
Andy: mahir is asking about his mum everyday even during his sleep…I don't know what to do…I even consulted psychiatric about it but they told  to me to get married and make my second wife as his mum so that he will become normal but I love only riya and how can I marry anyone else??
Someone (in phone): better you get best caretaker or you marry again..this two choices are only left for you…
sumithra who hears all this conversation gets an idea…
Sumithra to herself: what if I marry this man and took care of that boy nicely then…I  can fool that boy easily when he grows up and take this property in my name until then I can also live in this luxurious house …
telling this she laughs evilly seeing mahir playing far in the ground..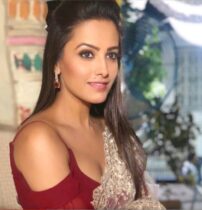 sumithra: you are my destination child…I will attain my aim only through you…I will start my plan from tomorrow..
telling this she goes out of the house smiling evilly…
Sumithra to herself: naagmani and this 20 acres land..wow…if I tell this to Alek and rohini then they will be also happy too …
THE SCREEN FREEZES ON SUMITHRA'S EVIL SMILE…
precap: Rahul starts ragging Nayantara. Alek and rohini kills manyata.sumithra plays with mahir.
friends..please tell me how was the first episode ☺️☺️.