A HAPPY FAMILY ~ OS ON RiAnsh part 2 BY @23_M_N_H_07 ishqmeinmarjawan2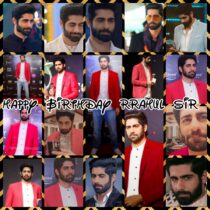 Belated HAPPY BIRTHDAY RRAHUL SUDHIR. I wish all your dreams come true . You deserve all the happiness of the life. Thanks for all inspiring us a lot. I must say that no one can potrait Vanshraisinghania better than you. Thank you for coming in our life's and making us crazy fans of your. Once again wishing you a very happy birthday. 
continue from where it has stopped
Reyansh's pov
I wish her "good morning princess". She too started replying me in her own language. "GOOOOD MOLING DDAAADYE". Hearing our voices champ wakes up from his sleep . He first started to search for his dear mumma but not finding her he frowned but hearing a shower's sound her must have learnt that she is shower. He just looks like sweetheart but his behaviour is just like mine protective for his mumma and sister. But sweetheart doesn't like our behaviour she says that we are not being protective but We are being overprotective towards them. She also understand my worries I just don't want that to repeat in our life's again at that time I was not able to protect my family but this time I won't let anyone harm them. My thoughts were broken when I heard champs voice he was wishing me and princess
Rithvik – GOOOOD MOLING DDAAADYE and Banu
(Good morning daddy and vanu )
I smiled at him seeing his efforts to pronounce words properly. Then I wished him back.
Reyansh – good morning champ saying this I pecked him on his check as my beard touches his skin it make him tickle.
He got up and kissed me back on my checks and then on princess
Rithvik – I lobe yo ddadye
( I love you daddy )
Reyansh's pov end
Vanya – I lobe yo bha
( I love you bhai )
Rithvik – I lobe yo too Banu
(  I love you too vanu)
Their trance got broken when they saw their beautiful mumma coming after taking shower
Both ( ritvik and Vanya) – gooog moling muma
Reyansh – good morning sweetheart
Ayesha- good morning babies
"Oh so good morning only for babies not for their daddy" saying this he started to move towards her and caged her in his arms.
Reyansh – "you really look beautiful"  saying this he kissed her both the cheeks. "But after taking shower you look more beautiful you know hotness and cuteness overloaded" he was about to kiss her on lips but was taken back hearing kids voice . He murmured to himself " my romance enemies" but I was audible to aayesha and hearing it she giggled. Seeing her laughing at him a mischievous plan came in his mind he quickly pecked her lips by his quick action first she not understand what happened but after realising what her naughty husband has done she blushed. Seeing her blushing he smirk seeing his effect on her and turn towards kids .
Vanya – ddadye we also want jisase laiht yo gape to mmama.
( Daddy we also want kisee like you gave to mumma) pointing towards her checks.
Rithvik – doont wolly Banu dadaye no liise then l lisee
( Don't worry vanu if daddy don't give kiss then I will give) saying this he kissed her checks. Seeing the love of Rithvik towards Vanya AYESHA and reyansh were overwhelmed.
Ayesha- rey you go and take shower I will feed saying this she goes to them and starts br*astfeeding them.
Reyansh goes to wardrobe and takes out his clothes and comes to ayesha while she was feeding them.
Reyansh – sweetheart should I check whether milk is coming or not pointing towards her br*asts listening this ayesha's checks trun red , she playfully hit him.
Ayesha – rey you should stop being shameless you are father of two childrens now Just go and take shower
Rey pouted and starts goes in  washroom but comes back on door and as "my offer is still on and if you are interested then tell me"
Ayesha – just go rey .
He goes and starts shower while here ayesha' s checks were crimson red seeing her husband's naughtiness.
Time skipped
Evening
Author's pov
Vanya and Rithvik comes to park because their daddy had promised them. When they reach then AYESHA realise that she has forgot to take milk bottle from car  she was going to bring it but Reyansh stopped her And Said he will bring it. When he was back he saw his little munchkins playing and he started to search for aayesha he find her sitting on a bench adoring her babies he goes to her and sit sit beside her keep the bottles in back and he kept his head on her lap she also started to roam her fingers in his hair. They both were sitting quietly without saying a word but silence was also speaking a lot . Seeing him lost in his own world she understood what he was thinking so she decided to speak
Ayesha- vansh
Listening to what she WAS going to say he got up and sit straight a's aayesha was going to say something but before she can say he put finger on her lips.
To be continued…………..
Hello guys I know I am late but I was not feeling well and still not feeling well and also mu schools are starting from tomorrow (offline) so I needed to complete my pending work too. And ya I will not be able to post regularly but I will try to post when I get time. Next part will be the last part of this os. I also have 1 story going in my mind if you guys have any idea then suggest me . 
Guys it is a humble request to everyone to not to bash helly or rrahul for anything or spread negativity about them. Instead of that you can vote for them on Instagram for @themumbaiachieversawards and Indian telly streaming awards 2021 and also international Iconic awards next season is also going to come soon so Start using their hashtags for helly rrahul RiAnsh and immj2 . See you guys soon with a fresh new update .till then take care and bye.
Love and peace to all ❤️☘️🧿💜😊