2025 Jaane Kya Hoga Aagey Review: Light comic plus high fiction on futuristic realities
Sony's Jaane Kya Hoga is the story of Joshi family who are living in the year 2025. Naisha's mother Ganga died and 14 years have passed. The children have grown up now and settled in their studies and careers. The family still misses their mother unbearably. Naisha was very young, but a genius when Ganga passed away. She tries to bring her mother back. Naisha creates a 3 D hologram of her mother which has the same emotions and memory as her real mother.

Ganga finds many differences in the family after the changes in times and generations. Ganga's hologram has no memory of her death and the later years. The family helps Ganga deal with the changes in generations. They also face changes in their lives after Ganga's return.
Main Characters:
Naisha Joshi: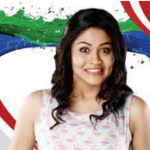 Naisha is an emotional person. She misses her mother Ganga a lot. She gets expertise in computers. She is genius and has extreme talent in her. She was sent to US by her parents to get more skilled in computers. She left from her home in her childhood and holds memories about Ganga. She feels sad that she did not spend her childhood with Ganga and Inder. She feels sorry for Ganga who died in a car accident. Naisha is practical and balances her family. Naisha creates Ganga's 3D Hologram and gets her back in the family.
Inder Joshi: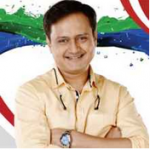 He is Naisha's father. Inder has Ganga's memories with him all the while. He misses Ganga very much. He feels Ganga around him day and night. He is very emotional. He did not get remarried after Ganga's death. Inder is traditional and does not like new technology. He is displeased by Navin's high tech shortcuts in doing work and current times. Inder is orthodox person and loves his children a lot. Inder believes that new technology machines can never replace human emotions and relationships.
Ganga Joshi: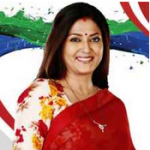 Ganga is Inder's wife. She has loved her children dearly. She died in the car accident 14 years ago. Ganga is brought back by Naisha by a 3D Hologram. Ganga still have orthodox mindset and slowly changes with the current trends and times. She has no memory of how she died and when she left her family. She gets adjusted to the truth that she is not alive. She feels fortunate to be back in the family by Naisha's smartness.
Navin Joshi: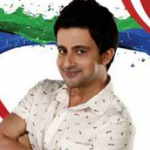 Navin is Inder and Ganga's son. He works for a Japanese company and believes in creating Nano technology things. He got a nick name 'Nano' for his love for Nano tech. He keeps on inventing things to get things handy at home. His inventions are not appreciated by Inder. Navin wants to make life simple by using machines. He is a technology savvy guy. He keeps a voice support system at home for his family's ease. Navin has solution for everything and is a complete gadget freak.
Cast:
Sanyukta Timsina as Naisha Joshi
Lubna Salim as Ganga Joshi
Sunil Barve as Inder Joshi
Akhlaque Khan as Navin Joshi
Garima Jain as Geetanjali Joshi
Urmila Tiwari as Neetika Joshi
Monica Castelino as Monica
Kenneth Desai as Yashraj Joshi
Story So Far: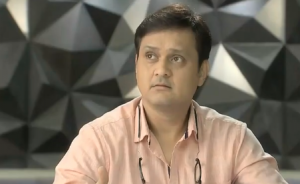 The show is about a futuristic world of the year 2025. The Joshi family is shown. The children want their dad Inder to get remarried. They have lost their mother Ganga. They all wish their dad gets settled down again. Inder gets bad dream of marrying someone else and feel he can never forget his wife Ganga. He tells his children that Ganga will get angry if they force him in remarriage. The children get surprised seeing Ganga back and assume she is angry on them. Navin gets a simplified thing to touch Inder's feet. The family has their maid Monica who has many tantrums and conditions to work. Monica is very modern and wants a luxury family to work for. She makes Joshis run on her terms. The children apologize to Inder for remarriage idea. When Ganga appears infront of Inder, he gets surprised. Inder asks Naisha about Ganga's image. Naisha tells the family that she has recreated Ganga by her computer programming. She tells about the 3D hologram she made to bring Ganga back. Also, they hide the fact from Ganga that she is hologram and lie to her that she is out of coma after many years.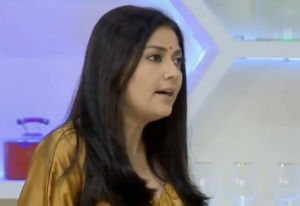 Inder recalls immersing Ganga's ashes in river. Naisha asks the family not to touch Ganga's hologram. Inder tells the children that Ganga is very sensitive and she should never know that she is just a Hologram. Ganga becomes very happy after meeting her family. Inder's dad Yashraj comes home and gets shocked on seeing Ganga. Ganga greets him and is happy. Yashraj is against hiding the hologram fact from Ganga. He expresses his wish to tell Ganga that she is not alive and is just a hologram. Naisha tells Ganga to avoid Monica. She tells about informing maid about new member in advance. The family struggles to hide Ganga from Monica. Ganga gets displeased about Monica's laziness and attitude. Naisha does not let Monica see Ganga by making her invisible. Ganga gets let down when she fails to hold Inder and her children. She confronts them. They tell Ganga about her death happened 14 years ago and how Naisha recreated her hologram. Ganga gets emotional.
Our Take: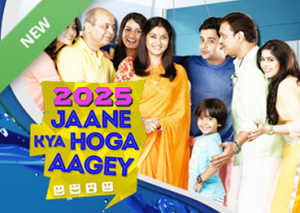 The show has few good bits to get insight on how the world can look if we assume the long leap of 10 years ahead. The concept is fresh and simple. It does not look as any futuristic movie remake. It has endearing characters, where the actors are fairly justifying. The show looks appealing visually. It has emotional content which makes it watchable by the family. It has few surprise elements by the high tech things one can believe to get in the next generation. The show presents some possibilities of the future trends to make oneself notice what can be expected ahead. It is watchable by both generations, for having emotional factors and many technology gadgets possibilities.
Overall:
One can enjoy this Sony's new show in leisure. It has comic bits while portraying the daily life in 2025. It is a nice attempt and would be liked more if same interest level is kept throughout.
Our Rating:
1.5 out of 5
Feel free to post your reviews in comments below. All off-topic comments will be deleted.