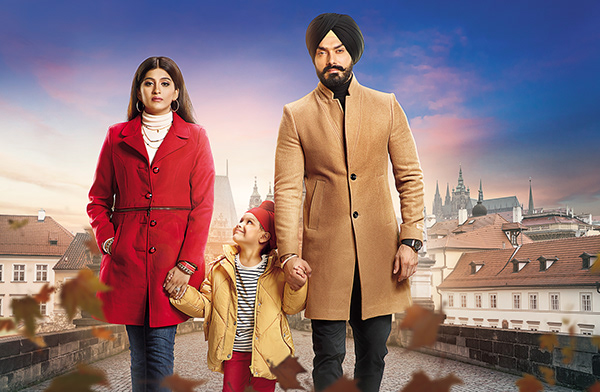 2 Years of Choti Sardaarni – A tale of relentless Sardaarni
An heartiest welcome and wishes to all the fans of Choti Sardaarni as our show completes 2 years successfully. It has been entertaining with its beautiful storyline and cast for a long period of time. Now a days, crossing a year is a challenge for new serials, but our show has done a mileage of 500 episodes few weeks back. So, this article is all about the tribute to the characters and some of my favorite tracks in the show.
Meher Kaur Dhillion (Nimrit Kaur Ahluwalia): 
Meher is obviously one of the strongest leads in the recent time. She is not cute and bubbly but also mature, strong, headstrong, vigilant, emotional and sometimes violent. Her character possesses a lot of layers from a Juliet of her Romeo to a victim of pre-marital pregnancy and honor-killing to marrying a politician only to save her baby to a mother of 'another mother's child to a mother of three children with a happy family. Her hatred for her mother is so strong. Definitely, the journey and struggle weren't an easy one. It has a lot of hurdles and complications to cross each path of her life. Nimrit has understood the nuances of the character and portrayed it like an professional actress despite being a newbie.
Sarabjeet Singh Gill (Avinesh Rekhi):
Sarabjeet Singh Gill… The power and aura of his character are just on another level. His introduction scene is still one of my favorite scenes in the show. At present, he is one of the soft and strong Male leads where most others are angry, dumb, rough/tough and arrogant for 24/7. He is someone who advocates equal rights for men and woman. His devotion for his sister is just amazing. Being a single father is also a difficult job, but Sarabjeet raised his son Param for five long years after Simran's death. The way Avinesh expressed his feeling through Sarab when Meher revealed him about her pre-marital pregnancy was speechless. The way their relationship developed along with petty nok-jhoks were nostalgic. His bond with his children is still worthy to watch.
Harleen Bajwa (Mansi Sharma/Simran Sachdeva):
Specially in this show, the supporting characters have the power to impress the audience as much as a main character does. Harleen is just one among the well-written characters. She is perfectly grey with a balance. I liked the styling of the previous Harleen as she looks stunning in any types of attire. The stylist of her deserves an appreciation. Harleen's care for Param when the Gill house was put up for the auction was heart-touching and so is Harleen-Sarabjeet bond. In the initial episodes, Harleen is the connecting point of Sarab and Meher. She is so sensible to understand if any tiffs happened and she solved it with her maturity. That is really commendable.
Manav Sharma (Hitesh Bharadwaj):
Manav is the sweetest character of this show. He is not only a perfect Romeo but also has big dreams, dedication to his work and a man of his words. His feelings when he realized that he has become a father was beautiful. When he was brutally murdered by Kulwant for  prestige, his emotions for his love and Meher's struggle to get you back showcases an emotional love story with a tragic end.
Amrita Kaur Gill (Abhilasha Jakkar):
Amrita is one of the selfless characters in the show. She is not only Meher's bhabhi but also Meher's best friend. She is a perfect wife, perfect DIL and a perfect mother. She is the first to find about Meher's pregnancy and even decided to adopt the baby (along with Jagga) only to save Meher's respect and the child's life. She is the one who asked Meher to marry Sarabjeet to save her and her child and shown the way of brightness in her life. Her character is always memorable. I can't understand why do the makers kill her character along with Jagga. Her presence in the show is always a cherry on the top of cake.
There are many amazing and different characters in the show like  Ginni,  Jeeto, Jagjeet, Baljeet, Ranbir, Rubinder, Param, Karan, Seher, Aditi, Vikram Deewan and Daljeet but these are the most memorable characters.
Some of the amazing/emotional/heart-touching scenes of CS are:
Meher and Manav's marriage in the College Farewell. The vows they took to preserve their love was lit. I know many people may say Meher's love is not true and she is a betrayer etc… But I feel, it's not true. She couldn't even forget or overcome Manav's loss, even after a long period of marriage. Only when her rapport between Sarabjeet and Meher improves, Meher understood to move on in her life by forgetting Manav and start to love Sarabjeet. So another transformation is completely difficult for anyone. Maybe you can agree or not with me… Everyone has their own perspective towards love and it has numerous definitions.
The struggle Meher took to save her Manav at any cost after being betrayed by her mother. It is indeed emotional to watch. Manav appearing in moon for Meher as a dream was an aesthetic scene.
Param's birthday party scene.
Meher's breakdown when she misunderstood that her mother spiked the juice and understanding that the baby is alive. Rishtey Dilone added beauty into that scene.
Sarabjeet and Meher's relationship progression. This phase of this show is love. Meher and Sarabjeet's banters are always fresh and highlights of the whole episode. Their love and care towards Param is amazing. Avtaar and Neerja track and Christmas speech in Param's school are still memorable.
The most emotional track of the show is Param operation track. Everyone and literally everyone joined together by keeping aside the differences is seen rarely in any shows. Meher being a donor is expected, but the execution was amazing.
These are my favorite tracks. There are even more but I forgot out of excitement. Yeah, I am not going to deny that it also has some terrible and depressing tracks in the show. This show also has its own defects but definitely the first 230 episodes are still gold.
Do mention about your favourite memories with our show CHOTI SARDAARNI.