Two Hearts That Beat As One (Soorya, Ishra) (Epi-20)
The icu room was decorated beautifully
raman came in with ishita .
they both exchanged rings
ishita smiled at raman . they both shared a sweet eyelock
after a month….
raman and ishita waved at ruhi and adi as they went into their school
raman held ishitas hand as he drove
he said:  i want to hold ur hand like this forever ishita
ishita : our real journey as a couple will start in two days , u dont need to wait long and kissed ramans hand
evening….
raman and ishita were dressed beautifully for their sangeet
sandhya  went to the stage and welcomed everyone to ishras sangeet
mr.bhalla and mrs.bhalla and everyone danced
sooraj and sandhya danced romantically on humsafar song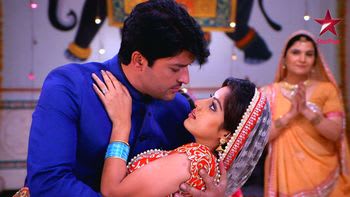 Sun mere humsafar
Kya tujhe itni si bhi khabar
Ki teri saansein chalti jidhar
Rahunga bas wahin umrr bhar
Rahunga bas wahin umrr bhar, haaye
Abhika danced happily
Zehnaseeb, Zehanaseeb
Tujhe chaahun betahasha zehnaseeb
Mere kareeb, mere habeeb
Tujhe chaahun betahasha zehnaseeb

Ishita and raman danced romantically
Kacchi doriyon, doriyon, doriyon se
Mainu tu baandh le
Pakki yaariyon, yaariyon, yaariyon mein
Honde na faasley
Eh naraazgi kaagzi saari teri
Mere sohneya sunn le meri
Dil diyan gallan
Karaange naal naal beh ke
Akh naal akh nu milaa ke
Dil diyan gallan haaye…
Karaange roz roz beh ke
Sacchiyan mohabbataan nibha ke
Then the whole family danced on galla goodiyan song
Main Daalun Taal Pe Bhangra
Tu Bhi Gidda Paa Le
Chal Aisa Rang Jamaa De Hum
Ke Bane Sabhi Matwaale
Sandhya felt something strange , she was not feeling well
Mann Kahe Ki Main Le Aaun
Chaand Aur Taare Saare
Inn Haathon Par Main Chaand Rakhun
Iss Maang Mein Bhar Doon Taare
Hello Hello Tu Floor Pe Kab Hai Aayi
Ye Lo, Ye Lo, Badi Solid Masti Chaayi
Hello Hello Too Much Hai Tumne Lagayi
Ye Lo, Ye Lo, Control Karo Mere Bhai
She could not see anything properly . she tried to go to sooraj
Dhak-Dhak Dhak-Dhak Dhadke Ye Dil
Chhan Chhan Bole Amritsari Choodiyan
Raat Badi Hai Mastaani
Toh Dilbar Jaani Kar Le Gallan Goodiyan
Sandhya searched for sooraj in the crowd of people dancing
Dhak-Dhak Dhak-Dhak Dhadke Ye Dil
Chhan Chhan Bole Amritsari Choodiyan
Raat Badi Hai Mastaani
Toh Dilbar Jaani Kar Le Gallan Goodiyan
She finally found him , went near him and fainted in his arms . sooraj was shocked…
Yeh Nain Matakka Tera 
Bhi Mujhe Bada Tadpaawe
Tu Dekhe Ajj Vi Dilbar Kudiye
Teer Sa Ek Chal Jaave
Aahaa..
Kar De…
Sooraj carried her inside without anybody knowing so that they dont get disturbed . he called the doctor . doctor came in
Ishita who came inside the house for keeping some gifts got shocked seeing sandhya unconscious
Doctor : mr.rathi , she is fine , absolutely fine , she is more than fine
Sooraj : but  she fainted , and u..are saying that she is fine
Doctor : congratulations , mr.rathi , ur wife is expecting
Sooraj got surprised
Sandhya who had woken up by now came and stood weakly
She saw ishita and told , i am sorry , i guess i disturbed ur sangeet
Ishita : sandhya  , u have given me double happiness right now  , did u hear what doctor said , u r pregnant sandhya
Sandhya was surprised and smiled emotionally
Sandhya : really sooraj ji
and hugged sooraj
Ishita : wait i will call all the family members , bhabo , babasa , ved and vansh
Sooraj : i was not able to see ved , vansh grow up , this time i will be with my princess all the time
Sandhya : sooraj ji , u want princess only , what if its a prince this time
Sooraj : sandhya ji , we already  have two sons now , i want a princess only
Sandhya hugged sooraj . sooraj smiled seeing sandhya . he did not know how to  express his happiness , he was very happy
Raman came and hugged sandhya
all the family members celebrated their happiness
to be continued…