The Heart Is Crazy (Dil To Pagal Hai) ShivIka PreeRan SS Part6
The Heart Is Crazy(Dil To Pagal Hai) Part 6
Karan:Mom..what are you saying?
Shashi:We both think that you and Anika will make a good couple.What's your opinion?
Karan:I..I don't know dad.I have never thought of marrying Anika.I love her a lot..but as a friend.I never thought that way about Anika.I am sure that even Anika never thinks like that about me.

Garima:Beta…best friends can make a good couple.We both feel that you both can make an amazing couple.So is it ok we we proceed with this proposal?
Karan:Mom…I..I really don't know.
Shashi:Take your own time.There is no hurry.We are sure that you will take the best decision.
Garima:If you think that we are right you yourself talk to Anika about it.After that we will proceed with it.Think about it seriously.
Karan:Ok…I will.
Karan could not sleep properly.He was restless thinking about what his parents said.He walked around without any peace.
Karan:Are dad and mom right in saying that Anika and I should get married?
The next day…
Karan Anika were in a park.
Anika:Why did you bring me here Karan?
Karan:Anika..this is lovers' park.Lovers come here to love.
Anika:But we are not lovers.
Karan:But my parents feel that we will be better as lovers.
Anika was confused.
Karan:My parents asked me if I would love to marry you.
Anika was shocked.
Karan:They told me that best friends make the best couples.So we will make the best couple.
Anika:What did you tell them?
Karan:I said I will think and take a decision.
Anika was nervous:What did you decide?
Karan:Anika..we are best friends and we know each other since childhood.A life partner should be the one who understands us the best.No one knows me better than you.And I also know you very well.So I think my parents are right in saying that we should get married to each other.
Anika was shocked.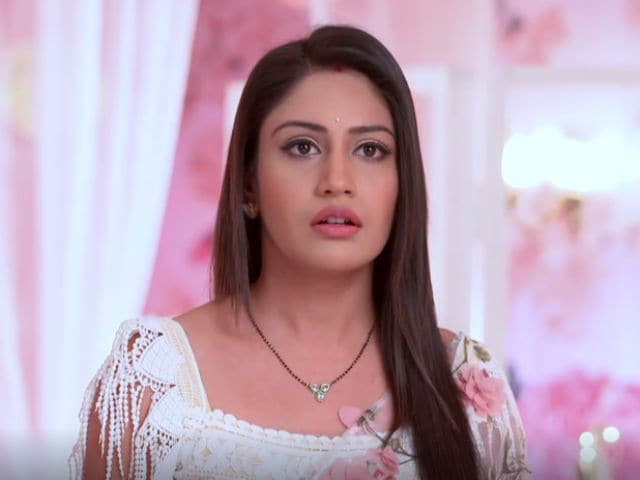 Karan:What do you say Anika?
Anika was reminded of her moments with Shivay.
She thought:Why am I thinking of Shivay whom I don't know properly?
Karan:Anika…what do you say?


Anika:Karan…I need more time.
Karan:Ok..you also need to take time to decide like me.Take your own time.
Anika gave him a pale smile.
Anika was spending time with the kids in an orphanage.
The kids:Anika didi…can you tell us a story?
Anika:Why not?
Anika thought of her own life and began to narrate the story:Once upon a time there was a Princess.She was waiting for her Prince.
One kid:Did the princess meet her Prince?
Anika:No idea.Because the Princess is confused who her Prince is.
One kid:Why so much of confusion?
Anika:Sometimes in certain circumstances we get confused.
Suddenly her eyes fell on a boy surrounded by kids and the boy throwing sweets at them making the kids excited.Anika smiled.
Anika:So cute.
Suddenly the boy turned and his face got revealed.Anika could not believe her eyes.
Anika:Shivay!
She ran towards him.Shivay was surprised to see her coming towards him.
Shivay:Anika,how come you are here?
Anika:When I was small my parents used to visit orphanages and give donation to this orphanage.After they passed away I myself became an orphan and so I could relate to these kids.I kept coming here and continued the legacy of donation.But spending time with these innocent kids gives me priceless happiness.
Anika became emotional.
Se controlled herself and smiled.
Anika:How come you are here?
Shivay:Your parents used to give donation to this orphanage.Right?Understand that Omkara,Rudra and I owe to your parents and because of some nice people like your parents we are in this level now.
Anika was confused:Means?
Shivay:Yes…we all are orphans who were brought up here.So we keep visiting this place.These kids are our family members.
Anika was shocked.
Anika:I am sorry.I did'nt know that.
Shivay:You have your uncle and aunty who love you like your own parents.But we have not experienced that too.
Anika felt sad.
Shivay:Since we were good at studies this orphanage and sponsors gave us good education in a good school.There we met our best friend Preeta.If we know what parents' love is that is from Preeta's mother Sarla aunty.Her love…affection..and especially the food she prepares with love specially for us are magical.
Anika smiled.
Anika saw Rudra and Omkara playing with kids on the opposite side and smiled.
The kids:Uncle and aunty…please play with us.
Shivay:Why not?
Anika:We also love playing.
Shivay:Exactly.
They played foot ball with the kids and enjoyed.
Shivay and Anika got tired and began to rest.Shivay removed his sweaty over coat.
One kid from Anika's gang:Anika didi…is this uncle your Prince?
Anika blushed.
Shivay smirked at Anika:What does it mean Anika?
Anika was embarrassed:Nothing.They are just kids.
Shivay:Ya…I understand..after all they are kids.If they don't do kidding what else will they do?
They both giggled.
That kid:Tell me Anika didi,is this uncle your Prince?
Anika was shy.
Anika:What are you saying?
Kid:Are you not waiting for your prince like the Princess of your story?
Shivay:Anika,what is this child saying?You are waiting for your Prince?Seriously?
Shivay giggled.
Anika:What is there to laugh this much?Every girl dreams of her Prince Charming.Every girl will wait for her Prince.
Shivay became serious.
Kitne Hi Door Door Hon Hum Donon Ke Raaste
Mil Jaate Hain Jo Bane Ek Duje Ke Vaaste
Ek Duje Ke Vaaste


Shivay:So you are also waiting for your Prince.
Shivay looked at her deeply:Did you meet your Prince?
Anika was silent.
Jaise Dil Hai Dhadkan Hai Ek Duje Ke Vaaste
Jaise Aankh Hai Darpan Hai Ek Duje Ke Vaaste
Shivay:If you have not met your Prince you will meet him soon.Your Prince will love you a lot.Because you are a nice girl.
Jaise Barkha Saawan Hai Ek Duje Ke Vaaste
Ek Sajni Ek Saajan Hai Ek Duje Ke Vaaste
Anika looked at him emotionally.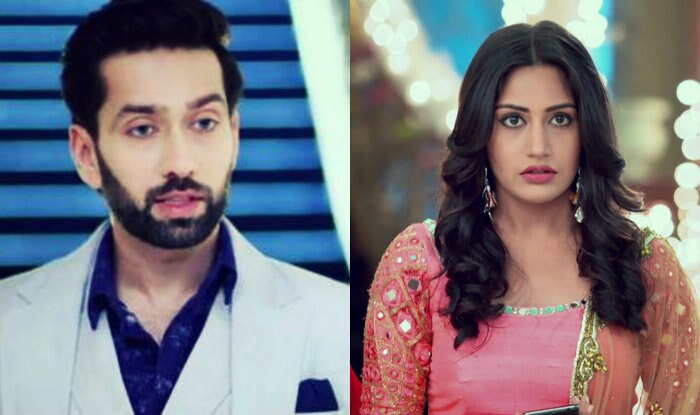 They shared an intense eye lock.
Ek Duje Ke Vaaste
Ek Duje Ke Vaaste
She broke the eye lock as she was reminded of her alliance with Karan.
She thought:Is Karan my Prince?
After a few days…
Preeta was walking towards the parking area after shopping.She was holding an umbrella as it was raining.In the cool breeze the umbrella flew away.
Preeta:Oh no.Now I have to walk in rain.
She walked..While walking she slipped because of the wet slippery ground.She was about to fall down.Suddenly she was caught by a man.She looked at that person.She could'nt believe her eyes.It was Karan.
They looked at each others eyes.
Us Rab Ne Jab Dil Diye
Dil Ke Do Tukde Kiye
Dono Mein Ek Naam Leikha
Ek Radha Ek Shyam Likha

Karan:Are you alright?
Preeta:Yes Karan.Thank you.

Karan realized that she was in his arms.He released her.
Karan:Why are you here?
Preeta:Just came to buy some normal medicines for my mother.I lost my umbrella.So I had to walk in rain.
Karan:I came here to go to the nearby mall.But I did'nt get space to park my car here.And I forgot to take my umbrella too.So even I am walking in rain.
Preeta:Even I did'nt get space to park my car here.This place is so crowded.Disgusting.So i have to walk a lot.
Karan smiled.
Preeta:Ok Karan.I have to go now.Bye.
Karan:Ok bye.
They both walked.Suddenly they turned back.They saw each other.
Ab Ye Dil Dhadakte Hain
Milte Aur Bichhadte Hain
Karan:Why did you turn back?
Preeta:I..I am not sure.Why did you turn back?
Karan:I also don't know.
They both giggled.
Ek Duje Ke Vaaste
Ek Duje Ke Vaaste
Ek Duje Ke Vaaste
They said:Ok bye..
They both walked in opposite direction again.
Karan thought:Did'nt I look back to see Preeta again?But why?
Preeta thought:Did I look back to see Karan?Why did I feel like seeing Preeta?
Ek Duje Ke Vaaste
Ek Duje Ke Vaaste(Dil to pagal hai).
They both ignored their thoughts.
Karan was in his room.He was thinking of the rain moments he had with Preeta.
Suddenly he remembered about his alliance with Anika.
Karan:Why am I thinking of Preeta when my own family is fixing my marriage with Anika?So confusing.
Anika was thinking of Karan's proposal.
Anika:Shashi uncle and Garima aunty brought me up like their own child..They never made me feel that I am orphan.They did so much for me.Now it's my turn to do something for me.I should also make them happy like they made me happy till now.
Anika went towards Karan:Karan…I thought a lot about what you said.I took a decision.


Karan was tensed:What's your decision Anika?To marry me or not?
Preeta took the jar to see if there is water.
It was empty.
P:Oh…I feel so thirsty and here there is no water.


Let me go and fill the jar with water.
Preeta ran downstairs and her foot slipped.She fell down.
She screamed:Shivayyyyyyyyyyy
Shivay was shocked to see her on the floor with the jar scattered all around.