SITA-THE SILENT PILLAR OF RAMAYANA
we all know the brave, courageous, divine sita who was the incarnation of devi lakshmi. she was also known as bhumija, maithili, vaidehi, and rama. one day when rajraishi janak was ploughing the field, he found her from the soil of mithila. and she came to be known as bhumija as well as maithili. maharaj janak called her as their (maharaj janak and his one and only wife rani sunaina) daughter and she came to be known as janaki. later, she grew up with her three sisters who were mandvi, urmila and shutkirti.
on one fine day janak decided to arrange swayamvar for her beloved daughter-sita in which the person who will be able to lift up the divya dhanush of mahadev will win her.. ram the incarnation of lord vishnu successfully broke it and won her. eventually. urmila, mandvi and shrutkirti also got married to all of the three brothers of ram (lakshman-urmila, bharat-mandvi and shatrughna-shrutkirti).
soon after her marriage she goes to 14 years of exile with her husband and brother-in-law, lakshman.
in the last phase of their exile, the trio settled in the dandaka forest from where she was abducted by ravan, the rakshas king of lanka. she was imprisioned in the ashok vatika but she had faith in her husband that he will surely come to rescue her. and yes, she was finally rescued by ram after the climatic war where ram slayed ravan. after returning to ayodhya, she performed agnipariksha to prove her purity. thereafter, they were crowned as the king and the queen of ayodhya. however, ram was pressurised to abandon pregnant sita when one of his subjects doubted her chastity.
in the refuge of sage valmiki's hermitage, she gave birth to the twins-luv and kush. after her two grew up and united with their father, ram once again was pressurised to ask her for agnipariksha. she refused to give the test and returned to her mother, the earth's womb, for release of the cruel world which doubted a woman's purity.
jai siyaram!!!!!!!!!!!!
jai siyaram!!!!!!!!!!!!
jai siyaram!!!!!!!!!!!!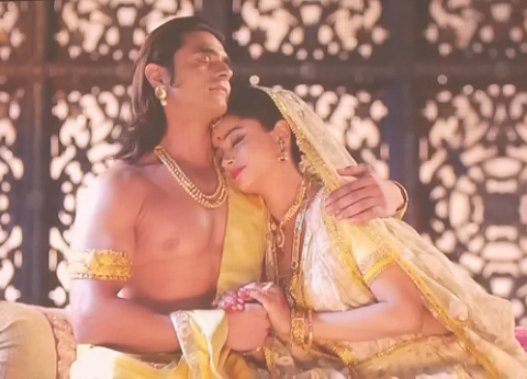 thank you