SHADOW & SPRING {ISHKARA FF FOR "SHOW SOME ISHQ" } PART 18
Hello friends, thanks for all the love..Well i said about giving a long update, but due to time shortage this one is damn short….So pls forgive me and kindly read this one….here are the links for previous ones…
http://www.tellyupdates.com/shadow-spring-ishkara-ff-for-show-some-ishq-part-17/
http://www.tellyupdates.com/shadow-spring-ishkara-ff-for-show-some-ishq-part-16/
Pls read all parts and kindly drop your views……Thanks a lot for reading this one……
@ Oberoi Mansion , Study Room{Ishkara Flash Back Story continues} 
The dawn slowly waked tej's eyes and he opened his eyes ……He sees jhanvi's hands on his chest and stares her…..He finds jhanvi's tired face and makes a glance at the entire room…. Tej slowly gets up from jhanvi's lap without disturbing her and stares her face…….
Tej's View
The whole night jhanvi was here with me……..This whole house points out their fingers on me as if I am a culprit only…….But jhanvi, you are still concerned for me…….And what I did you in these past 12 years ?? [tej recalls pinky saying aout jhanvi's ill-health and the way he ignored jhanvi when she reminded abt the wedding anniversary] Jhanvi, I promise you this anniversary will be special for us…….I will convert those tears into gems of smile, Jhanvi…..[tej holds jhanvi's hand and stares her again]  This morning has brought a new turn in life and I will make try to make all mornings as special for you…….
Scene shifts to oberoi kitchen…..
Shivomru are engaged in making coffee ….Tej arrives there …….
Rudra : [smiles] Paapa, Gud morning…..
Tej : Gud morning rudra……Shivaay pls make lemon tea for me……
Shivaay : Yeah sure, But bade paapa I need to leave now……Actually prinku has arrived at the railway station and I need to pick her…….
Tej : You can send Khanna also….
Shivaay : Prinku will feel bad, bade paapa….Actually post anika and my wedding she left the home as part of attending camp and she has specially demanded we should be there to pick her……So I need to leave……Okay, I will tell rudra, he will make it…..
Rudra : No ways, shivaay bhaiya…….U know naa, how badly I make stuffs and O use to taste it without saying anything to me as he is my OFFICIAL TASTER…..Yeah, I can make protein shake for paapa……
Omkara : Rudra, He is not going for work out in gym……Grow up, man…..
Shivaay : Yeah, Om is right…..Om better you make lemon tea……
Omkara : Me, shivaay…….
Shivaay : Yeah, U…..It's not a big deal….
Rudra : Haan O…….Just do it….
Tej : It's fine…..I will tell some one else…..
Rudra : Paapa, no….stay here…..O…..Make it ……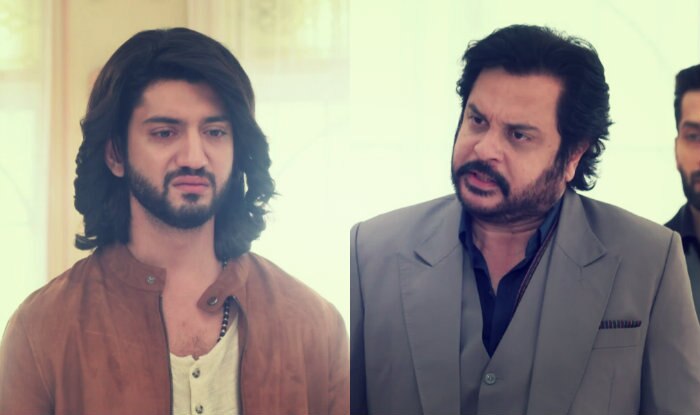 Om stares Tej..Tej also stares Om……Om takes a deep breath and start preparing lemon tea…..Tej looks Om's face and recalls om's childhood days ……Rudy and Shivaay slowly moves from the kitchen and watches them….
Omkara : I have prepared it……[Om brings the cup and keeps it at the table] Pls Have it….[om turns his face against tej's face]
Tej sips the tea …..Om looks at tej's face with wet eyes……Tej starts coughing……..Om rushes near tej and pats on tej's head…..
Omkara : Are you fine ?? The tea is not good, let me see…..[om extends his hand to take the cup, but tej hold om's hand and looks at his face]
Tej : It's good…..I think some one is thinking about me……That's why I coughed…..
[Om released his hand from tej's hand and turns back……]
Tej : Thanks for the tea, Omkara…..[Om walks away from the kitchen]
Shivaay and Rudy smiles …They shares a Hi-fi…..
Scene shifts to ishu's house….
Mona : Di, What's your decision ?
Ishana : About what,
Mona : Swethlana didi's wedding….
Ishana : I don't think this is a real wedding……
Mona : What do you mean ?
Ishana : I will find out the truth behind it…..[swethlana picks her bag ]
Mona :But di, where are you going ?
Ishana : Mona, I will reach hospital by after noon…..U bring paapa their for check-up …..I will be at the doctor's cabin in time……Bye….
Mona : Di…Di….listen to me….[ ishu leaves ]
Scene shifts to Patil Nivas…..
Dutta Sree Ram Patil is been seated in an arm chair…….
He takes his pistol and loads three bullets in them……Dutta points out the pistol forward and finds a girl before him…….
Dutta : Who are you ??
Girl ; I am Ishana…….
Scene shifts to Om's Art Hub…..
Om brings the painting which he made on ishana last night…..Om looks at the painting and smiles….
Om's view
I am so excited to see you like these Ishana…….[Om looks at his watch] It's just 8. 30 am only, Ishana will come by around 9.30 am……Just one hour more, then ishana you will get the biggest surprise…….I need to make it more special…..What should I do ??
PRECAP : FEELINGS ARE UNABLE TO HOLD, AS IT CAN LEAK ANY TIME…BUT IT CAN BURN ALSO…….HOW THEY WILL MANAGE ??