SaaTHiYA Ek NaYi KaHaaNi [S-6 | P-231 to 235] : AN INVITATION
SAATHIYA EK NAYI KAHAANI…[S-6 | P-231 to 235]
---
THIS EPISODE CONTAINS EPISODE-231,232,233,234,235…
---
[PART-231]
3 HOURS LATER….
@MODI MANSION
Everything is shown rampaged…
The vases…the furnitures…glass railing…the chandelier and everywhere stains of bloods and fear, anger and rage of innocent people…Cops & goons dead bodies and lots of innocent bloods are on floor…
Servants are cleaning the mansion…
BG- 3 hours before, What happened was untold, never heard before….a new proverb was written by people that "WHEN YOU TAKES REVENGE…REVENGE TAKES YOU" !!!…Today what happened in Modi Mansion was never happened in decades also…and it was more than a NIGHTMARE !!!…
The Family photoframe of modis is broken on floor having BLOOD STAINS…
---
AFTER SIX MONTHS
---
MUMBAI
@MODI MANSION
Gopi & Rashi enters into the house…
They looks at the walls which are lightly blood clotted…lots of dark memories…
Gopi & Rashi looks at each other…
Sanskruti & Aaliya near came…
Sans: Glad to see you both…Its been 6 months passed !…You people cant imagine how much we missed you two…
Gopi emotionally hugs both of them…Rashi joins them…
One by one, everyone arrives…
Ahem: Gopi…
Gopi looks tearfully towards ahem…
Jigar brings Ahem who is still injured bcoz his right leg…now he is on wheel chair…
Kokila is too on wheel chair !…
Parth,Akshay,Yuvana,Thea welcome Gopi & Rashi !…
Gopi: Ahem ji…
She goes and hugs him…
Ahem: I am sorry gopi i was not able to receive you and…
Gopi: Dont say like that…
Jigar: Rashi how are you ??…
Rashi: Now i am fine…bcoz i am back in my home…?
Rashi holds him tightly…
Jigar: Aahh…
She spots his hand injury…
Rashi: Ohh i am sorry….
Jigar: Its okay !…
Suddenly Kinjal arrives…
Kinjal: Gopi bhabhi…Rashi bhabhi…
Gopi & Rashi: Kinjal…?
Kinjal cries: How are you all ??…
Paridhi too arrives…
Paridhi: Gopi bhabhi…Rashi bhabhi…?
Gopi & Rashi: Arey Paridhi too…
Suddenly, Pratik & Rikita (RADHIKA MADAN) along with Riddhi (SHIVANGI JOSHI) & Vidhi (KANCHI SINGH) [PARIDHI'S DAUGHTER SPECIAL APPEARANCE ON 100TH EPISODE]…
They all had a warm hug !!…
Rikita cries: You know what ??…I was just gettig bad vibes…?
Gopi cupps her face…
Gopi: Dont worry now…
Riddhi: Gopi mami that day was really really sad for us…
Gopi: Dont worry i said naa…its all ended !!…Lets all smile and start a fresh !!…?
Rashi: Yeah !!…
Paridhi: It will definitely happen Gopi bhabhi…Bhai…
She gets shocked seeing ahem on wheel chair !!…
Kinjal: Bro…how did this happen !…
Pratik: Mama…are you fine ?? ?
Ahem: Arey relax guyz…its a minor injury !!…
Gopi: Dont worry everyone…Ahem ji's gopi has arrived now he will be cured soon…
Ahem: Wahhhh…?
They all laughs…???
[PART-232]
@ROY CHOWDHURY MANSION
@AKARNIKA'S ROOM
Akarsh is busy on his laptop and Sanika is cleaning the wardrobe !!…
Sanika recalls that DARK DAY !!…
Sanika in her mind: In 6 months also nothing changed…i just cant stay anymore with this trauma…
Suddenly the FLASH of kamini's brutal death comes infront of her eye !!..
Sanika screams: Aaahh…Aaaaaahhh…Aaah…
Akarsh: Saniiii…what happened !!
He rushes towards her…
Sanika traumatizes: Noo…No…no…
Akarsh: Baby relax…its me akarsh…relax !!…
Sanika holds him tightly…
Akarsh cupps her hairs and kisses on her forehead…
Akarsh: You know what ??…when you are tensed…your face looks like monkey !!…
Sanika: whhhatt !..
She beats him…
Akarsh giggles and hugs her…He slowly cupps her lips with his fingers and sensuously plants a kiss on her lips…
Door was closed & curtains were raised down…
He takes her towards the bed and puts her gently…She holds his neck and brings him close to her and gently liplocks her…She scribbles on his face with her nose and showers kisses on his face, neck, shoulder…He unbuttons his shirt and she removes his shirt away…They liplocks each other again !…
She was wearing a blue full sleeve thigh length dress…her hairs are loose…He turns her back and and unstrings the back of her dress…She moans softly…As he scribbles on her back and softly plants a kiss on her back…He then releases her from the dress and makes her half naked…She pulls up the blanket and they gets Intimate…??
Scene Blurs…
[PART-233]
NIGHT
-CHICAGO-
@KIAVISH'S HOUSE
Kiana & Kavish are on bed together and busy in romantic talks…
Kavish: Kiu…seriously that day you was looking really beautiful…
Kiana: Oh pls kavish…stop teasing…
Kavish: No i am serious baby !… And you recall that day when you wore that dress in modi mansion…
Kiana: Mo…Modi Mansion !!…
She holds his hands tightly…
Kavish: Relax Kiu !…Its 6 months passed we all need to get out of that drama now…
Kiana: Baby i still fear…
Kavish: Then i have a good solution to decrease your tension…
Kiana: Huh…What are you trying to say ??…
Kavish naughtily: You say…
Kiana: Your face is giving me naughty vibes…
He comes very close to her and liplocks her passionately…She behaves passionate too…
Kiana: You want to turn on me…huh…then see !…?
She removing her shirt reveals her bra and seduces him…He holds her leg rubbs on her thighs and showers kisses on her face…He naughtily starts kissing on her clevage and nibbles..She pulls out his tshirt and reveals his body…They both gets steamed by each other and continues lovemaking…He sucks her navel and pulls down the strap of her bra…She moans softly…They continues there lovemaking…??
Candles are shown blowing…
[PART-234]
@MODI MANSION
GoShi gets SHOCKED !!!…
Kokila: After that incident no one comes to modi mansion…
Gopi: What are you saying maaji !…
Kokila: I am serious…All r still haunted by the incident !!…
Gopi: Ohh…
Rashi: I cant believe it…Its really sad that once there was so much fun in our household and now…everything had faded !…
Gopi: Rashi ben…dont break down…i thought everything is like before but here many things are changed !!…We have to do something by which every things becomes like before !!…
Kokila and rashi looks on…
[EPISODE-235]
@RC MANSION | OBEROI MANSION | RAJPUT PALACE | SHAH HOUSE
Nihu receives a letter on invitation on the door step…
Nihu shows it to Rohit !…
Rohit: Its from Modi Mansion…?
Nihu: Sudden invitation from our house…?
Aanya: Di what say we should go or not !…
Nihu: I think we should go atleast for mom dad !…?
……………
Avantika: They invited us…we need to go…☺️
Vikram: Yah we will go…
Advika: But maasaa its in modi mansion…
Reyansh: So what its your AD-GD'S house…and they invited us so i think we should go…
Nishant: Yah definitely we should go…?
Teju arrives…(NISHANT & TEJASWINI ARE MARRIED)
Teju: We will definitely go…what say advu di…?
Advika: Okay…?
…………..
Svetlana: Get together party in Modi mansion…?
Kavana: Ofcourse i will go…?
Sam: Wow…GD & RD invited us…?
Ahaan: We will go what say !!…
RuHeer: Yah yah ofcourse we are going…??
………….
Aashni: Gopi & Rashi ben invited us for get together !…
Urmilla: I want to meet my daughters…after so late i will meet them ?
Avni: Lets go…?
Gautam: Exactly…?
Saransh: Di…But Dad…
Aashni: Your dad will also come…in this party we all will have fun…
Tanisha (SURBHI JYOTI): Sure momji !! ?
Aashni: Wow after so many days a party !!!…It will be ROCKINGGGGG !!!…???
They all screams…
@MODI MANSION
Sans: Badimom Mom we distributed all the cards…
Rashi: Good…
Thea: Now whatt ??..
GoShi: Now..now PARTYYYY !!! ???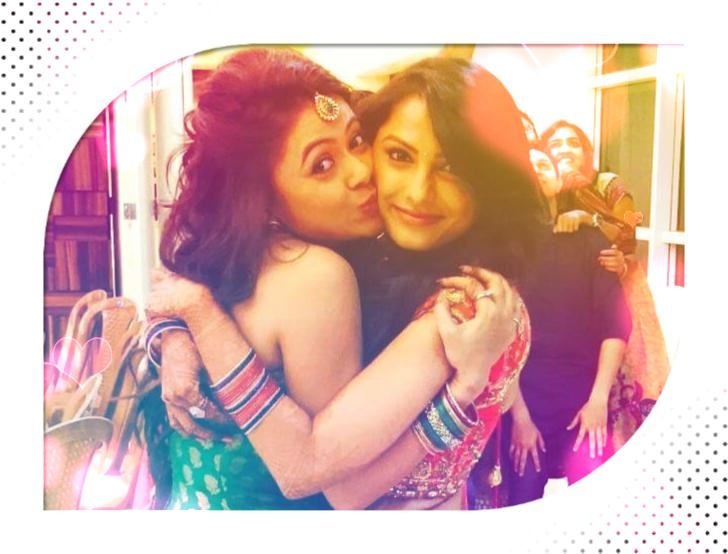 They all CHEERS…????
— FREEZE —
PRECAP- GOODBYE EPISODE (PART-236) ?