Rishten yeh banae hai pyaar ki rang mein- chapter-42
RATHORE MANSION…
ITS ABOUT 6 IN THE MORNING ABHIMANYU WAS SLEEPING AT A MINOR SPACE OF THE BED… WHILE GEETHU HAVE TOOKED MAJORITY OF THAT … SHE WAS HUGGING ABHIMANYU..
IN THE HALL..
Payal : I don't understand .why did vikramji choose that girl for my abhi… he would have got better.. than her..
Falguni : But jiji.. we can't just blame her… this marriage happened because Abhi agreed…
SHE SEE YUVI & LUCKY COMMING DOWN TO GO FOR JOGGING…
Falguni : I think we should do the preparations for her first-…
Lucky : Mom… we are going..
Yuvi : Comeon mumma's boy lets go..
BOTH FALGUNI & PAYAL'S GETS INTO THE KITCHEN..
MEHROTRA MANSION
JHANVI & RAGINI COMES TO THE LIVINGROOM AT SAME TIME…
Ragini : Mom.. who is in the kitchen..???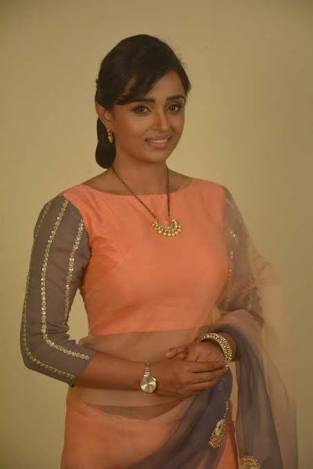 Jhanvi : I don't know… i thought it was you??
Ragini : Lets see..
THEY SEES MAYA..
Ragini : Babhi.. what are you doing???
Maya : As its my first day…I thought of making all your favourite dishes.. afterall its a tradition right??
Jhanvi : But we don't do that… we don't agree with making a new bride work..
Ragini : Leave it maa.. if bhabhi is happy.. we don't have a problem..
Jhanvi : Arjun likes..
Maya : Aloo ki paratha.. and mummyji you like Dal chawal..Papaji likes anything that is not spicy and you ragu likes pastha…
Ragini : Wow.. bhabhi you know everything
Maya : Arjun told me.. so..
Jhanvi : Ha… but if you need any help don't hesitate…okay.
Maya :Ji mummyji..
LUTHRA MANSION..
PAKHI & ANITA WAS IN THE KITCHEN.. JUST THEN ANSHUMAN SHOUTS FOR PAKHI.. HE GOES TO CHECK HIM..
Pakhi : What happened…. why are you shouting???
Anshuman : My wallet its missing..
Pakhi : Right in front of you..
Anshuman : My tie..
PAKHI TAKES HIS TIE & TIES TO HIM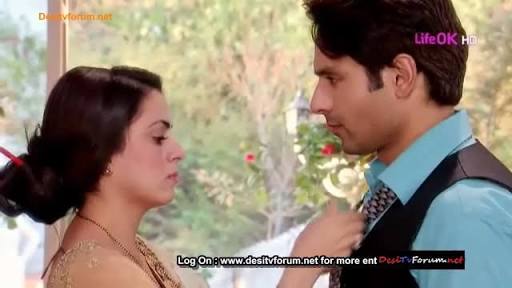 Anshuman : You look angry..??
Pakhi : Not angry…. i am just sad..
Anshuman : Why because.. twinkle is going??
SHE NODS..
Anshuman : She will be back in 2 years right.. so don't take stress.. and when were you want i wil take you too meet her..
Pakhi : You won't understand my feeling..
Anshuman : Maybe.. till yesterday..
Pakhi : Are you missing geethu..??
Anshuman : Ita not that i miss her.. its something i feel empty..
Pakhi : Don't worry.. everything will be fine…
A TEA STALL NEAR ROADSIDE..
Lucky : Why are standing here…??
Yuvi : Twinkle … she said she will meet me here..
Lucky : Umm..
JUST THEN TWINKLE AARIVES..
Twinkle : Hi..guys..
Yuvi : Tell me.. what happened.. why did you call me all of sudden…
TWINKLE LOOK AT LUCKY..
Twinkle : Lucky please..!!
Lucky : I will take another round..
HE GOES..
Yuvi : Why did you ask him to go..
Twinkle : Because.. i wanted to talk to you personally..
Yuvi : He is my brother. and.. i don't keeps secretes from him.. He might have felt bad.
Twinkle : This was the first time asked him to go.. all the other times he was with us whenever we were talking.. can't you just ignore him for a mintue and focus on me..
Yuvi : What do you mean by ignoring him.. he is my brother
Twinkle : If you had to choose one between me and him who will you choose..
Yuvi : Lucky..
Twinkle : That's it.. now there is nothing left to talk.. I am going to US today.. i wish not to see you again..
TWINKLE WALKS AWAY…
RATHORE MANSION..
GEETHANJALI WAS GETING READY WHEN SHE HEARS A KNOCK ON THE DOOR..
Geethu : Aunty..
Falguni : You can call me chachi now as..
Payal : We have done preperations for your pehle rassoi.. come downstairs as soon as possible..
JUST THEN ABHIMANYU COMESOUT FROM THE WASHROOM..
Falguni : You also come fast abhi..
THEY GOES.. ABHI SEES GEETHU WORRIED..
Abhi : What happened??
Geethu : I have to cook today??
Abhi : Don't tell me that you don't know how to cook..!!!
Geethu : I know.. okay.. but i don't know what to cook..
Abhi : Cook what you like.. Its as simple as that ….
DOWNSTAIRS..
GEETHANJALI IS SHOWN WORKING HARD IN KITCHEN SOME SERVANTS ARE ALSO THERE TO HELP HER…
YUVI ENTERS INTO THE LIVINGROOM..
Viraj : Why were you late???
yuvi : What papa??
Viraj : Nothing.. lucky came early and you are late..
YUVI LEAVES WITHOUT SAYING ANYTHING.. HE GOES TO LUCKY'S ROOM..
YUVI WAS ABOUT TO HUG LUCKY..
Lucky : Hold on.. yaar.. i just got freshenup..
Yuvi : Sorry!!!
lucky : What happened you looks worried..??
Yuvi : Nothing……….. tell me one thing.. did you feel bad when twinkle asked you to excuse us..
Lucky : Stupid !!!.. why would i feel bad.. are you out of your mind.. infact i was already about go . so that you guys could spend us time together..
Yuvi : Really..
Lucky : Did anything happened??
Yuvi : No..no..nothing at all..
HE ALSO GOES TO HIS ROOMM
DINNING TABLE..
ALL WERE SEATED.. FALGUNI & GEETHU SEREVED ALL.. ALL APPRECIATED HER EXCEPT ABHI..
Naira : Bhai.. did you like the food???
Abhi : Of course.. its good..
ABHI GEETHU PASSES A SMILE..
ALL GIVE HER SHAGUN..
VIKRAM & VIRAJ LEAVES FOR OFFICE WHILE PAYAL & FALGUNI GETS BUSSY IN OTHER WORKS…
GEETHU WAS SERVING ICE-CREAM TO ALL..
SHE WAS ABOUT TO SIT WHEN.. NAIRA PUTS HER LEG ALONG GEETHUS FEET AND SHE ACCIDENTLY SITS ON ABHI'S LAP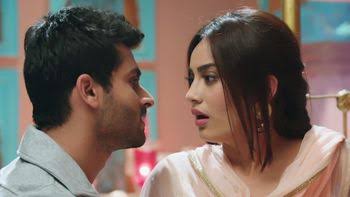 NAIRA & LUCKY LAUGHS…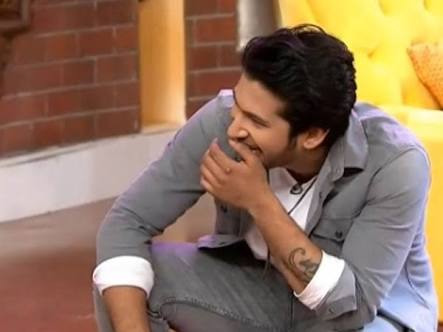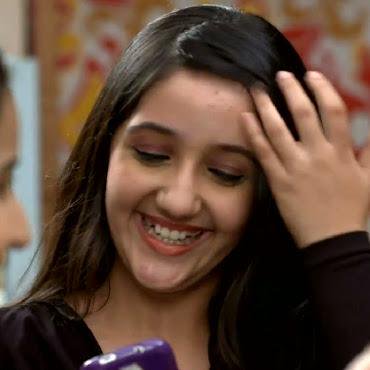 YUVI WHILE THE WHOLE TIME WAS STILL ANGRY AT TWINKLE..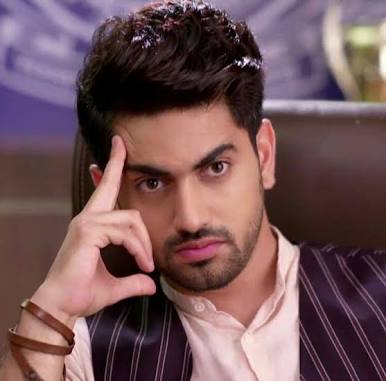 MEHROTRA MANSION…
ALL EATS THE FOOD MADE BY MAYA & GREETS HER…
Ashwin : Here you go beta!!
Maya : What is this papaji???
Jhanvi : Its a small gift from ourside to you..
MAYA OPENS THE ENVOLPE..
Maya : Marutious trip.. oh… that's Thank you papaji..
Arjun : But dad…..
Ashwin : Don't worry about the business… its a matter of two weeks.. i can handle it.. you to can go when ever you want..
Arjun : Ji.. dad..
GOENKA MASION..
TWINKLE IS SHOWN SAD..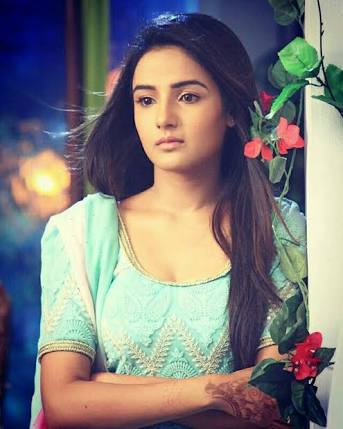 Sakshi : What happened twinkle???
Twinkle : No.. maa… nothing at all
Sakhi : You haven't fone your packing yet.. do it
Twinkle : Yeah.. mom..i will
SAKSHI GOES..TWINKLE GETS A MESSAGE SHE WITH A LOT OF HOPE PICKS IT UP..BUT WAS DISSAPOINTED..
Twinkle : If he is not worried that i am going.. them why would i be worried.. If he is happy even after i am going.. then i will show him and i fon't even have a problem.. i can also be happy