RAGSAN : TERE ISHQ MEIN (part 7)
Happy new year guys ❤️ thank you all for your support so enjoy the update ☺️
Plz forgive me 🙏🏻!!!!!
Ragini holds Sanskar 😍😍..
RAGINI: What is wrong in this? I am your wife 😢 we were romancing that's all ….if you don't want to accept me as your wife so why did you married me ah😳 every girl has a dream to get a life partner who loves her the most 😍 but you love Kritika 😢 I am only your so called wife 💔 I change myself into a new Ragini but my efforts fail 😭now I will leave everything on our destiny & don't dare to talk with me 😳 you think that you saved my pride but you ruined my life 😢(she was crying really badly 😭)….

She runs away leaving her words into Sanskar's mind 😧…
SANSKAR: Ohhh god , I ruined my life 😳 I can't stay with Kritika because I married her sister & I can't love Ragini because I love her sister😢 I need a solution but I have to apologize to Ragini because I hurt her a lot ❤…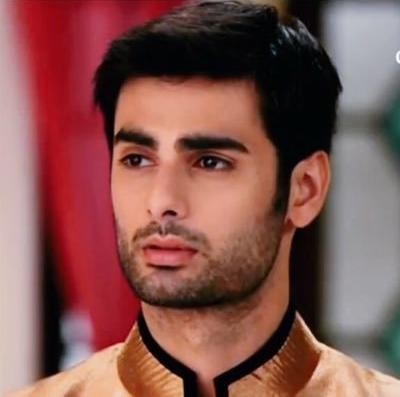 Karan sends the video to Kritika who after seeing it gets out of her mind 😠 & trows away her phone & other thinks 😡 and breaks down 😢😧😢…
KRITIKA:WhySanskar?😢 I loved you so much ❤ you promise me so many thinks but now you & Ragini 😢😢😢you hurt me a lot Sanskar 💔

Ragini was in her room crying 😭😢😢 and touches her neck where Sanskar kissed her 💋💋
RAGINI: Enough is enough !! I will ignore him at least he will understand my importance  ❤❤ ..
Then someone trows a paper 😳 she wipes her tears & see the letter 😍….:
" I am so sorry Ragini" 😊 …
She gets up & see Sanskar outside her room 😧 pleading her for the forgiveness 😳😍 but Ragini closes the door on his face 😭 leaving Sanskar sad 😳…
SANSKAR: Raginiiiiiii!! Why you are so angry yaar, I can't tolerate your ignorance 😍 I am restless 😳…
Ishita comes to Kritika & console her & both cries 😭😭..
ISHITA:Betha plz don't cry 😭, Sanskar ruined your & Ragini's life 🙄 my poor daughters😦…
KRITIKA :Mom , I am ready for the marriage 😳..
Ragini comes out of the bathroom 😇 and remains speachless when she see the flower decoration done by Sanskar 😍❤…
RAGINI: Wow who done this ?😄
SANSKAR: I done this for your "sorry"❤ plz forgive me nah..😌
RAGINI: No & I don't wanna talk you with you 😳get out of my room 😯..
Sanskar gets sad & brings her a bouquet 😍 which Ragini trows it away 😳…Ragini was about to go but Sanskar holds her hand 😍 & push her on the wall 😍😍 and puts his hands on the side to not let her escape 😍….they had an intence eyelock 😍…
RAGINI: Leave me !😳(teary eyes 😢)
SANSKAR:No I will not leave you , you have to forgive me  😯(making cute faces)…
Ragini & Sanskar were speaking with their eyes 😍 but then Ragini's  phone rings 😇..their eyelock interrupts 😮…
KRITIKA :Congratulations Ragini  , you snatch Sanskar  also from me 😢…From childhood you snatched everything from me !😡 Parents's love ❤, toys etc..But now you snatched the love of my life also 🙄 I hate you so much & you are the worst sister 💔(she cuts the phone in anger )
Tears falls down from Ragini,s eyes after listening that words from her own sister 😢😢 Sanskar was confused 😕…
RAGINI : Kritika I didn't know that you hate me so much!😭 I didn't snatch your love but your lovers destroyed our life  😢😢(she looks at Sanskar)

Ragini breaks down meanwhile Sanskar was feeling bad about her & Kritika 😢😢…
RAGINI: Thank you so much Sanskar for ruining my life  & relation with my sister😢 after all this I hate the word "love"💔..
Sanskar gets teary eyes & feels guilty 😧 and tries to wipes her tears 😢 but she doesn't let him do 💔….
SANSKAR: It's  only because of me 😢 I hate myself to ruin 3 lives 😭 ..
Ragini starts beating him 😯 but then hugs him 😢😢 (intense hug ❤) both hugs & cries 😍..
I hope you liked the update & the imagines that I put 💗 & happy new year to all from me (Amaya)💋