One more chance to hold you twinj ff part 15
One more chance to hold you twinj ff part 15
(Sorry guys really sorry for late update but  what to do I am hell busy now days and i had informed you guys about this in my previous update …. )
Lets begin story now….
Days were passing like this with some improvements in there relationship twinkle started to melt bit but couldn't forgive him completely she is confused to take any decision she doesn't want to be broken again if he repeat same mistakes.
Kunj- say papa…say papa
Twinkle- again you started let them sleep
Kunj- they are 11 months now they try to say every word but not papa i feel so bad they even say mamu correctly
Twinkle- oh so here also you are jealous because they say mamu to bhayya and they don't say papa to you hahaha funny
Kunj-you are laughing on that haan? so mean what so  funny in that Twinkle understand my emotions too its not joke I am eagerly waiting to listen papa from them but they stopped to ku only. Do you know how it feels when
Twinkle- when you except something from your loved ones its just small thing you ask from them and when you dont get it it feels so bad right?  Do you wanted to say this kunj
Kunj- yes and i know this also that you are taunting me saying you excepted many things from me and i couldn't give you that
Twinkle- genius
Kunj- twinkle i dont when you will forgive and i dont force you to do so also take your own time and I am sure one day you will forgive me ill wait for that day
Twinkle- acha if that day doesn't come only then?
Kunj- smiles sadly you are with me now thats enough for me ill be waiting for that day until my last breath if it comes soon then it will be good otherwise may be one day ill take my last breath and close my eyes forever before i close my eyes permanently ill look at your eyes if it has some tears for me  then thats enough for me. Tera aansu dekhe mey ye samjunga ki ye ansu mera diya huva dardh sey nahi aaya hey balki mujhe khone ke dardh sey aaya hey. Aur e samjunga ki thune muje maaf kiya
He wiped twinkle tears
Kunj- abh kyu roh rahi hey yar abhi mara nahi hun
Twinkle- kunj…shut up dont talk about death yes i hate you but never wished for your death got it
Kunj- say again that you hate me still looking into my eyes
Twinkle looks at his eyes
Twinkle- ill not believe in this all ok and don't want to waste my time with you now and ill not listen to you go it now dont disturb us let us sleep and you also sleep do your office stuff at morning not now kaam kahi bhag jayega kya kal karo abh nindh karab karke karne ki kya jarurath hey
Kunj- oh you care for my health?good darling
Twinkle- hhhaa ha oh oh mey kyu karu haan I am not caring for you got it if you switch on light whole night how me and my babies will get sleep haan so said like that
Kunj- ok ill go to study room
Twinkle- no no current bill bahuh aatha hey
Kunj- kya??? pagal bhol dey na ki thu care karthi hey meri
Twinkle- dekho mera kehne ka mathlab ye hey ki ki vo vo haan muje tera plan samaj mey aa gaya sadu sarna thum rath bhar nindh nahi karke bhimar padne ka iradha hey agar thu bhimar hoga obviously muje tera seva karna hoga aur thu ghar ka aur office ka kaam nahi karenga ha for this only you doing this all right i got it she took lap top and offed it and closed his all files and closed room door offed light kunj looking at her opening mouth in O
Kush tanu- ku ku mama
Twinkle- you both shut your mouth and sleep now dont go near o that sadu kush he will make you like little sadu she pulled them in blanket and made them to sleep..thum kya muje ghur rahe ho so javo chup chap
Kunj- yes maam kunj slept quickly and was smiling thinking twinkle caring for his heath twinkle too laughing silently looking at kunj who is following her every order like baby does
At morning
Jeevika and viren comes to sarna mansion to meet  twinkle
Twinkle- i think he changed lot
Viren- hmm felt same good if its true I am happy for you but dont take any decisions quickly
Jeevika- twinkle me and viren ji going to my mother's  home can i take kush and tanu with me ill take good care of them and only for one day
Viren- but jeevika
Twinkle- why not bhabhi why you asking my permission hasn they are like your babies too take them
Tanu – maa….mi
Jeevika- they came ?? she goes to them
Kunj- good morning bhabhi
Jeevika- hmm good morning ☺ how are you?
Kunj- fine jeevika took baby from his arms and started to play with them even they are happy
Viren- she loves babies so much but god didn't gave them to us and I am sorry Twinkle for this she loves kush and tanu lot so every weekend she comes here to meet with them
Twinkle- why you saying like that bhayya i dont have any problem if she want to spend time with them and you dont stop her from doing so and I am sure one day baba ji  give you both what you wanted
Kunj- good morning viren bhayya
Viren- hmm…kunj actual we came here to invite you all for naming ceremony of rocky's baby girl
Kunj- what? Twinkle you didnt told me about this and you never went there to look at baby too
Viren- oh his wife was in her mother before somedays only she came here
Twinkle- when i want ill go why you asking me that
Kunj- ok calm down i didn't asked anything wrong and ill also come ok i want to see small baby
Twinkle- no we are not going
Viren- twinkle rocky feel bad dont do this
Twinkle- but bhayya roopali bhabhi
Viren – dont worry no one tells you anything ok
Twinkle node in yes kunj confused
Twinkle packs baby clothes and there things and gives it to jeevika.
Jeevika and viren above to go usha stop jeevika
Usha- stop why you taking them haan
They ignored her and went to twinj room to complain kunj
Usha- kunj kunj…
Twinkle- shh dont shout
Usha- you just shut up today see what ill do ill make kunj to scold you again see
Usha- kunj
Kunj came out of washroom
Kunj- what?
Usha-see what you wife did she gave your kuds to her brother and bhabhi
Kunj- what you are saying haan
Usha- ask your wife only
Twinkle- yes kunj for today one day our babies will stay with there mama and mami any problem
Kunj- what ? Mom i know this for this why you overreacting  and i dont have any problem twinkle
Usha- huh and you didn't got ready till now we have to go our sister home function and kunj there everyone ask you where is your son then what you say i wanted them to meey my potha today
Twinkle- excuse me why you take only kush name everytime as if kunj have only one son dont forget tanu isalso his daughter I am observing this from many days my you dont consider my daughter in many cases
See kunj i dont like it she always does this with my babies she differentiate betweem them and i dont like it for me both are equal . And I am not going for any function got it you all may go
Usha- who said you to come haan kunj you get ready soon ok
Kunj- you dont want my wife to come haan and now people there dont ask you about her and you worry about what if they ask you about grand child what a logic haan you dont want bahu to come but you want her kids . Sorry mrs.sarna I am not interested to come there you can go and enjoy and like twinkle told if you continue differentiating between my babies then ill send you back to amritsar remember this I am telling you be away from my family its good for you
Usha- kunj i love you so saying you this and
Kunj- shhh please i know how much you love me in this years when i was searching for my love and crying daily for her and was dying in guilt everyday that day you didnt came to look at me you didnt wiped my tears but still continued to fill my ears against twinkle and tried to convince me for marrying alisha and when i denied and made my self busy in work and got success you came here and started to live luxurious life didn't asked even one time that I'm ok or no or i had my food or no you cared only about you and your other son sometime i feel I am your own son or not and now again you started this time i dont trust you you broke me completely you spoiled my life its enough now go from here dont dare to come near my family
Usha went out Twinkle smirked at her
Twinkle getting ready kunj came and back hugged her
Twinkle- sadu how dare you to touch me haan leave me kunj nodes in no
Kunj- looking hot
Twinkle- i know that
Kunj- ill eat you ??
Twinkle- ill slap you?
Kunj- ok no problem he turned her around pulled her by waist started to kiss on her cheeks Twinkle tried to come out of his grip but didnt got succeed
Twinkle- leave me otherwise ill
Kunj- what you will do hmm will you kiss me back haha see give me kiss then ill leave you he did pout Twinkle went near his face kunj closed eyes Twinkle bites his cheek kunj grip loosen she pushed kunj on bed
Kunj- i think we both end up becoming one today i feel like we make love today babies will also be not in middle
Twinkle- shameless if you do that ill kill you stay away from me you sadu
Twinkle went downstairs
Twinkle- oye bathroom cleaners why you both got ready
Maya- we going to function
Twinkle- oh then for whom you waiting
Alisha- car
Twinkle- hahaha car we will not give car for bath room cleaners and all got it go by bus ill give you correct bus charge ok…car car bathroom cleaners ko car dekhe hum kaha chale
Alisha- oh no by bus ewww i dont go what about my dress and make up what people talk about me haan we will go in big car only it matches our status hena di
Twinkle- oh hello what status haan alisha the bathroom cleaner
Maya- dont say her like that
Twinkle- shh if you talk more bus bhi naseeb mey nahi hoga ye lo bus charge take usha sarna too say her no car comes for her specially.   She goes from there
Alisha- she is doing too much huh wait and see what ill do
Everyone goes from there twinj alone at home
Twinkle- what Kunj?
Kunj- call them i am missing them badly i want to talk with them
Twinkle- huh wait she dialed jeevika number she kept phone near babies kunj got happy listening there voice they made some noises and listening to kunj voice they giggled happily twinkle was happy looking at kunj
They both went for shopping kunj wanted to take new dress for rocky's new born baby
Twinkle- kunj thats too big.
Kunj- arey what haan for everything you saying big
Twinkle- new born will be small kunj they will be tiny in size you dont know anything huh ill shop for them she showed some dress
Kunj- thats too small
Twinkle- no this one is right for her kunj what you thought haan you think baby's height will be like you haan didnt you saw once also small babies
They come outside to have something
Kunj- no i am not that much lucky you didn't gave me chance to look at my new born babies i dreamt so many dreams like ill hold them first like this showing his hand but you didn't let me know when they born too
Twinkle- dont blame me ok you think only you dreamt about it haan i also had many dreams but all got destroyed you ruined it
Kunj- i didn't blamed you
Twinkle- you know always i also dreamt this when i become pregnent you should be with me and take good care of me but what you did on that time you know right i dont want to repeat same
Kunj- i wasn't knowing you were pregnant and when i came to know i was very happy and after that i got to see real faces of some people i was very guilty for hurting you but that was too late you left me . Daily i cried for you i craved for your love i cursed myself and i was scared about your health twinkle daily i was praying baba ji to keep you and baby safe….i missed you so much i searched you everywhere but didnt find you.
Twinkle- haan yeah I was right kunj you wanted your baby which was with me so you searched for me and if i wasn't pregnant or you were not aware of my pregnancy you would have believed your mom's words only and you would have never struggled to search me . Thats true why you have searched me you wanted me only at night to fullfill your needs if I am not then anyone other could have filled my place
Kunj- shut up just shut up ??? you are speaking too much yes i was wrong but dont you dare to say that again i loved only you and in my dream also ill not look at others and you are talking this much cheap about me if you were not pregnant also i would have waited for you who filled this all in your ears huh
Twinkle- huh how dare you to talk this louder to me I am going twinkle got up
Kunj- sit quitely now ok I am sorry
Twinkle- no ill not come with you ill go outside and ill alone do party
Kunj laughs
Twinkle- shut up
Kunj – which party you will do here haan kids dont go for party and you are still baby
Twinkle- I am not kid huh ill show you now
Twinkle stop….
Where this girl went he started to search for her everywhere twinkle…twinkle
Twinkle at bat
Twinkle- give me juice
Juice huh are you kid to drink juice a girl said her
No no i am not kid dont say this and you know i gave birth to 2 babies then how i can be kid what i have to do to prove I am not kid my husband also tease me by saying I am kid
Acha you drink this
Aww drinks its bad habbit
If you drink this it will give you dareness then you can fight with your hubby and you will win because you become strong after drinking it
Oh twinkle drinks it
Twinkle- hmm yes he was bad but becoming good now but i said him so many harsh words today i shouldn't have told that i just spoke all those non sense thing which rupali told me on those days
Now who is that
My bhabhi huh she dont like me much in that home all love me except her she just dont like me she tell me so many harsh words
You should have told her back
Twinkle- haan first all i did this whenever she talked with me like that in taunting tone i gave her back because that time my strength was with me …
Other girl became full tight and left that place twinkle alone telling something she was sitting in park holding some bottles
Kunj comes there
Kunj- oh my god baba ji i can't handle this girl now
Kunj- twinkle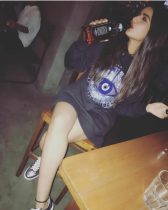 Twinkle- kkkkunj hi hai you are not one you are two no three one …two…four
Kunj- why you are drinking
Twinkle- to become stronger
Kunj- who told you this
Twinkle- my friend new…friends she told by drinking this i can prove you iam not baby
Kunj- and what story you were telling her
Twinkle- our story
Kunj- hey baba ji yarr twinki aur kiskisko bathana hey aur kithna beijjath karna hey mujko
Twinkle- sabbbko….chabko sunna padega ill tell everyone sunno excuse me people can you listen me i and kunj fell in love…chodo chodu muje
Kunj- chup
Twinkle- ill tell you ok you don't tell others do you wanna know what i was telling to my new friend
Kunj- ok
Twinkle- my bhabhi rupali not good she always fight with me she was telling me many harsh words
Kunj- how dare she you also scold her
Twinkle- yeah telling na wait sadu let me complete
Twinkle- haan first all i did this whenever she talked with me like that in taunting tone i gave her back because that time my strength was with me …after my engagement or marriage she use to tell me that iam poor now because I am marrying poor guy i told her what if he is poor he is rich from heart and whenever she spoke bad about i fighted with her and she use to tell so many things that time i gave her back because my strength was with me…..its you you were with me i trusted you believed that you will never prove me wrong but you did later after our seperation she told me harsh words when I am alone and i couldn't give her back because my strength left me it made me weak and what answer ill give now when my love was gone so i became silent
Flashback
Twinkle is few month pregnant all taking her good care in taneja mansion roopali wasn't liking it bit she was talking nicely with twinkle infront of rocky snd all and when she is alone she was just taunting twinkle
Twinkle got sudden pain in stomach she cried rt took her to her room and all were tensed they called doctor
Leela- meri twinkle ???
Jeevika- dont cry mom she will be fine doctor will come now and check her
Roopali- hmm??? twinkle is alone in room ill go and meet her
Twinkle crying still
Twinkle- ahha why its paining ahha babies are fine na  ???
Roopali- is it your new drama Twinkle
Twinkle- ?? what? No
Roopali- ye tho tera rozz ka natak hey blo*dy attension seeker
Twinkle- ahha its paining please give me water
Roopali- if you want go and take I am not your servent to do your work
Twinkle tries to take jug falls down
Roopali- you broke it huh you know this only you broke your own home now you came here to break our home
Twinkle- shut up ill not bring anyone home and its my home also
Roopali- shut up ok its not your home it was your home now its not and now your husband left you so you and your baby is anath and you and your babies are unlucky.  Why don't you abort them
Twinkle- chuppp?? they are not unlucky they are mine why ill abort them haan
Ahha abha doctor ko bulavo
Roopali- abh dardh seh nahi sakthi kya rath mey maza aaya hogo na romance karne mey abh bhugtho thu bhi unlucky aur tera baby bhi vo kisika ka paap hey paap .
Twinkle cried more listening to her
Leela- what happening here
Twinkle- maaa ?? my babies are paap? Haan no na and ill not abort them i want them
Leela- nahi meri bachi vo paap nahi hey aur abortion nahi karengey who told you this all Twinkle points to roopali leela looks at her angrily
Roopali- she is telling lie huh she is mad she is becoming mad after kunj left her
Rocky- shut up dont you feel shame to talk like this go from here dont come near my sister
Roopali- huh and oye Twinkle dont fly now listening that kunj searching for you he only want his babies so he searching for you otherwise he wouldn't have cared about you . You go india after delivery see he will take your babies then you become alone saying this she goes outside.
End of fb
Twinkle- see for your mistakes i got punished i get to hear so many things
Kunj was angry on her bhabhi and also crying
Twinkle- you are crying haan see you are also baby come here ill make you strong drink this
Kunj- Iam sorry? because of me this all happened
Twinkle- its ok now come ill make you drink this
Kunj- no
Twinkle- peena padega she closed his nose and made him drink it forcefully kunj made her to leave him
Kunj- in drunk tone what you think i dont know how to drink haan see now he to drank and made her also drink it
Kunj- oh ho nooo??? siyappa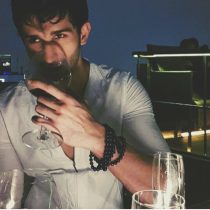 Twinkle- q?
Kunj- abh mey tukjo kaisho sambalu mey bhi sharab pee liya siyappa queen
Twinkle- idea mey thumko sambalungi aur thu mujhe
Kunj- ok
Twinkle- we…we will go to our palace now
Kunj- Iam king you are queen my queen
Twinkle- hmm challlo
Twinkle- see there our car is flying looking at plane
Kunj- yeah stop now who is taking our car haan we will go and catch it ok
Twinkle- ok ….they both ran a car stopped infront of them
Kunj- who's cycle is it
Twinkle- its not cycle its bike brum brum????
Bebe came out of car
Bebe – ye keyy hey puttar ji kyu bhag rahe ho
Twinkle- bebe
Kunj- bebe our car is flying see there
Bebe- dhono key dono pee rakhe hey bhagwan driver help me they made tgem to sit in car and drove to home
Twinj come to there room holding each other hand and falling here and there finally reached room
Twinkle- my room she falls on bed
Twinkle- ahha something biting me there were ants which bited her
Kunj- you kept chocolate cover here so ants came hahaha why you removing your clothes like that shame shame
Twinkle- chup aha .
Kunj- how dare they to bite you only i can bite you ill help you wait
Twinkle- no dirty boy close your eyes
Kunj- arey i saw everything first only
Twinkle- aww when haha i also saw your naked body so many times
Kunj- acha but now its changed right see your right mole went on left side
Twinkle- aww acha
Kunj- haan wait ill show you both fell on bed both removed each other clothes
Twinkle- shame shame
Kunj- you are also naked haha and you are looking pretty
Twinkle- ???
Kunj- why you crying
Twinkle- you didnt told iam beautiful
Kunj- oh sorry I am beautiful
Twinkle- hmm now iam happy
Kunj- i love you your lips are so pulpy can i eat it
Twinkle nodes in yes they both kissed .
Twinkle- we will do that haan i miss that she bites his neck hen he bites her both covered in blanket both made love whole night laughing and moaning then slept in each other embrace
At morning
Twinj wake up
Twinkle- ahha head ahha and why are you here sadu she pushed him kunj fell down in thud
Kunj- ahha
Kunj- siyappa queen ??
Kunj- why iam naked???
Twinkle- chi shameless
Kunj come in blanket see her
Kunj- you too shameless you are also nakes
Twinkle- nooo then at night
Kunj- you raped me??? mey dhuniya walo ko kis muh dhikavunga
Twinkle- shut up you sadu ill kill you?
To be continued….
——————————-
Uff finished how was the episode share yor views let me know whether you liked it or no….if you dont response ill not get what you want then ill loose interest to write anything and next which one i cant promise when i can update as i have to prepare for interviews and thank you for understanding me and for good luck wishes for exam… i got good results
Thank you everyone who commented  snd liked and also thank you for dislikes
Ignore if sny error mo proof reading
Share your views …
Bye love you all ???