Once In A Life Time (Epi-5)~anika-om meet after 16 years
link for previous episodes
Om: tell me whatever happened in your life in these 16 years when we meet , when are you coming to Mumbai ?
Anika : i am coming to meet one of my friends , its her wedding , and again i will be back to goa with her , she is getting married here in goa , so i will be there in Mumbai for some days
Om : thats amazing anika , cant wait to see you
Shivay : what is the need to go back to Mumbai and come back here to goa again , you can stay here for some days
Anika: its ok billuji , i have to go back , its my best friend's wedding , i need to be there with her ,so once again thanks a lot for helping me , send me your address , i have saved my number in your phone
Shivay  sent her off
Om : ma  please , what is the need to go to temple today , cant you take choti ma along with you
Jhanvi : om please  , pinky has gone to her friend's house
Om : ok fine
Om  and jhanvi came to the temple
Om : i will park the car the other side and come
Om absent mindedly came out after  he parked the car , he  collided with a girl by mistake , she had fully covered her face , the girl was about to fall , but  om held her , the dupatta from her face fell down , omkara was surprised to see gauri , she had no make up on her face , had left her hair loose , om was lost in her beautiful face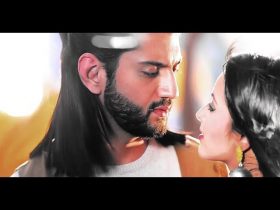 Then he realized and moved back , gauri smiled at om
Om : oh you come to temple too ?
Gauri : yeah , why i dont seem like the girl who comes to temple or what ? but yes  i make sure , my face is covered and nobody recognizes me , wait a second
Gauri introduced her mother : so this is priya Sharma , my mom , and mom this is omkara singh oberoi , the artist omkara singh oberoi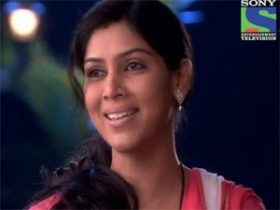 Priya smiled : we have your paintings all over our house , i and my daughter are big fan of yours , so happy to meet you
Om : thank you , let me introduce you people to my mom
---
Soumya was silently learning for her exams
Rudra suddenly came and snatched  her book
Soumya : what are doing rudra , please , let me study for my exam , just because your exams are over , you cant do this to me
Rudra : oh please yar , it has been so many days since we spent time together , you have revised 5 times , now come out with me
And he running , he went and stood over the bed , soumya too climbed over the bed , rudra  raised  the book , soumya tried to hold the book , saumya tripped and was about to fall , rudra tried to hold her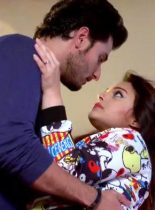 but lost  balance and  both fell on the bed , they shared a sweet eyelock
I am sorry , i will come later , came a voice from behind , it was dadi , dadi smiled and went away
Soumya glared at rudra and snatched  the book , suddenly both started laughing
Soumya : now go to dadi , dont know why she went so  fast , what will she think of us ?and now…. let me study for my exam
---
Anika left for Mumbai in the next flight
She saw the address and went inside oberoi mansion ,
Rudra : you are anika di , right ?
Anika : rudra… rudra how are you
Rudra : i am fine
Anika : congratulations , i heard you are getting married
Om came there , he was surprised to see her
Om hugged anika .
Anika touched om's hair : why such a long hair om , why ?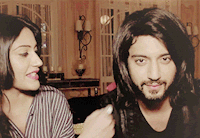 And laughed
Om : anika , i knew you would ask this when you see me  and always wanted to ask you , why did you leave Mumbai so hurriedly without even telling to me ?
Anika :i told you before , it was all because of dad and a little bit because of mom too
Om : what happened yar , all was going well , i dont remember your mom , but i do remember your dad , he was a superstar , he used to act in movies right ,  ma was a big fan of his and used to ask for autographs through you
Anika : dad was only a superstar for this world, for mom he was not a superstar , he was just a husband who did not have enough time for her
to be continued….