O my beloved…RuMya SS Part6
Sanam Re …O my beloved… Part 6
Soumya ran towards her parents and hugged them.
Sarla:What happened Soumya?
Soumya:I did a big mistake by not listening to your words and deciding to marry Rudra.That Rudra is a cheater.
Raghu:Tell us what Rudra did.
Raghu and Sarla were shocked:What?
Soumya explained everything to them.They became upset.
They caressed her tearfully.
Rudra was crying in his room.
Bhavya:Rudra…
Rudra:Thanks Bhavya for coming here from London on my request to help me play this drama before Soumya.
Bhavya:Why to thank me Rudra?You are my best friend.Right?I really felt sad for both of you.You both love each other so much.Then why are you separating yourself from Soumya filling her heart with hatred for you.
Rudra:Soumya has to hate me.Otherwise she will stick onto me.She will never leave me.And if she does'nt leave her life can be in danger.
Bhavya:You may be the first person to wish for the beloved to leave you.
Rudra:I don't want Soumya to leave me.But it's unfortunate that I had to wish for Soumya to leave me.If she does'nt leave me she will lose her life.Nothing is more important than her life for me.I love her a lot.But I am a jinx for her.It's my fate.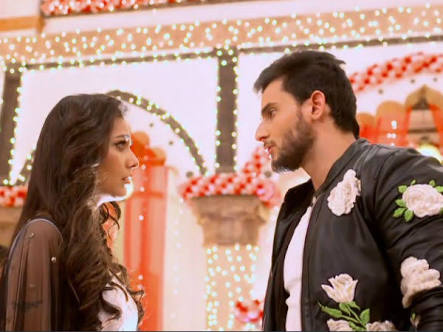 Bhavya became emotional:I pray that no lovers should have this fate.
Rudra shed tears.Bhavya was upset.
Raghuvir :Poor Rudra damaged his own image in front of Soumya for keeping his promise to us.
Sarla:It's sad that Rudra had to present himself as a villain to make Soumya hate him.
Radhika:As a mother my heart is breaking as Soumya whom Rudra loves the most is hating him now because of misunderstanding.
Sarla:Sorry..we are responsible for that.We only begged Rudra to leave Soumya.So he made Soumya hate him by playing a drama.
Santhosh:I too feel sad as a father.But it's all for a good cause.
Flash back…
Rudra was called to Raghuvir's room through a message.Rudra went there.
Rudra:Uncle…why did you call me secretly?
Santhosh Radhika Sarla came from behind.
Santh:We too are here.
Raghu:Rudra…I called you to request you to leave Soumya.
Rudra was shocked:What are you saying uncle?How can I leave Soumya?I did'nt hold her hand to leave her.
Raghu:Please try to understand.If you marry Soumya we won't be able to sleep peacefully.We will be always worried about her life.
Rudra:But what's so sure that astrology is right?It can be wrong too.
Santhosh:Astrology can be wrong.But Astrology can be right also.What if astrology is right in Soumya's case?
Rudra was in a dilemma.
Radhika:Rudra..you say that you love Soumya more than your life.So you need to protect her life.Right?
Rudra:Mom?
Santhosh:If you marry Soumya her life can be in danger.
Sarla cried:Only you can save Soumya's life beta.Please…we request you.
Raghu held Rudra's hand and cried:Please Rudra..forget Soumya.I beg of you.
Rudra's heart was pricked.
Santhosh:If you really love Soumya please leave her beta.See Soumya's father's tears.
Sarla cried:It's a mother's request.Please be away from Soumya's life.
Rudra's eyes got welled up with tears.
Rudra thought:True love is not getting the girl you love.True love is sacrifice.
Rudra remembered telling Soumya during the engagement that he can do anything for her.
Rudra thought:Yes..I can do anything for my Soumya.I can even sacrifice her for her safety.
He shed tears.
Rudra:You all don't request me.I am a doctor.I can't risk anyone's life.I will not let Soumya's life in danger.I will stay away from her.
Raghu Sarla were relieved.
Sarla:Thank you beta.God bless you.You did a great thing.
Raghu:Thank you so much Rudra beta.God bless you.You will get true love in your life.
Rudra thought:My true love is only Soumya.I can never get blessed to have her with me.I am an unlucky person.
Radhika was upset:Rudra beta…I know you are in pain.Still you did it for your beloved.It's a great thing beta.
Santhosh:We are proud of you.
Rudra hugged his parents and cried:I can do anything for my Soumya.
Raghu Sarla cried seeing Rudra's pain and felt guilty and helpless.
Present…
Soumya was standing at the doorstep and hearing everything with a shock.
They all were shocked to see her there.
Soumya:It means it was a well planned drama to separate me from Rudra?And I was misunderstanding my Rudra?Oh My God!How much pain he must have gone through while making me hate him.Papa..Maa…how can you be so cruel to Rudra?
Santhosh Uncle…Radhika aunty…though Rudra is your own son you both too supported my parents to do this dirty game.
They all were sad and embarrassed.
Soumya shed tears:I never expected this from you all.
Raghu wept:It was our helplessness beta.Please forgive me.
Sarla cried:When you become a parent you will understand our situation.
Santhosh:We too are sad Soumya beta.But we did the right thing.
Radhika:We are not selfish enough to risk your life to make our son happy.
Soumya:Whatever…Soumya is only Rudra's and we will always stay together.I am going to my Rudra.
Sarla:Soumya…
Soumya:If you object…I will end my life.Do you want your daughter dying before you?
Raghu Sarla cried:Soumya!
Soumya ran to Rudra's room.He was not found there.
Soumya was in tears.
Soumya:Rudra..where are you?
Oh God..show me where my Rudra is.