Love ka hai intezaar Twinj ff episode 98
Episode 98?
??????????????
Episode started from same continued scene..
Police and all family members was standing and death body too there. Kunj was looking at death body he took the identity card, and he was just hoping this identity card wasn't Aayat.he closed his eyes and his hands were shaking like hell.. while all others having pain and tears in their eyes.. Kunj open his eyes and see Aayat photo in card.he was hell shocked his whole body jerk him totally. Tears escaping from his eyes like today his eyes open all tears taps. He looks at death body who covered with white cloth.. just one name come out from his mouth…
Kunj: in oscillation voice… Aayattttt.. Kunj eyes unbudgeable on Aayat photo. Tears falling down kunj eyes everyone sees kunj and get shocked when he takes Aayat name. All keep their hands on their mouth in shocking way… ??. Twinkle who was standing at staircase her eyes went on police she immediately rushed toward Kunj.,
Twinkle: kunjjjj. Where is my Aayat she asked to police who they give her no response look. Twinkle look at Kunj face and get confused.. kunjj What happens to you haa??? Tell me you give me stress. Kunj slightly raise his eyes and look at twinkle face now he don't have strength to look into her eyes.Where is my Aayat kunj..
Answer me kunjjj.. Kunj eyes gesturing her no death body which keeping there. Twinkle turned and see death body and get confused totally. What is this kunj.
Police: it's the death body of your daughter after Listen this twinkle floor slip and Kunj closed his eyes… twinkle take step ahead and look at death body tears coming from her eyes.
Twinkle: death body????.. No. she turned and look at Kunj she find kunj numb twinkle grab his collar. What is this kunj what this police were telling about my daughter ha. This death body what rubbish is this..
Kunj: Twinkle ???… a..ayatttt. He show her Aayat identity card twinkle took that and see Aayat face.
Twinkle: what does mean of this kunj.. This can't happen kunj… nOoooooooooooooo… her face drenched in tears no one expected this mahi seeing twinkle stage she too cry..
Police: mr Kunj please see the face.. Kunj have no strength in his body he took few step ahead.. Aayat face coming in front of his eyes he never thought one day this day will come in his life he to have to see his lifeline face as death body..:
Twinkle:she is not my Aayat nooo give me my daughter Kunj. Kunj went towards death body while he having no response in his body from his mind and heart.. he sit on his knees and look the death body.. he take deep breath while twinkle looking at Kunj.Kunj you'll not do anything… Kunj look at twinkle painfully.Tears showering from everyone eyes. Kunj slowly take cloth little part and slowly he removed all moments with Aayat flashing in his eyes..
While maya and Anant to crying.. Kunj removed a cloth from death body face he get shocked to see the face. Death body face was fully damaged.. Kunj see he closed his eyes immediately feeling horrible… immediately covered that body face again..
Police: your daughter face fully get damage.. Can't recognize her face..
Twinkle: in anger what evidence you have that she is our daughter haa..
Police: we find this death body near aayat school that beach. And most important thing her school identity card and more this..
Twinkle: what ??? more in weeds voice she asked.
Police: this school coat.. twinkle went near inspector kunj get up on his feet and looking at inspector hands.. inspector take out school uniform coat from plastic bag and give to twinkle… twinkle take in her hands.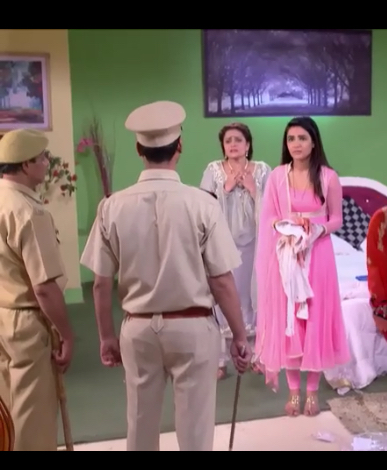 Even we find this too. Near beach.. twinkle taking friable deep breath .Her eyes went on where school logo was there and most important student name too. Twinkle see Aayat name is there on the coat..her mouth got open and tears falling down from her eyes.Kunj look at her.. twinkle hastily fall down on her knees near death body While she cuddles the coat..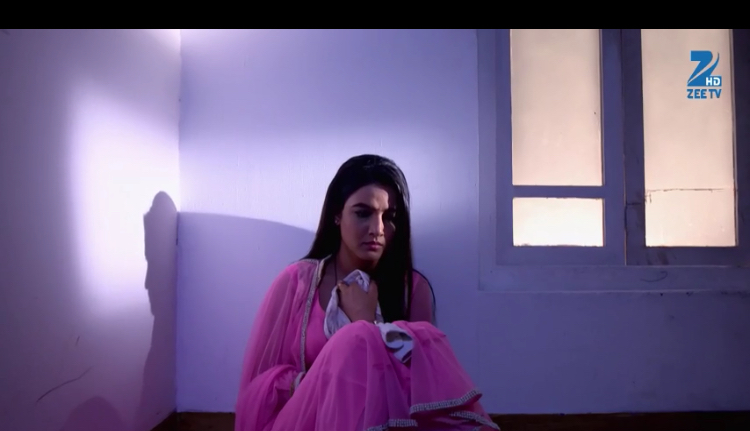 Kunj: what happened twinkle.
Twinkle: Kunj Aayattttt???.Kunj went near her and took the coat from twinkle hands and see the Aayat name on coat. Now his all doubts clear.. maya come to death body about to touch while twinkle look at her with red blood eyes.. don't dare to touch her., now you are happy to see her like this haaa.
Maya: no twinkle.. twinkle rest her head on death body cried so hard her voice echoed in whole mansion.,others too crying slightly while niki smiling inside in her heart..Kunj totally break down Yuvi consoles him.Twinkle went in corner crying badly.
They all crying later don't know what happened to twinkle she get up and went to kunj who crying slightly in corner.
Twinkle: kunjjj.. he turned and look at her condition.,
Kunj: Twinkle ??…
Twinkle: Kunj don't cry she is not our Aayat this make everyone confused..
Kunj: means???
Twinkle: yes kunj she isn't our Aayat I'm telling you truth.. he cupped her face.. he thought it's hard for her to believe on this that her daughter is no more..
Kunj: no twinkle we lost our Aayat.. in broken voice.. twinkle push him..
Twinkle: she can't breathe properly,, NO No. this can't happen she is fine I'm telling you.. she is not my daughter.. how can she leave us alone..
Kunj: I know it's hard for you twinkle but Aayat is no more..
Twinkle: no she screamed badly.how can you say this kunj.. she can't leave me.
It's easy for you not for me. First you give her to this people against my will haa.
I can bare everything kunj but this can't.. her lips shivering while telling this all..
(The most pain moments ever for a mother)
Do you have any evidence that she is my Aayat haa.
Kunj: Twinkle this coat and identity card this all proved that she is our daughter..
Twinkle: no she isn't don't dare to say..
This all can't prove that Kunj.. my heart didn't willing me to believe on this. And her face too damaged I can't believe on this she is Aayat.
Kunj:Twinkle right now you are not stable twinkle.
Twinkle: I'm fine., kunj believe on me I'm saying truth I didn't feel that she is our Aayat. I'm her mother I can feel I didn't get such kind of vibes that I lost her.
Leela: Twinkle beta handle yourself..
Twinkle: please maaa.. I'm saying truth,
Kunj hug her both crying so badly.,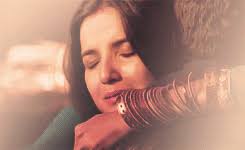 Kunj: Twinkle sorry but you have to believe on this..
Twinkle:I can't , never ever. What type of father you are kunj. Okay fine just than something click on twinkle mind. I have proof and I can prove that too. All looking at twinkle confusedly..
Kunj: Matlab???
twinkle:I'll tell you wait a minute. She wiped her tears went near death body. Her face get damaged fully so we can't see and believe that she is our Aayat interpreted by Yuvi..
Yuvi:But this all evidence.,
Twinkle:do you remember that kunj Aayat had birth mark on her back like you.She and you had same birthed mark.If she is my Aayat than she had that birth mark on her back.
Kunj:But Twinkle..
Twinkle:I'll not listen anything kunj.
Usha:check kunj.For her will.Other police members turned the death body and removed that cloth slightly while twinkle hoping that she isn't Aayat, in her one hope twinkle whole world standing..
Everyone eyes stuck waiting for revelations.cloth removed from the body and twinkle went and searching birth mark on whole death body.she didn't find anything happiness smile immediately appears on her face which whoever standing there they can see it,
Kunj look at twinkle face and get quandary it..
Kunj:Twinkle.. she rushed to kunj and hug him immediately..
Twinkle:Kunj see I told you na that she isn't my Aayat she don't have that birth mark. Yeh Meri beti nahi hai.. all get happy.
Kunj:good Twinkle.But inspector..
Inspector:according to your wife she is not your daughter.Than what is next.Other's take the death body from here..
Kunj:what you mean what is next it's your duty to find my daughter.
Inspector: almost 2 day has been passed to your daughter. Almost we search whole Amritsar we can't say anything even this all proof saying that she is your daughter but birth mark.
Kunj: I don't want to listen anything inspector I just want my daughter back safe and fine totally.
Inspector: we'll try…
Next scene..,
Aayat sitting somewhere whole place is lonely.Her mess hairs dry tears marks printed on her cheeks.
Aayat: god save me.. This place is so horrible I'm scared.. Aayat cuddles her bag and sit. Looking at stars., I'm so fool didn't understand that everyone making me foolish. Now I understand why bua dadi always telling me that calls kunj Chachu But she said Papa. And that time kunj Chachu said twinkle chachi as mamma. Bubbly didi too.
Fb..
Aayat asked Leela about devaki and yashoda.
Leela: devaki and yashoda means Aayat
They both is Krishna mother.
Aayat: Both how can Nani this is possible me and Ansh has one mother only.. what so special in this Krishna..???
Leela: yeh something really special in Krishna Aayat. Why he had two mothers because devaki is his real mother and yashoda is his second mother. One who give him birth and second who doing his all upbringing and make him like he can see this world,,
Aayat: matlab..
Leela: Aayat means ek ne duniya me aali and dushri usko iss duniya me rahne ke laayek banaya give him mother love. So they both is his mothers.
Aayat: acha but why everyone saying that twinkle chachi and my mamma devaki and yashoda. Means. Leela didn't say anything just change the topic.. fb end.
Aayat: now I understand why they all calling them by devaki and yashoda. I didn't understand but Nani told they both love Krishna very much but in my case no one loves.I hate them from the core of my heart.maya mamma leave me alone and went out without me. Because I'm not her daughter na.Why I look like kunj Chachu because I'm his daughter not Anant whom I call as Papa.
All understand me as a toy.That's why my friends all telling me why my aunty and uncle loves me more than my parents.
She started crying badly after thinking about everything.Till now everything is fake in front of her. That all my pics with kunj Chachu and twinkle chachi but not with mamma and Papa this all proof that I'm their daughter. Nobody gives their baby to anyone but why me., her lips become dry due to not have anything.
And big dark circles comes under eyes her face become yellow in 2 days only.
She wiped her face and get up going somewhere.
Back to [email protected]
Police said they will try their best to find Aayat and left. Kunj standing brokenly he don't know what to do.. twinkle see him went towards kunj..
Twinkle: Kunj this police will not do anything we have to find our Aayat before something really happened to her now.
Kunj: Twinkle police finding her..
Twinkle: so what how casually you said this they will find her Kunj haa.
Kunj: what I'll do twinkle nothing is in my hand when I think about her my heart stop beating.
Twinkle: but seemed not like this kunj.you sit like this Hath pe hath dhare Nahi baith shakti me kunj. My daughter lost somewhere I don't know how she is. Twinkle grab kunj collar tightly and anger in her eyes perfectly. What happened to you kunj. Haa I'll let you stay in peace till now I'll not get my daughter back. What type of father you are kunj shame on you father can do anything for their kids but look at you chiii. Today I stand here just because of you. You are responsible for this kunj. Single tears drop come out from my kids eyes you are the reason. Arey she give faint smile Arey why I tell you this. Till now, you didn't care for me and my kids so you will do today I'm idiot na kunj. When you separated 2 months baby from her mother can't see her little tears how can you'll see today. Kunj looking at her surprisingly her all words hit on his heart,
You give her hand over my daughter in this type of hands looking at maya and Anant she said. Now you cry for my daughter what a joke na Maya Bhabhi. You both never thought about her when she come to know about this what will happen on her how will she reacted you people Don't care about her at all but I can very much. Why I'm saying this all to you. You all just heartless. When my own husband father of my kids can't see our pain why I m hoping from you all.. and you kunj I'll not Leave you something happened to her it's my promise..
Kunj: In crying ?voice. Twinkle she is my daughter even I had pain too.. you know I love her most..
Twinkle: acha than proved it today.. twinkle take some step back. She started breathing heavily.. twinkle see knife, and she took it in her hands,. All look at her unexpectedly what she going to do..
If kunj you'll not get Aayat back than,,
Kunj: shudder voice. If not than wh….att?
Twinkle: I'll kill myself along with this baby too. All get shocked.
Kunj: what ???. Twinkle stop it.
Twinkle keep the knife on her wrist line.
Twinkle: Kunj I'm serious you know I can do it.. it's not warning., kunj remember before only she try to commit suicide.
Kunj: no twinkle please don't do it. I'm begging to you.. Think about others.
Twinkle: no I'll not think about anyone right now my daughter is important for me and if she is not than I'll too. Itself I'll kill myself kunj. She cry so badly her whole body shivering so badly.. Kunj think about her and me.. what reason left after her to me nothing. I don't care about this baby too. She slightly rubbed knife on her wrist little bit blood oozing..
Kunj:Twinkle you are not this condition stop it.
Twinkle: first give me my daughter than I'll not do anything it's my promise first you kunj.
Kunj: Listen to me..
Twinkle: I know you can do anything it's better let me die. Twinkle try to cut her wrist while Kunj rushes towards her catch her hand. But twinkle didn't stop knife.
Kunj: Twinkleeeeee.. Kunj try too took out knife from her hands forcefully, but she didn't leave it.. Yuvi come from back and hold her hands..
Twinkle: leave me????????.
After so much struggle kunj took it knifes and throw it in side.. twinkle don't have energy to stand more. Her lungs too protesting.,, she fells on her knees.. she cry horribly Kunj sit next to her. He try to touch her while twinkle jerk his hands.
Go from here kunj I don't want to see your face. She started hitting herself..
Kunj: Twinkle don't do this all it's very painful for me to see you..
Twinkle: you don't have any pain. If you have than you'll not stand here normally Kunj.
Kunj: don't do anything kunj..
Now it's very difficult for twinkle to take breath properly she started having deep breath with lots of difficulties. All get panic for her. Her body become cold. Kunj cuddles her. While Mahi went to kitchen get water for her give to Kunj. He sprinkled some drops on her face. And make her drink. After see her condition..
Kunj: okay I'll promise to you I will find anyhow get her back to you. Okay now you please become fine. Think about yourself you are not one life one more inside in you twinkle.
Twinkle: let me die kunj Meri Aayat…???.. I can bare 6 years ago separation pain from her but this I can't kunj..
Kunj: please see I'll get her back. He wiped her tears and cuddles her tightly both of them cried for sometimes in each other's embrace.

Outside thunder started wether become so bad rainstorm. Heavy rain started.
Aayat walking on desolate roads. She was so scared still walking. Just than her eyes went on someone's. One baby girl same her age one she was with her parents they were holding her both hands their car stop in middle so. After see her Aayat get emotional very much tears didn't wait for a second showing like rain. Her tears mixed with rain water.
Aayat: look at her she is so lucky and I'm unlucky girl. She went to further.
Twinkle and Kunj cried so much she started coughing.
Kunj: Twinkle look at yourself what you made yourself in these two days. You are already so weak twinkle.
Twinkle: what I'll do kunj. Without Aayat
I'm sequestered all my all breath become so hard for me without her. I'm can't afford her to lose her Kunj.
Kunj: did you think this isn't painful for me Twinkle haa. Only me and my god knows what happened on me.
Twinkle: sobbingly. Kunj go na please she needed us. You go and find my daughter.
Kunj: she is our daughter twinkle. I'll find her okay he wiped her tears with his thumb. Kunj make her stand somehow. Twinkle don't have strength to stand on her feet's.. Leela and Mahi hold her and take her In her room. While Kunj look at maya and Anant who standing. Kunj wiped his eyes and about to go. Anant stop him.
Anant: Kunj wait I'll too come with you. Kunj turned and look at him in fury way.
Kunj: acha no need of this I can find my daughter Itself I don't want any random people help. Today you people cared for her haa. Remember that her parents is alive. Stop showing this fake console. And last time I warned you people stay away from my daughter he said and went from there. Kunj started finding Aayat everywhere first he went to Aayat school and searching that area fully he check beach too but didn't find anything.
He didn't bother about rain. He fully drenched in rain water. After he reached to park where Aayat sitting kunj walking straightly something come in his shoes Kunj stop and bend down and pick up the thing and see its water bottle kunj check and it's Aayat water bottle.
Kunj: yeh Aayat ki hai.. she is here maybe. Kunj become panic and searched whole park in few minutes. Aayatttttt giving voice to her. Aayat isn't here. He become sad ?.But he didn't give up.Went from here to other place to find her.
Aayat drenched in rain fully and she started shivering badly. Slightly sobbing and walking too. While Kunj check all possible places in few hours.
Hath mera chhuta /Sath tera tuta
Dhoondte koi tujhe / Kho gaya hoon me
Kyu yeh dhadkan kam hai/Kyu yeh nayan yeh nam hai/Kya se kya tere liye
Hogaya hoon me.
Later Kunj get done he didn't find Aayat anywhere slightly his all hopes breaking down. Tears coming from his eyes. What he'll tell twinkle how he'll face if he didn't find her how they will live without her. Many painful questions running in kunj mind. Kunj leave his car and he reached some outskirts' area. He stands middle of roads just than Kunj heard church bell sound.
Kunj: ho god please save my Aayat she is safe wherever she is. Please help show me direction where I'll go.Just than Kunj eyes went on some gardens board .He gives smile and thanks god I love you. He said this and rushed towards garden.
Other side twinkle just crying terribly her all tears didn't take name to stop.Mahi and Leela even Anjali too consoling twinkle.Twinkle just blabbering Aayat name continuously. All memories with her that flashing in front of twinkle eyes how she come and now this painful moment.
Aayat reached in garden from other side door she saw dogs and they were barking loudly Aayat see them and get scared horribly. She hides but dogs see her Aayat started running while dogs too run behind her. She stared crying loudly. Just than her leg stuck, and she falls down and see dogs coming near to her somehow she gets up and run wounds comes on her hands.
Aayat: help me.. she hides under trees.
While Kunj screaming Aayat name loudly,
Kunj:Aayat kaho ho ?????…
Kunj didn't leave single corner of garden.
Rastaa main Tera kaafila tu Mera dhoondte Tera pataa mujhse main mila
Baat Hoon mein Teri, boliyaan tu Meri.
Tune jo kaha nahi Maine sunn liya..
Kunj now become full sad. He turned towards gate while Aayat see kunj back while dogs see her again running behind her Aayat get up and run while Kunj screaming Aayat name again loudly. Aayat sense it's kunj voice. She breathe so heavily. While crying Aayat stop and see kunj standing far from him little bit.
Ashiyaana Tera Saath Mere Hai Na
Dhoondhte Teri Gali Mujhko Ghar Mila
Aab-O-Daana Tera Haath Mere Hai Na
Dhoondte Tera Khuda Mujhko Rab Mila
Tu Jo Mila Lo Ho Gaya Main Qaabil
Tu Jo Mila To Ho Gaya Sab Haasil Haan!
Tu Jo Mila Haa Aasaan Hui Mushkil
Kyunki Tu..Dhadkan..Main Dil…
Kunj: Aayattttt????. He didn't turn till now. Aayat took deep breath
Her sobbing sound echoing so loudly. Kunj
Slightly turned and looking down Aayat see kunj face and get happy to see him..
Aayat: papaaaaaaaaaaaaaaa???.
Kunj see her fully before he reacted dogs come and Aayat run so Hurriedly Kunj open his arms for her..
Dekhna Na Mudke
Ja Chali Ja Ud Ke
Ja Tujhe Bhool Se Bhi Na Lage Nazar
Neend Teri De Jaa
Deed Mere Le Jaa
Jaa Ki Teri Raat Ko Mill Gayi Sehar
Tu Jo Mila Lo Ho Gaya Main Qaabil
Tu Jo Mila To Ho Gaya Sab Haasil.. Haan!
Mushqil Sahi Haa Aasaan Hui Manzil
Kyunki Tu..Dhadkan..Main Dil…
O… X2
Kunj see her after he feels like today he got his life back again. Aayat coming to him. Aayat just calling papaaaaaaaaaa.
Kunj sit on his knees for her Aayat come like wind and she landed on kunj Arms with jerk. Kunj cuddles her so tightly..
Aayat: papa???… she cried so badly in kunj Arms… Kunj rubbing her back.. his heart started again beating..
Kunj: Aayattttt???.. her name come out from his mouth with lots of difficulties.
Tu Jo Mila Lo Ho Gaya Main Qaabil
Tu Jo Mila To Ho Gaya Sab Haasil.. Haan!
Tu Jo Mila Haan Aasaan Hui Mushqil
Kyunki Tu..Dhadkan..Main
Kunj break the hug and cupped her face and see her condition kunj jerked after see her face and eyes.tears escaping from Aayat eyes.Dog barking loudly Aayat get more apprehensive.Kunj see the dogs he lifted Aayat in his arms.Papa words echoed in his ears and get so shocked perfectly he can't react now.he check Aayat fully and kissed all over on her face Kunj took stone and Throw it on dogs after this they went from here.Aayat didn't say anything!
Just crying her inner soul break down in
Many pieces today.Kunj sit in car rain didn't stop it..
•After see weather conditions twinkle heart aching so much.now her eyes don't have energy too. Every passed seconds
Making twinkle more worse. Kunj drive the car so faster that Papa word from Aayat mouth running in kunj mind.. soon he reached Sarna mansion. Car stop and Kunj come out of the car and went towards Aayat side-car door Aayat didn't give him any reaction. Kunj Open the door itself she come out and stand. Kunj about to hold her hand while she immediately jerked it. Kunj get surprised ?.he didn't say anything to him now he is too not in that stage that he can do anything and think something after get her back nothing else he wanted much.they both went inside the mansion. Mahi went towards window and see kunj car and she told about this to Leela but before she speaks more twinkle listen and get up run Hurriedly too downstairs.Kunj entered at door entrance along with Aayat.
Yuvi turned and see kunj but can't see Aayat because she was standing behind his back. Twinkle come and see kunj standing but all alone. She stops middle of staircase. Her hairs fully mess up her duppta one side falling down her face become dark her eyes all swollen and twinkle lips become so dry lips skin become and giving pain to twinkle. Twinkle eyes just giving her tears numbers of amount. All family members looking at Kunj with sad expression their all hopes.
Kibbles after see kunj.Twinkle looking at Kunj face with lots of hopes.Kunj looking at twinkle only. Kunj shifted slightly Aayat come fully and stand beside him while looking at down.Twinkle see her get so happy she just run towards her.All family members get relief after see her.
Twinkle come near Aayat and stop looking at her she doesn't know how to thank to god.
Twinkle:aayattttt.:.She stands in front of them. Maya come there and before twinkle hug Aayat she hugged her. Leave twinkle shocked Aayat didn't do any movement. She hugged her that's it.
Maya: Aayat Meri bachiiiii… twinkle and Kunj looking at each other's., Aayat break the hug and take step in backwards. She look at maya and turn and gaze at twinkle looking at both of them with unexplainable anger and pain too..
Twinkle: Aayat.. she cuddles her tightly Aayat take deep breath.. and looking at Anant who standing her good memories with Anant coming and giving her pain.
Aayat push twinkle and all get shocked to see her like this..
Kunj: Aayattttt…
Twinkle: what happened Aayat ??where are you went haa. Niki words hitting on Aayat small heart.
Aayat: stop it.."loudly ?????.
Maya come and cupped her face Aayat jerked her hand too.. I'm not your bachi get it.; All get shocked.
Maya: Aayatttt
Aayat: yes I'm not daughter now you are happy you want to listen this haa you always unknowingly told me that I'm not your daughter even not your blood too.
Maya: sorry for those all words my baby.
Aayat; did you all think me I'm a toy haa.
Twinkle: Aayat what happened to you haa.
Aayat: please even you too don't show tho console towards me.. you all playing with my feelings.. she covered her face with her palms.. Kunj have one question why she called him papa..
Twinkle: Aayat don't cry.. why you say this all haa?
Aayat: i know each and everything now Anant and maya, kunj and twinkle looking at each other face together..
Kunj: means he went and stand beside twinkle.
Anant: Aayattttt come to Papa.
Aayat: you are not my Papa she screamed loudly.. Sab Pata Chal Gaya.mujhe don't make me fool and stop this act doing like it.
Anant: what pata chal gaya Aayat..
Aayat: yeh hi she Paused and that you are not my real parents.. all get 440 volts jhatka.. twinkle and Kunj take step back in shocks. Aayat eyes filled with anger along with numbers of tears too waved.
Maya: in shocked Aayattttt….
Aayat: scream don't take my name…. you all are lairs… playing with my feelings. Now I get to know why I look like kunj Chachu not like you Papa in broken voice.
Because me toh aap ki kuch bhi nahi hu na. You all make me fool always telling me fake stories And I ensnared with this all.
Never asked anything from you all. Till now whatever you told me it's all cajoled.
I'm idiot didn't understand when Ansh looks like his father why not I can like be my father. Whenever I asked what did you said haa in loud voice.. because I went only on my Papa it just kunj Chachu look like my Papa m I right. Esha was right I'm not her sister because we don't have any relationship with each other's. I always had one question why my nani peoples didn't love like others because I'm not like other's na.. all having tears in their eyes while her parents in dilemma. Woh toh Meri nani hi nahi hai na how can they loved me like esha. ?.She eternally Time told me that they are not my nani.
And you twinkle chachiii???.Even you too support her.I have doubts on your different stories but my idiot na. How can this happened when sheetal aunty didn't like me even you both too didn't treat her kids very much why kunj Chachu and twinkle chachi too me. Sab jhoot ta ab tak.You all hate me na because I'm not good girl. Why I'm special baby today I get answer of this question too. Maya mamma ki baby shower huhu. In that video ansh isn't inside you but its me.,
My all pictures not with you but with them. This all is proof na Aayat couldn't see it.
Devaki and yashoda what a team work.
Aayat went near maya hold her saree palu .When you don't love me why you take me haaa. Me toh aap ka khoon he hi nahi hu na.. samaj gai aaj.. kyu nahi. Because you didn't give birth but twinkle Chachi give me birth. Aayat falls down sit on her knees hide her face under her both leg in between. Cried loudly..????. I'm all alone in burden on everyone.
Twinkle went near her sit in front of Aayat
Twinkle: Aayattttt. She keeps her hand on her at Aayat raise her face and look at twinkle.
Aayat: ?????. Why you come to me now.
Twinkle: Aayattt. It's not true..
Aayat: again jhoot. Arey when you both don't love me why you get me in this world.
Twinkle: no Aayat I love you very much.
Both get up.. and Aayat fuming in anger.
Aayat: go from here.. why you give me not ansh.. haaaaaa… twinkle don't have any answer of her question. Kill me before only na.. who will give their baby to anyone haa. I'm your baby just for namesake na.
Twinkle: no Aayat nothing is like that. I'm your mother you are right absolutely.. ?.
Aayat: than why you both become my chachu and chachiiii.. make them my mamma Papa.. twinkle about to cuddle Aayat while she just jerked her.. you both hate me and give me to them. Kunj come.
Kunj: Aayat who told you this haa.
Aayat: it's not important.. you both are bad peoples. Aayat started behaving madly. Twinkle and Kunj both hold her hands twinkle hugged her from back while kunj from front.they both never thought this truth will come out like this.Aayat push twinkle and Kunj and went outside. While they both too run behind her..
Kunj: ayaatttt…
Aayat: don't show me your face I'm going. Kunj forcefully lifted. Chhodo mujhe.. aayat hitting on kunj chest, but he didn't care about it. She does like this only. After don't know when she falls in sleep.
Twinkle and Kunj looking at each other face.They didn't go inside Sarna mansion.Just left for Taneja mansion while
Others too.. twinkle and Kunj don't know what to do now. Both scared from this today from where Aayat get to know about this.They both know it's very difficult for her.Soon they all reached Taneja mansion. Giving each other's sad look.Twinkle sit down on the floor while Kunj went in their room place Aayat beside Ansh covered them with blanket.. come down back., went to twinkle..
Twinkle: kunjjj???everything is finished. Aayat knows everything now.. she'll hate us ????.. Kunj cupped her face.
Kunj: nothing will happen to her twinkle jo hona ta woh hogaya now it's our turn to handle her because of us she is in this condition.
Yuvi: But how she come to know about this all even in all details..???
Kunj: even I'm too shocked when I found her she called me Papa.. twinkle you have to be strong please.
Twinkle: I can't kunjjj..
Leela: yes twinkle Kunj is right.After this all they all went in their rooms.Twinkle and Kunj sit on couch looking at Aayat. They closed their eyes and sleep..
Next day.. all wake up everywhere mournful atmosphere is.Aayat wake up find herself beside Ansh who sleeping.
Aayat get up and again all those memories aching her.She went down like lifeless body.Twinkle and everyone sees her.Twinkle went towards her with milk glass.
Twinkle: Aayat.. she looks at her.. Forward glass lady words echoed in Aayat mind.
She pushes the glass..
Aayat: leave me alone..
Twinkle: I can't Aayat.. Ansh come there to
See Aayat and get happy.
Ansh: Arey Aayat you come back.,
Kunj: Aayat you come with me..
Aayat: please show her hand to him.
Twinkle:Aayat you have all right to get angry with us.
Aayat: first tell me why you give me but not this Ansh haaaaa…
Kunj:aayatt…
Aayat: tell me why you give me haa. You Itself said you that you can't give your new baby than me. You both love him and this too not me.. never thought about me.
From everywhere I get pain Pain bas..
I'm mannerless girl na how can you love me. I don't have anyone!
Twinkle:no Aayat I love who told you that you don't have anyone haa. Me and kunj is here.Aayat me and love you like everything please don't do like this..
Aayat: stop this drama this all giving me pain.Me koi aap ki beti nahi hu.you hate me and give me to others.
Twinkle:no Aayat I never want to give you anyone.. Ansh get confused.
Aayat: I don't want Listen anything just go from here.,, screaming., I hate you twinkle.
Kunj: Aayatttt..
Aayat:tell her leave me alone I don't want to see her face twinkle shocked.. I hate her like anything. Never want to see her face again and even yours too. Leave me alone.
Twinkle: nahi Aayat I'm your mamma..
Aayat: you are not mamma ????. You are his mamma not mine. Goooooooo
Aayat and twinkle sobbing so badly.
I don't want to live. She run towards kitchen and lock the door and all get shocked.. twinkle soul come out..
Twinkle: aayattttt… they all went towards kitchen and Kunj banging the door.,
Kunj: Aayat open the door.,
Twinkle: Kunj see her save my Aayat..
Kunj: Aayattttt Listen baby…
Twinkle: okay I'll go from here Aayat please open the door can't speak properly.. twinkle about to fall while Leela and Naman hold her on time.. she started taking breath heavily.. one side Aayat other side twinkle for kunj..
Kunj: Aayat open the door dekh twinkle MAA hai woh teri maar jaygi Aayat woh tere Bina… ????.. Kunj break the door and see Aayat who having knife in her hand before she used it kunj rushed towards her. Take her come out.. all see twinkle and get shocked to see her stage.
Kunj run towards twinkle and hold her hand twinkle get unconscious Kunj take her on his lap.. Patting on her cheeks Ansh see his mother and started crying..
Kunj:Twinkle wake up see Aayat is fine.
After see twinkle like this Aayat feeling more pain. Everyone takes twinkle to hospital immediately. They reached the hospital doctor take Twinkle in icu.doctor
said due to stress Twinkle get unconscious and it's not good for her and baby too. Other side Aayat sitting alone in garden didn't talk to anyone's..
Kunj see twinkle though glass. Just because of my one mistake today my whole life become Hell one side twinkle and other side my Aayat. I'm sorry..??.
Episode end..
__________________________________________
Sorry for late I'm not well.. ??..
how was the episode???
Well it's your choice now I can't say anything and Whoever come and give their opinion first and wait and see.. itself don't imagine it.. leave it now it's become normal.. ?????..
well after see your all response it's fine..
soon this will too end up after 2 and 3 episodes.. even other one too when you people don't have time to write 2 words than I'm not idiot one who giving my time in ff it's my passion to write I did it.??.
All is up to you all now bye love you all..
Aayat is fine???..
no proof reading.,,
Bye???????…