Kasauti Mohabbhat Ki- Season 2 Part 9
" Don't worry, I will find Gopi." Ahem tells Kokila and consoles her. Aliya is suspicious of Kalyani, as she has disappeared.
" Bhai, I will help you." Aliya says. Ahem refuses.
" No, 16 years you have been living with me and you kept my identity hidden. Just go away." Ahem says. Raj offers to help and they both go. Ahem asks local people and they tell him that they saw a couple of men carrying a body bag into the van. They told him the van was heading towards a warehouse. Both Raj and Ahem go there. Kalyani spots Ahem's car and quickly hides. Jigar also arrives there.
" Gopi is missing. She isnt in the warehouse." Dadi whispers to Jigar.
" What? Where has she gone?" Jigar says.
" I don't know and this is your fault. I trusted you." Dadi says. Ahem and Raj question the goons. The goons tell them that Gopi disappeared. Ahem calls the police and gets them all arrested.
" Ahem bhai, where will she be?" Raj says.
" There is a nearby jungle here. Maybe she ran away." Ahem says. They both go into the jungle. Ahem and Raj search the jungle until they find Gopi's piece of her dupatta torn on a rock.
" That means Gopi bhabi is somewhere here." Raj says. They both look further until screams Ahem's name. Ahem quickly looks and spots Gopi being taken away by some goons. Ahem and Raj rush to Gopi and fight the goons. The goons run away. Gopi hugs Ahem.
Hua hai aaj pehli baar
Jo aise muskuraya hoon
Tumhe dekha toh jaana ye
Ke kyun duniya mein aaya hoon
(…)
Hua hai aaj pehli baar
Jo aise muskuraya hoon
Tumhe dekha toh jaana ye
Ke kyun duniya mein aaya hoon
Ye jaan lekar ke jaa meri
Tumhe jeene main aaya hoon
Main tumse ishq karne ki
Ijaazat Rab se laaya hoon
Gopi stares in Ahem's eyes. " Do you know how much I was worried about you Gopi? I thought you were gone." Ahem cries.
" I wont ever leave you. Although I don't remember you, I still love you." Saathiya plays. Raj smiles seeing the Jodi reconciled. Suddenly, goons come with guns and machetes.
" Ahem bhai, I will distract them. You two run away from here!" Raj shouts.
" No, I will stay here."
" No, you need to protect bhabi." Raj says. Gopi and Ahem run away.
" Stop." Gopi says.
" What?" Ahem asks.
" Please marry me before something bad happens. I have this bad feeling." Gopi says.
" We will marry when we get back home. Lets get away from here." Ahem says.
" No, right now. There is a temple near here. We will get married there." Gopi says. Ahem agrees. Both of them escape the jungle and reach the temple. They both enter the temple. Saathiya song plays.
Ahem and Gopi approach the pandit. The pandit agrees to do their marriage rituals. Both Gopi and Ahem do saath pheras.
Satrangi mausam ho
ya gham ke badal ho
phoolon ki sej ho
ya kanton ki raahein ho
mere humkadam mere humsafar
raah mein chod na jaana
har kasam tod na jaanaa
sath nibhana saathiyaa
sath nibhana saathiyaa
sath nibhana saathiyaa
sath nibhana saathiyaa
Suraj ke sang kiran
deepak sang jyoti hain
saagar ke sang lehar
jaise hum saathi hain
oo mere sanam
ho khushi ya gham
naa churana humse nazar
sang rehna umar barr
sath nibhana saathiyaa
While they go around the fire, both Gopi and Ahem slowly remember their first marriage. The marriage is finished. The pandit congratulates them. Gopi and Ahem get emotional seeing each other and hug each other.
" Do you remember everything as well Ahem Ji?" Gopi says.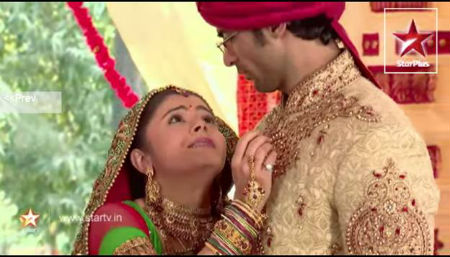 " Yes, I remember that you are the love of my life, Gopi Modi." Ahem cries.
" I cant believe we got remarried and we didn't even know." Gopi says. The pandit thanks bagwan for reuniting the two lovers.
" Now we are back together, we will go back to Modi Mansion and expose Dadi." Ahem says.
" Yes Ahem Ji. That woman has tortured our family for far too long. It is time for her end." Gopi says.
Precap- Goons surround Gopi and Ahem. Gopi says to Ahem that she will always love him. Someone shoots Gopi and she falls into the lake. Ahem screams Gopi.