Kaisa yeh isq hai ( AVNEIL fan fiction ) 18 + 19 Episode
Extremely sorry friends for being so late , Actually I was out of station . Hope you'll understand . Here's next part .
---
Kaisa yeh isq hai
Episode 18
---
Recap :- Avneil dance at Ali's party ; Avni spots Juhi
---
Instantly Avni and Juhi bumped into each other , They have a faint glance of each other , They looks at each other strangely .
But then other dancers came in between and they both separated .
Avni gets shocked , And she stumbles and was just falling down , Trying to save her from falling , Neil falls Over her .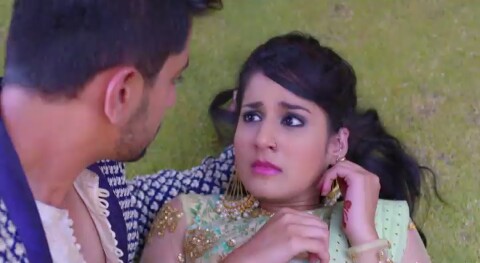 The whole crowd stopped , Ali " Ohoo , Mahshalla , Mashalla "
AVNEIL gets up .
Ali : Seems like someone's enjoining EID more that us , Ha !
Neil : What are you saying Ali it was just an accident
Ali : Accident or it was like dance pe chance , Ha !!!
Neil : Ahiana ( He turns back but finds she has gone from there ) Ahiana ! Oh god
Ali : Come on guys let's have some food I'm very Hungry .
Everyone goes away , Dd comes " Sir he's here , I've made him sit inside at cafe "
Neil : Okay I'm coming just check that nobody comes in while we're talking
Dd : Yes sir
Avni tries to find Juhi here and there but she couldn't find her , Ali who was insanely walking here and there muttering " Where has Juhi gone ? " bumps with her and the cola in his hand spills over her dress .
Ali : oh I'm really sorry
Avni : It's okay !
Ali : Sorry again , I was just looking for my friend , Don't know where she has gone
Avni : It's fine ! Where's washroom
Ali : There at left corner
THERE Neil gets in and finds out a mysterious man sitting at a corner wearing a scarf
Neil : Hi , I'm officer Neil khanna
He removes his scarf " Hi "
Neil : Ragu , You , You called me !
Ragu : Yes sir please don't take my name I told you Na we've to make this meeting a secret
Neil : Yes , Sit
Avni is shown coming towards the sitting arena , The cafe where they both are sitting .
Avni to herself " Don't know what's happening to me today , Firstly this Akroo police wala , Then i saw Ragu here then Juhi , My brain is not working well
Inside , The cafe .
Ragu : Sir I've very important thing to tell you about Alia , She's in danger , She needs your help
Neil looks at him thoughtfully : what do you mean !
Ragu : Alia , Is being trapped by Vidyut
Neil : Vidyut , Vidyut chadda !Man who holds London's richest and expensive Bar
Ragu : Yes ,
Neil : Alia being trapped , Means !
Ragu : Sir maybe right now I don't have any strong evidence , But I'm damn sure that along with this Bar this vidyut is engaged in business of brothel .
Neil : what ! How do you know this ! Is this information correct
Ragu : Yes sir !
Neil : Tell me the whole thing clearly
Ragu : Hmm !! Yes ! I think I should
Outside , Ali " Dd where's your sir Ji it's time for music bro "
Dd : Noodle bhaiya , Actually sir had some important meeting , He's inside cafe , would just come in few minutes
Ali : what Dd Meeting today ! let me call him wait
Dd stops him " Noodle bhaiya I'm very hungry , You said you've made special seviyan for me
Ali : What you haven't had it yet , Come let's have it
Avni comes there she's just standing in front of window mirror , Inside where Neil and Ragu are sitting .
Avni : where's this bathroom " Excuse me " ( she calls a waiter ) " Where's washroom
Waiter : Right there madam !
Avni : Thanks you
Inside cafe ,
Ragu : 3 Years ago I auditioned for an singing competition , Vidyut was paid chief guest there , He selected me and two more people . At that time he was popular business man of London .He invested money on our band , With me and alia and others we were famous music band Alias . But we only used to meet while singing after that Vidyut used to take her away , I don't know where .
Ragu : Now after so many years I got to know that , Along with this they run a brothel , They are in business of selling girls and making money using them at bars .
Neil : What about Alia
Ragu : We were coming to India for an concert , Alia ran away from there
Neil : You took the case back
Ragu : Right sir ! Boss was afraid about his business . He said he would find her in his own way . He's mad for her
Neil : Where's Alia !
Ragu : I don't know sir , Where's she ? I even don't know who's she ?
Neil looks strangely " What ? "
Ragu : Yes sir , For whole London including me her face is not known , I've always seen her with her mask
Neil : I know , She's always seen in a particular mask
Ragu : She's always kept hidden , Because for them she's a source of income and money .
THERE , AVNI , walks out of the washroom and her eyes falls over the window and she finds Neil talking to someone
Avni : Who's with Neil , What're they talking about ?
K.k reached there , " Ahiana my queen come it's time to rock the stage "
Avni : You're late Sir ,
K.k : Sorry , You know Mumbai's traffic
Next Scene , K.k is on stage " Hello ladies and gentleman , I'm K.k , The one and only owner of your favorite radio station ' Sanam re ' . We're going to begin a new music show with our brand new melodious singer , RJ ALIA , just very soon .
Here's her first performance , So invite with your love RJ ALIA .
Avni wearing a beautiful shining gown , Wearing a peacock mask comes over the stage , Stood behind Mike .
Avni :Hope you would like it , It's for one of my best friends as EID was his favorite festival .
She sings " Agar Tum Mil Jao
Zamana Chod Denge Hum…
Tumhe Paakar Zamane Bhar Se
Rishta Tod Denge Hum
( Agar Tum Mil Jao
Zamana Chod Denge Hum )… "
Everyone standing there were clapping and waving their heads with the music beat .
Neil : If you even don't know then how'll we find her out
Ragu :Except Vidyut and Ballu , No one knows her real face .
Neil Gave a glance outside from window and sees some girl standing over stage , But he couldn't clearly hear the song nor see her.
Ragu holds Neil's hand " Sir Not only Alia but all of us trapped there need your help , But first you've to save Alia because "
Neil : Because !
Ragu : I don't know sir Once she told me that very soon she'll herself would finish this band , She said she'll bring destruction , I wasn't knowing at that time what she wants to say actually , But now I think she's hidden somewhere and planning to take revenge from Vidyut
Neil : For this we need you help in finding her
Ragu : We've to stop her from taking law in her hands , Okay sir I shall better leave now before anyone sees me , I've came here stealthily
Neil : See we'll provide you a safe hiding place so that you can be safe right ( He calls Dd )
Dd : Yes sir !
Neil : Take him to that place which I've told you
Avni finished her song there
Ali : Hope you loved it , We thanks Miss. Alia very much to be here and make this party very special .
K.k : Now we'll take your leave guys and please everyone everyday tune up to RJ Alia .
At SUKOON GHAR ..
Neela is cutting vegetables with knife sitting right in front of television set .
The news could be heard " Results for recently held elections have come as known Daksh chadha had won again gaining maximum seats in Mumbai , Here we've Daksh chadha with us "
Seeing his picture , From Neela's hand the knife slips and her finger gets slit .
" Ouch " She cries as blood ozzes out from her finger .
:- So Mr.Daksh chadha how are you feeling after winning
:- I'm felling at the top of world , Really happy to know that I could help people again as I'm again in power
Neela exclaims shivering : How is it easier to make someone bad , Good in today's society , Just shout in front of people that you're good and they'll consider you like god .
AT CHAMKO CAFE …
at backstage
K.k : wow Ahiana , My RJ Alia you were amazing loved the song , I'm wondering from where did you got this mesmerizing voice
Someone from behind exclaims " For sure from her ancestors "
Avni gets surprised , It's Ali who spoke " Obviously someone from her family must be an awesome singer "
She was wearing a mask then .
K.k : Yes , Tell what's reason behind this
Avni in low faint voice : No it's nothing like that
Ali : Thanks a lot Mr.K.k and RJ for being here , Really you added magic to my simple party
K.k : My pleasure sir , Okay now we'll take your leave
Ali : Please before going have food , Please, Hey ( calls A man ) Take them to food counter , Please Sir , Mam .
AT LONDON ….
A bar is shown , The music is being played . Dim lights flashing through the darkness there . At centre , Is shown two sofas within which a table is kept .
Vidyut is holding a glass of wine "Congratulations Mr.Daksh chadha , Really happy that you've won again "
The camera rolls towards another big , Scary looking elderly man , Daksh chadha , He sips wine from that little glass and bangs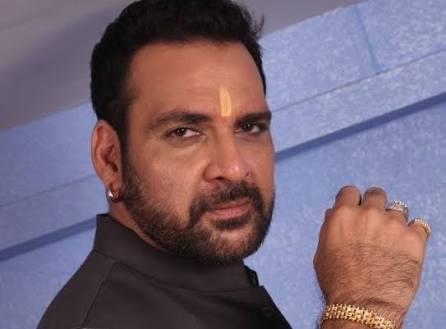 it on table .
Daksh :I'd have to win , At last who's brother I am
Vidyut smiles , His waving neck tilting left and right " Right ! Know this style of yours is what I like the most , That we'll never loose any game "
Daksh : Yeah I know ! But yes I'm meeting you after a long ,but see you've risen much in your business
Vidyut : And what about you you're still ruling your city
Daksh : Haha ! Your witty nature is still the same , So three cheers for our success .
NEXT SCENE IS SHOWN IN A LARGE , BIG WHITE BUNGALOW . Outside which 'Chadha's' Mansion .
Neela is standing near it's gate , She rings the bell .
A man , Servant , Comes out and sees her , Instantly she shouts " Eh ! You here again , Don't dare to come in , Get out "
Neela : No I won't go without meeting Daksh , ( Loudly) Daksh come out !
He comes out there and opens the gate " Oh madam how many times we'll kick you out of the house , Just get out of here "
Neela : I won't leave unless I meet my daughter , I want to meet her
Man : Which daughter , There's no one , We've told you millions of times that she has died
Neela enraged : No she is alive , Daksh , Where is my daughter
Man : Madam Before I call security just get away , And fix it in your mind that your daughter has died she isn't here
Neela Pushed him away " I'm saying it since long time that she's not dead , If you can't take me to her I'll myself find her out " ( She ran away into the house )
AT CHAMKO CAFE …
Ali sees Neil passing by " Neil where were you , You've missed my surprise "
Neil : Sorry Ali there was something important
Ali : Not so fair , You missed the superb singing performance
Neil : I'm sorry for that but now I've to go please let me go , Ha !
Ali : No no the party isn't over yet bro !
Neil : Ali bhai ! I know you're smart enough to understand that for me my job is much more important to me than these parties
Ali : Okay fine ! I'll let you go , But wait , Just be here I'll come in minute
Avni wearing that costume with mask was passing , She was in a haste and her shoulders colloid with Neil's . She just shouts while moving on " I'm sorry " . Neil sees her face unclearly and sparking glint in her eyes .
Ali comes ( hands over him a pend drive ) : Here's the recording of the performance , Must watch it , It was mind blowing
Neil : For sure thanks .See Ya !
There Neil sat in his car and in the other handAvni sat in with k.k in other car and they both left .
AT CHADHA MANSION..
Neela was walking from one corner to other but she couldn't find what she was looking for .
Neela " I'll find here noone can hide my daughter from me ,I'll find her out "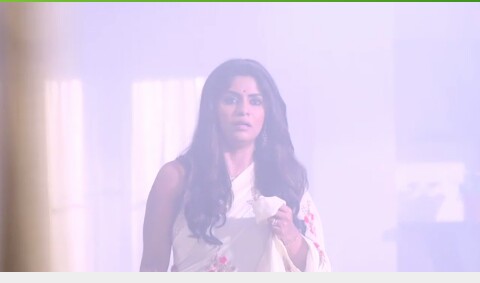 SOON she finds a picture of a little girl hung over the wall over her was flower necklace . Neela goes to that frame " My princess where are you come to me , Please "
At the moment she hears a door which was locked from outside . She rapidly goes to it and dabs it with her hands " Bacha are you here , Are you locked here , Tell me "
Magically the door seems to be shakend from inside as if someone is trying to open it from inside but can't speak anything .
Neela : Bacha you're here Na ! I know , It's your birthday today see your Mama ! Has come
No replies came from in . The man came there " No one is allowed to come near this door , Get out " He holds her hand and tries pulling her out but she got mad
Neela : It's my daughters birthday today just for once let me see her
Man :Shut up don't drive me crazy ( He threw her on a wall ) but she got up again, He hold her hand " Get out "
She got angry and pulled her hand from his grip and again dabs the door hardly .
Man : She has got crazy I better call Sir
NEIL ARRIVES AT POLICE STATION ….
Neil looking through many files and folders " From the starting till the end I need each and evey report of the case "
Dd : Here you go sir , Here's all the files
Neil : Alia is in Mumbai only and were to find her as soon as possible
Dd : Sir whatdo you think whatever Ragu has told is correct
Neil : Yes , He dosen't have anyother options left , He not only wants himself to be saved from those people but also wants to help others
Dd : But sir how he can be so sure that Alia wants to take revenge from them
Neil : Maybe it's just his prediction but we've to protect her and other girls abducted there
Dd : So for this we'll have to go to London
Neil : No dd unles we find Alia we won't go anywhere
Dd : Sir Ragu is safe now
Neil : Good ,Find out Since last month in hotels near airport who all have come , Now every hotel demands an ID proof , Check out who has given their Identification from abroad
Dd: Right Sir !
Neil : Nextly , We'll ask Ragu to give us every description he could about her , And also about Vidyut
Dd : See this sir , There's Never a complaint registered against him in London .
Neil : This would had happen ,Because he's a powerful person , We would have buyed everyone who'd have tried to go against him
Dd : correct sir , Once news came that he did a big scam over many million dollars
Neil : Remember ! A year ago news came that a group of Portuguese tourist women were missing from London
Dd : But after a few weeks that news was suppressed
Neil : He must be behind him , Now wasting no more time let's get to work
Dd : But Sir I didn't understand one thing why's Ragu helping us , What would he get doing all this
Neil : we'll have an interrogation session tomorrow , Let's see what more information we could get
AT CHADHA'S MANSION….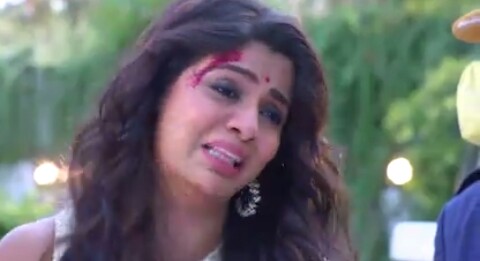 Neela was madly hitting the door , Just then a man comes and keeps handkerchief treated with anesthesia and she faints and he takes her away
That man calls Daksh " Sir I've done what you said "
:God stupid b*t*h , She has really been troubling me since so long
" She came here again asking for her daughter "
:- Oh gosh ! How many time I've to explain to her , Now I'm busy handle her , Bye
It was Late evening by now .
NEIL Reached his home
He sat down on sofa being tired and exhausted . Prakash who was passing by his room sees him .
Prakash : Neil tired ?
Neil : Yes Dad
Prakash : Looks like you had much work today
Neil : Yeah ! But it's okay I'll manage
Prakash : Now , Music is best companion , Just listen to music see it'll leave you stress free
Neil : Thanks dad , Good night
Prakash : Good night ( He stood up and turns on the radio )
Neil : Dad you know I don't like listening to music
Prakash : Neil just give it a try you'll feel good ,Listen close your eyes and relax
Neil : But ..
Prakash : Shhh you'll thank me later on , Know when you'll close your eyes and will loose yourself in music you'll find every solution to your problem
He nods his head in Yes …
CHADHA'S MANSION …
Neela opens her eyes and finds herself tied over a chair , Her moth sealed and hands tethered with rope.
Neela shakes herself trying release herself . She becomes able to free herself . She gets up and silently moves around the house .
Neela : I've to find what's hidden in that room
The whole house is covered in darkness , She's wandering here and there .
Finally she finds that room , She soundlessly opens the door's panel it opens , Getting in she finds some lady who has turned back , Her hair which were tangles , Dry and Damaged could be seen .
Neela says softly : who's this ?
The woman turns back slowly .Pause ,That shot stops there .
Neil's POV …
Radio :- Hello , Everyone " It's dark now but are you alone , Are you feeling sad andepressed , Or you can't think of a solution to a problem . So here we have the best solution ever for all sad souls . Our special new show every night only one radio ' Sanam re ' . And your host would be RJ Alia on her brand new show ' Ae dil hai mushkil '. Here comes our RJ Alia .
" Hi guys I'm RJ Alia " A sweet voice distracted him and his stopped beating like for a moment . " Here is my first song hope you guys would love it , Because I'm missing someone very close to my heart . May be you would be feeling same , Here i go "
Tu safar mera
Hai tu hi meri manzil
Tere bina guzara
Ae dil hai mushkil
Tu mera khuda
Tu hi duaa mein shaamil
Tere bina guzara
Ae dil hai mushkil "
Neil sat back over lounge , His eyes closed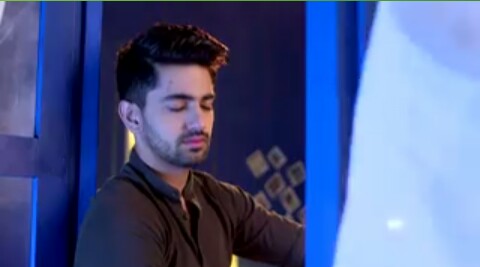 There at studio Avni who was singing the song , Tears rolled down from her glittering eyes .
Neil's mind took another path he want back , Thinks of his first to last meetings with Avni .
Her face while eating Poha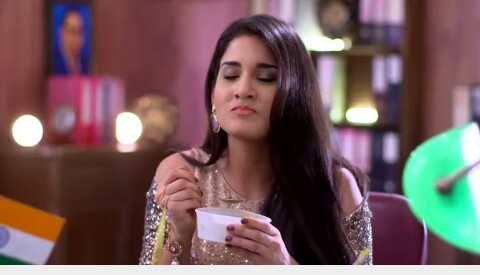 , They both falling down ,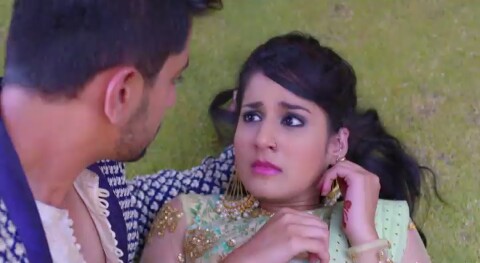 Her expression when she saw lizard .
There AVNI also started thinking same , Neil saving her when tree was falling on her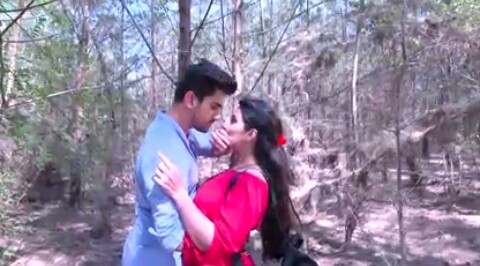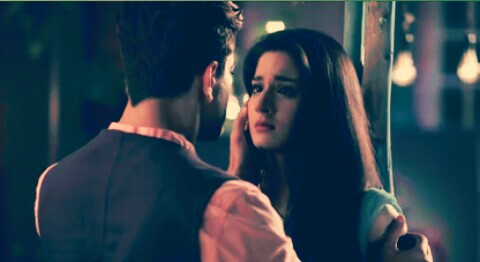 , Holding her in rain , When he offered her food with his hands .
Neil thinks of dancing with Avni . Avni goes back when she was laughing at Neil seeing him fallen in mud water .
In Neil's room , He was still lying of sofa . "Mujhe aazmaati hai teri kami
Meri har kami ko hai tu laazmi
Junoon hai mera
Banoon main tere qaabil
Tere bina guzaara
Ae Dil Hai Mushkil "
Avni finishes her song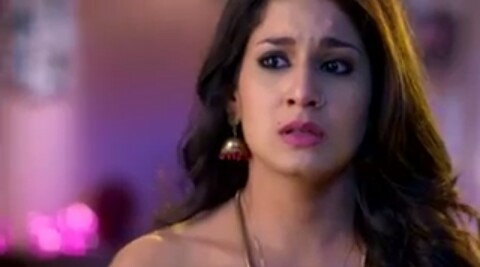 she's still lost and gets ready to go back home .
K.k : Wow Ahiana you sung really well with real emotions loved it
Avni : Don't know sir what happened to me today I was so emotional don't know why
K.k : This is real identity of a real singer , That he or she understand music and relates it with own situation
Neil woke up and looks himself in mirror : what has happened to me , Why my mind was thinking about her ?
[ Flashback – Prakash saying to Neil " Close your selves in music and you'll find solution to your every problem ]
Neil bangs himself " Neil you're crazy , Just stop thinking about that "
He gets up and walks away
Avni calls out " Neela Ma ! Today I'm very happy , It was my first day at sanam re "
" Ma ! Did you hear me , Neela ma ! "
Their servant comes " Didi Ji she's not at home "
Avni : Not at home where is she ? It's late night now
Servant : Don't know didi Ji since evening she isn't at home
Avni : what are you saying kaka ( uncle) in afternoon I called her she was at home only
Servant : Yeah but when I came back from market she wasn't here
Servant : Tomorrow they've school so I've made them sleep early
Avni : Okay , You can also go to your home now
Servant : But it's been late now I'm worried about Neela Ji
Avni : It's okay you also have to go to your home , To your family , I'll handle and would let you know
Servant : Okay Didi Ji good night , Ha !
Avni comes toward the hall and finds out a cake left over the dining table with a card " To my sweet daughter " Written over it .
Avni : What is this , Cake , Card , These decorations and all
She sat down over the table and looks at the clock " 10 Pm " She reads out .
Avni : I'm really worried now , she's not even answering calls , Oh god .
Half an hour passes , She's walking up and down , Time and again looking over the clock
Avni is shaking , She's Panicking .
Avni : I just hope that they're not engaged in this , But they know I live here , But if they'd be engaged they must have called me till now , Where is she ?
Avni : Think I should call her again
Frantically by mistake she calls Neil instead of Neela ma ! But is unaware .
AVNI'S & NEIL'S POV ….
Neil : Don't know what I'm thinking today .
He sees her call " Think of devil and devil is here "
NEIL picks up the call , Unknowingly Avni jabbers " Where are you , It's too late now , I'm calling you again and again but you're not answering , What is this ? "
Neil : Ahiana , chill what're you , Whom are you talking to , What happened ?
Avni sees that she had called Neil " Oh god Avni " She scolds herself .
Avni : Neil , Oh I'm sorry , Good night , Bye
Neil : Wait ! Hold on ! Is everything alright
Avni : Everything is alright , Perfectly fine , Bye
She immediately cuts the call .
Avni keeps on calling her , Going left to right .
The time passed " Should I tell Neil about , Should I take help from police , But they'll not register before24 hours "
---
Kaisa yeh isq hai ,Episode 19
The next morning …. Avni is sleeping , Resting her head over the table .
Soon she woke up and finds out that Neela is nowhere .
Neil's POV ….
Neil is standing with one of the police officers discussion something , Dd comes and announces " Sir someone is here to meet "
Neil : I'll tale your leave , Yes dd who's there
Dd : Sir when you'll see you'll find out
Neil and he were walking towards the cabin , Neil " Tell me who's there "
They reached , Dd opens the door and Neil watches Avni sitting there .
CHADHA'S MANSION …
Man : Sir this woman has gone totally mad , She again tried it , She had almost opened the door and peeped into , Thankfully I reached there at time
Chadha : Just shut up , How could you even had that happen , I've made it mandatory that noone can enter that room , Tell me did she saw something
Man : Don't know sir , Maybe yes or maybe no
Chadha : Where's she now ?
Man : Really sorry Sir but now she's in our arrest , Don't worry
Chadha : No no I can't take any kind of risk now . My image is getting worse , I don't want to be a headline again
Man : So Sir what should we do now
Chadha: The final solution , When you think that you're not getting any solution for your problem just uproot the problem only
Man : Fine sir got it
AT POLICE STATION…
NEIL passes a glass of water to her , Who's sitting calmly , Tensed and panicked .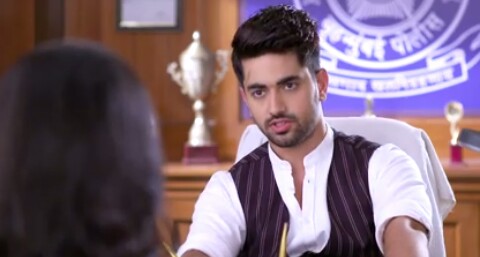 Neil : yes , How can I help you?
Avni : Neil , Neela Ma ! Is missing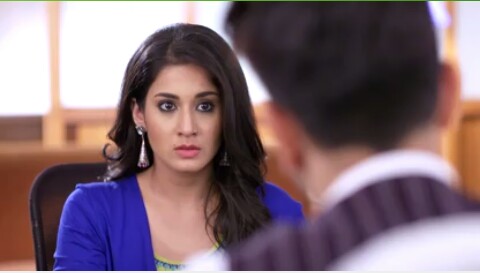 Neil's eyes grew wider " Missing ? What does that mean ? "
Avni : She hasn't came back home since last evening
Neil : What ? Last evening and you're coming now ! Are you serious
Avni : what should I've done I was so tensed , I called her multiple times but she isn't answering , I searched for her everywhere , There's no sign of her
Neil stood up furiously " Woa ! Hat's off to you , You should have come that time only when you thought she's missing , You know how sensitive these cases can be ?
Avni : I know but , I thought she must have gone somewhere to meet her friends , I was at studio ?
Neil : Studio ??
Avni : Studio ! Ya actually Photo studio there was some work but what matters here is I called her at afternoon , She was at home but when i returned , She wasn't
Neil : How stupid you can be ! I got to know it today , Really
Avni : What do you mean ! By heart has stopped beating here instead of doing anything you're shouting on me ! Moreover , If I'd come then you'd not have registered case before 24 hours .
She started shaking , She was worried and in grief she sat down on chair and began weeping " Now what should I do ! I got how'll I find her , In what state she'd be "
Neil tried making himself serene " I'm sorry " " I didn't meant shouting on you "
He brings some water " Have water " – He says to badly crying lady .
Neil : Don't worry trust on me ! I'll do my best to find her .
Neil calls Dd and started talking to him , Avni gets up and walks toward outside thinking " I just hope that he's not behind all this , If he's not then why hadn't I've got any calls from kidnapper , No I have to save her anyhow "
CHADHA'S house ….
Neela is captured by them , Her eyes faintly opens .
Neela : I've to tell Avni that she's here , I've to , Even if i die , But I won't let her die , No
Soon she finds that her phone has been dropped near her feet , Trying her best she got it up and calls Avni .
" Avni , Bacha "
" Hello , Neela Ma ! Neela ma are you okay , Where are you ? "
" Bacha she's alive , Save her , They'll kill her "
" Hello , Ma ! What're you saying are you okay ? " ( Avni couldn't hear anything clearly )
" Avni , I'm here , I saw her " She says as of her mouth is paining and body is aching .
suddenly a man comes and smashes an iron rod on her head , Her forehead began to bleed She shouts with pain and falls down .
Man barks " Hey blo*dy b*t*h were you trying to contact police "
He picks up the phone and reads ' Ahiana ' , Then he talks .
" Eh ! Stupid girl your lady is in our cage and you had talked to her for last time because we're going to send her to god "
Avni cries " Please don't do anything to her , What you want money , I'm ready "
Man : Money ! Haha ! fine come up with 10 lakh rupees
Avni : Okay but please don't do anything to her please
Man : Fine , But if ! I got to know that yours taking help from police I won't stumble to insert a sharp dagger into her heart understand
Avni : Okay ! I'll consider all your conditions , But give her back to me
Man : You'll ! But first money I'll send you the location and remember my men are everywhere
He cuts the phone .
Neil and Dd were talking inside . Avni standing outside , Got her spine cold , She's horrified .
Avni : No , No I can't loose my Neela Ma ! I've already lost my family . But I've already seeked help from police , Now if they go to know and they killed her , No
She overburdened her brain and her body became lethargic , Resultantly she faint and called down .
Neil and Dd looks and runs towards her .
Neil : Ahiana , Ahiana ( Tapping her Face ttime and again )
Neil : Dd hurry up call the doctor .
Next scene is shown , A doctor checking Her , she was layed on a sofa .
Doctor : Don't worry it's just because of anxiety , She just overburdens her brain , Her body became lack of energy and she fainted , Give her some sugary thing like juice or chocolate , She'll be fine
Neil : Thanks doctor for being here , Dd please ( tells him to take doctor )
Neil tries to get away but when he tries he finds out that Avni has hold her hand and he again sat down beside .
Avni is shaking and uttering something rapidly " Neela ma ! Neil please find her , I can't loose , She's in danger "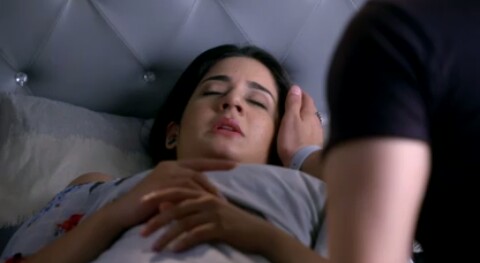 Neil keeps his warm affectionate hand on her forehead . Dd comes in .
Neil: Just all of sudden how could one get a panic attack like this
Dd : She was talking to someone on phone , Might , Kidnapers had called he
Neil : It's not sure that she has been kidnapped , Now only she'll tell what she was talking
Dd : Sir Aunty's last location was tracked near Highway 25 .
Neil : We should go and once investigate there
Dd : Yes Sir !
Neil : Try to trace that who all called her before she was missing
CHADHA MANSION….
The caller orders " Hurry up make arrangements we've to take her you know where "
Another person asks " Hey why did you called her for money you know boss have said "
Man ¹: Our boss is stupid he just cares about his political career and figure , All the money he earns now why should we let go a golden chance to earn money
Man ²: How ?
Man ¹: See chadha told to take her away , Kill her and throw in jungle , Now if we've to kill her only why not to do it in profitable manner
Man ²: Wah ! Living with chadha Sir you've become intelligent
At London …
Vidyut is standing at a shelf , Putting in pieces of big ice junks in glass , Chadha sitting behind over sofas calls out " By the way , With the girl you've earned so much , Where's she ? I wan to meet her "
Vidyut comes in holding the glass "
hamare bageeche ka sabse khoobsurat phool hai WO … aur hum uski khushboo ka mazaa pyar se lena chahte hai " " And I'm not gonna show this flower to anyone "
Chadha " Come on ! You know the bet we had 15 years ago "
Vidyut : I remember each and every word of my mouth and I'm still doing accordingly , I'm giving you money
Chadha : Okay , Okay , But I'm sire you won't let me get bored here , After all I'm here with my brother Vidyut the king of London
Vidyut laughs : Woaa ! You're right ! Come the fun is awaited for us .
They both enters the pub , Chadha started dancing . Soon , Vidyut is stopped by Ballu !
Vidyut : what happened ?
Ballu : Sir Ragu has escaped he's not there in room
Vidyut gets enraged and slaps him hardly " What are you saying ? Don't you love yourself ( holding his neck ) "
Ballu : Sorry sir don't know how it happened ?
Vidyut : Shut up first that girl now Ragu , what's happening ? Chadha is here he shouldn't get to know anything .
Chadha comes " Oh ! What's happening here ! What're you doing here ,Ballu ! "
Vidyut : Nothing you know I don't like anything going wrong , I want everything perfect
Chadha : This is time to party , Come leave it
AVNEIL POV …
Avni opens her eyes and frantically woke " Neil , Did you got to know something about Neela ma ! Where's she "
Neil : Ahiana , Chill we'll find her first have this juice
Avni : you want me to sit here and chill , Don't know in what condition she could be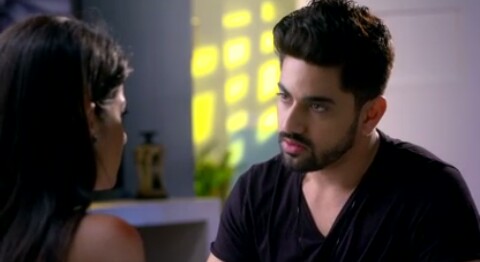 Neil : She'd fine , Believe me , See your health is not fine , Have this juice first
Avni : I'm fine , I don't need any juices , Okay
Neil : Everywhere you've have to argue , But it's matter of health ( He puts it into her mouth )
Avni ( After sipping ) : Okay now let's do some work
Neil : Right now you got a call from an unknown number , Who was it !
Avni : A call it was a wrong number ( Seeing into his eyes confused and worried )
Neil : Don't know why my brain isn't allowing me to believe in you , Your eyes are saying something else
Dd enters : Sir last location of her is traced at Highway 25 and after that no calls were there on her phone , Her phone is shown turned off . And after that no other location court be traced
Avni : Listen , I think you're very lazy you just sit here and read eyes , I'm going out of find her own my own , Fine
She walks out fastly . Sits in a cab and goes away , Neil rapidly sits in his car and chases her .
Neil ( in his car ) murmurs : This girl is headache , If she dosen't needs help from police why did she came
" Now I should focus on my case of her "
He calls her .
Avni ( in cab ) sees him calling and cuts his phone .
Avni : Kidnapper would send the location soon , Before that I've to get separated from him .
Avni : Bhaiya ( driver ) do one thing increase the speed of car and then take quck turn to left , Okay hurry up , Be fast .
Avni to herself : Don't worry Ma ! I'll save you , I don't need others to save you , I can do it all by my own , I'm coming
CHADHA HOUSE …
Inside that room in which Neela wants to go .
It's totally black and through the window , A streak of light coming in falls over on a curtain , Behind which someone is hidden .
Nothing but a silhouette of a lady is visible " She'll come , The day has come , She is here " She spoke very slowly but in angry voice .
---
who's this person, what bet both brothers had 15 years ago. Neelas daughter ?.
---
precap:- Avni talking on phone " I'm here tell what I've to do ? " Then suddenly firing begins .
---
Sorry if I bored you . forgive me for doing mistakes .please show some love by ???please do comment .Humble request??